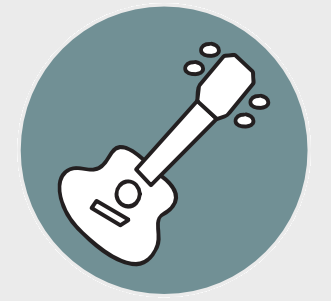 All 1 sample page(s) are viewable on-line.
If you are a registered site member and have the correct permissions you can view ALL the pages of this PDF or Samples pages at a larger size. You can resize the browser window smaller to a tablet or phone size and the pages will magically grow larger.
Or, use the Online PDF Viewer . available for premium members .
This is not really a song, but simply saying that for the purposes of a lot of the lessons and lesson series on this site ANY song will do for exploring the lesson's material and concepts presented in the lesson.
Many players, especially beginning and intermediate players use songs as a way to learn the ukulele. A song can serve as menu or recipe of the music elements that one needs to master for that particular song. From a song you'll get the lyrics, melody, and chords for the song. You'll have to figure out the style a.k.a. rhythm and strums to use, any scales for filled and solos, figure out the harmonic structure in order to make educated chord substitution choices and scale selections. And, hopefully this information can be carried over to other songs.
Related Lessons
Related Lessons for Any Song Will Do.
Related Lesson Series
Related Lessons Series for Any Song Will Do.
Harmonic Analysis for Scale and Chord Selection
Updated: 01 Jan 2003
Harmonic Analysis is the process used to determine the harmonic function of chords within a chord progression or song. A chord progression is defined as a sequence of chords, each chord has a root and is a particular chord type. The relationship of a chord's to a scale determines its function within that scale's tonality.
Modular Phonetic Rhythm by Chuck Anderson
Updated: 01 Jan 2003
Modular Phonetic Rhythm represents a significant advance in the teaching and application of rhythm. Eliminating many inefficient aspects of rhythm education, Modular Phonetic Rhythm streamlines the traditional educational approach, resulting in a reflexive reaction to rhythm.
Related Song Files, Resources and Assets
Related Assets for Any Song Will Do.