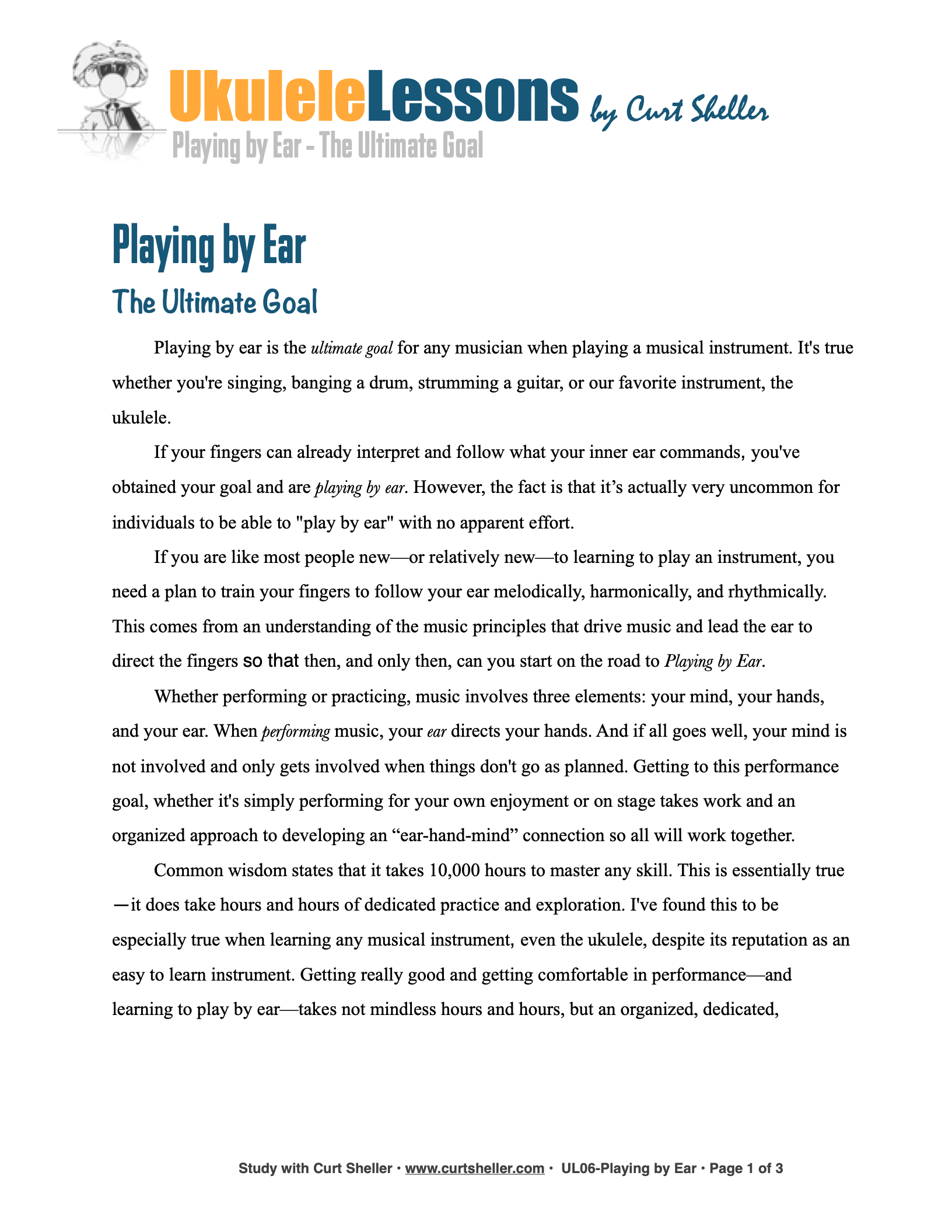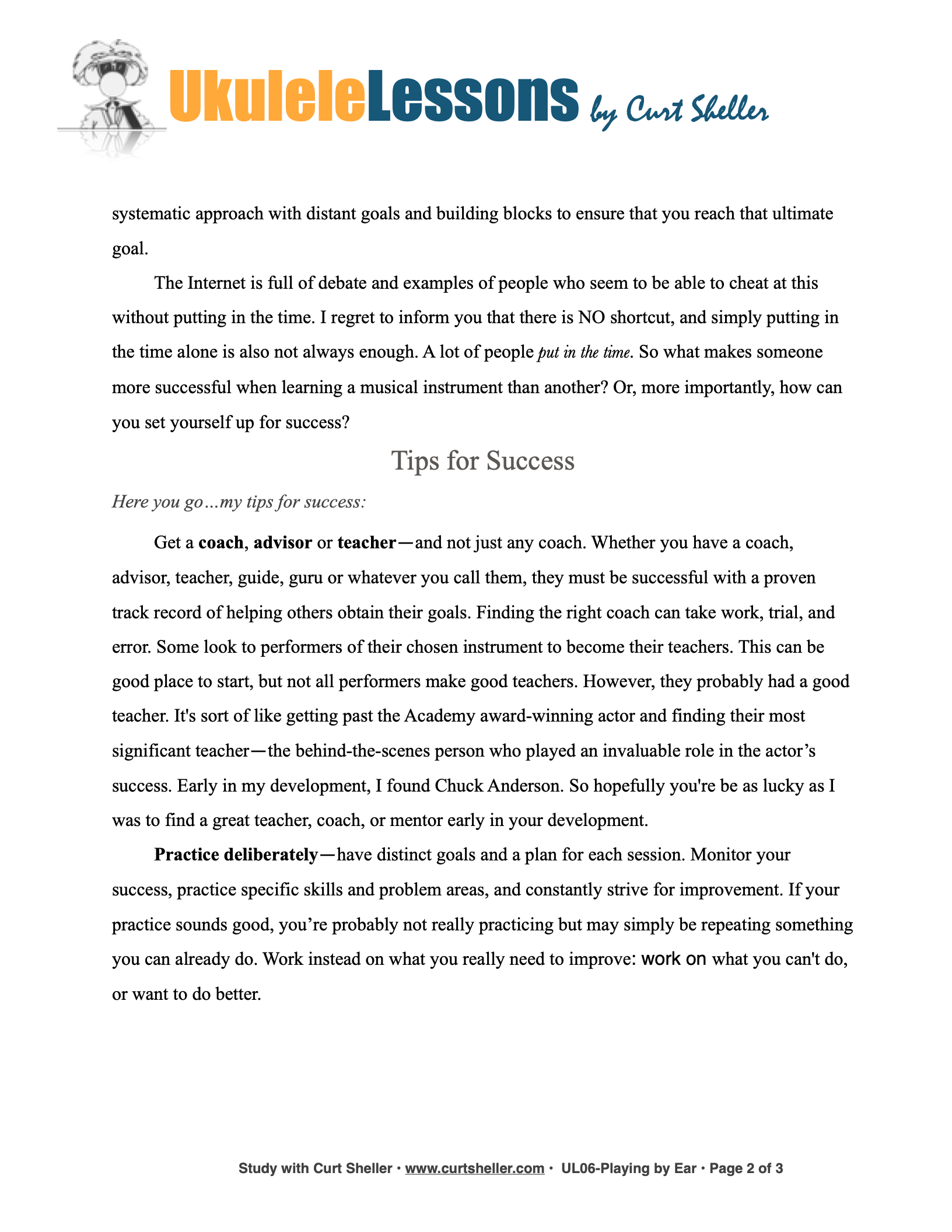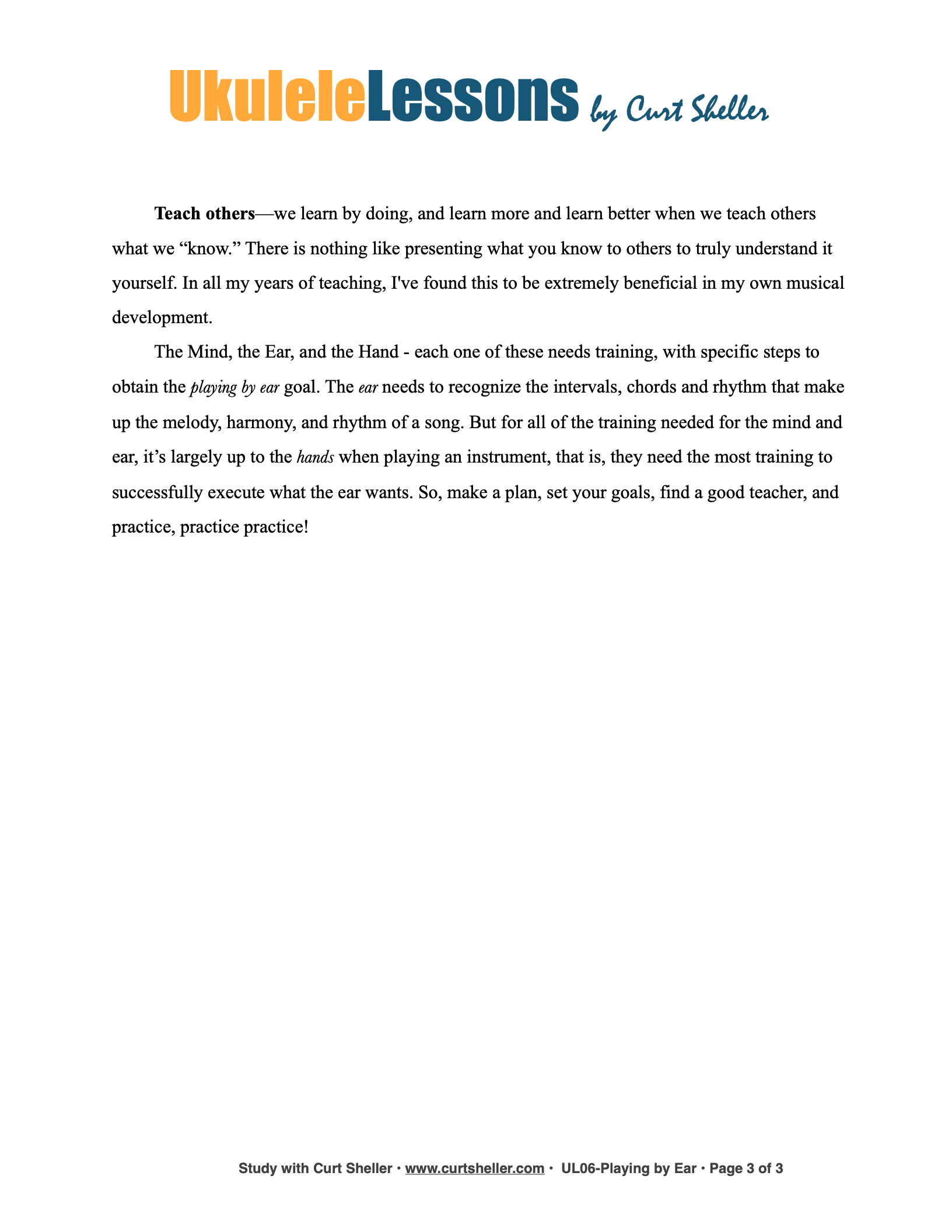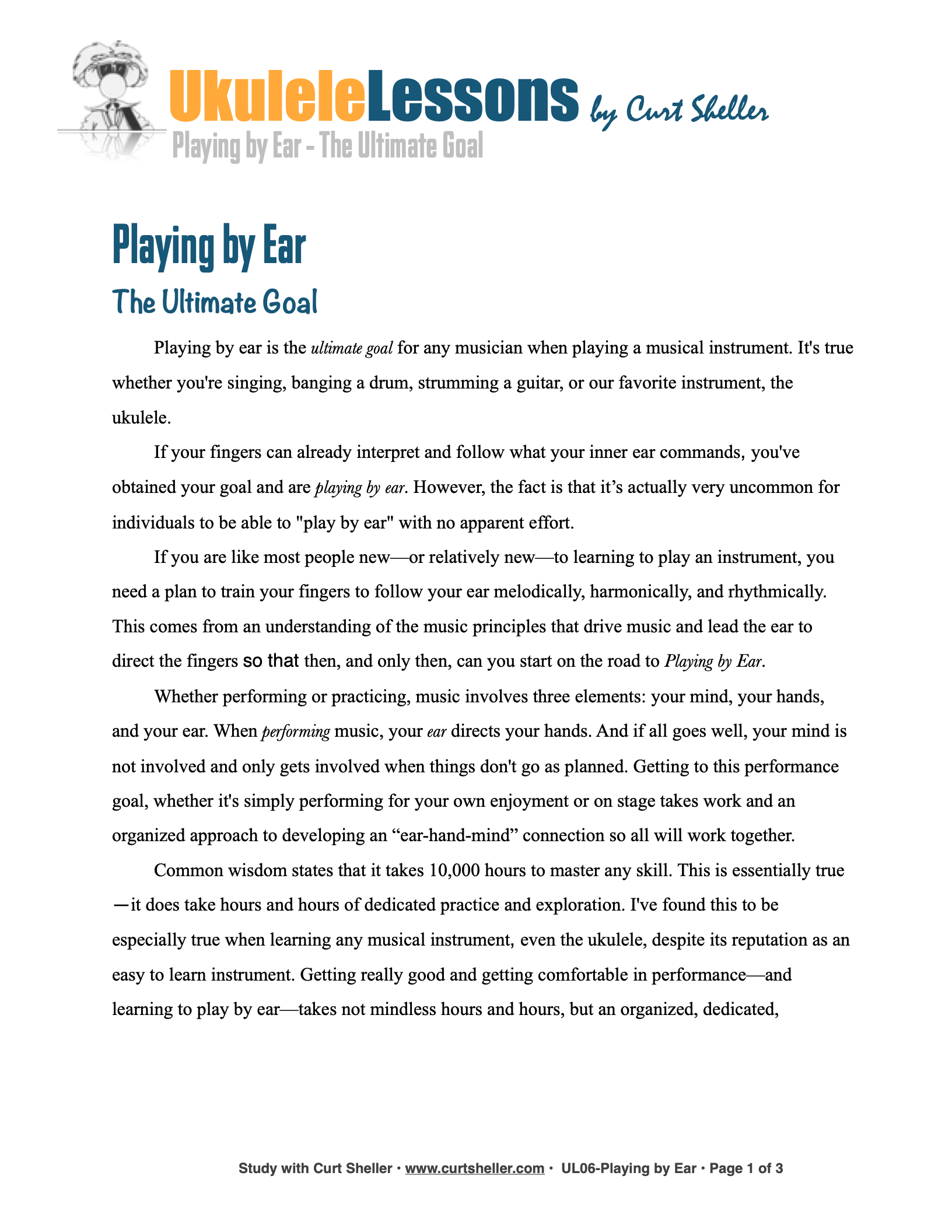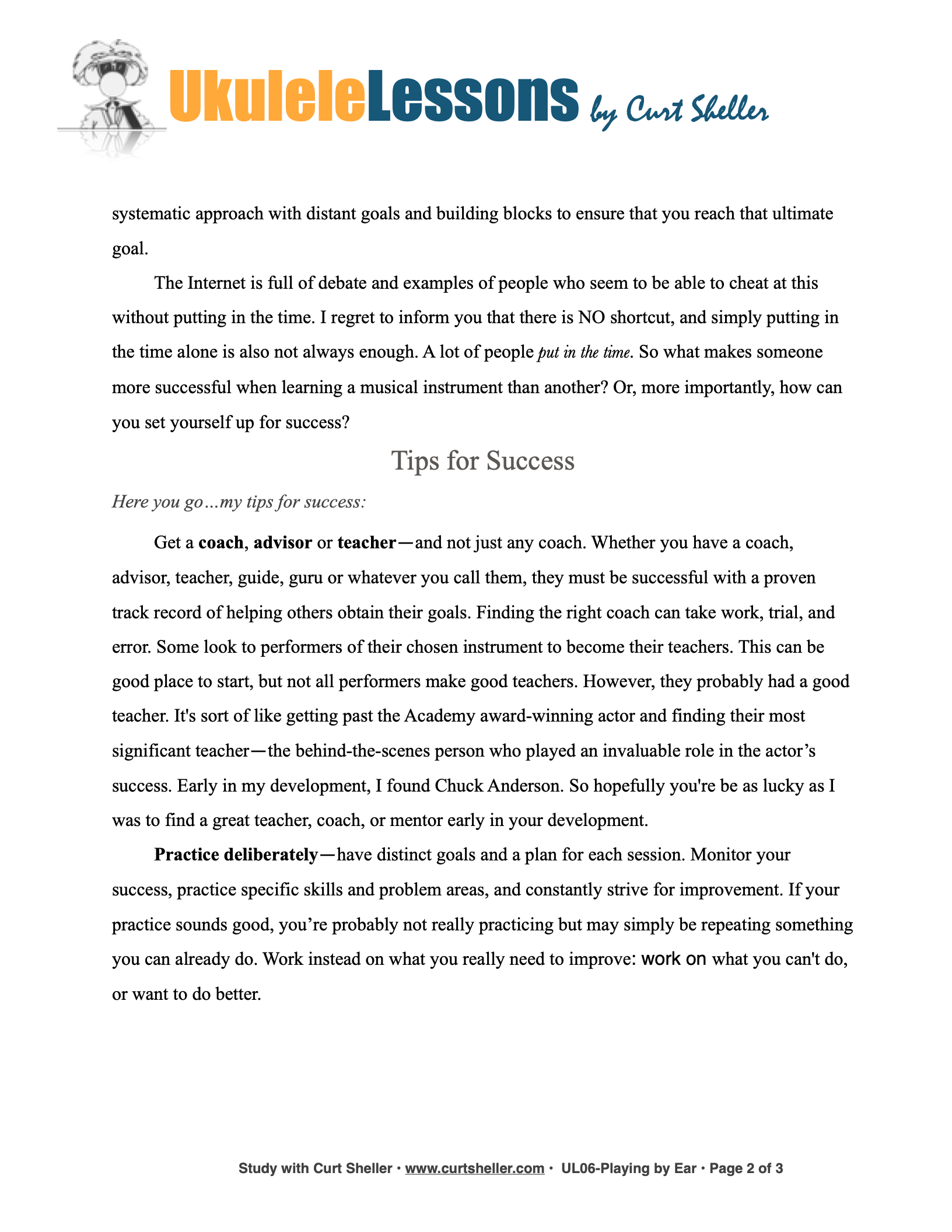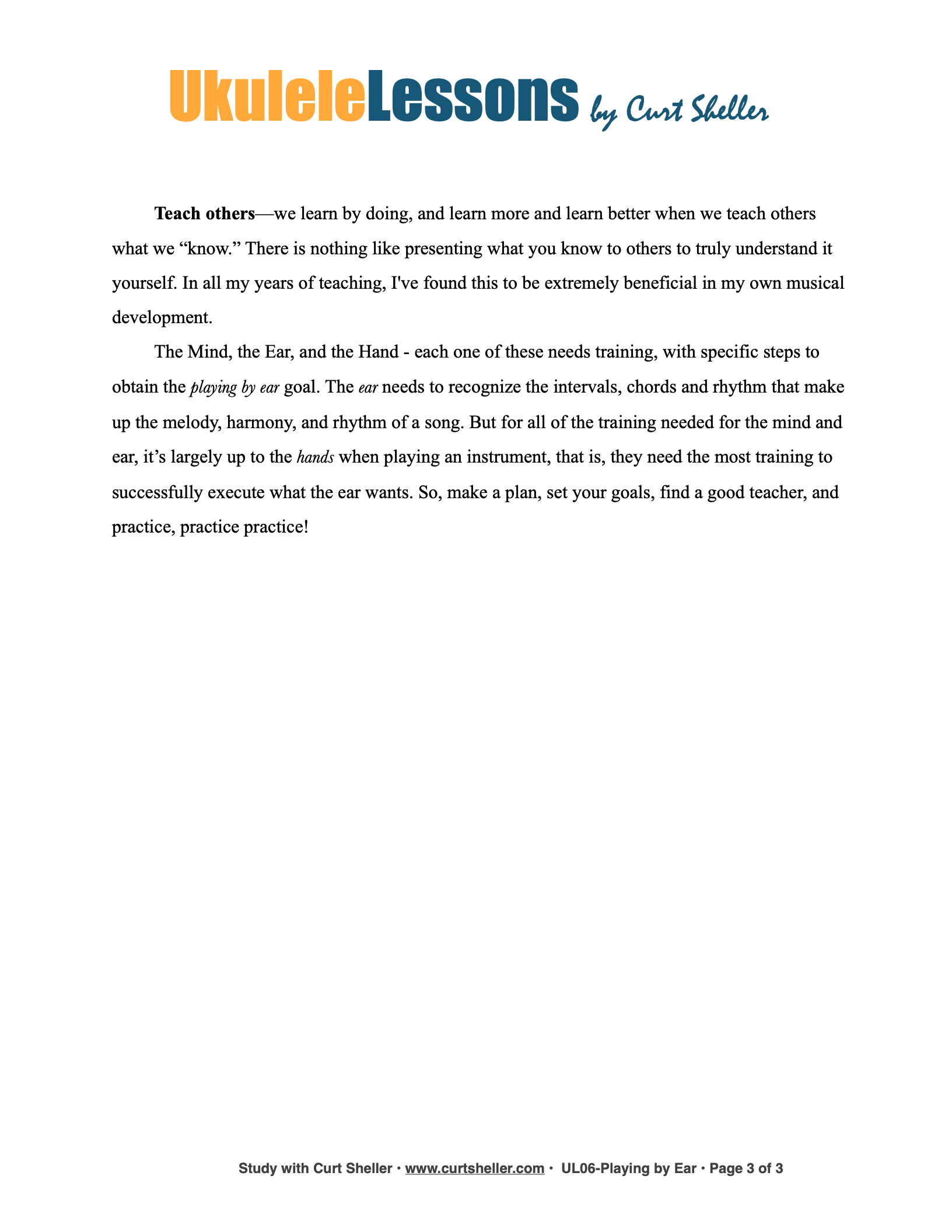 All 3 sample page(s) are viewable on-line.
If you are a registered site member and have the correct permissions you can view ALL the pages of this PDF or Samples pages at a larger size. You can resize the browser window smaller to a tablet or phone size and the pages will magically grow larger.
Or, use the Online PDF Viewer . available for premium members .
Each PDF file is a formatted, high resolution file that prints out great. You'll need Adobe Reader or a PDF viewing application to view your PDF file.
Playing by Ear - The Ultimate Goal
The ultimate goal for any musician when playing a musical instrument is to "Play by Ear". It's true whether you're singing, banging a drum, strumming a guitar, or our favorite instrument, the ukulele. If your fingers can already interpret and follow what your inner ear commands, you've obtained your goal and are "Playing by Ear."
However, the fact is that it's actually very uncommon for individuals to be able to Play by Ear with no apparent effort.
If you are like most people new or relatively new to learning to play an instrument, you need a plan to train your fingers to follow your ear melodically, harmonically, and rhythmically. This comes from an understanding of the music principles that drive music and lead the ear to direct the fingers so that then, and only then, can you start on the road to Playing by Ear.
Whether performing or practicing, music involves three elements: your mind, your hands, and your ear. When performing music, your ear directs your hands. And if all goes well, your mind only gets involved when things don't go as planned. Getting to this performance goal, whether it's simply performing for your enjoyment or on stage, takes work and an organized approach to developing an "ear-hand-mind" connection, so all will work together.
Common wisdom states that it takes 10,000 hours to master any skill. This is essentially true — it does take hours and hours of dedicated, quality practice and exploration. I've found this to be especially true when learning any musical instrument, even the ukulele, despite its reputation as an easy to learn instrument. Getting proficient and comfortable in performance and learning to play by ear takes — not mindless hours and hours of practice, but an organized, dedicated, systematic approach with distant goals. These are the building blocks to ensure that you reach your ultimate potential as a musician.
The Internet is full of debate and examples of people who seem to be able to cheat at this without putting in the time. I regret to inform you that there is NO shortcut, and simply putting in the time alone is also not always enough. Many people put in the time. So, what makes someone more successful when learning a musical instrument than another? Or, more importantly, how can you set yourself up for success?
Tips for Success
Here you go — my tips for success:
Get a Coach, Advisor or Teacher — and not just any anybody. Whether you have a coach, advisor, teacher, kumu, guide, guru or whatever you call them, they must be successful with a proven track record of helping others obtain their goals — not simply good players. Finding the right coach can take work, trial, and error. Some look to performers of their chosen instrument to become their teachers. This can be a good place to start, but not all performers make good teachers. However, they probably had a good teacher. It's somewhat like getting past the Academy award-winning actor and finding their most significant teacher — the behind-the-scenes person who played an invaluable role in the actor's success. Early in my development, I found Chuck Anderson. So, hopefully you're being as lucky as I was to find a great teacher, coach, or mentor early in your development.
Practice Deliberately — have distinct goals and a plan for each session. Monitor your success, practice specific skills and problem areas, and constantly strive for improvement. If your practice sounds good, you're probably not really practicing, but may simply be repeating something you can already do. Work instead on what you really need to improve: work on what you can't do, or want to do better.
Teach Others — we learn by doing, and learn more and learn better when we teach others what we know. There is nothing like presenting what you know to others to truly understand it yourself. In all my years of teaching, I've found this to be extremely beneficial in my own musical development.
The Mind, the Ear, and the Hand – each one of these needs training, with specific steps to obtain the Playing by ear goal. The ear needs to recognize the intervals, chords, and rhythm that make up the melody, harmony, and rhythm of a song. But for all the training needed for the mind and ear, it's largely up to the hands when playing an instrument, that is, they need the most training to successfully execute what the ear wants. So, plan, set your goals, find a good teacher, and practice, practice, practice!
Playing by Ear vs. Learning by Ear
Don't get Playing by Ear and Learning by Ear mixed up. It's hit-and-miss to try to learn by ear. You need to train your ear and brain to understand what is going on to play by ear. Understanding the principles of how music works will go a long way on your ability to play by ear.
Start with training your ear to identify (hear) and sing melodic intervals .
Additional Resources and Links
End of Lesson - Thanks, Hope You Enjoyed It!
Download or View PDF for Complete Lesson
Download this lesson's PDF file for the latest, complete, and most up-to-date version of the lesson. As well as additional information not presented on-line.
Members and Active Students need to sign-in to download this lesson's PDF for the complete lesson.
Related Lessons
Related Lessons for Playing by Ear - The Ultimate Goal.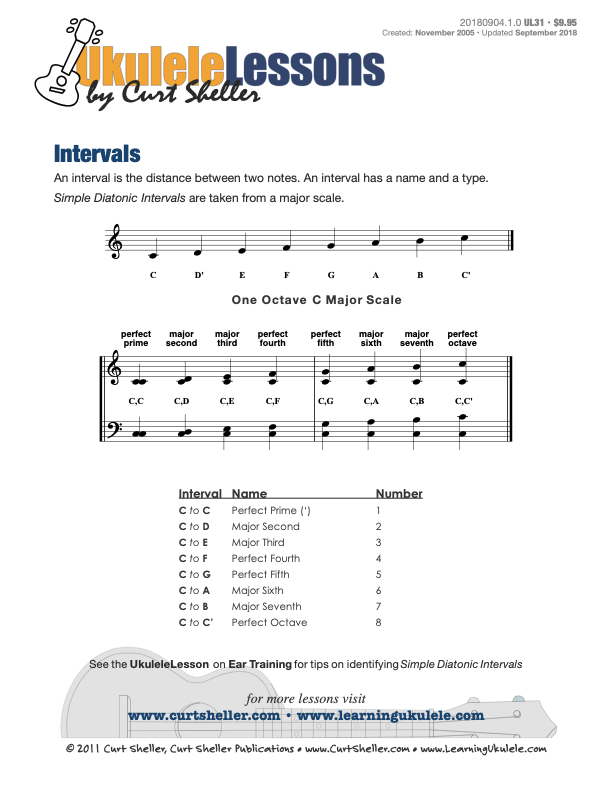 Understanding Diatonic Intervals
• Updated: 19 Apr 2022
An interval is the distance between two notes. An interval has a name and a type. Intervals can be played one note (melodic) or two notes (harmonic) at a time, ascending or descending.
Simple and Compound Intervals are taken from a major scale.
Chromatic Intervals are NOT taken from a major scale. They are derived from the diatonic intervals.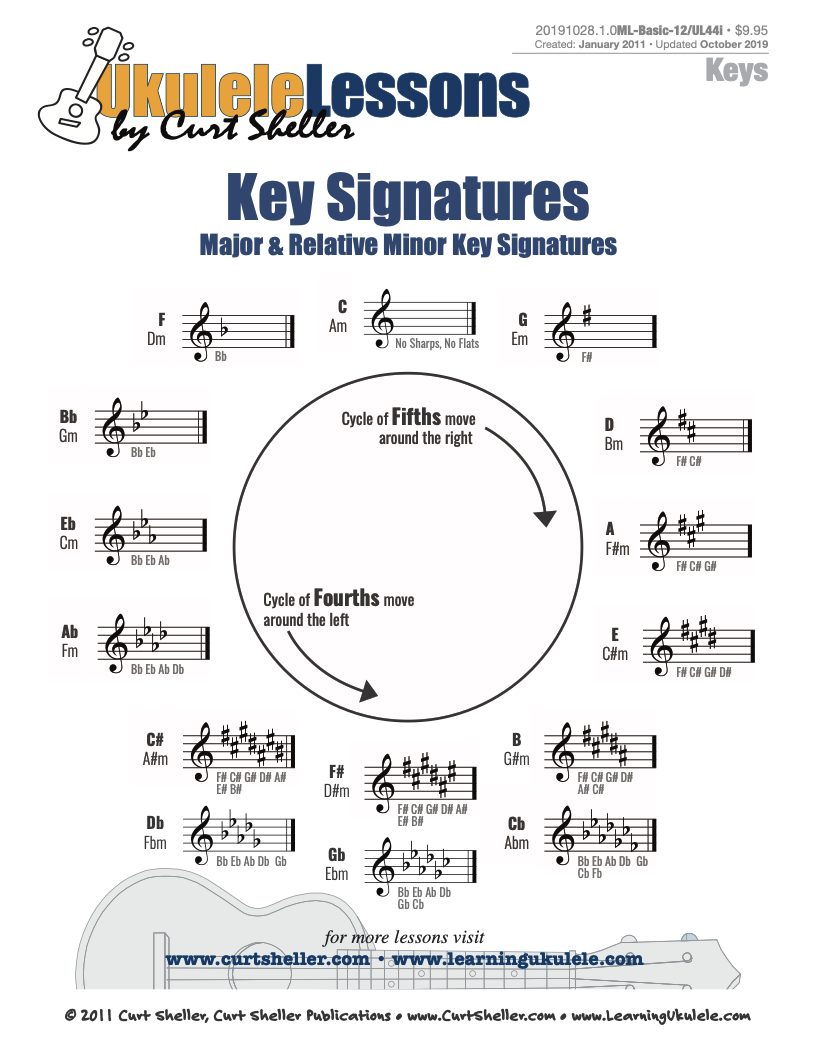 Key Signatures and the Circle of Fifths and Fourths
• Updated: 02 Mar 2021
There is a load of information in traditional "Key Signatures." Unlocking the principles in this circle leads to a better understanding of music and how things work. A key signature is a series of sharp or flat symbols placed on the staff, designating the notes that are to be consistently played higher or lower than the equivalent natural notes.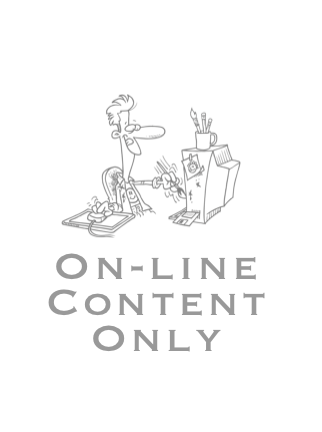 Playing by Ear - Chords
• Updated: 06 Oct 2016
Playing chords, chord progressions, and songs by ear is all about getting your ear to recognize the sound of chords and chord progressions and just like melodies, train the fingers and the hand to follow your inner ear and play these chords, chord progressions, and songs on demand.
This training involves the mind, hands and ear. Of the three the hands always need the most work as they can't hear or understand anything - only what they have been trained to do so.
Related Books
Related Books for Playing by Ear - The Ultimate Goal.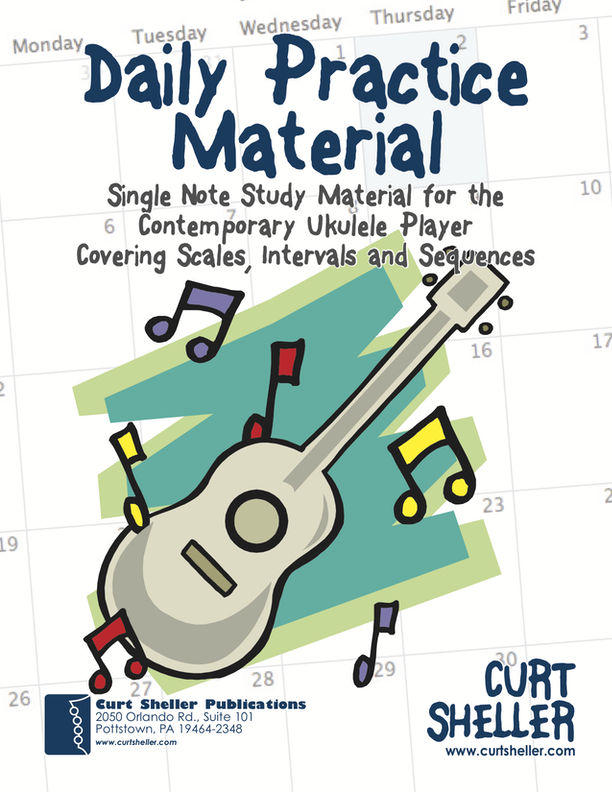 Daily Practice Material for the Contemporary Ukulele

Updated: Sep 28, 2021
Daily Practice Material for the Contemporary Ukulele Player is an organized collection of daily practice and reference material for the contemporary ukulele player. This material can be used to develop the vocabulary and knowledge necessary for single note playing.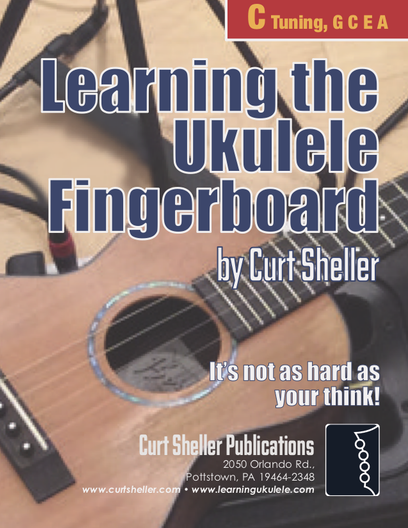 Learning the Ukulele Fingerboard - C Tuning

Updated: Jan 12, 2022
Finally, learn the names of the notes of the fingerboard. Learning the notes of your instrument allows you the flexibility of not having to remember so many shapes. There are simply way too many chords, scale and notes patterns, and shapes to remember. It all comes down the notes.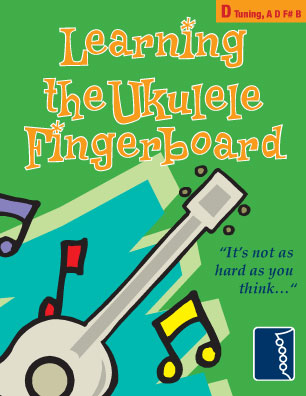 Learning the Ukulele Fingerboard - D Tuning

Updated: Sep 23, 2009
If your goal is to finally learn the names of the notes on the ukulele fingerboard. Then Learning the Ukulele Fingerboard - D Tuning is your answer. Learning the Ukulele Fingerboard - D Tuning, has a step by step approach to finally mastering the ukulele fingerboard.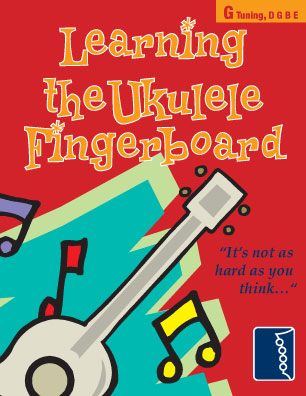 Learning the Ukulele Fingerboard - G Tuning

Updated: Aug 23, 2009
If your goal is to finally learn the names of the notes on the ukulele fingerboard. Then Learning the Ukulele Fingerboard - G Tuning is your answer. Learning the Ukulele Fingerboard - G Tuning, has a step by step approach to finally mastering the ukulele fingerboard.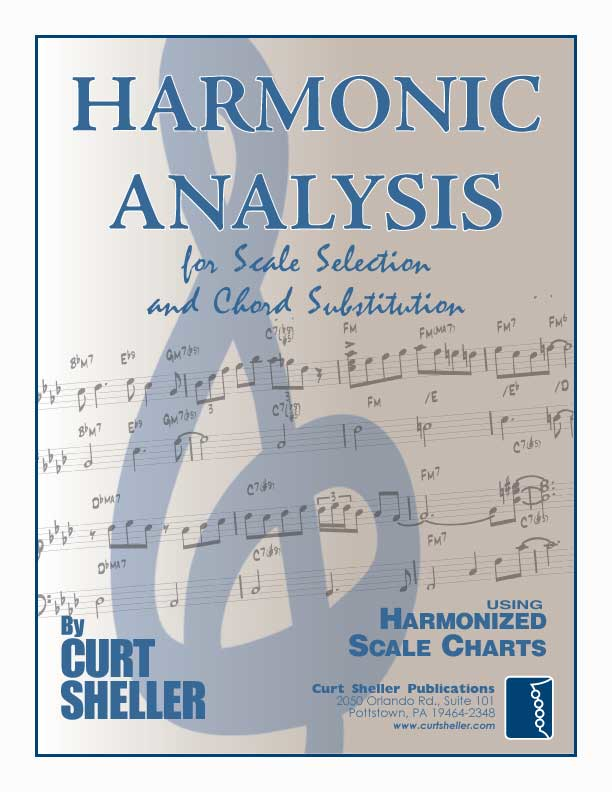 Harmonic Analysis for Scale Selection and Chord Substitution

Updated: Jun 10, 2021
Harmonic Analysis is the understanding of the functional sequence of chords. It is the process used to analyze the harmonic structure of a progression, song or composition. This analysis is then used to make scale selections for improvisation and chord substitution.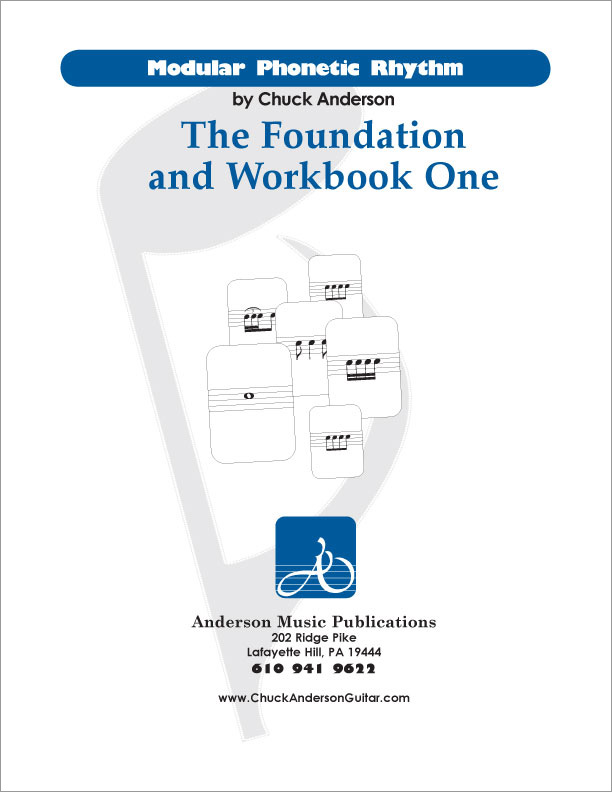 Modular Phonetic Rhythm, The Foundation and Workbook 1

Updated: Dec 8, 2021
Modular Phonetic Rhythm represents a significant advance in the teaching and application of rhythm. Eliminating many inefficient aspects of rhythm education, Modular Phonetic Rhythm streamlines the traditional educational approach, resulting in a reflexive reaction to rhythm.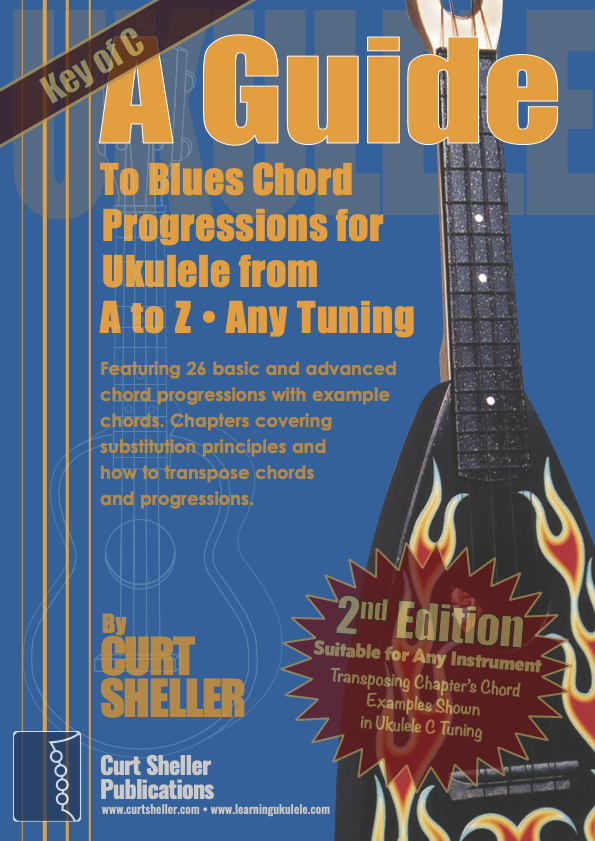 A Guide to Blues Chord Progressions for Ukulele A to Z

Updated: Jun 15, 2006
The Blues are at the heart of all American music. It has influenced Country, Rock, Folk, Jazz, Bluegrass and just about every form of American music we listen to today. 26 blues progression in C and G tuning, progressing from basic to advanced jazz progression, with chord grids and substitutions explained.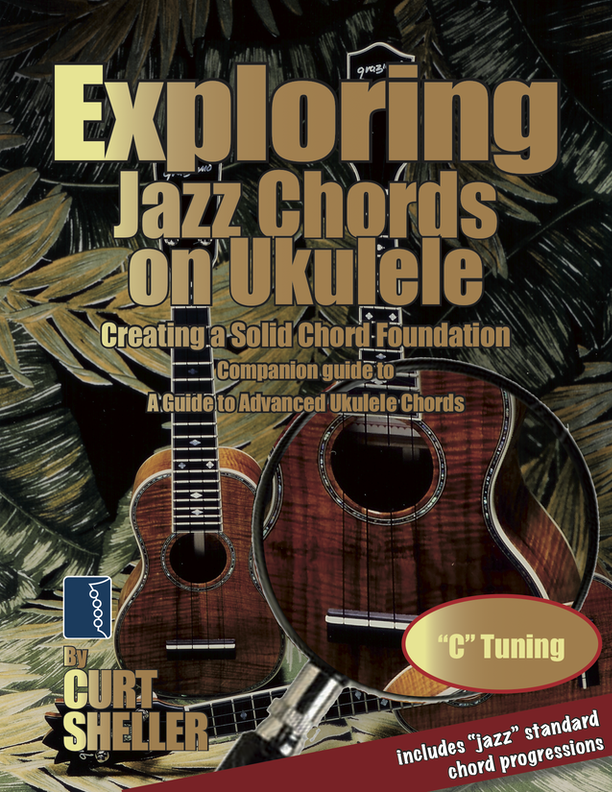 Exploring Jazz Chords on Ukulele

Updated: Apr 20, 2022
Exploring jazz chords using a variety of common chord progressions based on songs from the standard jazz repertoire. Core Chords are the basic set of chords needed to play a wide range of music, in a variety of styles. This set of chords includes basic open position chords, basic movable form chords and the core 4-part "jazz" chords.
Related Songs
Related Songs for Playing by Ear - The Ultimate Goal.
Related Lesson Series
Related Lessons Series for Playing by Ear - The Ultimate Goal.
Harmonic Analysis for Scale and Chord Selection
Updated: 01 Jan 2003
Harmonic Analysis is the process used to determine the harmonic function of chords within a chord progression or song. A chord progression is defined as a sequence of chords, each chord has a root and is a particular chord type. The relationship of a chord's to a scale determines its function within that scale's tonality.
Related Lesson Files, Resources and Assets
Related Assets for Playing by Ear - The Ultimate Goal.