Basic Lessons for Getting Started with Ukulele
Getting Started with Ukulele for Every Ukulele Player.
These are the ukulele lessons that every ukulele player just starting out a bit seasoned should take a look at.
Even seasoned player should take a look at this series of lessons. You'll probally pick up a few things you didn't know or remember that would be very helpful when teaching beginners just get started.
PUBLISHED: Jan 1, 2003 UPDATED: Jan 1, 2003 • VIEWS: 180 • SERIES CODE: UL-basics •
10 Lessons in the "Basic Lessons for Getting Started with Ukulele" Series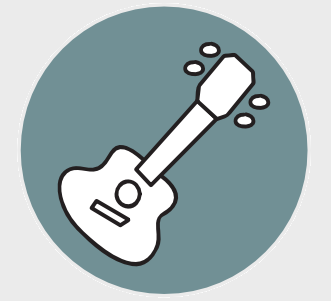 The Learning Process - The Mind, Hands and Ears
• Updated: Jan 22, 2020
For music and learning an instrument like the ukulele or guitar, it's all about the making the connection between the Mind, the Hands and the Ear. When listening to music, we enjoy it at the tempo the composer or artist intended, in real time. Only the ear is involved in listening. This is passive listening and you're simply enjoying the music. This is what we do everyday and it's what draws us to want to learn a musical instrument.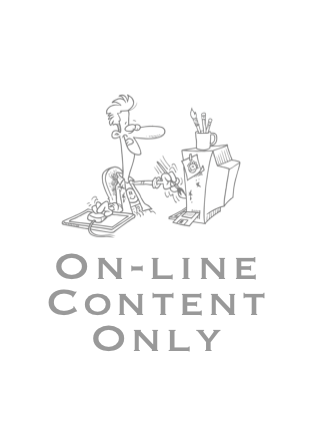 What Finger is What?
• Updated: Mar 22, 2012
Just what are the fingers of the plucking and fretting hand called.
There can be a bit of confusion as to what the names and numbers of your fretting hand and the plucking or strumming hand are. Here are some of the common fingering notations I've encounter over the course of my studying ukulele and guitar.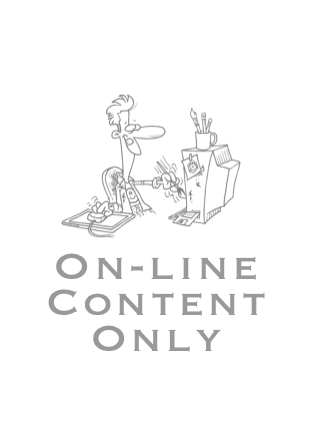 Your First `Ukulele Chord
• Updated: Feb 29, 2016
Your first ukulele chord is typically an open position "C Major Chord." It's only one finger and ukulele players love to show new players this, the easiest, usable ukulele chord for new players. Especially someone coming from guitar where an open position C major is three fingers and not that easy as the first chord.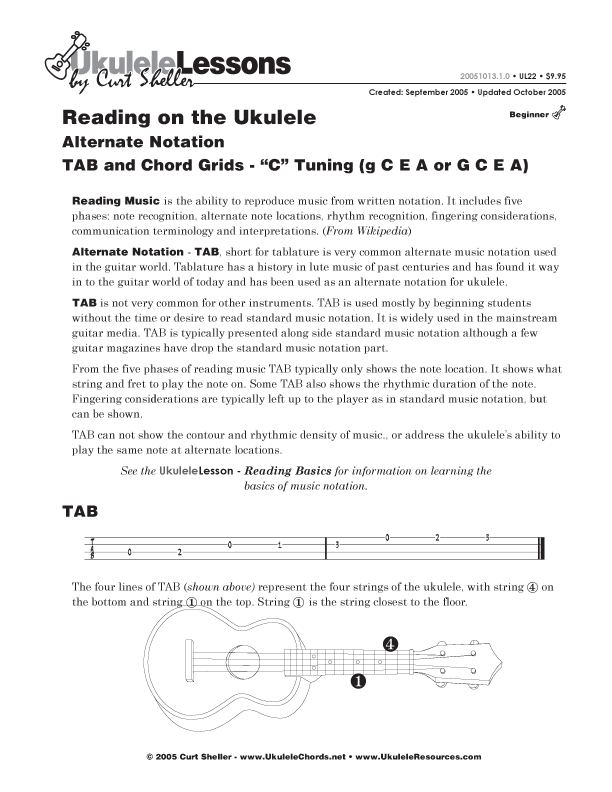 Reading Ukulele TAB - Alternate Notation
• Updated: Feb 12, 2020
"TAB" or "Tablature", is an alternate form of musical notation, which tells players where to place their fingers on a particular instrument rather than which pitches to play. TAB is sort of a secret language between guitar players and ukulele players. Although a shortcut to getting started it actually serves to alienate one from the rest of the music world.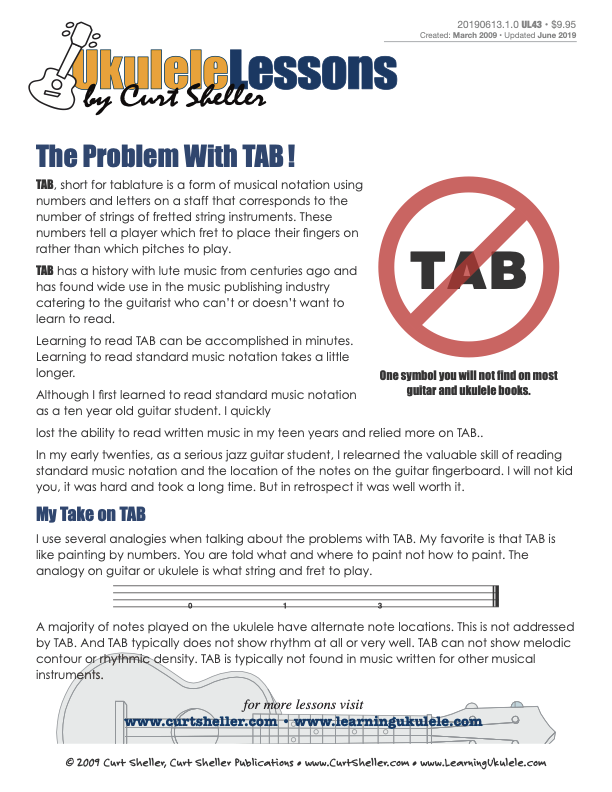 The Trouble with TAB
• Updated: May 14, 2020
TAB, short for tablature is a form of musical notation using numbers and letters on a staff that that corresponds to the number of strings of fretted string instrument. Theses number tell a player which fret to place their fingers on the fingerboard. TAB has a history with lute music from centuries ago and has found wide use in the music publishing industry catering to the guitarist who can?t or doesn't want to learn to read.
NOTE: Each higher access level includes ALL the benefits of the lower levels. Private Lessons include all the benefits of a Premium Access Plans as long as you remain a student on the schedule.
---
Just browsing over both books, they look fantastic! I'm a guitarist and uke player for over 25 years and was thinking about writing a ukulele book but you've already written what I think are the best, most comprehensive and thorough books I've ever seen for the instrument. I just might end up buying every book you've written and I'll be giving my highest recommendation for your books to my friends and students. Thank you so much for taking the time to write such great books! — Peter Rhee
Aloha, Curt, All I can say is WOW! What you have accomplished is simply incredible! All the best — Glen Hirabayashi, The Aloha Boys
Folks, if you haven't stopped by Curt's site, do so right now! ..And get his books, they are fantastic. This guy knows his stuff and is able to pass it along too. — Alan Johnson Proprietor, The 4th Peg
I can highly recommend Curt's Uke books — I have four of them and they are excellent. — fatveg — Portland
Thanks for visiting and checking out the site!

Original Curtie Animation from 1987 for my first web site on a Macintosh II. 34 years ago. Man, does time fly.
"Built for myself (Curt), and sharing with the `Ukulele community!"
LearningUkulele.com has one of the largest collections of lessons, songs, and TABS, luthiers, ukulele builders, ukulele festival and club information, and, ukulele links on the web. I've been on the ®Internet since the early 1990's and This site just never stops growing!!!
Content is added and updated almost daily - so check back often. I really do need to get out more ;-)