Getting Started with `Ukulele - Lesson Seven
For lesson seven we'll add and build on the lesson and material from lesson six.
In lesson seven you'll learn to following:
The Key and Secondary Key Frets from the floor to the ceiling, strings one to four
Two more core strums and an introduction to the Modular Phonetic Rhythm system
Primary Chords - Key of E
Common Chord Progressions for E Major
Enharmonic Equivalents
NOTE: Although these lessons are presented as a weekly series you can and should take as long as you like to master each week's lesson as there is a lot of material in each lesson in the series.
The individual lessons in this series are viewable from the Lessons button bar above.
The Fingerboard - Key and Secondary Frets
If you're like most players learning the ukulele fingerboard, you might know them pretty well in one order - from string four to one - nose to toes, the ceiling to the floor or what ever direction you first learned them. Go back and memorize from the floor to the ceiling, the opposite direction.
Know the notes of the neck needs to be second nature and instant recall. This is one are of learning the ukulele that you don't even need to have the ukulele with you and can be done any time.
Primary Chords - E Major
The key of E major is one of the common keys that include C, G, D, A and E.
As we learned in week one's lessons - the primary chords are the three major chords that are the main chords of the key. The primary chords create the tension and resolution in music that gives a chord progression emotion – a feeling of rest and resolution or constance and dissonance.
Learn the E, A, B and B7 open position chords. With these four chords you can play countless songs in the key of A major.
Using the Quarter Notes strum and focus on switching between F#m, G#m and C#m.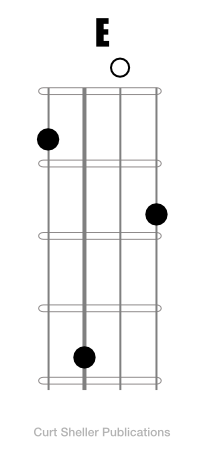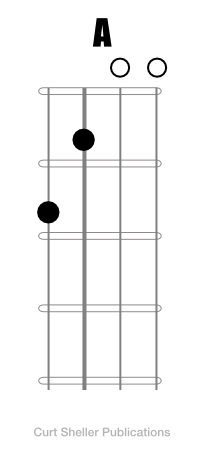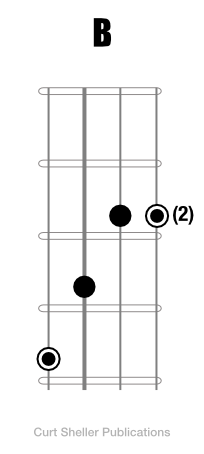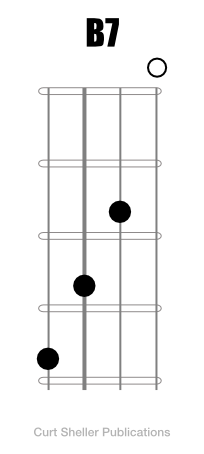 NOTE: Technically the B chord do not fit my description of an open position chord as it does no contain any open strings. However with the key of E being a common key, especially on guitar the B is needed as they it is a primary chord.
Ultimately any chord can go to any chord so practice all the following combinations:
This will cover all possible connections. Practice switching at a SLOW tempo and slowly increase the tempo as you get comfortable with the chords.
Visualize the next chord while you are on the current chord.
With these Three Chords you can play a lot of songs.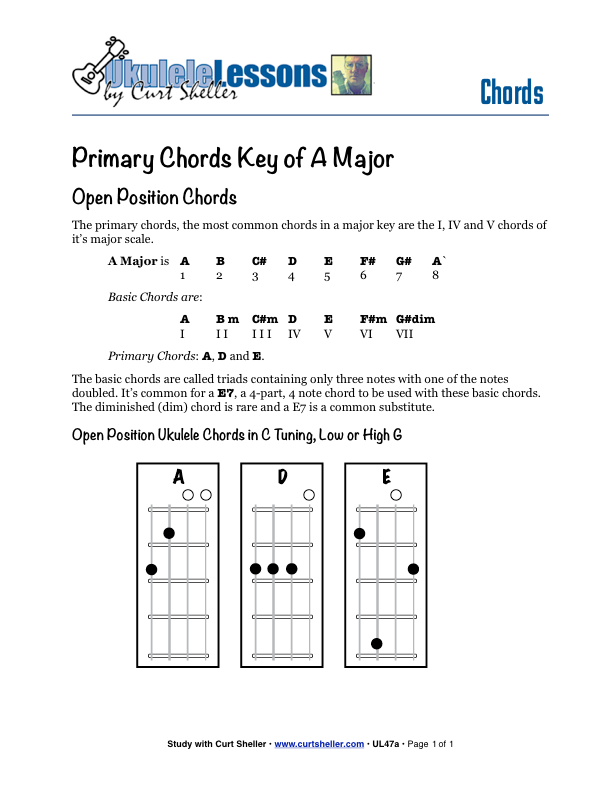 Common Progressions - Key of E
With the primary and secondary chords in the key of E.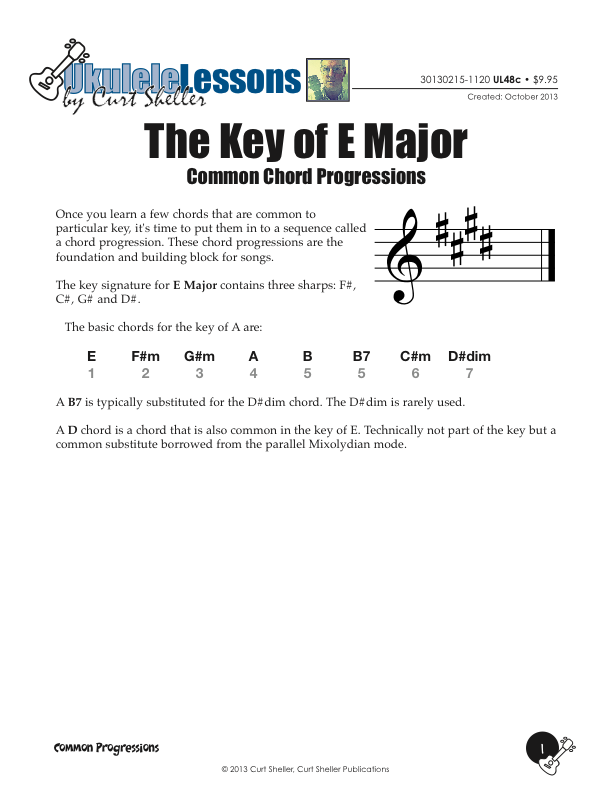 Additional Strumming Patterns
Sticking with the basic eighth core strum, here are another two, closely related and popular strumming patterns that can be added to your strumming vocabulary.
Unless a rhythmic pattern is strongly associated with a famous song or particular style it's hard to give it a descriptive name. So, the best way of naming it is by it's two Modular Phonetic Rhythm syllables ( see below lesson ).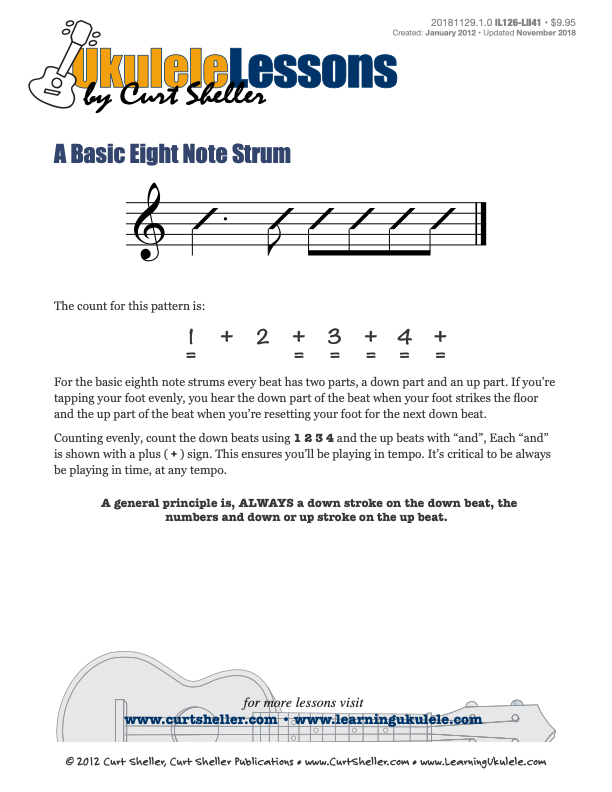 Modular Phonetic Rhythm
The Modular Phonetic Rhythm system represents a significant advance in the teaching and application of rhythm. Eliminating many inefficient aspects of rhythm education, Modular Phonetic Rhythm streamlines the traditional educational approach, resulting in a reflexive reaction to rhythm.
This system was developed by Chuck Anderson and forms the foundation for ALL things RHYTHM in the lessons available here.
Through the study of the Modular Phonetic Rhythm system you will can develop a larger vocabulary of stums. Review the introductory lesson on the system and then we'll dive right in it with he next weekly lesson.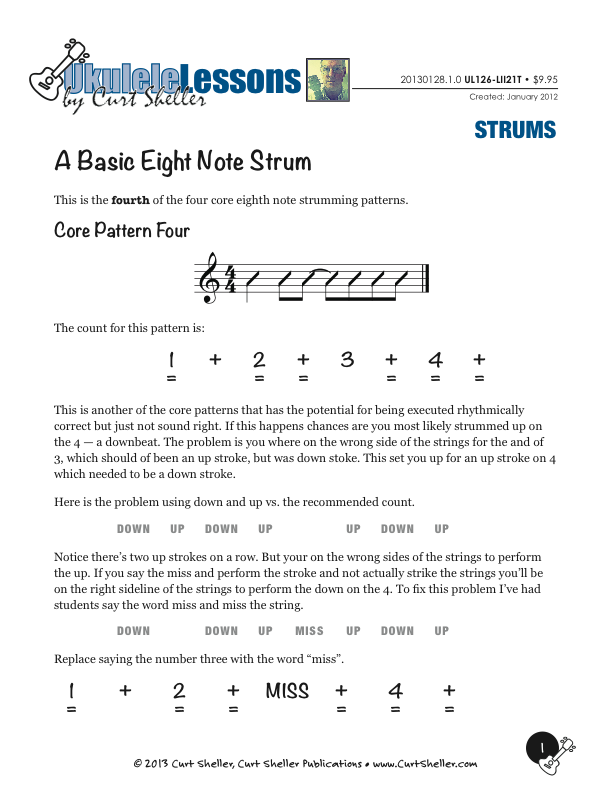 Enharmonic Equivalents
An Enharmonic Equivalent is where a musical pitch can have different names depending on the context in which it is functioning. An example is G# produces the same pitch as Ab.
Enharmonic equivalents will sound the same but are notated differently using standard music notation.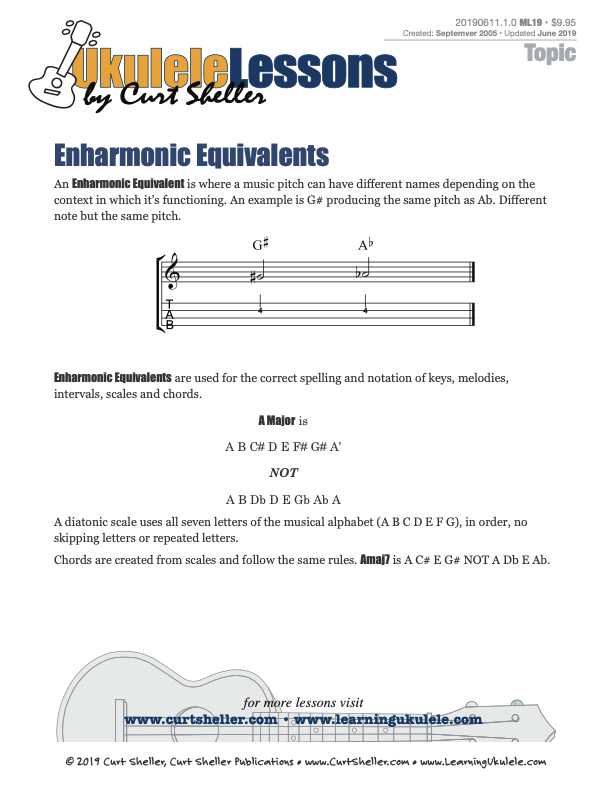 ---
End of Lesson - Thanks, Hope You Enjoyed It!

Related Lessons
Related Lessons for Getting Started with `Ukulele - Lesson Seven at this time.
top
Related Lesson Files, Resources and Assets
Related Assets for Getting Started with `Ukulele - Lesson Seven at this time.
top
Basic Ukulele Chord Chart
A chart of the most common ukulele chords in the most common keys of C, G, D, A, and E.
Ukulele Fingerboard Chart for C Tuning, Low or High G
Ukulele Fingerboard Chart for C Tuning, Low or High G.

Members Only
Log-in to access.
Related Lesson Books
Related Books for Getting Started with `Ukulele - Lesson Seven at this time.
top
Related Lesson Series
Related Lessons Series for Getting Started with `Ukulele - Lesson Seven at this time.
top
Getting Started Series of `Ukulele Lessons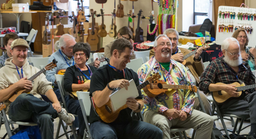 This series of lessons is intended to take a beginning ukulele player, just Getting Started through the basics. Your goal, as well as mine, is to help you create a solid foundation for future learning and development with this fun, cool instrument - the `ukulele. This series of lessons are also a great refresher for all players who've been playing for awhile or are in a position to offer assistance or advice to fellow players.
Spend at least one week, if not more on the material presented in each lesson. Each one builds on the previous series of lessons. Take as much time as needed with each task. Skipping or rushing through will only come back to haunt you later down the road. You miss a lot when taking shortcuts or skipping around.
Suggesting and recommending lessons to visitors and players that haven't had the benefit of a one-on-one personal evaluation with me is a bit of a challenge. Just as any one book does not address anyone player and their needs, a series of lessons has to be somewhat generic and cover a lot of material. Think of each set of lessons as a menu of choices.
They're over 600 currently available lessons online and counting for ukulele that I've created over the years. If you don't see a particular topic or specific task you're looking for I probably have something here or can create a lesson to address your needs.
NOTE: Each higher membership level includes ALL the benefits of the lower membership levels. The Private Lesson Plans include all the benefits of a Premium Access Plans as long as you remain a student on on the schedule.
Just browsing over both books, they look fantastic! I'm a guitarist and uke player for over 25 years and was thinking about writing a ukulele book but you've already written what I think are the best, most comprehensive and thorough books I've ever seen for the instrument. I just might end up buying every book you've written and I'll be giving my highest recommendation for your books to my friends and students. Thank you so much for taking the time to write such great books! — Peter Rhee
Aloha, Curt, All I can say is WOW! What you have accomplished is simply incredible! All the best — Glen Hirabayashi, The Aloha Boys
Folks, if you haven't stopped by Curt's site, do so right now! ..And get his books, they are fantastic. This guy knows his stuff and is able to pass it along too. — Alan Johnson Proprietor, The 4th Peg
I can highly recommend Curt's Uke books — I have four of them and they are excellent. — fatveg — Portland
Thanks for visiting and checking out the site!

Original Curtie Animation from 1987 for my first web site on a Macintosh II.
33 years ago.
"Built for myself (Curt), and sharing with the `Ukulele community!"
LearningUkulele.com has one of the largest collections of lessons, songs, and TABS, luthiers, ukulele builders, ukulele festival and club information, and, ukulele links on the web. I've been on the ®Internet since the early 1990's and This site just never stops growing!!!
Content is added and updated almost daily - so check back often.