Here are the first, suggested lessons that ALL my private students and site members get. This series of lessons sets the foundation and establishes common musicial terminology for communication and all future lesson material.
The whole goal of this series of lessons under the Getting Started with Ukulele lessons series is to get you playing basic chords in common keys using the common strums. Related side lesson material will be suggested and recommended.
First Things First - Selecting a `Ukulele
The first thing is to get a ukulele. The ukulele (pronounced yoo-kə-lay-lee, from Hawaiian: 'ukulele) comes in four common sizes: Soprano ( sometimes called Standard ), Concert, Tenor and Baritone.
Common `Ukulele Tunings
Any tuning is possible on a ukulele as long as the construction supports it and a string is available. There are three 'ukulele tunings in use today, C, D and G tuning - with C tuning the most popular. C tuning - both low G and high G is the tuning I use for lessons.
Tuning Your Ukulele
The best way to turn when you are first starting out is to get an electronic, clip-on tuner. These are available at all music store.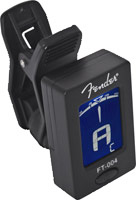 What Finger is What?
Just what are the fingers of the plucking and fretting hand called?
There can be a bit of confusion as to what the names and numbers of your fretting hand and the plucking or strumming hand are. Here are some of the fingering notations I've encountered over the course of my studying ukulele and guitar.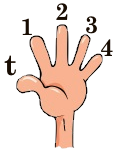 Which Way Is Up? - Up, Down, Ascending, Descending, etc...
What is up, down, higher, lower, top, bottom, ascending, descending on a ukulele? Up, down, higher, lower, top, bottom, ascending, descending should refer to musical pitch and not to direction as we know it.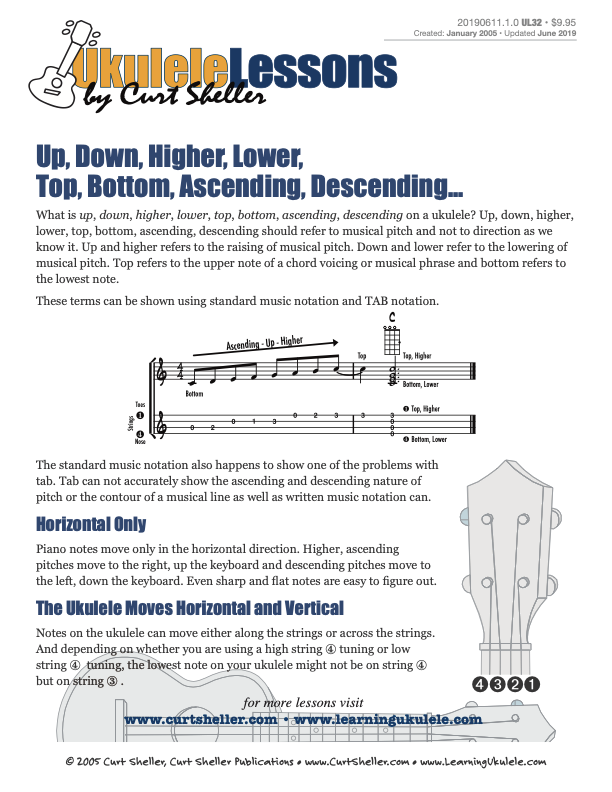 The Learning Process - The Mind, Hands and Ears
For music and learning an instrument like the ukulele or guitar, it's all about the making the connection between the Mind, Hands, and Ear.
When listening to music, we enjoy it at the tempo the composer or artist intended - in real time. Only the ear is involved in passively listening and enjoying the music. Music is around us every day. It's what draws us to want to learn a musical instrument.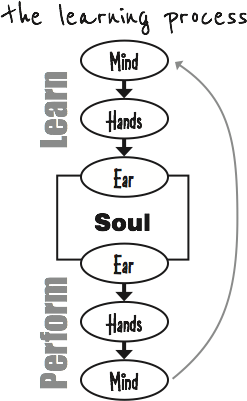 Efficient Fretting Hand Placement
Efficiency is the Key to Proper Technique and one of the many things that is hard to learn on your own. I have seen with the typical teacher or on-line video presentation that technique is the one common area where you don't get quality instruction or any instruction at all. And technique is one thing that can't be based on "do whats feels natural." An inaccurate statement that I hear all the time. What initially feels good is not what will lead to an efficient easy to maintain technique.
Default Finger Position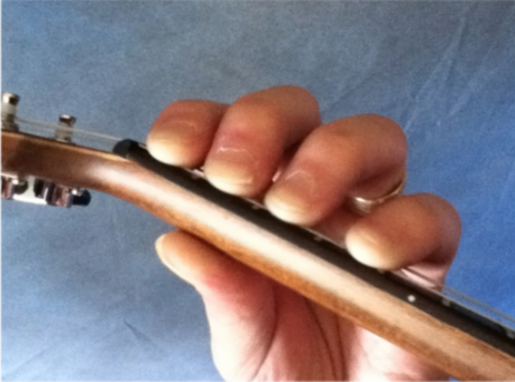 The four fingers of your fretting hand can span four frets, one finger per fret - this is the default fingering position. Start by placing your index finger on string four, fret one. Then add finger two to fret two, finger three to fret three and finally finger four to fret four. The thumb should be positioned flat and right behind finger one and two - the position of strength and offering the most support. Only the fingertips and the thumb print touch the instrument. The fourth finger will not be as arched much as the other fingers because of its size and relative reach. Unless there is an overwhelming musical reason for the thumb to get into the action its only role is to support the fingers, supplying opposite and equally pressing motion as the fingers.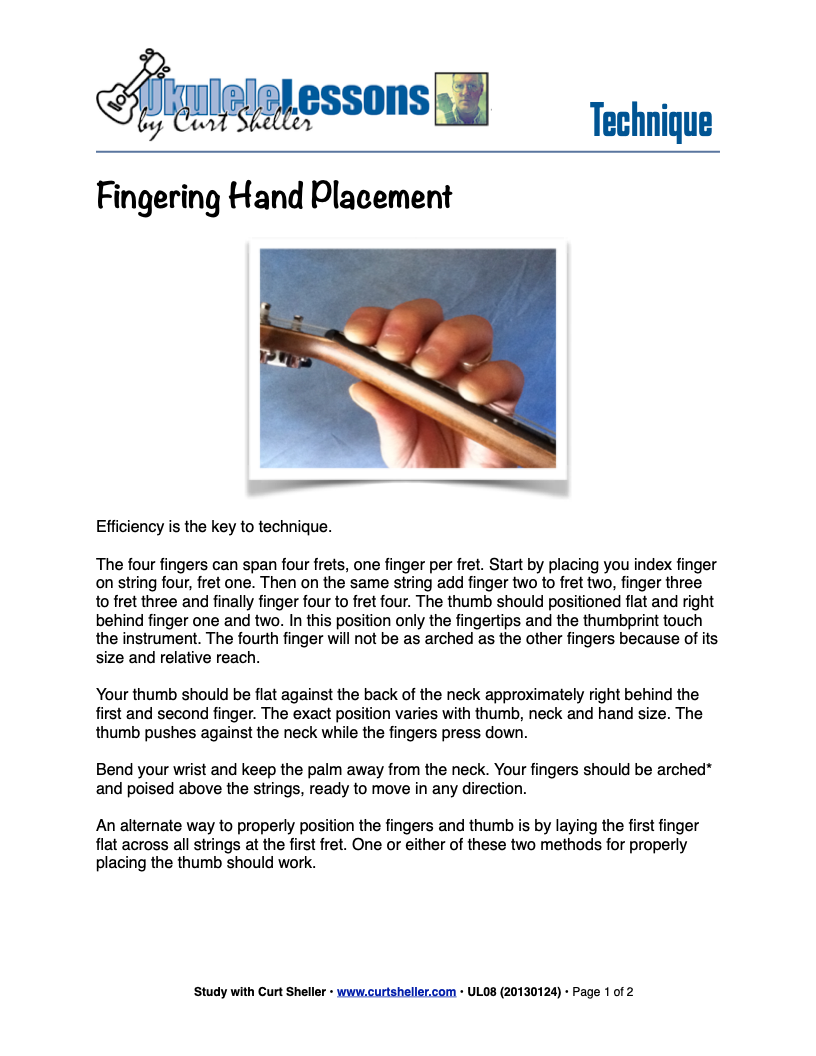 ---
End of Lesson - Thanks, Hope You Enjoyed It!

---
Related Lessons
Related Lessons for Getting Started with Ukulele - Introduction at this time.
top
Related Lesson Files, Resources and Assets
Related Assets for Getting Started with Ukulele - Introduction at this time.
top
Basic Ukulele Chord Chart
A chart of the most common ukulele chords in the most common keys of C, G, D, A, and E.
Ukulele Fingerboard Chart for C Tuning, Low or High G
Ukulele Fingerboard Chart for C Tuning, Low or High G.

Members Only
Log-in to access.
Related Lesson Books
Related Books for Getting Started with Ukulele - Introduction at this time.
top
Related Lesson Series
Related Lessons Series for Getting Started with Ukulele - Introduction at this time.
top
Getting Started Series of `Ukulele Lessons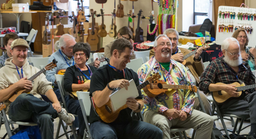 This series of lessons is intended to take a beginning ukulele player, just Getting Started through the basics. Your goal, as well as mine, is to help you create a solid foundation for future learning and development with this fun, cool instrument - the `ukulele. This series of lessons are also a great refresher for all players who've been playing for awhile or are in a position to offer assistance or advice to fellow players.
Spend at least one week, if not more on the material presented in each lesson. Each one builds on the previous series of lessons. Take as much time as needed with each task. Skipping or rushing through will only come back to haunt you later down the road. You miss a lot when taking shortcuts or skipping around.
Suggesting and recommending lessons to visitors and players that haven't had the benefit of a one-on-one personal evaluation with me is a bit of a challenge. Just as any one book does not address anyone player and their needs, a series of lessons has to be somewhat generic and cover a lot of material. Think of each set of lessons as a menu of choices.
They're over 600 currently available lessons online and counting for ukulele that I've created over the years. If you don't see a particular topic or specific task you're looking for I probably have something here or can create a lesson to address your needs.
Related Songs
Related Songs for Getting Started with Ukulele - Introduction at this time.
top
No related songs for Getting Started with Ukulele - Introduction at this time.
Related Videos
Related Videos for Getting Started with Ukulele - Introduction.
top
No videos for Getting Started with Ukulele - Introduction at this time.
NOTE: Each higher membership level includes ALL the benefits of the lower membership levels. The Private Lesson Plans include all the benefits of a Premium Access Plans as long as you remain a student on on the schedule.
Just browsing over both books, they look fantastic! I'm a guitarist and uke player for over 25 years and was thinking about writing a ukulele book but you've already written what I think are the best, most comprehensive and thorough books I've ever seen for the instrument. I just might end up buying every book you've written and I'll be giving my highest recommendation for your books to my friends and students. Thank you so much for taking the time to write such great books! — Peter Rhee
Aloha, Curt, All I can say is WOW! What you have accomplished is simply incredible! All the best — Glen Hirabayashi, The Aloha Boys
Folks, if you haven't stopped by Curt's site, do so right now! ..And get his books, they are fantastic. This guy knows his stuff and is able to pass it along too. — Alan Johnson Proprietor, The 4th Peg
I can highly recommend Curt's Uke books — I have four of them and they are excellent. — fatveg — Portland
Thanks for visiting and checking out the site!

Original Curtie Animation from 1987 for my first web site on a Macintosh II.
32 years ago.
"Built LearningUkulele.com for myself, and sharing with the `Ukulele community!"
LearningUkulele.com has one of the largest collections of lessons, songs, and TABS, luthiers, ukulele builders, ukulele festival and club information, and, ukulele links on the web. I've been on the ®Internet since the early 1990's and This site just never stops growing!!!
Content is added and updated almost daily - so check back often.