Selecting a `Ukulele
Buying and supplying your UAS ( `Ukulele Acquisition Syndrome ).
PUBLISHED: Jan 2, 2005 UPDATED: Dec 3, 2017 • VIEWS: 122 • LESSON CODE: UL128 •
Instruments: ukulele Subjects: beginner • intermediate • advanced • instruments
Selecting a `Ukulele
The 'Ukulele (pronounced oo-koo-lele) comes in four standard sizes: Soprano (sometimes called Standard), Concert, Tenor and Baritone. The Baritone is tuned just like the four thin strings of a standard tuned guitar and called "G" tuning (D G B E). The Soprano, Concert and Tenor is typically tuning in a "C" Tuning (G C E A) or "D" tuning (A D F# B). The Tenor can also be tuned like the Baritone ukulele with a high or low string four.
A `Ukulele is:
Light Weight and Portable
Easy on the Fingers with Four Strings and Four Fingers - a perfect match
Less Need for Strumming Accuracy
There isn't a lot expected from a ukulele player
The music you play can be as simple or complex as you want. The Ukulele is a powerful musical instrument for communication in its own right.
And, did I mention it's a lot of fun to play and explore.
And a side note - the ukulele community is one the most welcoming and helpful communities among musicians. Open to helping and sharing with any level of player.
Step One - Get A Ukulele
Of the four standard sizes: Soprano (sometimes called Standard), Concert , Tenor , and Baritone . The concert followed by the tenor seem to be the most popular (based on sales).
I would actually recommend to NOT get your ukulele without trying it out. There is a lot a variety in the number of manufactures making instruments, types of wood, solid tops vs. laminated tops, different string material, high "G", low "G", which tuning to use, the various sizes and shapes, etc… You need to get your hands on one and - more importantly find a reputable shop that, just doesn't have a few ukuleles and actually has a wide selection of instruments and knows what they are talking about. A lot of "guitar" stores think they are little guitars - they're ukuleles not guitars - same string family but a different personality and their own why of doing thinks. Only the chord shapes look the same, albeit different names. More importantly I've found the ukulele community to be very generous, accepting and open to new players.
So that leaves out the Amazons, WalMarts, Guitar Centers and Sam Ashes of the World. With more and more stores popping up that cater to the ukulele crowd and ukulele festivals with vendors as well as Meetup `Ukulele Groups ( here are the groups within 50 miles from Funky Frets in Boyertown, PA USA ) you can find a good source of ukuleles and somewhat knowledgeable people.
What to Learn
What you'll typically do the most as a beginner ukulele player is strummin and play chords. The below books and chord charts are a great place to start.
Here are a couple of Lesson Series for chords and getting started with strums:
End of Lesson - Thanks, Hope You Enjoyed It!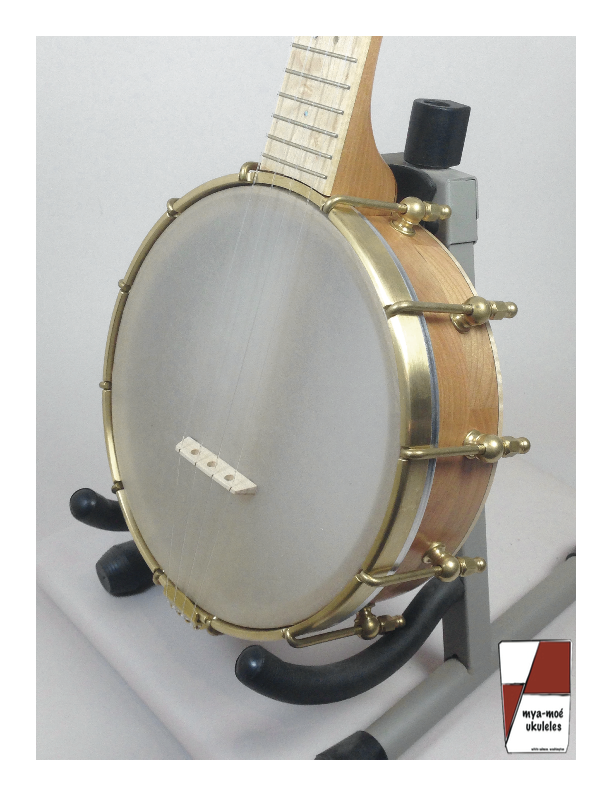 Banjo `Ukuleles
• Updated: Apr 12, 2019
The banjolele (brand name; sometimes banjo ukulele or banjo uke) is a four-stringed musical instrument with a small banjo-type body and a fretted ukulele neck. 'Banjolele', sometimes also spelled 'banjelele' or 'banjulele' is a generic nickname given to the instrument, which was derived from the 'banjulele-banjo' introduced by Alvin D. Keech in 1917.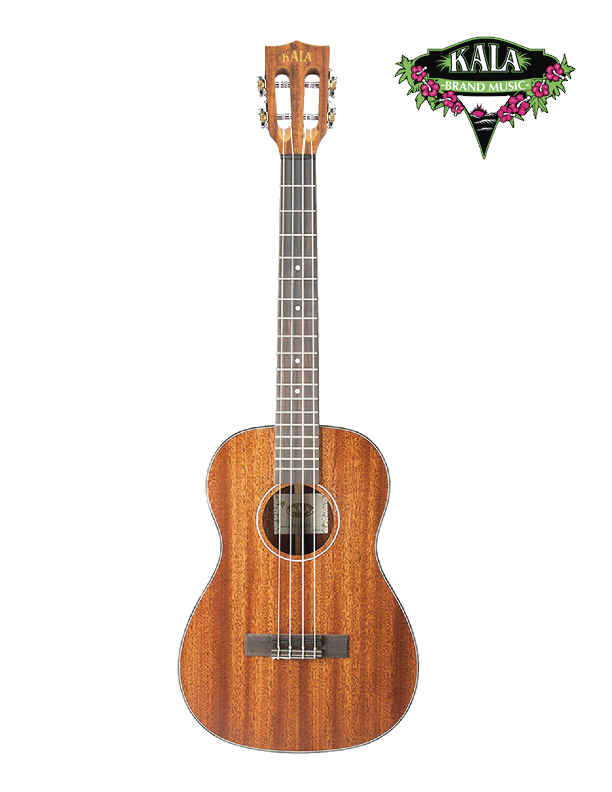 Baritone `Ukuleles
• Updated: Apr 12, 2019
The Baritone ukulele is the largest of the standard, most common sized ukuleles. It is tuned just like the thin, higher four strings of a standard tuned guitar (D G B A). This makes it a great starting instrument for little tikes wanting to play guitar but can't handle the steel strings and larger body size of the most acoustic guitars.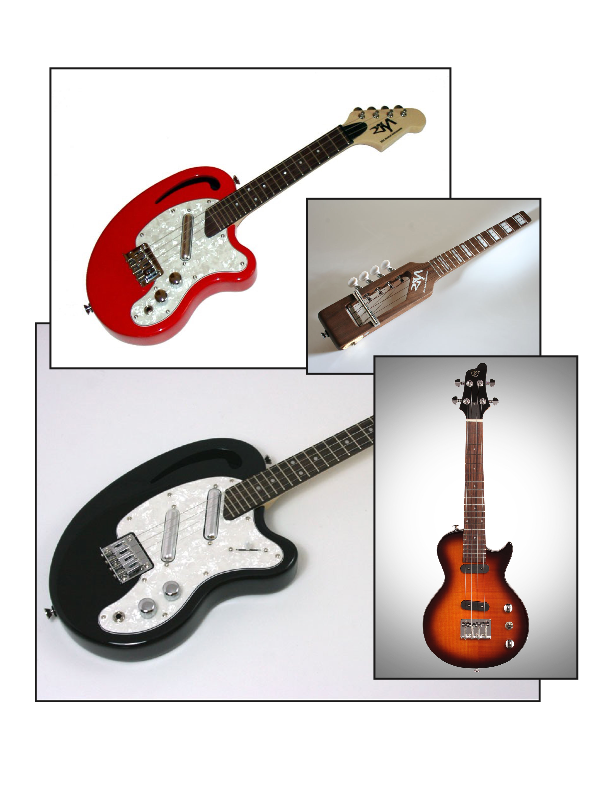 Solidbody Electric `Ukuleles
• Updated: Apr 12, 2019
Most acoustic ukuleles can be plugged in with the addition of a internal pickup or stick-on pickup. This page focuses on purely Electric Ukuleles. These are typically solid body instruments with pickups. Either magnetic pickups in the same vein as solid body guitar electric pickups or a piezo under the saddle pickups.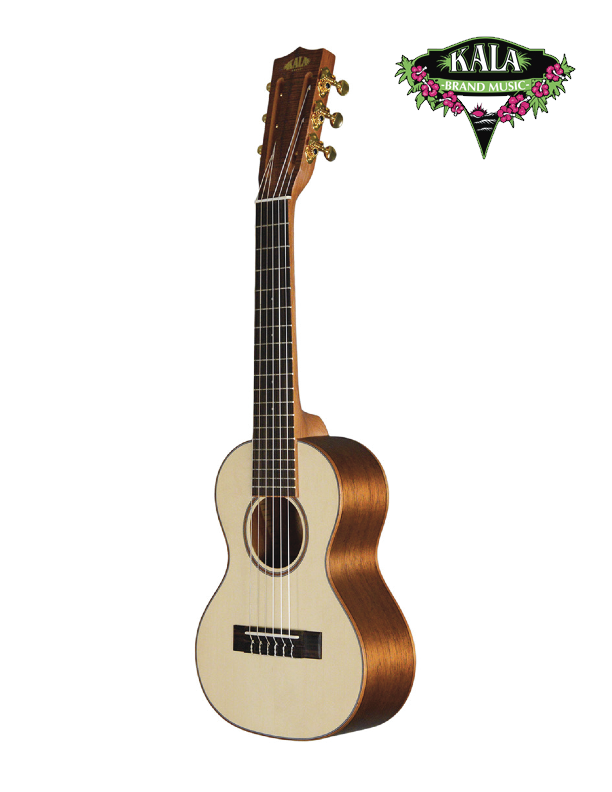 Guitar `Ukuleles (Guitarele, Guilele)
• Updated: Apr 12, 2019
The **guitarele, **guilele is a tenor body sized ukulele with additional stow strings, five and size. Tuned A D G C E A. This is the same tuning as the top four strings of C tuning with a low G with an added A and D.. Also the same tuning as a standard tuned guitar an a capo at the fifth fret (A D G C E A).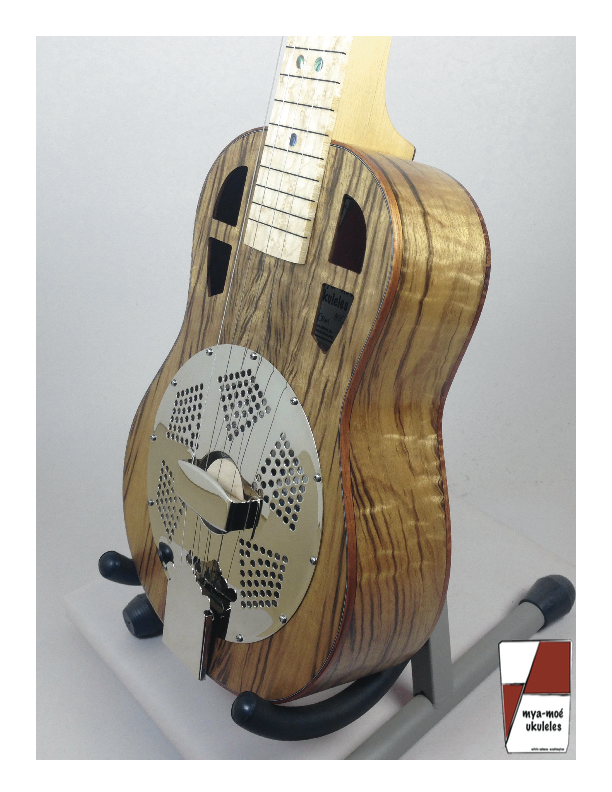 Resonator `Ukuleles
• Updated: Oct 19, 2014
A resonator ukulele or _resophonic ukulele_ is a ukulele whose sound is produced by one or more spun aluminum cones (resonators) instead of the wooden soundboard (ukulele top/face). These instruments are sometimes referred to as Dobro ukuleles, however the term Dobro is currently trademarked by the Gibson Guitar Corporation.
Here is a page of manufactures and builders for resonator ukuleles.
The resonator ukulele is a descendant of the resonator guitar. The resonator guitar was originally designed to be louder than conventional acoustic guitars, which were overwhelmed by horns and percussion instruments in dance orchestras. A resonator ukulele is generally somewhat louder than a standard wooden ukulele, and has a different tone quality and distinctive appearance.
Though resonator guitars are often played flat in the lap steel guitar style, resonator ukuleles are almost exclusively played in the conventional manner.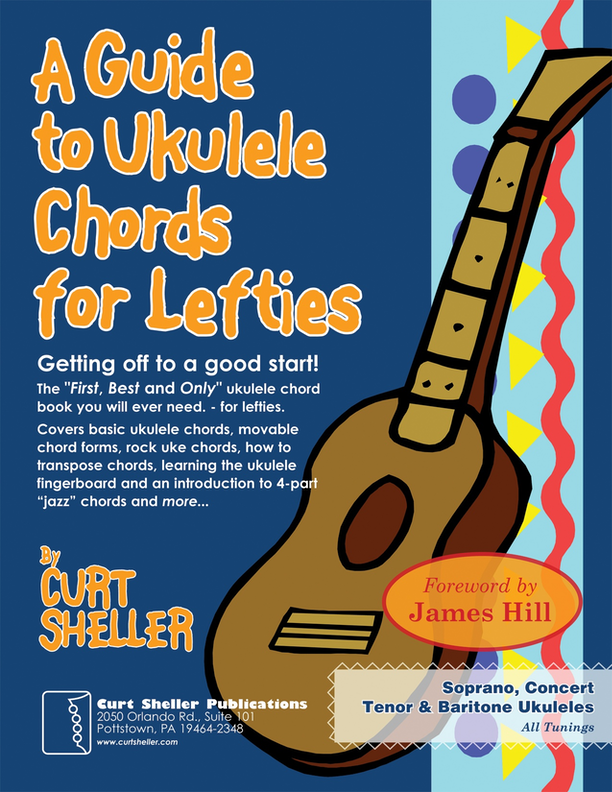 A Guide to Ukulele Chords for Lefties

Updated: Jan 10, 2020
Covering basic ukulele chords that ALL uke players MUST know, movable chord forms, rock uke chords, how to transpose chords, learning the ukulele fingerboard and an introduction to 4-part jazz chords and more... FOR LEFTIES - Tunings: C, G, or D Tunings. Low or high string four variations.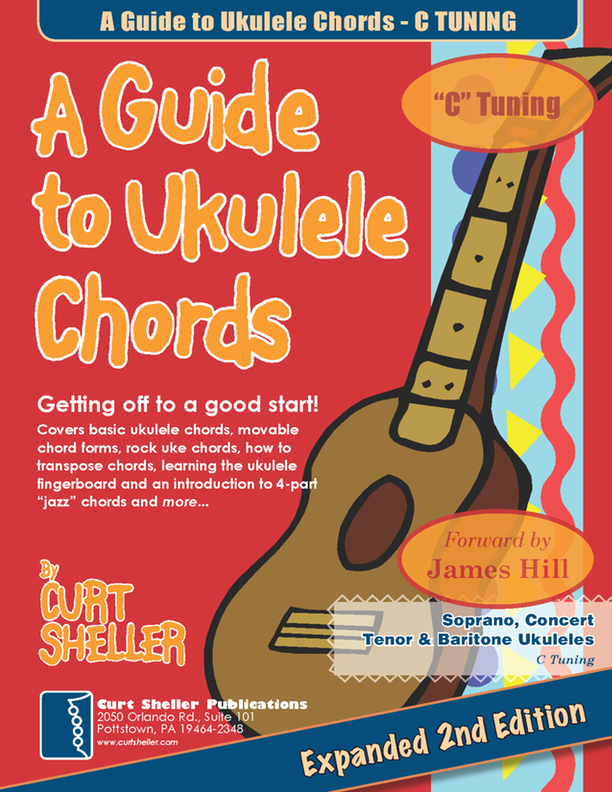 A Guide to Ukulele Chords, 2nd Edition

Updated: Jan 10, 2020
A Guide to Ukulele Chords, Second Edition is designed as a guide to ukulele chords. Covering the basic ukulele chords that ALL ukulele players SHOULD know. A Guide to Ukulele Chords covers movable chord forms, rock chords, how to transpose chords, learning the ukulele fingerboard and includes an introduction to 4-part, a.k.a jazz chords and more...
NOTE: Each higher access level includes ALL the benefits of the lower levels. Private Lessons include all the benefits of a Premium Access Plans as long as you remain a student on the schedule.
---
Just browsing over both books, they look fantastic! I'm a guitarist and uke player for over 25 years and was thinking about writing a ukulele book but you've already written what I think are the best, most comprehensive and thorough books I've ever seen for the instrument. I just might end up buying every book you've written and I'll be giving my highest recommendation for your books to my friends and students. Thank you so much for taking the time to write such great books! — Peter Rhee
Aloha, Curt, All I can say is WOW! What you have accomplished is simply incredible! All the best — Glen Hirabayashi, The Aloha Boys
Folks, if you haven't stopped by Curt's site, do so right now! ..And get his books, they are fantastic. This guy knows his stuff and is able to pass it along too. — Alan Johnson Proprietor, The 4th Peg
I can highly recommend Curt's Uke books — I have four of them and they are excellent. — fatveg — Portland
Thanks for visiting and checking out the site!

Original Curtie Animation from 1987 for my first web site on a Macintosh II. 34 years ago. Man, does time fly.
"Built for myself (Curt), and sharing with the `Ukulele community!"
LearningUkulele.com has one of the largest collections of lessons, songs, and TABS, luthiers, ukulele builders, ukulele festival and club information, and, ukulele links on the web. I've been on the ®Internet since the early 1990's and This site just never stops growing!!!
Content is added and updated almost daily - so check back often. I really do need to get out more ;-)