Novelty `Ukuleles
Ukuleles can come all manner of shapes and sizes. From smaller than soprano ukuleles, triangle shaped, plastic, etc. They will most likely be a standard sized soprano, concert, tenor or baritone ukulele - just a crazy shape.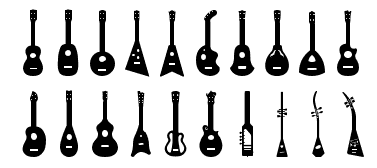 Anything goes...
End of Lesson - Thanks, Hope You Enjoyed It!
Related Lessons, Videos, Lesson Series, Songs, Books & Reference Charts, Resources & Assets, Workshops are below.
Related Lesson Series
Related Lessons Series for Novelty `Ukuleles.