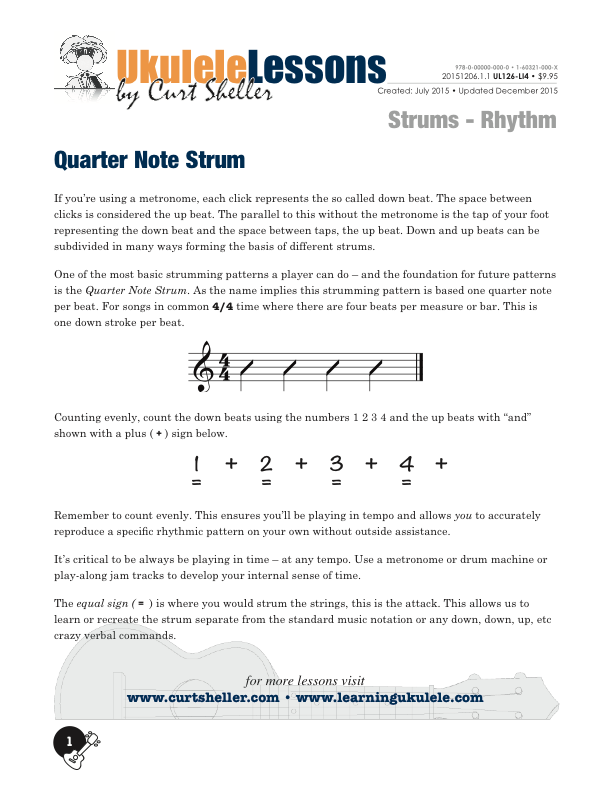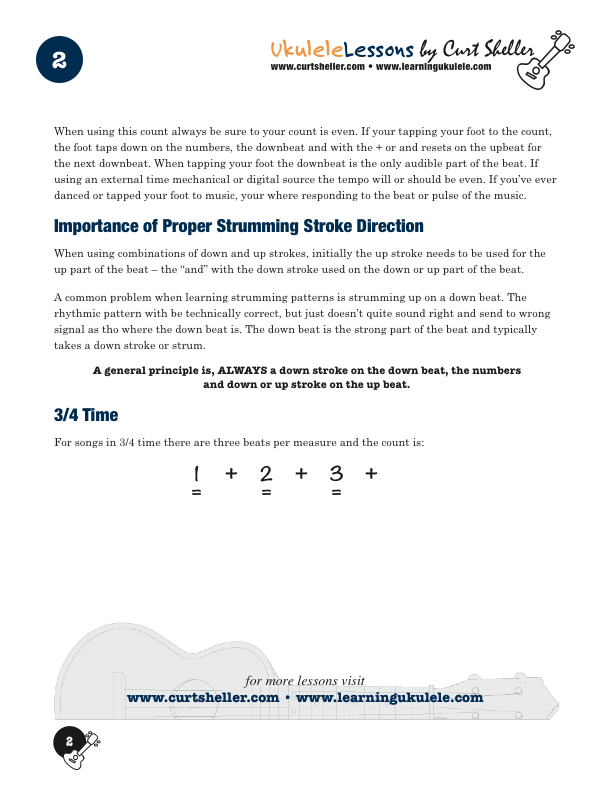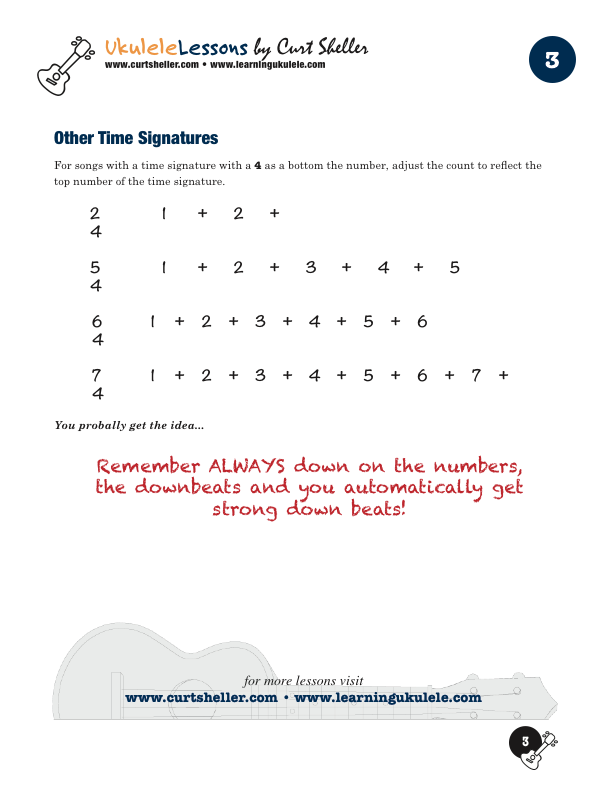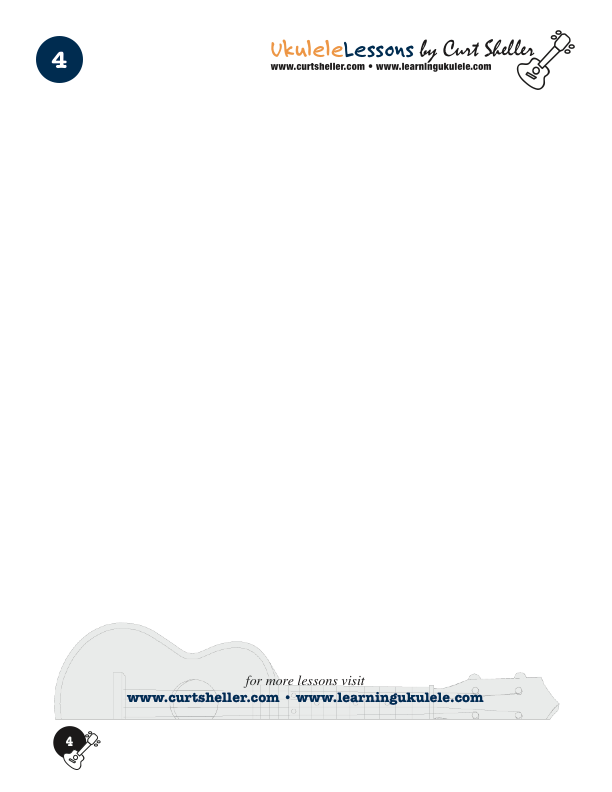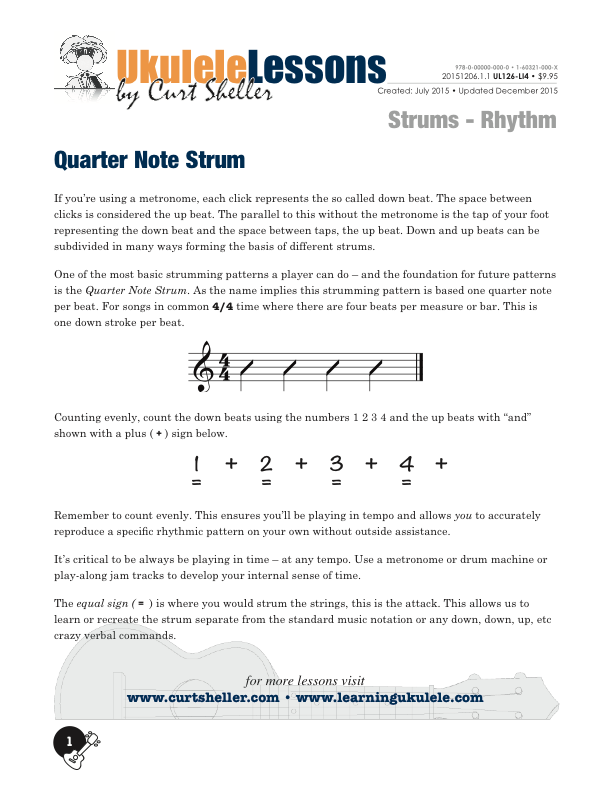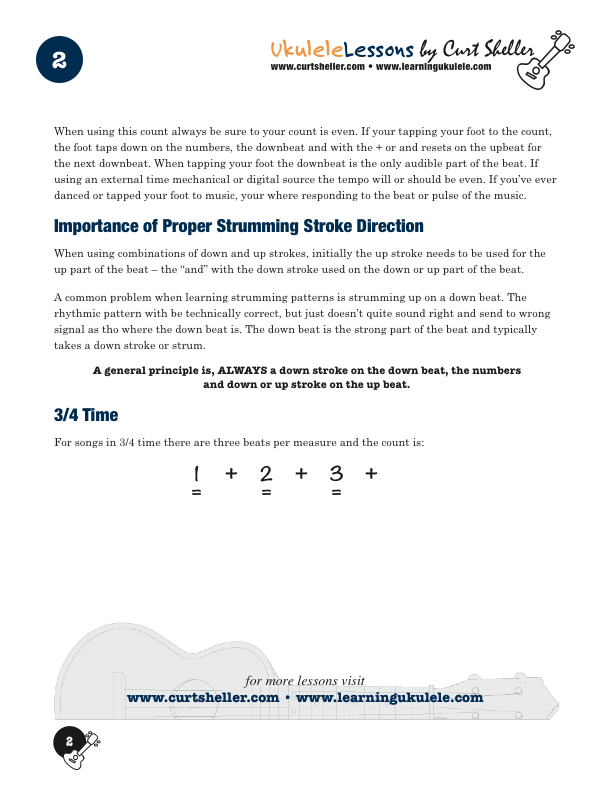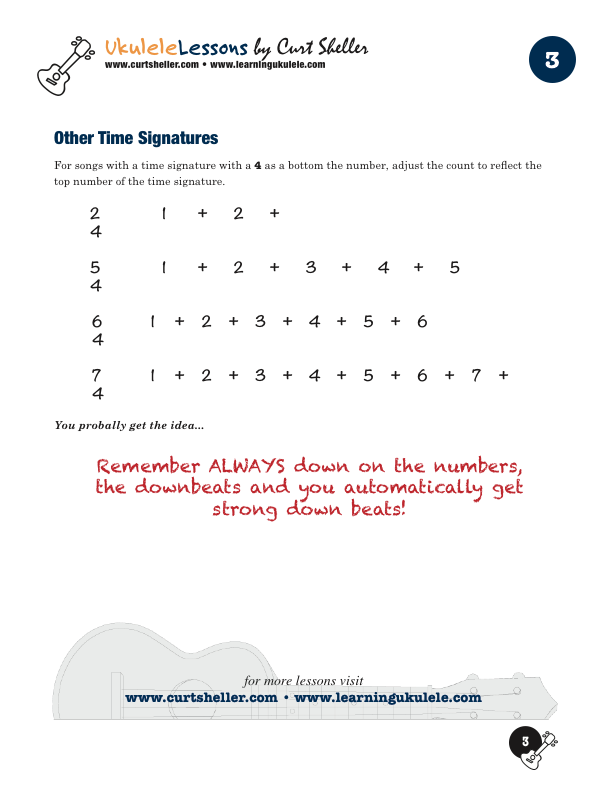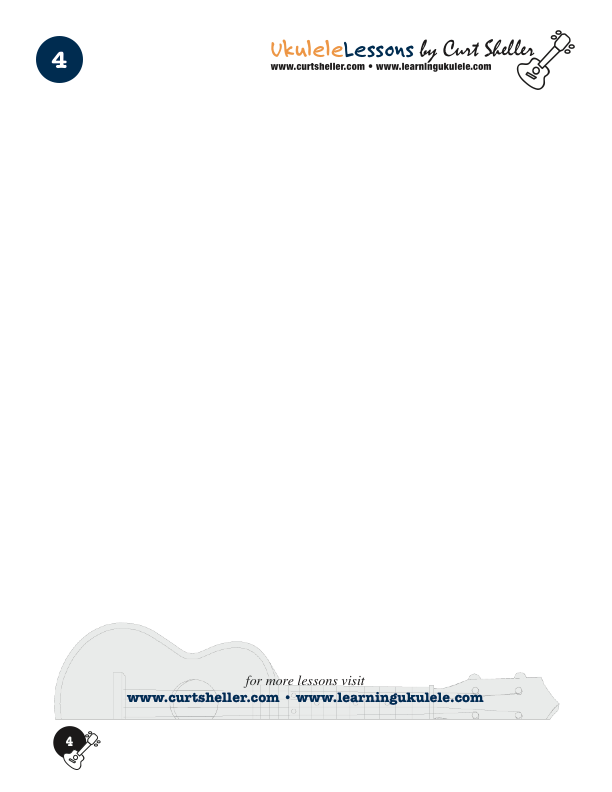 All 4 sample page(s) are viewable on-line.
If you are a registered site member, have verified your email address, and have the correct permissions you can view ALL the pages of this PDF or Samples pages at a larger size using the LearningUkulele.com Online PDF Viewer .
This Download is NOT part of your LearningUkulele.com membership level.
Sign-up for Premium Site Access or Upgrade Your Plan your current access level to download this PDF or your can purchase a copy for download.
After purchasing a PDF , a download link will be sent to you within 24hrs. Working on getting it to be automated.
Each PDF file is a formatted, high resolution file that prints out great. You'll need a PDF Reader or application capable of viewing PDF files to view the PDF.
Download the PDF file for the latest, complete, and most up-to-date version. As well as additional information not presented on-line.
Members and Active Students need to sign-in to download this lesson's PDF for the complete lesson.
Quarter Note Strum
Chords and music are organized into bars or measures with the most common number of beats per bar or measure being four. One of the most basic strumming patterns and the foundation for ALL future strumming is the "Quarter Note Strum". As the name implies this strumming pattern is one quarter note per beat.
As the name implies this strumming pattern is one quarter note per beat. For songs in common "4/4" time where there are four beats per measure or bar. This is one down stroke per beat.
Video Available for Premium Site Members Only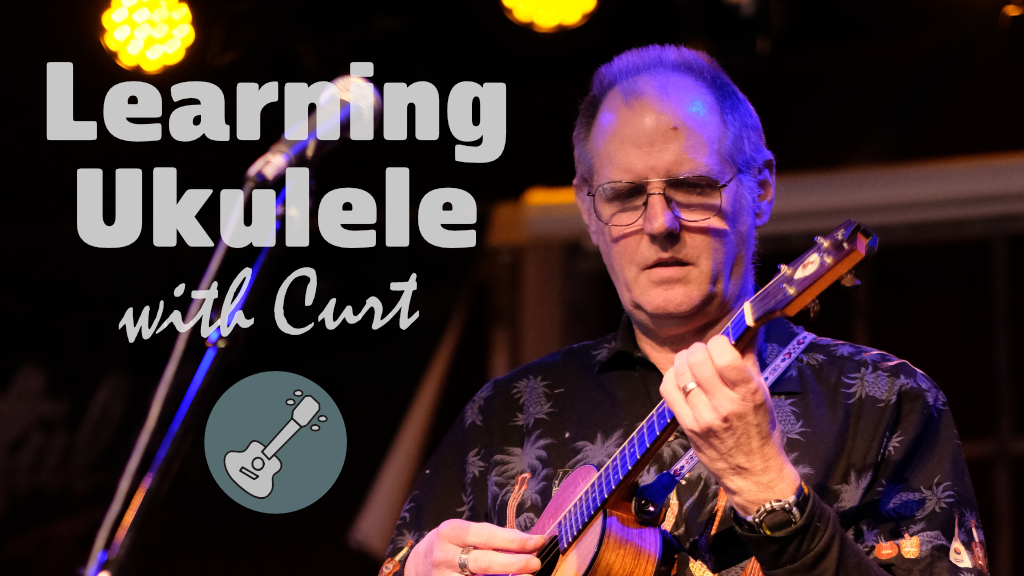 This Video is NOT part of your LearningUkulele.com Site Access level. Sign-up for Premium Site Access or Upgrade your current access level to view this video. Sorry can't continue to justify giving soo much away for FREE. For FREE videos hit up YouTube.
Instrument Specific Considerations
Music
The is the Rhythmic (Rhythm) part that can be applied to ANY instrument.
Quarter Note Strum…
Ukulele
Checkout the video demonstration of the quarter note strum using a ukulele.
Guitar
For the guitar the only difference might be using a pick vs your thumb or fingers. A pick sounds great on the guitar with the typically metal strings. For ukulele a plastic pick sounds a little to bright and you tend to hear the clicking of the pick against the strings. Pick control on a ukulele takes a lot of work to sound OK.
Piano
Here is a C Major chord to fool with. It can be plaed in either hand and played melodically as single notes or harmonically to simulate a strum.
Bass Guitar
The Bass Guitar or UBass typically plays single notes. For the Quarter Note pattern simply the bass line as four single quarter notes.
Here are a few examples using outlining a C Major chord in open position using the Root, Third, and Fifth of the chord.
Download the PDF file for the latest, complete, and most up-to-date version. As well as additional information not presented on-line.
End of Lesson - Thanks, Hope You Enjoyed It!
Related Lessons, Videos, Lesson Series, Songs, Books & Reference Charts, Resources & Assets, Workshops are below.
Related Lessons
Related Lessons for Quarter Note Strum.
Related Lesson Series
Related Lessons Series for Quarter Note Strum.
Before You Pick Up Your Uke, Getting Started Basics
Updated: 08 Jun 2023
These ukulele lessons are essential for both beginners who are just starting out and seasoned players who have already gained some experience. Even if you consider yourself a seasoned player, exploring this series of lessons can still be highly beneficial. You are likely to discover new insights and perhaps even be reminded of valuable information that can greatly assist you when teaching beginners or further enhancing your own skills.
Building Your Core Strums for Ukulele
Updated: 31 Jul 2023
Rhythm are in-separately linked to strums. Using the Modular Phonetic Rhythm System developed by Chuck Anderson this series of lessons start with the core four strums all ukulele players use and throughly digs in to the many variations possible.
Related Songs
Related Songs for Quarter Note Strum.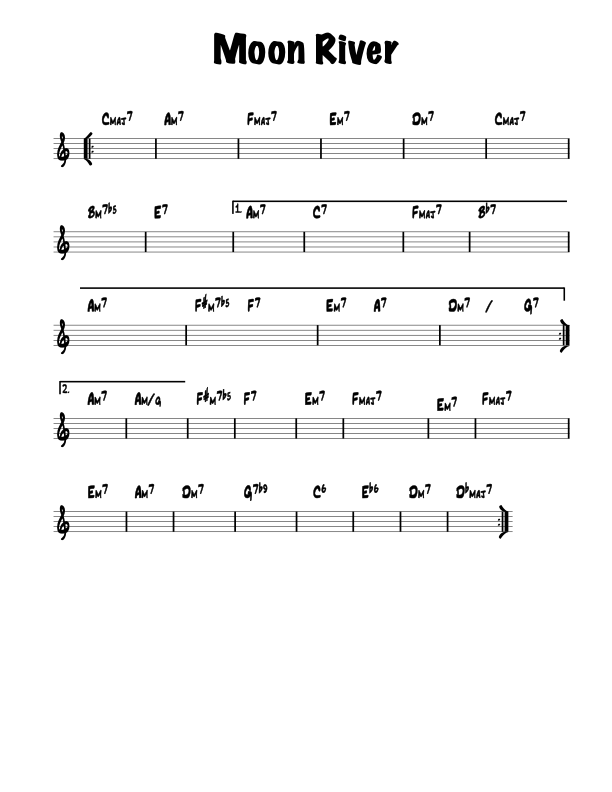 Moon River
Updated: 28 Aug 2023
Moon River is a song composed by Johnny Mercer (lyrics) and Henry Mancini (music) in 1961, for whom it won that year's Academy Award for Best Original Song. It was originally sung in the movie Breakfast at Tiffany's by Audrey Hepburn, although it has been covered by many other artists. The song also won the 1962 Grammy Award for Record of the Year.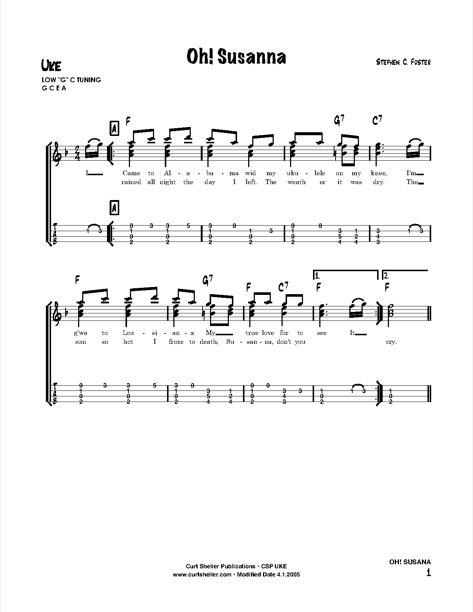 Oh! Susanna
Updated: 07 Feb 2020
Oh! Susanna is a minstrel song by Stephen Foster (1826-1864). It was published by W. C. Peters & Co. in Cincinnati, Ohio in 1848. The song was introduced by a local quintette at a concert in Andrews' Eagle Ice Cream Saloon in Pittsburgh, Pennsylvania on September 11, 1847. Foster was said to have written the song for his men's social club.
Related Books & Charts
Related Books for Quarter Note Strum.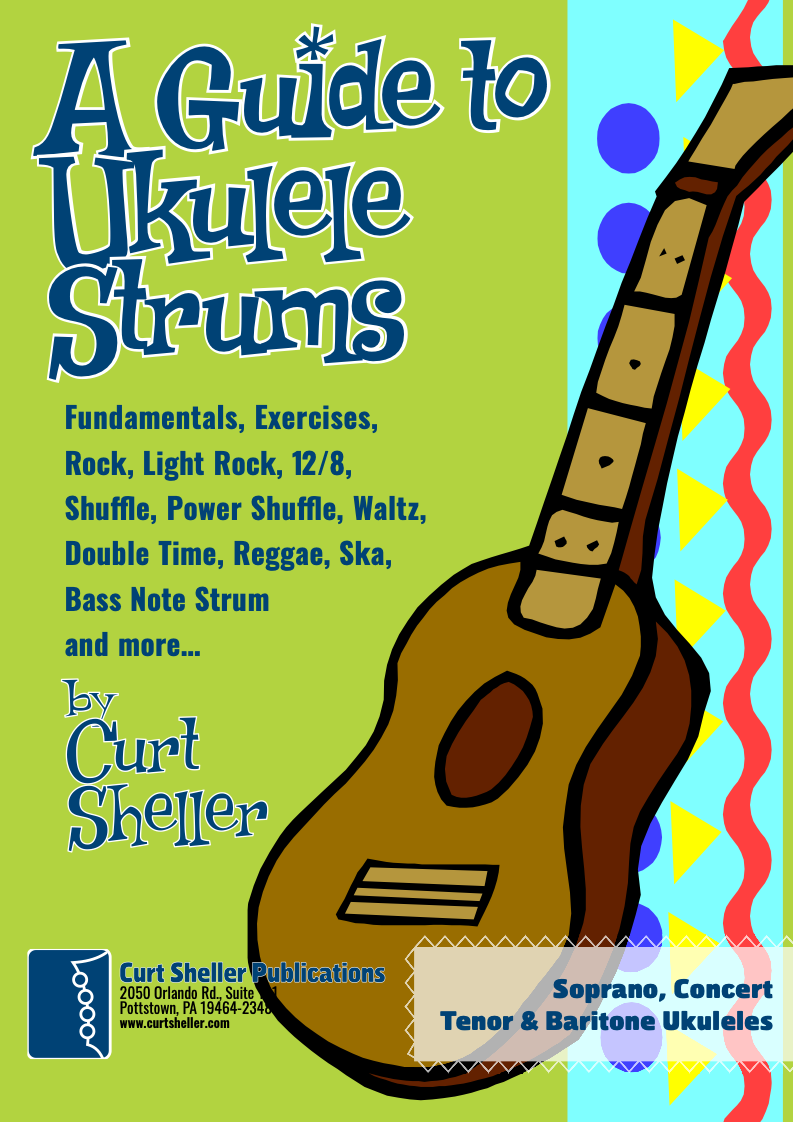 A Guide to Ukulele Strums
Updated: 11 Apr 2019
Learn a variety of strums and rhythmic patterns in wide range of musical styles. One of the first skills a ukulele player learns is the art and craft of strumming, playing rhythm. This refers to an accompaniment technique suitable for the singer, singer - songwriter or someone who plays a support role for another instrument.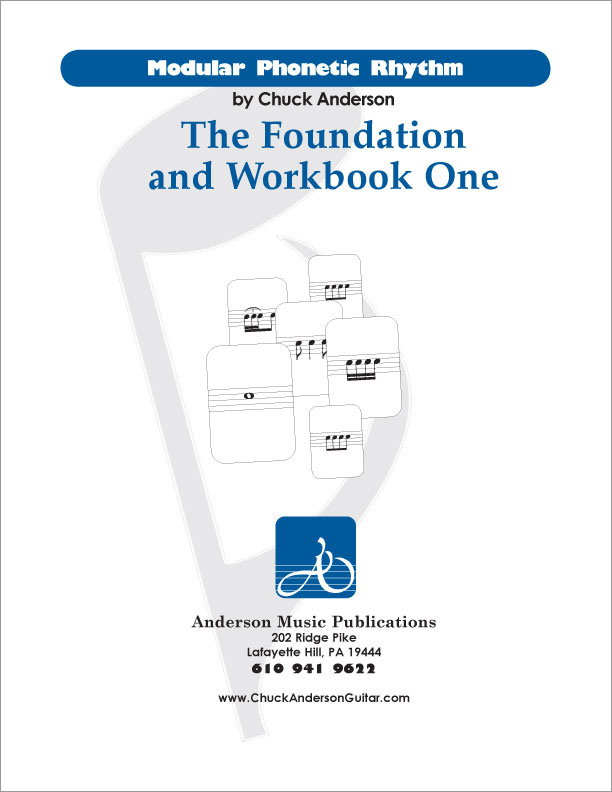 Modular Phonetic Rhythm, The Foundation and Workbook 1
Updated: 08 Dec 2021
Modular Phonetic Rhythm represents a significant advance in the teaching and application of rhythm. Eliminating many inefficient aspects of rhythm education, Modular Phonetic Rhythm streamlines the traditional educational approach, resulting in a reflexive reaction to rhythm.
Books
Reference Charts
Related Lesson Files, Resources and Assets
Related Assets for Quarter Note Strum.