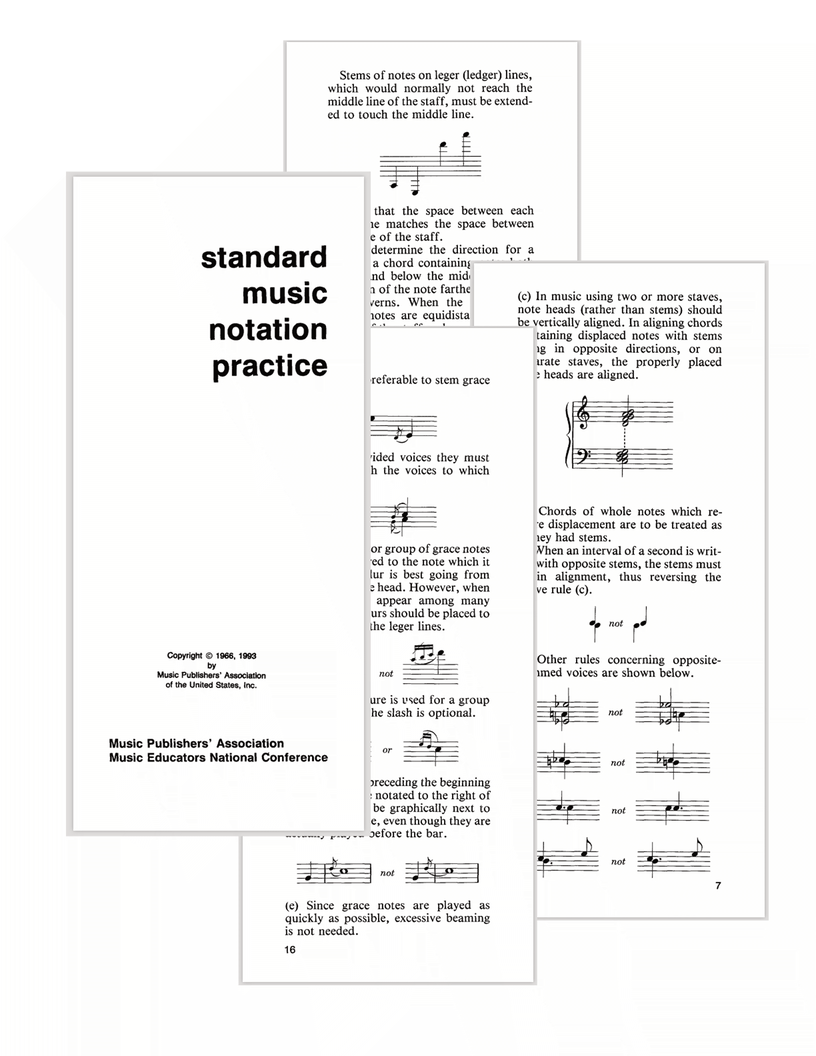 All 1 sample page(s) are viewable on-line.
If you are a registered site member and have the correct permissions you can view ALL the pages of this PDF at a larger size. You can resize the browser window smaller to a tablet or phone size and the pages will magically grow larger.
Or, use the Online PDF Viewer . available for premium members .
Each PDF file is a formatted high resolution file that prints out great. You'll need Adobe Reader or a PDF viewing application to view your PDF file.
Standard Music Notation
Musical Notation - Music notation or musical notation refers to various systems of writing music. Diverse systems of musical notation have developed in various cultures. In fact, many cultures simply do not notate their music in any form.
Types and methods of notation have varied between cultures and throughout history, and much information about ancient music notation is fragmentary. Even in the same time period, such as in the 2010s, different styles of music and different cultures use different music notation methods; for example, for professional classical music performers, sheet music using staves and noteheads is the most common way of notating music, but for professional country music session musicians, the Nashville Number System is the main method. (Music Notation from Wikipedia)
Rather than do a complete series of lessons on standard music notation. Why reinvent the wheel. There are lot of great resources on-line and books that already exist. Here is my take on several of the offerings.
One can equate, when you first are learning and exploring the Ukulele, you are in it as a tourist and knowing how to navigate you new soundings as a tourist are very helpful. A few musical terms here and there, and you can get by. However, if you are going to be staying for a while in this new musical environment, learning the "lingo" that musicians use day-to-day to communicate can go a long way in furthering your enjoyment while exploring the ukulele. And like learning any language, there is the aural and the reading and writing parts as well — both well-written and not so well-written.
Bad Rhythmic Notation Examples
Along with learning correct music notation and music principles. You also will be able to spot bad notation examples, incorrect names for standard music terms — as well as translate it and read on the fly.
For the most common 4/4 time signature, there is an invisible mid-bar line between beats two and three that no note will sustain over it unless tied. This make it effortless to read. Sort of like the spaces between words. This helps you recognizable the common rhythmic syllables used in various time signatures. The below, "Confusing and Hard to Read" notation, taken right from examples on the Internet and unfortunately quite common.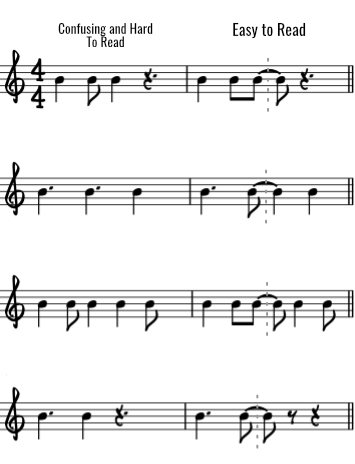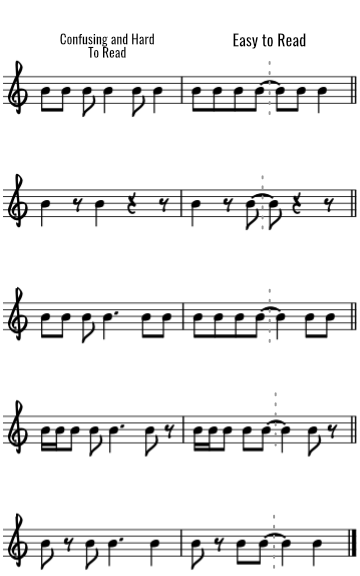 Music Notation Programs
There are four (4) common music notation programs used with Finale and Sibelius being used by the majority of professional musicians, orchestral music librarians, and music publishers:
I (Curt), started with Finale and quickly moved to Sibelius and used it for for many, many years and have done hundreds of scores using Sibelius. Then a few years ago moved everything to MuseScore, a free and open-source notation program that can be used on Mac , Windows and Linux computers. Moved to MuseScore as it is available in Linux, and Mac - both platforms I uses daily and Sibelius went to a subscription mode. Really looking forward to MuseScore 4 .
Of the four, MuseScore is the only one that is FREE ope-source and available on more computer platforms. Both Dorico and Sibelius have just released versions that run on iOS/iPad.
Music Fonts
Here are some great music fonts from Notation Central .
Resources & Links
Scoring Notes • Scoring Notes, a blog is independently owned and operated by NYC Music Services , a music preparation service in New York.
Notation Central • Notation Central is the only place where you'll find all of these products under one roof, for multiple platforms you use, like Dorico, Sibelius, Finale, and Musescore, and PDF utilities to help with music preparation and production.
What's the score? Notation Programs for Ukulele Teachers • by Cynthia Kinnunen is a music educator from Guelph, Ontario, and is part of Team Uketropolis. www.cynthiakmusic.com
---
Download or View PDF for Complete Lesson
Download this lesson's PDF file for the latest, complete, and most up-to-date version of the lesson. As well as additional information not presented on-line.
Members and Active Students need to sign-in to download this lesson's PDF for the complete lesson.
Related Lessons
Related Lessons for Standard Music Notation.
Related Books
Related Books for Standard Music Notation.
Related Songs
Related Songs for Standard Music Notation.
Related Lesson Series
Related Lessons Series for Standard Music Notation.
Reading for Ukulele - The Next Steps
Updated: 01 Jan 2003
Reading can be thought of on many different levels. 1) the ability to slowly and painfully work out the written music. 2) the ability to hear the music by looking at the notation. 3) the ability to notate your ideas in standard music notation. 4) the ability to read music as you read a book or an article. 5) the ability to communicate with other musicians in the written language of music. 6) the ability to learn songs that you have never heard.
Reading Music on Ukulele - Primer
Updated: 01 Jan 2003
There are a few things in music that students and players avoid. These are things like learning to read and knowing the notes of their own instrument. It is hard on guitar - but not so hard on ukulele. With the right guidance and plan of attack. IT IS EASY.
NOTE: Each higher access level includes ALL the benefits of the lower levels. Private Lessons include all the benefits of a Premium Access Plans as long as you remain a student on the schedule.
---
Just browsing over both books, they look fantastic! I'm a guitarist and uke player for over 25 years and was thinking about writing a ukulele book but you've already written what I think are the best, most comprehensive and thorough books I've ever seen for the instrument. I just might end up buying every book you've written and I'll be giving my highest recommendation for your books to my friends and students. Thank you so much for taking the time to write such great books! — Peter Rhee
Aloha, Curt, All I can say is WOW! What you have accomplished is simply incredible! All the best — Glen Hirabayashi, The Aloha Boys
Folks, if you haven't stopped by Curt's site, do so right now! ..And get his books, they are fantastic. This guy knows his stuff and is able to pass it along too. — Alan Johnson Proprietor, The 4th Peg
I can highly recommend Curt's Uke books — I have four of them and they are excellent. — fatveg — Portland
Thanks for visiting and checking out the site!
Original Curtie Animation from 1987 for my first web site on a Macintosh II. 35 years ago. Man, does time fly.
"Built for myself (Curt), and sharing with the `Ukulele community!"
LearningUkulele.com has one of the largest collections of lessons, songs, and TABS, Luthiers, ukulele builders, ukulele festival and club information, and, ukulele links on the web. I've been on the ®Internet since the early 1990's and This site just never stops growing!!!
Content is added and updated almost daily - so check back often. I really do need to get out more ;-)