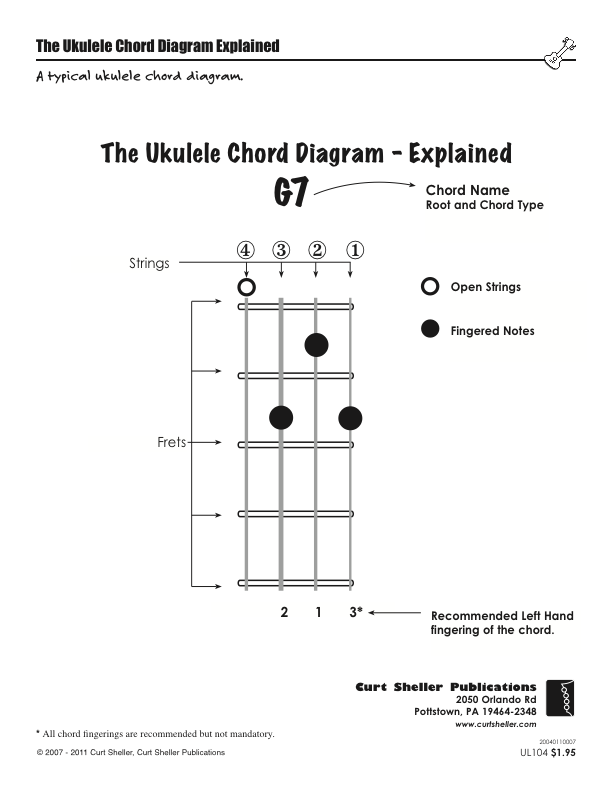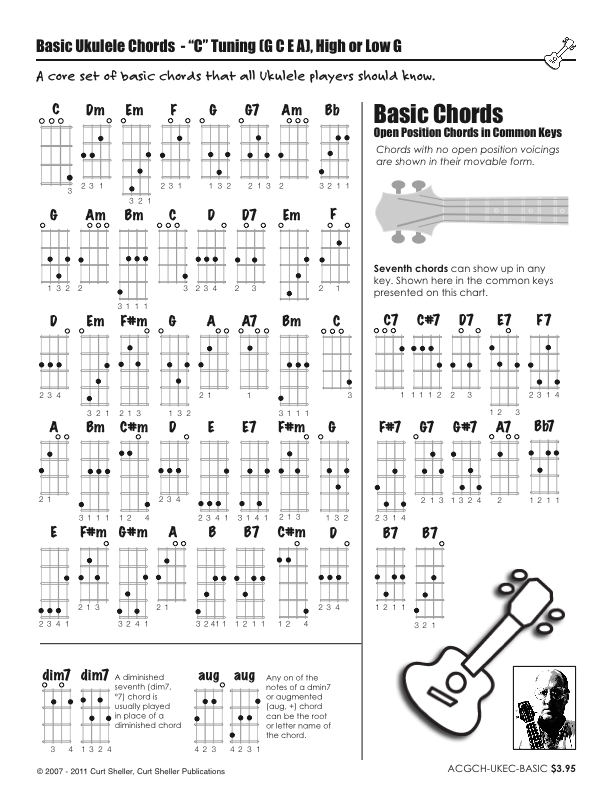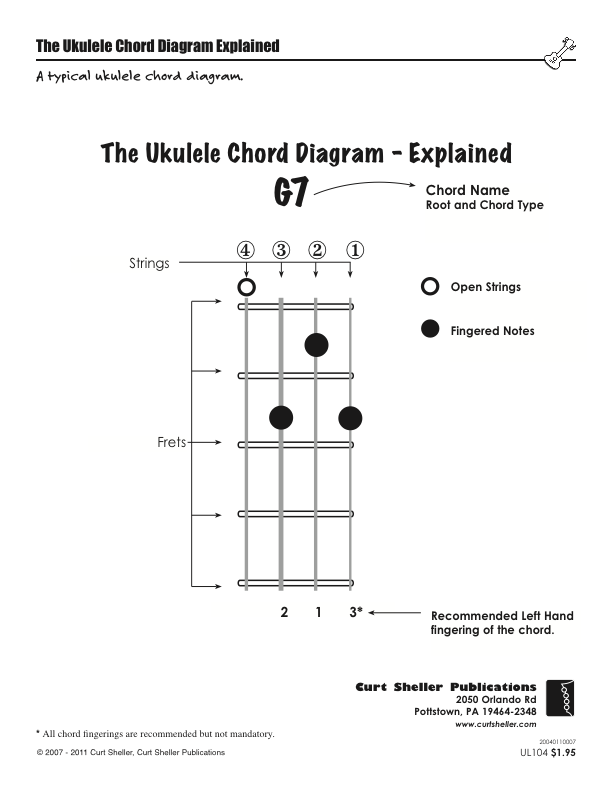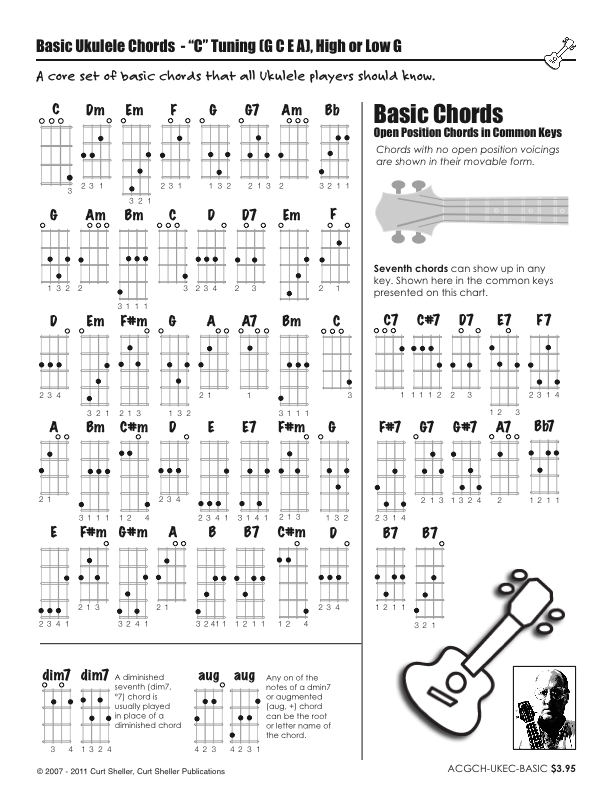 All 2 sample page(s) are viewable on-line.
To view the pages at a larger size you can resize the browser window smaller to a tablet or phone size and the pages will magically grow larger. If you are a registered member and have the correct permissions.
This Download is NOT part of your LearningUkulele.com membership level. Sign-up for a Site Access or Upgrade your current access level to download this PDF or your can purchase a copy for download.
Each PDF file is a formatted high resolution file that prints out great. You'll need Adobe Reader or a PDF viewing application to view your PDF file.
Understanding a `Ukulele Chord Diagram
There're a lot different ways to show chord shapes, diagrams and images on a fretted instrument. This is the basic chord diagram I use in all my lessons and book.
In this lesson the basic chord diagram as used for ukulele is explained.
A Ukulele Chord Grid or Diagram is a graphic representation of the fingerboard shape of a particular chord.
Typically in a vertical ortientation to save space when used in lead sheets and sheet music.
It can also be in a monospaced text representation.
Text Representation
In text, such as an email it can be indicated as the fret number from string four (nose) to string one (toes).
The G7 below it would be: 0 2 1 2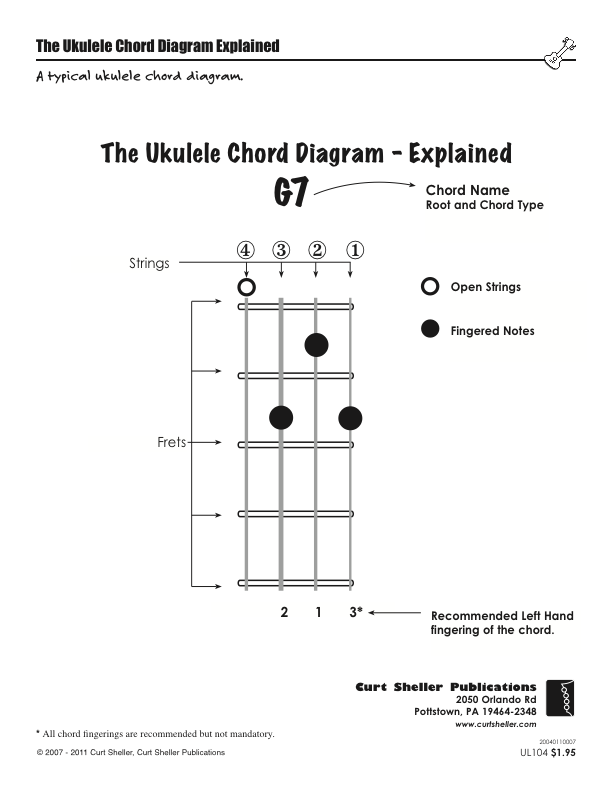 ---
End of Lesson - Thanks, Hope You Enjoyed It!
Download the lesson's PDF file for the latest, complete, and most up-to-date version of the lesson. As well as additional information not presented on-line.
Members and Active Students need to sign-in
to download this lesson's PDF for the complete lesson.
Bingo
Updated: Dec 6, 2015
Bingo, also known as Bingo Was His Name-Oand There Was a Farmer Who Had a Dog, is an English language children's song of obscure origin. In most modern forms, the song involves spelling the name of a dog, and with increasing letters replaced with handclaps on each repetition.
Happy Birthday
Updated: Jan 27, 2020
Happy Birthday to You, also known more simply as Happy Birthday, is a song that is traditionally sung to celebrate the anniversary of a person's birth. According to the 1998 Guinness Book of World Records, "Happy Birthday to You" is the most recognized song in the English language, followed by "For He's a Jolly Good Fellow" and "Auld Lang Syne".
Hey, Good Lookin
Updated: Mar 16, 2017
Hey, Good Lookin' is a song created and recorded by Hank Williams as a variation of a song of the same name, similar lyrics, and similar melody written by Cole Porter in 1942. Williams version was inducted into the Grammy Hall of Fame in 2001. Since its original 1951 recording it has been covered by a variety of artists.
London Bridge
Updated: Feb 8, 2020
Presented here in two keys. The key of C Major in the open position and the key of D Major in position II. This is a simple melody that can be used as a reference fingering and position with the Playing by Ear series of lessons. London Bridge Is Falling Down (also known as My Fair Lady or simply London Bridge) is a traditional nursery rhyme and singing game, which is found in different versions all over the world. It deals with the depredations of London Bridge and attempts, realistic or fanciful, to repair it.
Oh! Susanna
Updated: Feb 7, 2020
Oh! Susanna is a minstrel song by Stephen Foster (1826-1864). It was published by W. C. Peters & Co. in Cincinnati, Ohio in 1848. The song was introduced by a local quintette at a concert in Andrews' Eagle Ice Cream Saloon in Pittsburgh, Pennsylvania on September 11, 1847. Foster was said to have written the song for his men's social club.
Red River Valley
Updated: Mar 19, 2020
Red River Valley is a folk song and cowboy music standard of controversial origins that has gone by different names—e.g., "Cowboy Love Song", "Bright Sherman Valley", "Bright Laurel Valley", "In the Bright Mohawk Valley", and "Bright Little Valley" — depending on where it has been sung.
Row, Row, Row Your Boat
Updated: Feb 8, 2020
Row, Row, Row Your Boat is an English language nursery rhyme, and a popular childrens song, often sung as a round. Presented here in two keys. The key of C Major in the open position and the key of D Major in position II. This is a simple melody that can be used as a reference fingering and position with the Playing by Ear series of lessons.
The Lion Sleeps Tonight
Updated: Jan 26, 2016
The Lion Sleeps Tonight, also known as "Wimoweh", "Wimba Way" or "Awimbawe", is a song written and recorded originally by Solomon Linda with the Evening Birds for the South African Gallo Record Company in 1939, under the title "Mbube". Composed in Zulu, it was adapted and covered internationally by many 1950s pop and folk revival artists, including Pete Seeger, the Weavers, Jimmy Dorsey, Yma Sumac, Miriam Makeba and the Kingston Trio.
You Send Me
Updated: Jul 24, 2014
You Send Me is a song by American singer-songwriter Sam Cooke, released on September 7, 1957 by Keen Records. Produced by Bumps Blackwell and arranged and conducted by René Hall, the song was the A-side to "Summertime". The song, Cooke's debut single, was a massive commercial success, becoming a number one hit on both Billboar's Rhythm & Blues Records chart and the Billboard Hot 100.
Red River Valley - Chord Lead Sheet, Keys of G and C
Updated: Mar 6, 2020
There is anecdotal evidence that the song was known in at least five Canadian provinces before 1896.[2] This finding led to speculation that the song was composed at the time of the 1870 Wolseley Expedition to Manitoba's northern Red River Valley. It expresses the sorrow of a local woman (possibly a Métis) as her soldier lover prepares to return to the east.
NOTE: Each higher access level includes ALL the benefits of the lower levels. Private Lessons include all the benefits of a Premium Access Plans as long as you remain a student on the schedule.
---
Just browsing over both books, they look fantastic! I'm a guitarist and uke player for over 25 years and was thinking about writing a ukulele book but you've already written what I think are the best, most comprehensive and thorough books I've ever seen for the instrument. I just might end up buying every book you've written and I'll be giving my highest recommendation for your books to my friends and students. Thank you so much for taking the time to write such great books! — Peter Rhee
Aloha, Curt, All I can say is WOW! What you have accomplished is simply incredible! All the best — Glen Hirabayashi, The Aloha Boys
Folks, if you haven't stopped by Curt's site, do so right now! ..And get his books, they are fantastic. This guy knows his stuff and is able to pass it along too. — Alan Johnson Proprietor, The 4th Peg
I can highly recommend Curt's Uke books — I have four of them and they are excellent. — fatveg — Portland
Thanks for visiting and checking out the site!

Original Curtie Animation from 1987 for my first web site on a Macintosh II. 34 years ago. Man, does time fly.
"Built for myself (Curt), and sharing with the `Ukulele community!"
LearningUkulele.com has one of the largest collections of lessons, songs, and TABS, luthiers, ukulele builders, ukulele festival and club information, and, ukulele links on the web. I've been on the ®Internet since the early 1990's and This site just never stops growing!!!
Content is added and updated almost daily - so check back often. I really do need to get out more ;-)