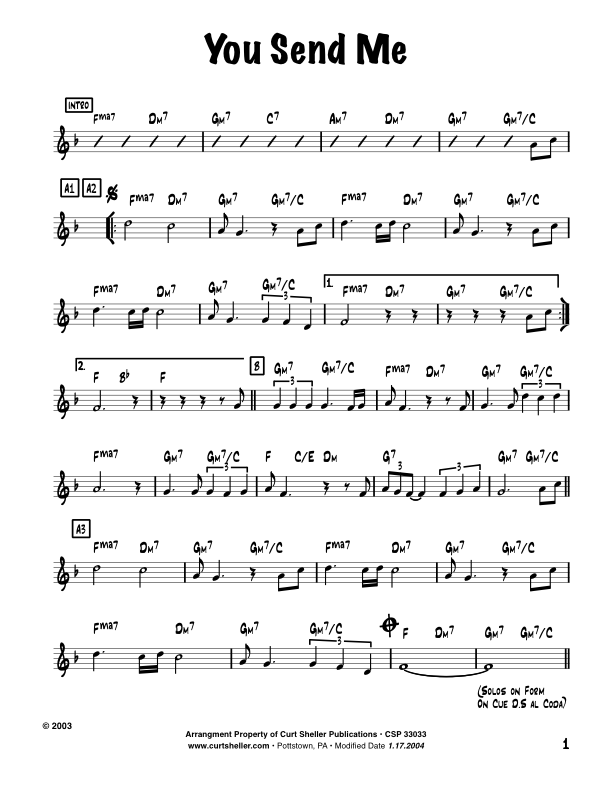 All 1 sample page(s) are viewable on-line.
If you are a registered site member, have verified your email address, and have the correct permissions you can view ALL the pages of this PDF or Samples pages at a larger size using the LearningUkulele.com Online PDF Viewer .
View the Main Song Downloads section below to download the song files for the complete and most up-to-date versions.
You Send Me is a song by American singer-songwriter Sam Cooke, released on September 7, 1957 by Keen Records. Produced by Bumps Blackwell and arranged and conducted by René Hall, the song was the A-side to "Summertime". The song, Cooke's debut single, was a massive commercial success, becoming a number one hit on both Billboar's Rhythm & Blues Records chart and the Billboard Hot 100.
You Send Me was named as one of the 500 most important rock and roll recordings by the Rock & Roll Hall of Fame. In April 2010, the song ranked #115 in Rolling Stone magazine's The 500 Greatest Songs of All Time.
Cooke wrote "You Send Me" but gave the writing credit to his younger brother L.C. (who used the original family spelling "Cook") because he did not want his own publisher to profit from the song.[2] He had also hoped L.C. would record the song himself. Cooke made a demo recording of the song featuring only his own guitar accompaniment in the winter[clarification needed] of 1955.
You Send Me…
Since its release, the song has become a landmark record of the soul genre, which Cooke helped create. It was named as one of the 500 most important rock and roll recordings by the Rock & Roll Hall of Fame. In 2005, the song was voted #115 by representatives of the music industry and press in Rolling Stone magazine's The 500 Greatest Songs of All Time.
You Send Me

— Premium Play-along Track

Premium Play-along Tracks are only available to Premium members and Active/Private Students.

Here is a Demo of Desafinado to get an idea of the quality of these custom play-along tracks.
Play-along Demo: Desafinado
---
I, (Curt) originally created these tracks to perform over for gigs and this was a demo for booking gigs.
These Premium Play-along Tracks are available to LearningUkulele.com Site Members and are my personal one-of-kind tracks I (Curt) and Chuck Anderson recorded and arranged.
Main Song Download(s)
The main downloads for this Song.
Related Lesson Series
Related Lessons Series for You Send Me.
Harmonic Analysis for Scale and Chord Selection
Updated: 27 Feb 2023
Harmonic Analysis is the process used to determine the harmonic function of chords within a chord progression or song. A chord progression is defined as a sequence of chords, each chord has a root and is a particular chord type. The relationship of a chord's to a scale determines its function within that scale's tonality.
Modular Phonetic Rhythm by Chuck Anderson
Updated: 01 Jan 2003
Modular Phonetic Rhythm represents a significant advance in the teaching and application of rhythm. Eliminating many inefficient aspects of rhythm education, Modular Phonetic Rhythm streamlines the traditional educational approach, resulting in a reflexive reaction to rhythm.
Related Songs
Related Songs for You Send Me.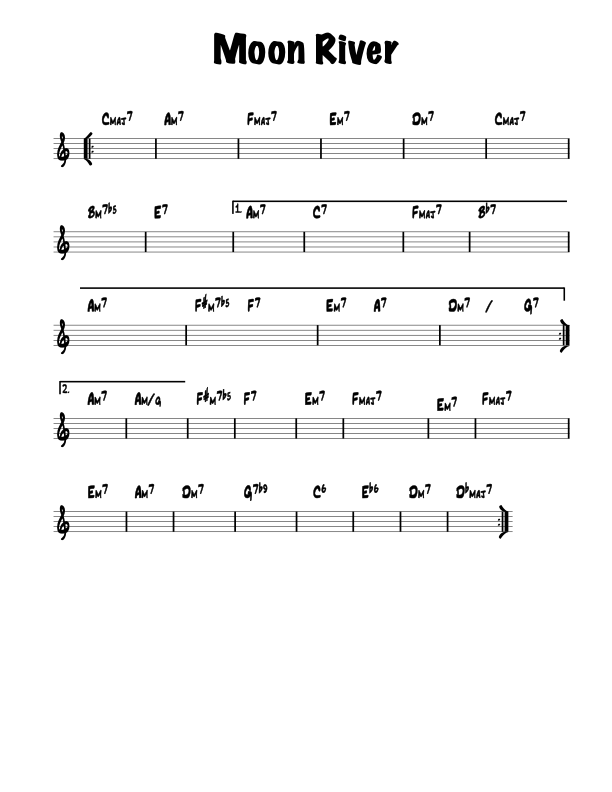 Moon River
Updated: 15 Sep 2016
Moon Rive is a song composed by Johnny Mercer (lyrics) and Henry Mancini (music) in 1961, for whom it won that year's Academy Award for Best Original Song. It was originally sung in the movie Breakfast at Tiffany's by Audrey Hepburn, although it has been covered by many other artists. The song also won the 1962 Grammy Award for Record of the Year.
Related Song Files, Resources and Assets
Related Assets for You Send Me.