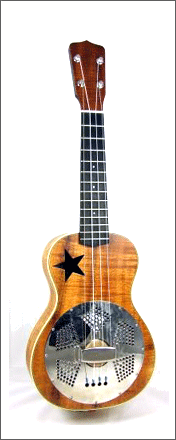 A resonator ukulele or "resophonic ukulele" is a ukulele whose sound is produced by one or more spun aluminum cones (resonators) instead of the wooden soundboard (ukulele top/face). These instruments are sometimes referred to as "Dobro ukuleles," however the term "Dobro" is currently trademarked by the Gibson Guitar Corporation.

The resonator ukulele is a descendant of the resonator guitar. The resonator guitar was originally designed to be louder than conventional acoustic guitars, which were overwhelmed by horns and percussion instruments in dance orchestras. A resonator ukulele is generally somewhat louder than a standard wooden ukulele, and has a different tone quality and distinctive appearance.
Though resonator guitars are often played flat in the lap steel guitar style, resonator ukuleles are almost exclusively played in the conventional manner.
Image of a A Peter Howlett Resonator ukulele
Historical Manufacturers
Dobro Manufacturing Company (USA)
Regal Musical Instrument Company (USA)
Del Vecchio (Brazil)
Johnson/Ashbury (China)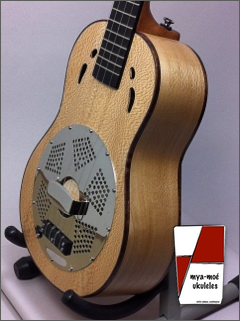 Modern and Traditional Manufacturers

Beltona Resonator Instruments
Resonators
Beltona began as a partnership between Steve Evans and Bill Johnson in the UK in 1990. A luthier and engineer respectively and sharing an interest in resonator instruments, they set out to produce a couple of instruments for themselves replicating the best features of the originals but also making adjustments and improvements where they were needed.


Black Bear Ukuleles
Luthiers
My name is Duane Heilman, and I am a luthier and owner of Black Bear Guitars and Ukuleles, a one man shop located in Yakima, Washington, in the U.S. I have been designing, building, and repairing stringed instruments since 1991, and creating ukuleles since 1998. My designs and construction techniques have grown out of years of study and observation of vintage and modern ukes. I try to incorporate my own artistic sense into each instrument as well, and sometimes the results can be quite different and full of surprises -- even to me!

Fine Resophonic
Resonator
<span style="color: #000000;">&nbsp;Les fabricants de guitares &agrave; r&eacute;sonateurs de type National ne courent pas les rues. On les compterait presque sur les doigts d&rsquo;une main. L&lsquo;un des plus r&eacute;put&eacute;s en Europe est install&eacute; &agrave; Vitry sur Seine (94). Originaire de Grande-Bretagne, Mike Lewis a fini par consacrer toute sa vie aux fameuses guitares en m&eacute;tal.</span>

Peter Howlett
Luthiers
A prophetic photograph of me age 4 used to form the background, Bowman style, to my labels. Clutching my plastic Woolworth's ukulele, standing in the tartan kilt of my mother's Scottish clan, in front of the wall my dad built, is a constant reminder that I really was born to do this job! My whole philosophy is one of care in the selection of materials and attention to detail. I learned these qualities from my toolmaker father whose exacting eye taught me to take notice of the small things. I remember when our neighbors painted their houses; it took a couple of days with a gallon can of Dulux. It always needed re-doing a couple of years later. Dad took a week applying 3 coats of Mangers lead based oil paint over 2 coats of red lead primer. He only did it once. It lasted years.


National Reso Phonic Guitars
Resonators
These instruments were first created in the era of the Hawaiian and Jazz Bands, prior to electrical amplification. All sorts of musicians, Hawaiian, jazz and blues, wanted louder guitars: to be able to be heard alongside horns; to project out into music halls or smokey night clubs; or, to be the loudest guitar on the street corner. In response to this need, the mechanically amplified resonator guitar was created.


Pohaku Ukuleles
Luthiers
Pohaku Ukuleles are built by master craftsman Peter Hurney who began creating his Pohaku brand ukuleles in Hawaii in the early 90's. This one person shop, now in Berkeley, California, produces a limited number of high quality instruments which have found their way all over the globe and are enjoyed by prominent musicians worldwide.


Republic Guitars
Dealers
When Texas teenager Frank Helsley heard Johnny Winter playing acoustic blues on a resonator it signaled the start of a lifelong obsession, both as a player and designer. In 2007, frustrated at the affordable options available to the modern resonator enthusiast, Helsley founded Republic Guitars.

Stapleton Guitars
Luthiers
I got my first guitar when i was about 13.A cheap and extremely nasty plywood model with metal strings about 1/2 " off the fingerboard(got me started on slide mind!)First thing I did was shave down the floating bridge to save my soft little fingers -it was the start of a long journey. Years went by I learnt to pick a little and went through a succession of gradually better guitars until I visited a guitar shop in Denmark St London(tin pan alley) and tried a Martin an epiphany - had to get one .I saved for a second hand D-35 but I wanted more. Budget would not allow so I hit on the idea of building my own. Enrolled at an evening class. 4 years later there it was a steel string, solid as a wardrobe but it played.


Recording King
Resonators
Beginning as a house brand in the 1930's for Montgomery Ward, Recording King acoustic guitars and banjos were developed during the Golden Age of musical craftsmanship, a period that resulted in some of the most well-respected and sought-after fretted acoustic instruments available.
Resonator Ukulele and Resources


Del Rey

Seattle, Washington
USA
Hobemian Records Music from Del Rey, Steve James and Arthur Migliazza
POB 4704
Seattle WA 98194
Listing Info
from the Del Rey web site
I started playing guitar when I was four. At the age of thirteen I was introduced to the world of traditional acoustic music, when a friend and I stumbled into a concert at Folk Arts Rare Records in San Diego. About 20 people were sitting on the floor under the record bins listening to a kid named Tom Waits play his original songs.
"Rey is one of the greatest modern players of the metal-bodied resonator guitar." Acoustic Guitar Magazine
Lou Curtiss, proprietor of Folk Arts and artistic director of the San Diego Folk Festival suggested I quit wasting my time playing 'Stairway to Heaven' and listen to some Memphis Minnie. He put me on stage with Sam Chatmon when I was fourteen, and introduced me to Lydia Mendoza and Howard Armstrong. Lou gave me recordings that still influence everything I do on solo acoustic guitar. I soaked up country blues, stride piano, classic jazz and hillbilly boogie. It was a musical education hanging around the record shop.
Thirty years later, I became fascinated with the ukulele. I try to play the same kind of complicated rhythmic blues and ragtime on four strings as on six. I expect a lot out of the little instrument.
More information available on the Del Rey's web site.
Even more information, discussion and comments on this listing below.