Guitar Luthier Ukulele
Looking for more of a listing or to update your listings contact: Curt
Listings are FREE. Anything beyond the basics we can negotiate.
Chechout the Ko'olau Guitar & Ukulele listing for an idea of what I can do. I'm a big fan of their instruments and play a custom Ko'olau CS Tenor, actually have two as one is a back up in training.
Stapleton Guitars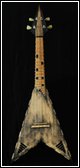 Marshall Stapleton
Mondo Mando
Providence Place
Lyme Regis
Dorset
Great Britain
from the Stapleton Guitars web site
I got my first guitar when i was about 13.A cheap and extremely nasty plywood model with metal strings about 1/2 " off the fingerboard(got me started on slide mind!)First thing I did was shave down the floating bridge to save my soft little fingers -it was the start of a long journey. Years went by I learnt to pick a little and went through a succession of gradually better guitars until I visited a guitar shop in Denmark St London(tin pan alley) and tried a Martin an epiphany - had to get one .I saved for a second hand D-35 but I wanted more. Budget would not allow so I hit on the idea of building my own. Enrolled at an evening class. 4 years later there it was a steel string, solid as a wardrobe but it played.
Struck by the immediacy of my new hobby I built a couple more and then enrolled at the London College of Furniture in London's east end where they had a musical instrument technology dept. I specialised in violin family. In the last year (of 4) I met George Hinchliffe and a few of us got the embryonic Ukulele Orchestra of Great Britain on the way. At this time the only ukes available were expensive vintage models or virtually unplayable cheap plywood types-and these were what we used. Eventually though I made a uke for everybody so kick starting my career in lutherie.
More information available on the Stapleton Guitars's web site.
Even more information, discussion and comments on this listing.
NOTE: Each higher access level includes ALL the benefits of the lower levels. Private Lessons include all the benefits of a Premium Access Plans as long as you remain a student on the schedule.
Just browsing over both books, they look fantastic! I'm a guitarist and uke player for over 25 years and was thinking about writing a ukulele book but you've already written what I think are the best, most comprehensive and thorough books I've ever seen for the instrument. I just might end up buying every book you've written and I'll be giving my highest recommendation for your books to my friends and students. Thank you so much for taking the time to write such great books! — Peter Rhee
Aloha, Curt, All I can say is WOW! What you have accomplished is simply incredible! All the best — Glen Hirabayashi, The Aloha Boys
Folks, if you haven't stopped by Curt's site, do so right now! ..And get his books, they are fantastic. This guy knows his stuff and is able to pass it along too. — Alan Johnson Proprietor, The 4th Peg
I can highly recommend Curt's Uke books — I have four of them and they are excellent. — fatveg — Portland
Thanks for visiting and checking out the site!

Original Curtie Animation from 1987 for my first web site on a Macintosh II.
33 years ago.
"Built for myself (Curt), and sharing with the `Ukulele community!"
LearningUkulele.com has one of the largest collections of lessons, songs, and TABS, luthiers, ukulele builders, ukulele festival and club information, and, ukulele links on the web. I've been on the ®Internet since the early 1990's and This site just never stops growing!!!
Content is added and updated almost daily - so check back often.