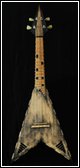 Stapleton Guitars
Luthiers
I got my first guitar when i was about 13.A cheap and extremely nasty plywood model with metal strings about 1/2 " off the fingerboard(got me started on slide mind!)First thing I did was shave down the floating bridge to save my soft little fingers -it was the start of a long journey. Years went by I learnt to pick a little and went through a succession of gradually better guitars until I visited a guitar shop in Denmark St London(tin pan alley) and tried a Martin an epiphany - had to get one .I saved for a second hand D-35 but I wanted more. Budget would not allow so I hit on the idea of building my own. Enrolled at an evening class. 4 years later there it was a steel string, solid as a wardrobe but it played.



Box-A-LeLe Company (the )
Manufactures
As a pioneer in uke-innovation, Ray came to worldwide prominence by creating a ukulele out of a Campbell's Soup can (The Warhol Soup-A-Lele) and inventing the "Lunchbox-A-Lele," (a ukulele/lunchbox... suitable for playing and carrying your sandwich and music book) followed by appearances on numerous International, national and local TV, radio, Internet news programs and talkshows. His pieces have been featured and displayed the world-over in numerous art gallery and museum exhibits.



Cigar Box Papa
Luthiers
Inspiration came in the Spring of 2004 when Bill (aka Papa,) with twin boys in tow, attended the first ever Cigar Box Festival in Northern Kentucky. He was amazed at the look and sound of guitars that were fabricated from simple cigar boxes. As a woodworker he knew he had the familiarity and aptitude with wood, and the passion for music to craft something real. And so it began. The genesis of Papa's Boxes started with a simple soprano ukulele. Papa's Boxes attended the NYC Ukulele Festival as a vendor for the first time with one simple "build it yourself" uke kit. By 2006, one of Papa's Boxes ukuleles had been inducted into the National Cigar Box Guitar Museum. Many of our first instruments didn't have a clear classification such as banjo, mandolin, guitar, etc. But over the course of several years and through a ton of trial and error, our growing crew at Papa's Boxes honed and reworked the designs and began to master specific instruments. This year has ushered in an even more interesting and diverse assortment of instruments from sopranos, concerts, tenors, and baritones in the Papa's Boxes ukulele quiver.



Earnest Musical Instruments
Luthiers
EARNEST INSTRUMENTS are created for musicians who require functional, distinctive, high quality tools for making music. These are not your garden variety music store axes, but uncommon musical instruments designed to meet the needs of innovative players looking for something a little different. Rather than build reproductions of standard manufactured items, EARNEST combines time-tested styles and designs to create unique, original instruments with a classic appearance. Every effort is made to build the finest sounding and playing instruments. Their expense results from the quality of the materials and workmanship rather than unnecessary detail or excessive ornamentation. Materials are chosen for utility, tone, and appearance. Domestic and lesser known exotic tonewoods are favored over rare, overpriced, and often endangered species. Natural and manufactured materials are combined with appropriate adhesives and fasteners, at optimum humidity, to insure the stability and durability of the instruments. Earnest Instruments are built for a lifetime of music making!



Eddy Finn Ukuleles
Manufactures
From the distinctive soundhole resonance to the exotic woods used to hand craft each one to tonal perfection, every one has a song waiting to be played. Pick up an Eddy Finn and it's like a blast of warm sea air hitting your senses. Hand set ocean abalone, fishbone, herringbone's all here. But the truth? It has to sound great first or it's just a decoration hanging on a wall. Nobody wants that. At the core it has to be musical. It has to breathe.
NOTE: Each higher access level includes ALL the benefits of the lower levels. Private Lessons include all the benefits of a Premium Access Plans as long as you remain a student on the schedule.
---
Just browsing over both books, they look fantastic! I'm a guitarist and uke player for over 25 years and was thinking about writing a ukulele book but you've already written what I think are the best, most comprehensive and thorough books I've ever seen for the instrument. I just might end up buying every book you've written and I'll be giving my highest recommendation for your books to my friends and students. Thank you so much for taking the time to write such great books! — Peter Rhee
Aloha, Curt, All I can say is WOW! What you have accomplished is simply incredible! All the best — Glen Hirabayashi, The Aloha Boys
Folks, if you haven't stopped by Curt's site, do so right now! ..And get his books, they are fantastic. This guy knows his stuff and is able to pass it along too. — Alan Johnson Proprietor, The 4th Peg
I can highly recommend Curt's Uke books — I have four of them and they are excellent. — fatveg — Portland
Thanks for visiting and checking out the site!
Original Curtie Animation from 1987 for my first web site on a Macintosh II. 34 years ago. Man, does time fly.
"Built for myself (Curt), and sharing with the `Ukulele community!"
LearningUkulele.com has one of the largest collections of lessons, songs, and TABS, Luthiers, ukulele builders, ukulele festival and club information, and, ukulele links on the web. I've been on the ®Internet since the early 1990's and This site just never stops growing!!!
Content is added and updated almost daily - so check back often. I really do need to get out more ;-)