Radial Engineering
Looking For More of a Listing or to Update Your Listings Contact: Curt • Listings are FREE.
Anything beyond the basics we can negotiate. it would be pretty affordable.
Checkout the Ko'olau Guitar & Ukulele listing for an idea of what I can do. I'm a big fan of their instruments and play a custom Ko'olau CS Tenor, actually have two as one is a back up in training.
Audio Cables Di Effects Mixing Pickups Recording Snakes


Radial Engineering

Radial Engineering
1588 Kebet Way
Port Coquitlam, British Columbia, Canada
V3C 5M5
Listing Info • click here to show or hide more info
from the Radial Engineering web site
Radial Engineering Ltd. is a manufacturer of professional audio products based in Vancouver, British Columbia, Canada. The company offers a wide array of products that are sold under brand names such as Radial, Tonebone, Primacoustic, Reamp and Zebracase. These are offered through a network of dealers and distributors that span the globe. Quality construction, exceptional audio performance and superb customer service are the underpins that have served to make Radial one of the most respected and trusted brands in the industry.
Which DI?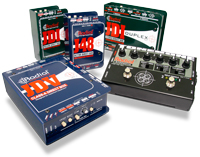 A simple rule of thumb:
If the source is active, use a passive DI box
If the source is passive, use an active DI box
Source Instruments - Ukulele with Piezo Pickup


these are the same for a Classical guitar
Radial has a great page for selecting the right DI for pretty much any instrument and pickup combination: Comparing DIs
More information available on the Radial Engineering's web site.
Even more information, discussion and comments on this listing.

Additional Information for: Radial Engineering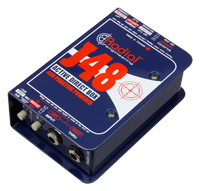 Radial Engineering R8001010JDI Single-Channel Passive Direct Box with Jensen Transformer
The JDI is a high performance passive direct box for live concert touring and professional studio recording applications, featuring a premium Jensen transformer for exceptional audio performance.
The Radial JDI is a passive direct box designed to handle extreme signal levels without distortion of any kind. At the heart, the Radial JDI employs the world class Jensen JT-DB-EPC audio transformer delivering a smooth, warm sounding Bessel curve, reminiscent of the finest vintage gear. Ruler flat from 10Hz to 40kHz and with virtually zero phase deviation, the JDI delivers the natural, pure sound of the instrument without artifact. By its no-power passive design, the Radial JDI performs both high-to-low impedance conversion and signal balancing over a magnetic bridge that passes signal while rejecting stray DC voltage. This makes the JDI particularly adept at eliminating hum and buzz caused by ground loops.
NOTE: Each higher access level includes ALL the benefits of the lower levels. Private Lessons include all the benefits of a Premium Access Plans as long as you remain a student on the schedule.
---
Just browsing over both books, they look fantastic! I'm a guitarist and uke player for over 25 years and was thinking about writing a ukulele book but you've already written what I think are the best, most comprehensive and thorough books I've ever seen for the instrument. I just might end up buying every book you've written and I'll be giving my highest recommendation for your books to my friends and students. Thank you so much for taking the time to write such great books! — Peter Rhee
Aloha, Curt, All I can say is WOW! What you have accomplished is simply incredible! All the best — Glen Hirabayashi, The Aloha Boys
Folks, if you haven't stopped by Curt's site, do so right now! ..And get his books, they are fantastic. This guy knows his stuff and is able to pass it along too. — Alan Johnson Proprietor, The 4th Peg
I can highly recommend Curt's Uke books — I have four of them and they are excellent. — fatveg — Portland
Thanks for visiting and checking out the site!
Original Curtie Animation from 1987 for my first web site on a Macintosh II. 34 years ago. Man, does time fly.
"Built for myself (Curt), and sharing with the `Ukulele community!"
LearningUkulele.com has one of the largest collections of lessons, songs, and TABS, Luthiers, ukulele builders, ukulele festival and club information, and, ukulele links on the web. I've been on the ®Internet since the early 1990's and This site just never stops growing!!!
Content is added and updated almost daily - so check back often. I really do need to get out more ;-)