Learn a New Ukulele Chord Each Day of 2018!!!
Today's Chord a Day, March 23rd - C13 •
Each day of 2018 there's a new chord you can learn and add to your chord vocabulary. First time here? Start with the January 1st chord.
There is also a series of lessons I ran 2013 called Chord a Week, "Open Position Chords" Series . This series explores several open position chords and their movable versions.
Learn a new strumming pattern(s) starting each week 2018 with my new video series!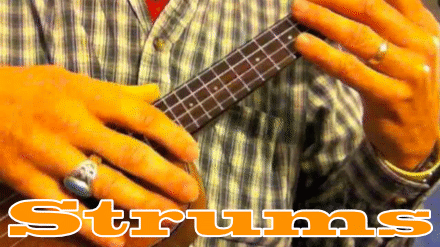 Ko'olau Guitar and Ukulele Company Published: 2013-11-14 Updated: 2017-12-30
Cases Guitar Luthier Manufacture Strings Ukulele
Ko'olau Guitar and Ukulele Company
401 N.Cane St. A-10
Wahiawa, Hawaii 96786
USA
tel: 808-622-1064
fax: 808-622-1646
Links
from the Ko'olau Guitar and Ukulele Company web site
Ko'olau Guitars and 'Ukuleles are professional quality, hand crafted instruments. The shop is located in Kaneohe, on the Island of Oahu, Hawaii, approximately fifteen minutes from Honolulu, at the foot of the the beautiful Ko'olau Mountains.
For many years Ko'olau Guitar and Ukulele has been building some of the finest quality ukes money can buy, allowing the customer to pick from many woods and decorative options. The company was founded and is still run by John Kitakis, whose career began as a furniture maker. He moved from the mainland US to Hawaii forty years ago, then for a period of time went back to the mainland doing warranty repair work for Martin, Taylor, Gibson, Guild and other guitar manufacturers, and in between built custom guitars and mandolins. Eventually he, his wife and children returned to Oahu to begin Ko'olau Guitar & Ukulele Company. All of John's children worked in the family business, from sorting screws to sweeping floors. His oldest son, Noa eventually chose to pursue stringed instrument making, and now manages all Ko'olau production. His youngest son, Andrew also joined the family doing repairs and assisting in Ko'olau construction and finishing, but eventually established his own retail guitar and 'ukulele business.
In the mid 90's John, Noa, and Andrew moved back to Hawaii and started Ko'olau Guitar and Ukulele. They had already repaired and refinished thousands of high end stringed instruments. And on a custom basis, built acoustic guitars. They knew what works, and now was the time to change the entire scene of `ukulele making. High end 'ukuleles, up to the early 90's were unknown, still not appreciated as a professional stringed instrument.
But the performers were there, and Ko'olau soon became known as the 'high' end ukulele. Finally the ukulele was respected, not as just a fun 'toy' but instead earning it's place in the world of professional music. Early on, the real 'old timers' like Lyle Ritz, Benny Chong, Led Kaapana, Ned Kaapana, Ernie Cruz, Chino Montero, Kimo Hussey, Mike Keale, Roy Sakuma, and Tracey Terada bought Kola's and were exposing others to the quality coming from the foothills of the Ko'olau mountains. In time the new and upcoming `ukulele masters, such as Abe Lagrimas, Craig Brandau, and Paul Hemmings discovered Ko'olau. And so, the beginning of a legend.
More information available on the Ko'olau Guitar and Ukulele Company's web site.
Even more information, discussion and comments on this listing.
Just browsing over both books, they look fantastic! I'm a guitarist and uke player for over 25 years and was thinking about writing a ukulele book but you've already written what I think are the best, most comprehensive and thorough books I've ever seen for the instrument. I just might end up buying every book you've written and I'll be giving my highest recommendation for your books to my friends and students. Thank you so much for taking the time to write such great books! — Peter Rhee
Aloha, Curt, All I can say is WOW! What you have accomplished is simply incredible! All the best — Glen Hirabayashi, The Aloha Boys
Folks, if you haven't stopped by Curt's site, do so right now! ..And get his books, they are fantastic. This guy knows his stuff and is able to pass it along too. — Alan Johnson Proprietor, The 4th Peg
I can highly recommend Curt's Uke books — I have four of them and they are excellent. — fatveg — Portland
Thanks for visiting and checking out the site!
Content is added and updated almost daily - so check back often.
LearningUkulele.com has one of the largest collections of lessons, songs, and TABS, luthiers, ukulele builders, ukulele festival and club information, and, ukulele links on the web. I've been on the ®Internet since the early 1990's and This site just never stops growing!!!