Cases Guitar Luthier Manufacture Strings Ukulele
Looking for more of a listing or to update your listings contact: Curt
Listings are FREE. Anything beyond the basics we can negotiate.
Chechout the Ko'olau Guitar & Ukulele listing for an idea of what I can do. I'm a big fan of their instruments and play a custom Ko'olau CS Tenor, actually have two as one is a back up in training.
Ko`olau Guitar and Ukulele Company

401 N.Cane St. A-10
Wahiawa, Hawaii 96786
USA
tel: 808-622-1064
fax: 808-622-1646
Latitude: 21.502045
Longitude: -158.026917
from the Ko`olau Guitar and Ukulele Company web site
Ko'olau Guitars and 'Ukuleles are professional quality, hand crafted instruments. The shop is located in Kaneohe, on the Island of Oahu, Hawaii, approximately fifteen minutes from Honolulu, at the foot of the the beautiful Ko'olau Mountains.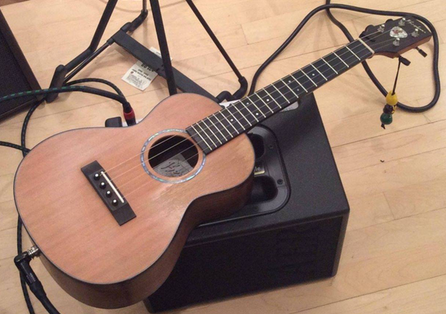 For many years Ko'olau Guitar and Ukulele has been building some of the finest quality ukes money can buy, allowing the customer to pick from many woods and decorative options. The company was founded and is still run by John Kitakis, whose career began as a furniture maker. He moved from the mainland US to Hawaii forty years ago, then for a period of time went back to the mainland doing warranty repair work for Martin, Taylor, Gibson, Guild and other guitar manufacturers, and in between built custom guitars and mandolins. Eventually he, his wife and children returned to Oahu to begin Ko'olau Guitar & Ukulele Company. All of John's children worked in the family business, from sorting screws to sweeping floors. His oldest son, Noa eventually chose to pursue stringed instrument making, and now manages all Ko'olau production. His youngest son, Andrew also joined the family doing repairs and assisting in Ko'olau construction and finishing, but eventually established his own retail guitar and 'ukulele business.
In the mid 90's John, Noa, and Andrew moved back to Hawaii and started Ko'olau Guitar and Ukulele. They had already repaired and refinished thousands of high end stringed instruments. And on a custom basis, built acoustic guitars. They knew what works, and now was the time to change the entire scene of `ukulele making. High end 'ukuleles, up to the early 90's were unknown, still not appreciated as a professional stringed instrument.
But the performers were there, and Ko'olau soon became known as the 'high' end ukulele. Finally the ukulele was respected, not as just a fun 'toy' but instead earning it's place in the world of professional music. Early on, the real 'old timers' like Lyle Ritz, Benny Chong, Led Kaapana, Ned Kaapana, Ernie Cruz, Chino Montero, Kimo Hussey, Mike Keale, Roy Sakuma, and Tracey Terada bought Kola's and were exposing others to the quality coming from the foothills of the Ko'olau mountains. In time the new and upcoming `ukulele masters, such as Abe Lagrimas, Craig Brandau, and Paul Hemmings discovered Ko'olau. And so, the beginning of a legend.
More information available on the Ko`olau Guitar and Ukulele Company's web site.
Even more information, discussion and comments on this listing.

Additional Information for: Ko`olau Guitar and Ukulele Company
How About More Uke?
Motivated by our love of jazz and improvisation. The Curt Sheller Trio - Eric, Ed and Curt explore a traditional and contemporary jazz repertoire with a sprinkling of originals, showcasing the ukulele in a non traditional setting.
Curt - In the summer of 2003, I fell in love with the ukulele and all its possibilities. My journey exploring the ukulele began on a CampFire USA trip to South Dakota planned by my wife, Bernadette. I'd searched the Internet for a small travel guitar to bring with me, and rediscovered the ukulele instead--after a twenty year break. - Curt
All tracks where recorded with a Ko'olau CS Tenor with the exception of Milestones where I used a Pono Pro Classic Thinline Mango Tenor as a string broke on the Ko'olau during the previous song's fadeout. For the lite guitar backing on Glen's Cove and Summer's Dawn I used my American Archtop Legend 7 string made by Dale Unger.
The Curt Sheller Jazz Trio
10 Minute Demo from How About More Uke?
10 Minute Demo of How About More Uke? CD
Track List
Glen's Cove
A Spy In Love
Summertime / Blue Skies
Rain Shine
Georgia
Milestones
Summer's Dawn
The Curt Sheller Trio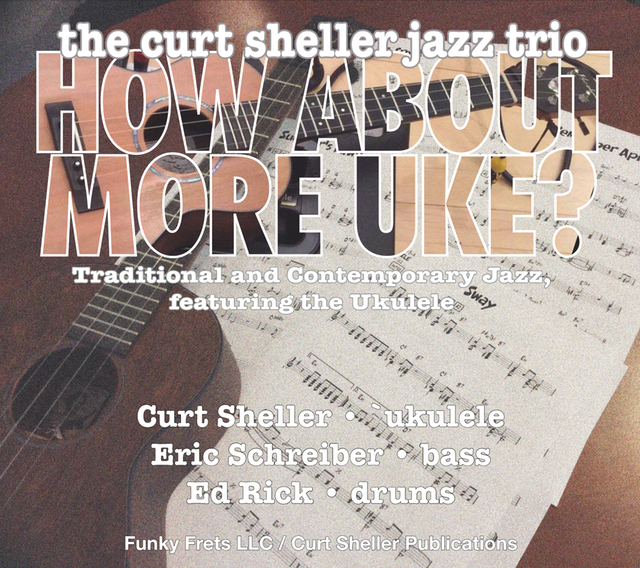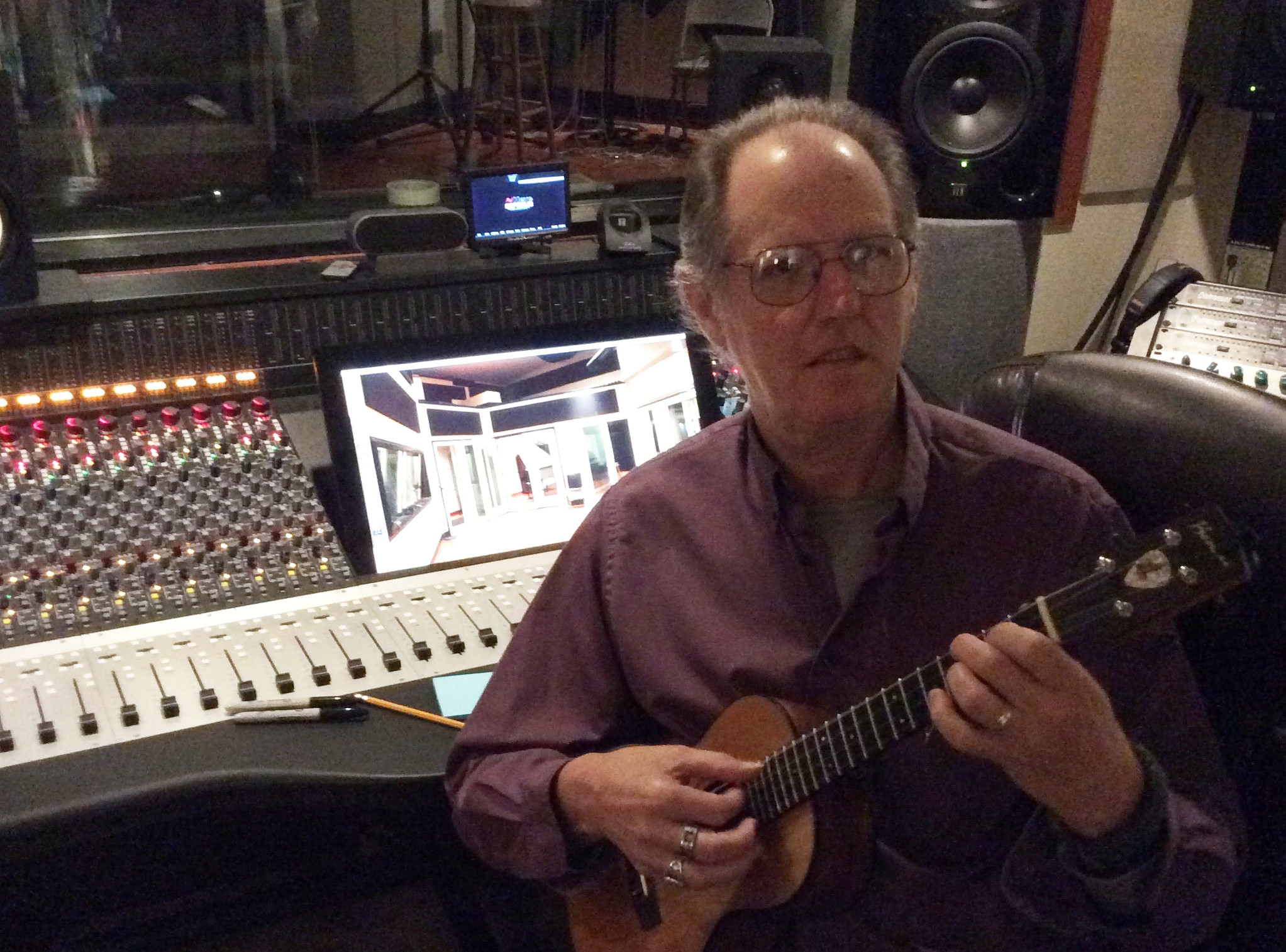 Curt Sheller - Curt has been performing and presenting ukulele workshops at various ukulele festivals for the past 10 plus years and has authored over 30 books for ukulele and is the creator and maintains the popular web site LearnignUkulele.com with over 600 lessons for ukulele.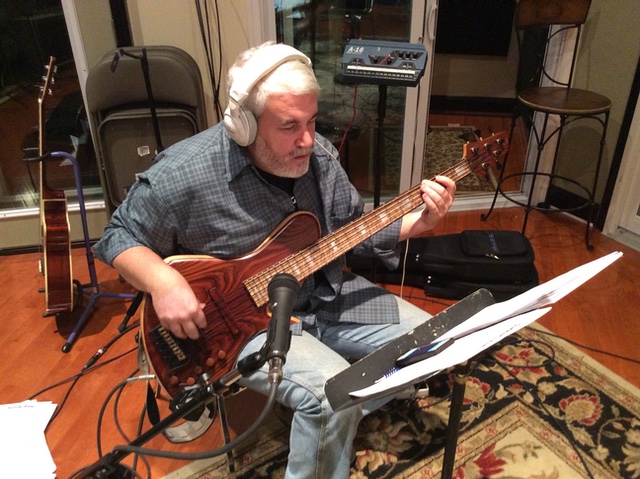 Eric Schreiber - Eric is a Philadelphia area based musician and composer. He currently performs regularly in numerous jazz, rock, and classical ensembles.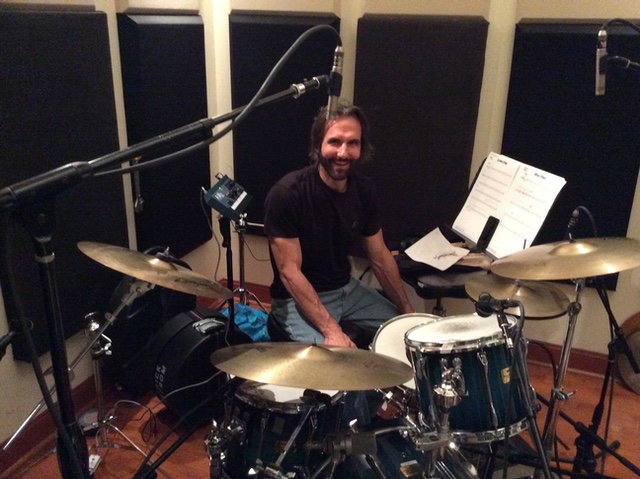 Ed Rick - Ed is an experienced and versatile drummer who has played in a wide range of professional situations. Besides his playing, Ed devotes a good deal of time to his teaching practice.
Back in 2002 I released a Midnight a the Jazz Cafe CD, a guitar bass and drums CD. I recorded both Milestones and My Favorite Things. I also recorded both these songs for the How About More Uke? CD.
My Favorite Things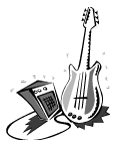 2002 - Midnight at the Jazz Cafe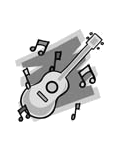 2015 - How About More Uke?
Milestones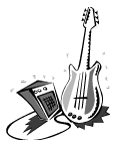 2002 - Midnight at the Jazz Cafe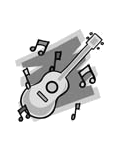 2015 - How About More Uke?
NOTE: Each higher access level includes ALL the benefits of the lower levels. Private Lessons include all the benefits of a Premium Access Plans as long as you remain a student on the schedule.
Just browsing over both books, they look fantastic! I'm a guitarist and uke player for over 25 years and was thinking about writing a ukulele book but you've already written what I think are the best, most comprehensive and thorough books I've ever seen for the instrument. I just might end up buying every book you've written and I'll be giving my highest recommendation for your books to my friends and students. Thank you so much for taking the time to write such great books! — Peter Rhee
Aloha, Curt, All I can say is WOW! What you have accomplished is simply incredible! All the best — Glen Hirabayashi, The Aloha Boys
Folks, if you haven't stopped by Curt's site, do so right now! ..And get his books, they are fantastic. This guy knows his stuff and is able to pass it along too. — Alan Johnson Proprietor, The 4th Peg
I can highly recommend Curt's Uke books — I have four of them and they are excellent. — fatveg — Portland
Thanks for visiting and checking out the site!

Original Curtie Animation from 1987 for my first web site on a Macintosh II.
33 years ago.
"Built for myself (Curt), and sharing with the `Ukulele community!"
LearningUkulele.com has one of the largest collections of lessons, songs, and TABS, luthiers, ukulele builders, ukulele festival and club information, and, ukulele links on the web. I've been on the ®Internet since the early 1990's and This site just never stops growing!!!
Content is added and updated almost daily - so check back often.