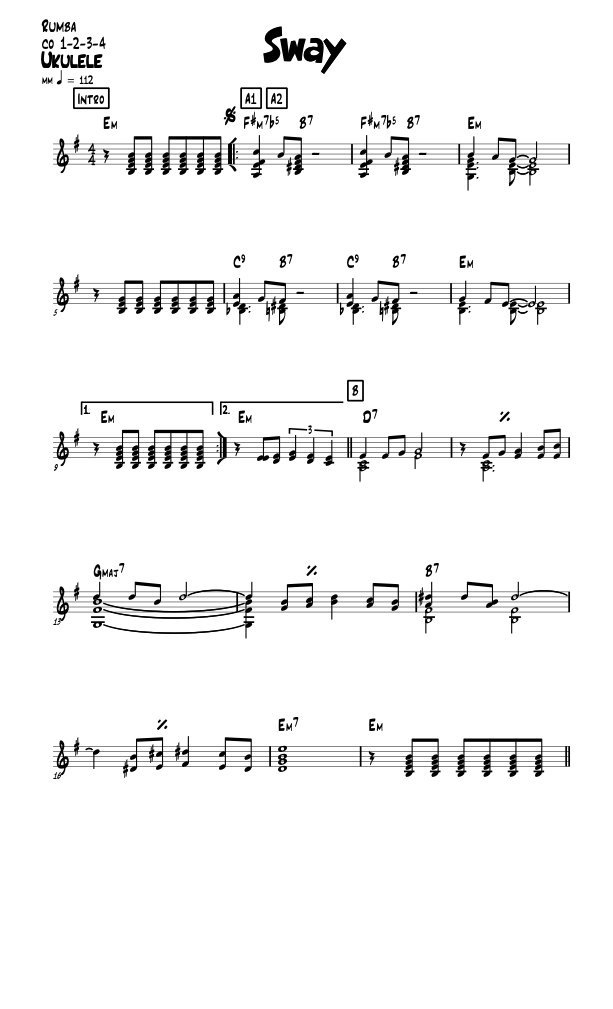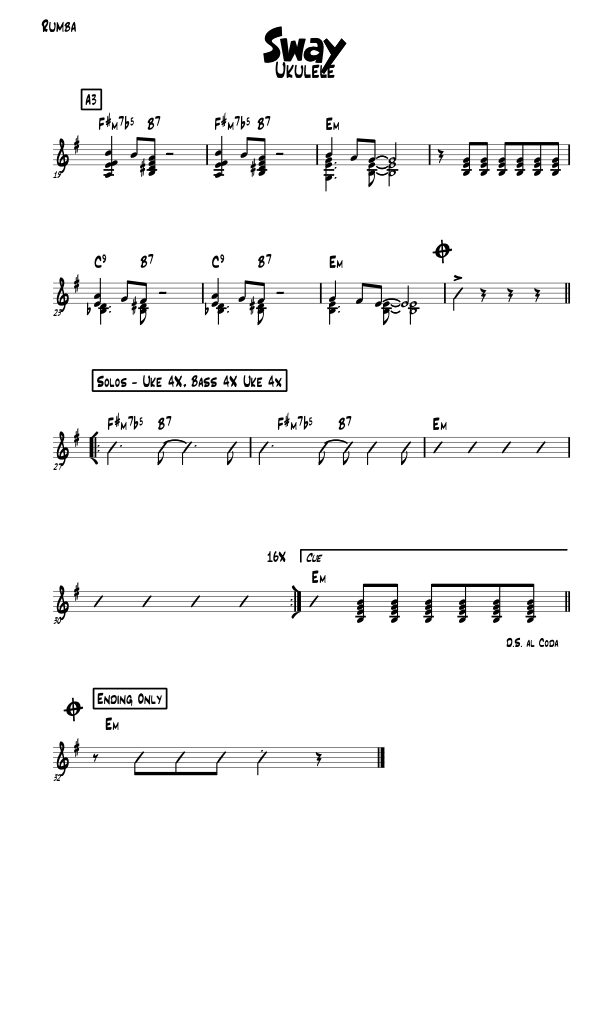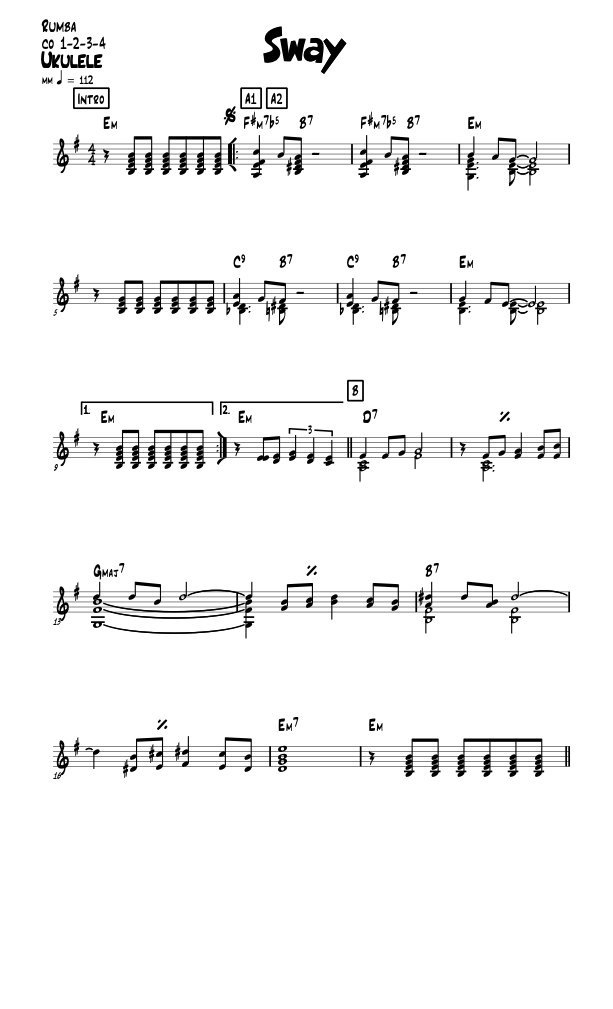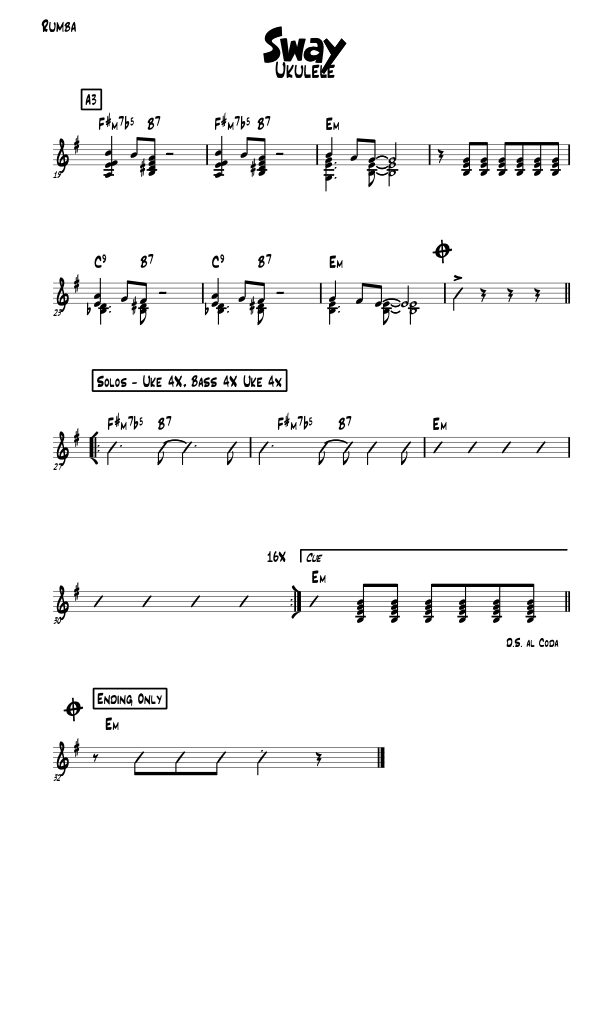 All 2 sample page(s) are viewable on-line.
If you are a registered site member, have verified your email address, and have the correct permissions you can view ALL the pages of this PDF or Samples pages at a larger size using the LearningUkulele.com Online PDF Viewer .
Sway is the English version of "¿Quién será?", a 1953 mambo song by Mexican composer and bandleader Pablo Beltrán Ruiz. In 1954 the English lyrics were written by Norman Gimbel and recorded by Dean Martin. The Dean Martin recording reached number fifteen on the Billboard magazine best-seller chart and number six on the UK chart.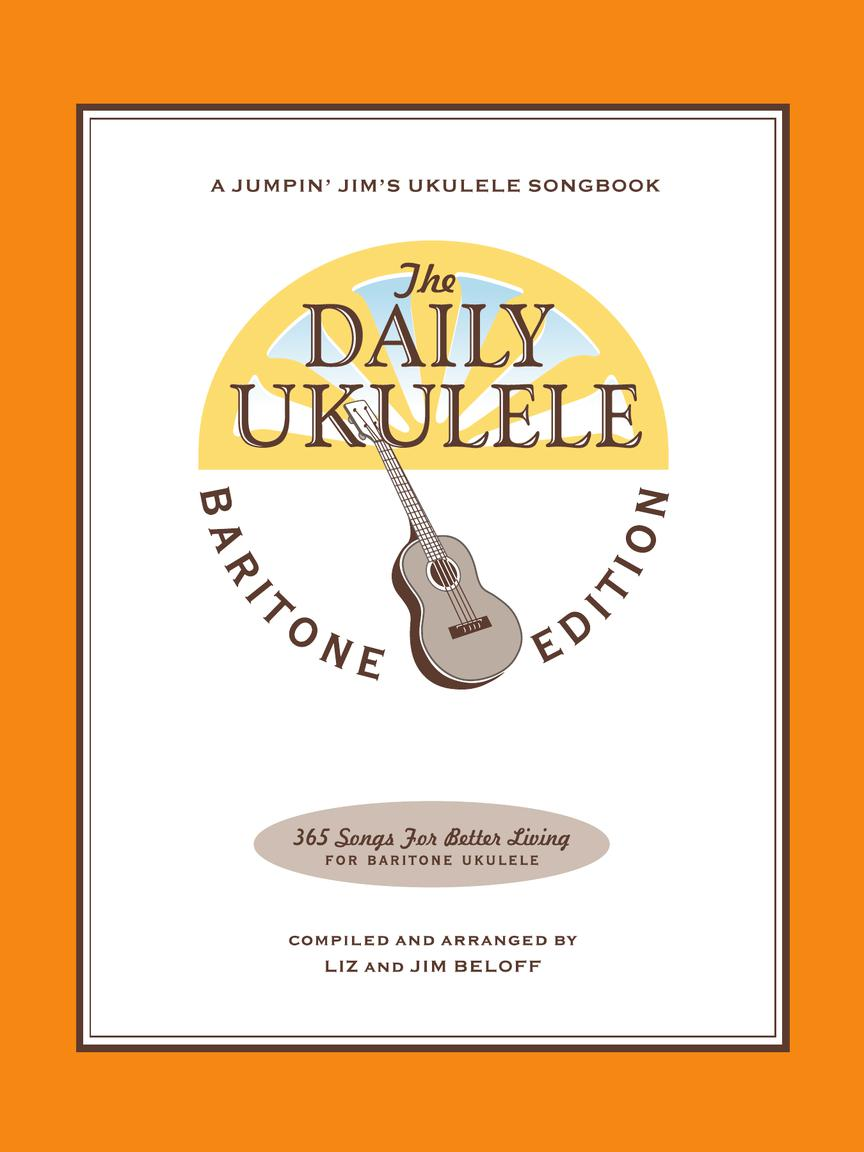 Sway is in the The Daily Ukulele — Leap Year Edition — 366 Songs for Better Living book.
"Curt, your CD was fantastic. You are amongst the ukulele masters of our day." — John K.
Sway…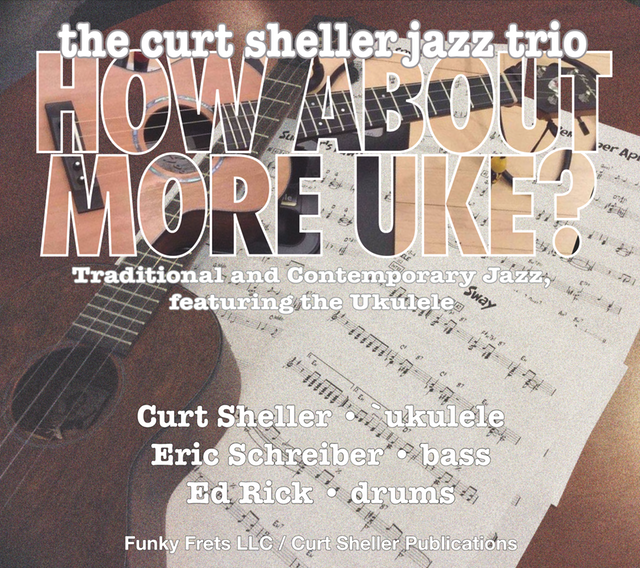 Release Date: December 2, 2015
How About More Uke?
How About More Uke? — A collection of jazz standards, original compositions by myself (Curt Sheller), Chuck Anderson and Jim Beloff / Herb Otha. Featuring Curt Sheller: `ukulele, Eric Schreiber: bass and Ed Rick: drums.
10 Minute Demo of How About More Uke? CD
Main Song Download(s)
The main downloads for this Song.
Videos
Related Videos for Sway.
Related Lessons
Related Lessons for Sway.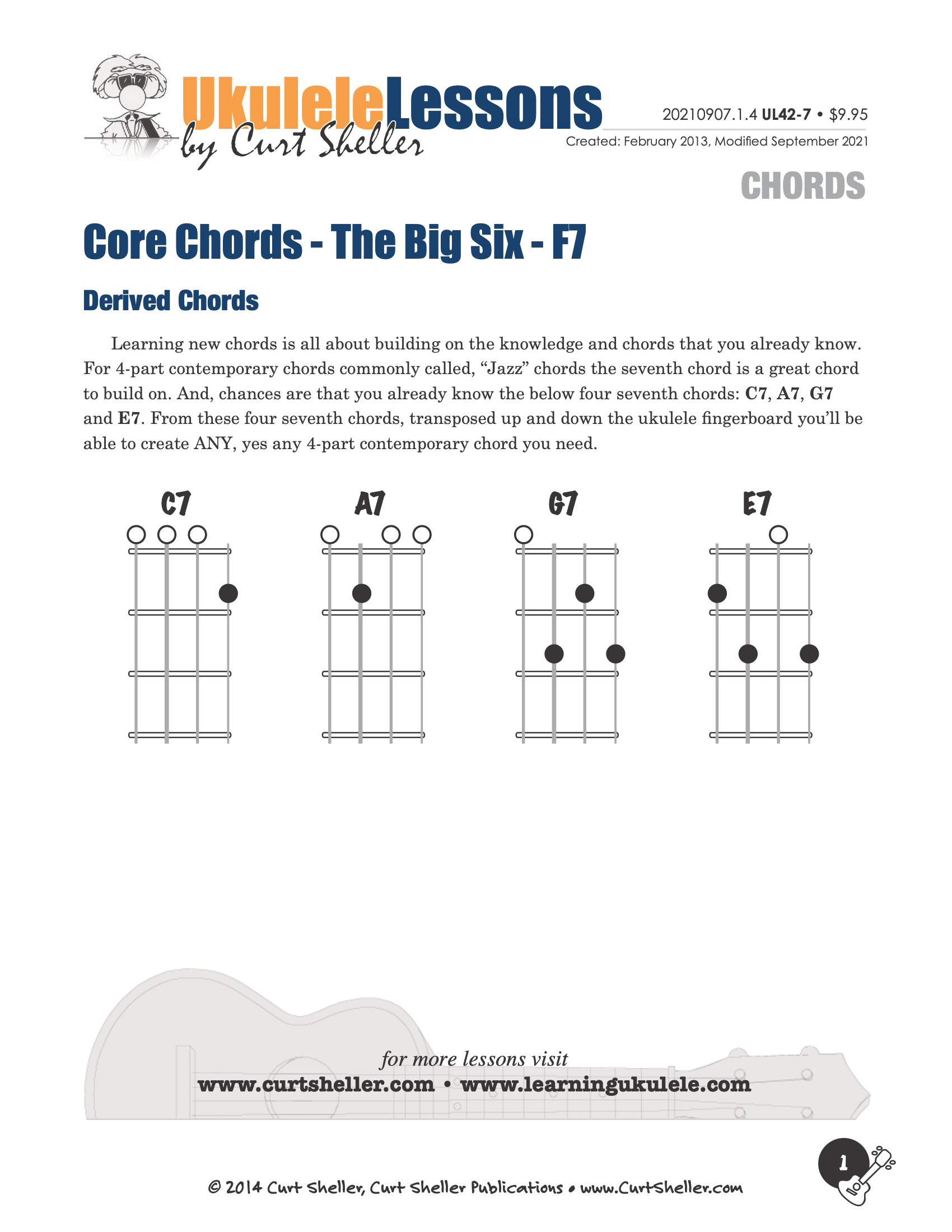 Core Chords - The Big Six - Building a Solid Chord Foundation
Updated: 07 Sep 2021
The Big Six Core Chords is a series of lessons for building your core, essential 4-part chords. These chords commonly called jazz chords, are really just 4-part chords used in a wide range of musical styles. These chords include: Seventh , Major Seventh, Minor Seventh, Half Diminished Seventh or Minor Seven Flat Five, Diminished Seventh, and Augmented Seventh. These six chords form a core set of chords.
Related Books & Charts
Related Books for Sway.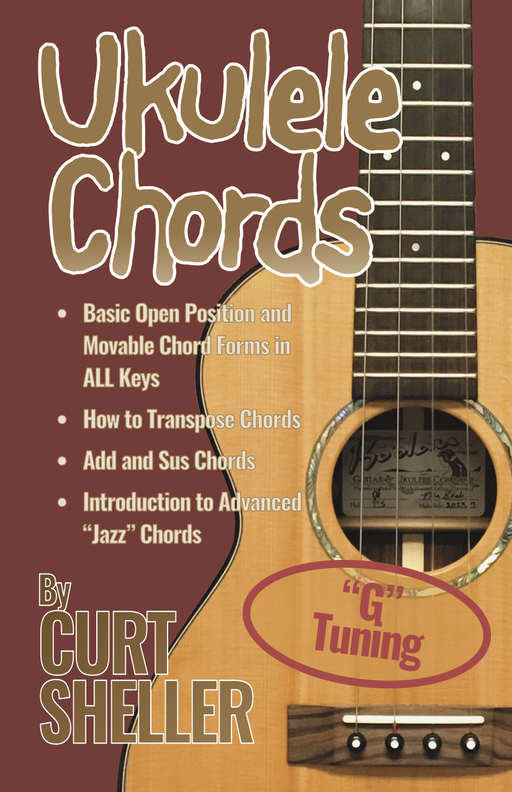 Ukulele Chords - G Tuning
Updated: 31 Jan 2022
This chord book is the perfect size for every ukulele gig bag or case and a great addition to you music book library. Ukulele Chords covers basic open position and basic movable form chords. From these two chord categories a variety of songs and styles can be played. Seventh chords, Major Sevenths, Minor Sevenths, Diminished, Augmented chords sus and add chords. Tunings: G with low or high D - (DGBE or dGBE).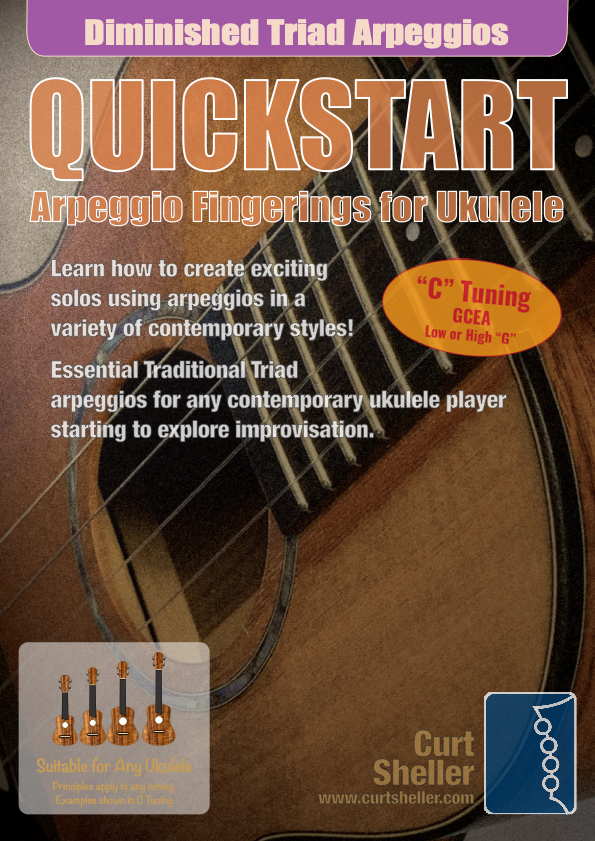 QuickStart Arpeggio Fingerings for Ukulele, C Tuning - Diminished Triad
Updated: 17 Aug 2019
There are four traditional triads: Major, Minor, Diminished and Augmented. Based on a major scale a Diminished triad contains the following intervals: Root (1), b3, b5. A one octave fingering solution is presented for each finger starting on strings ➃, ➂ and ➁. Beyond these fingering solutions, there are many alternate and extended patterns available.
Related Song Files, Resources and Assets
Related Assets for Sway.