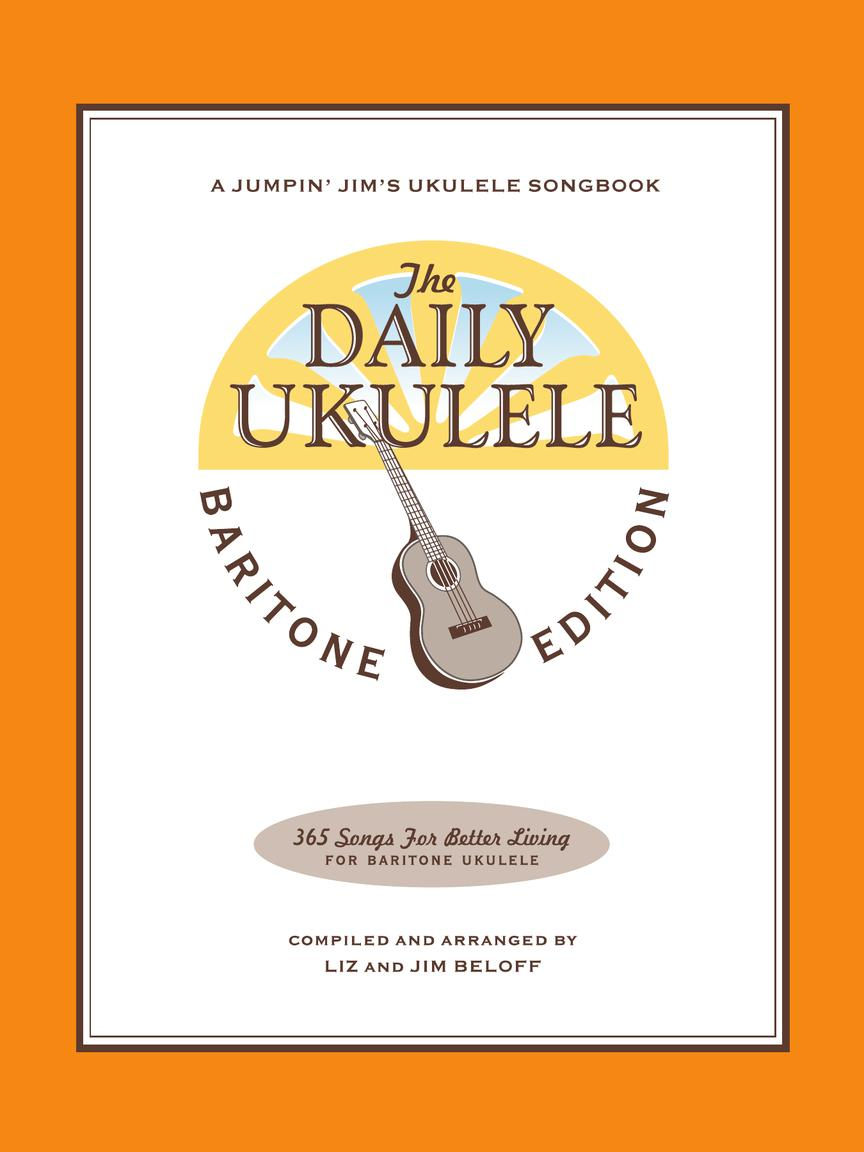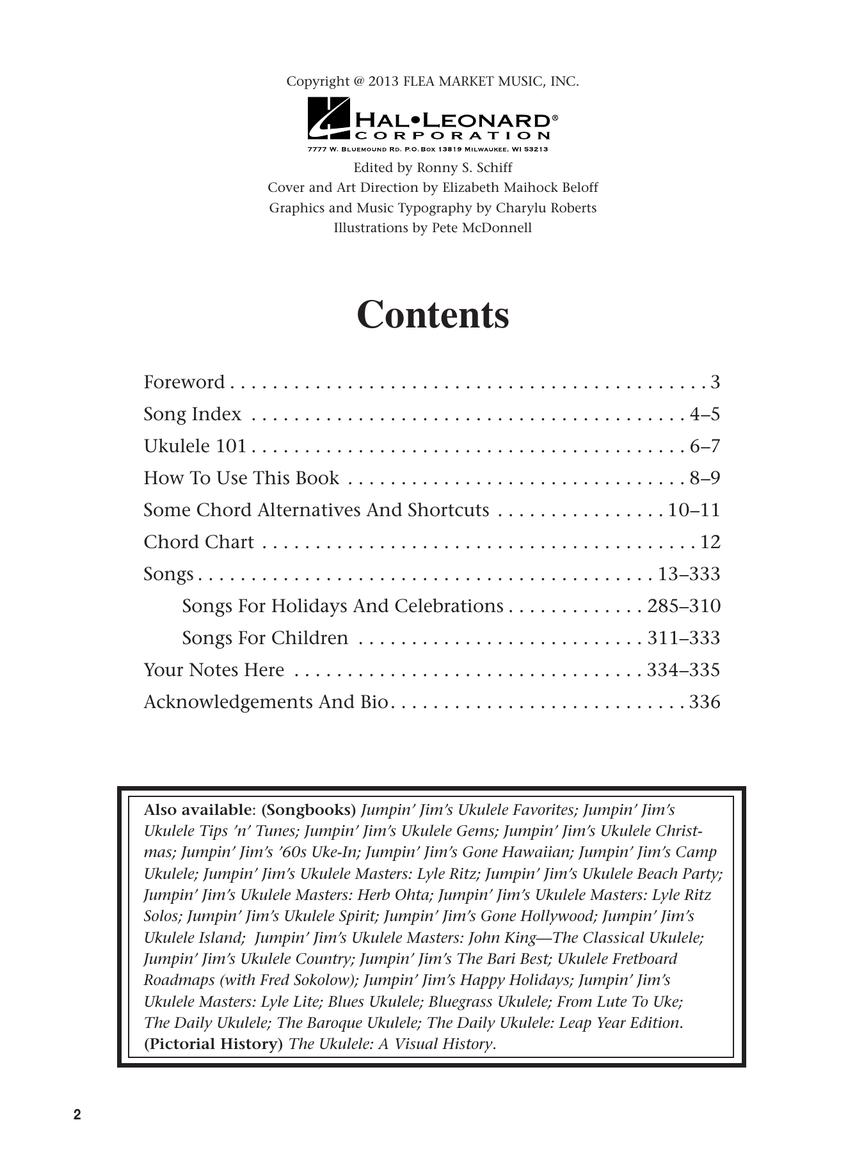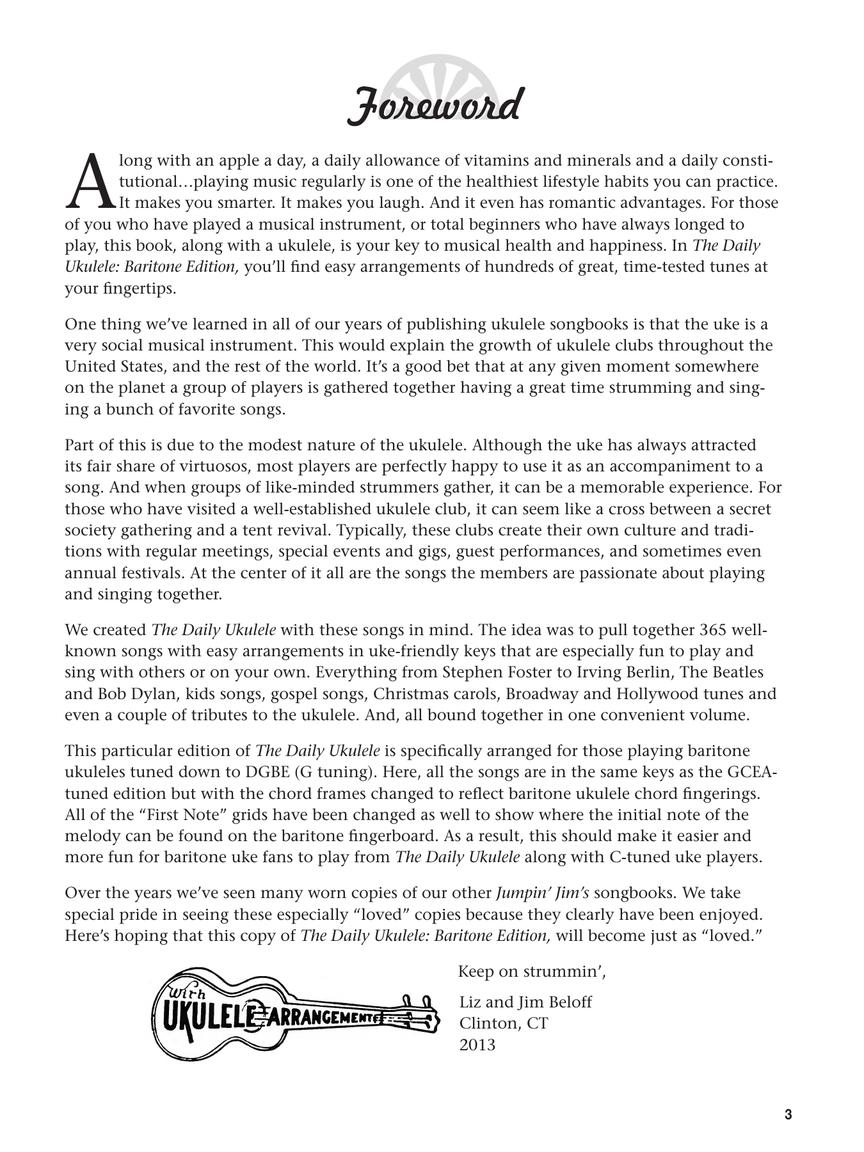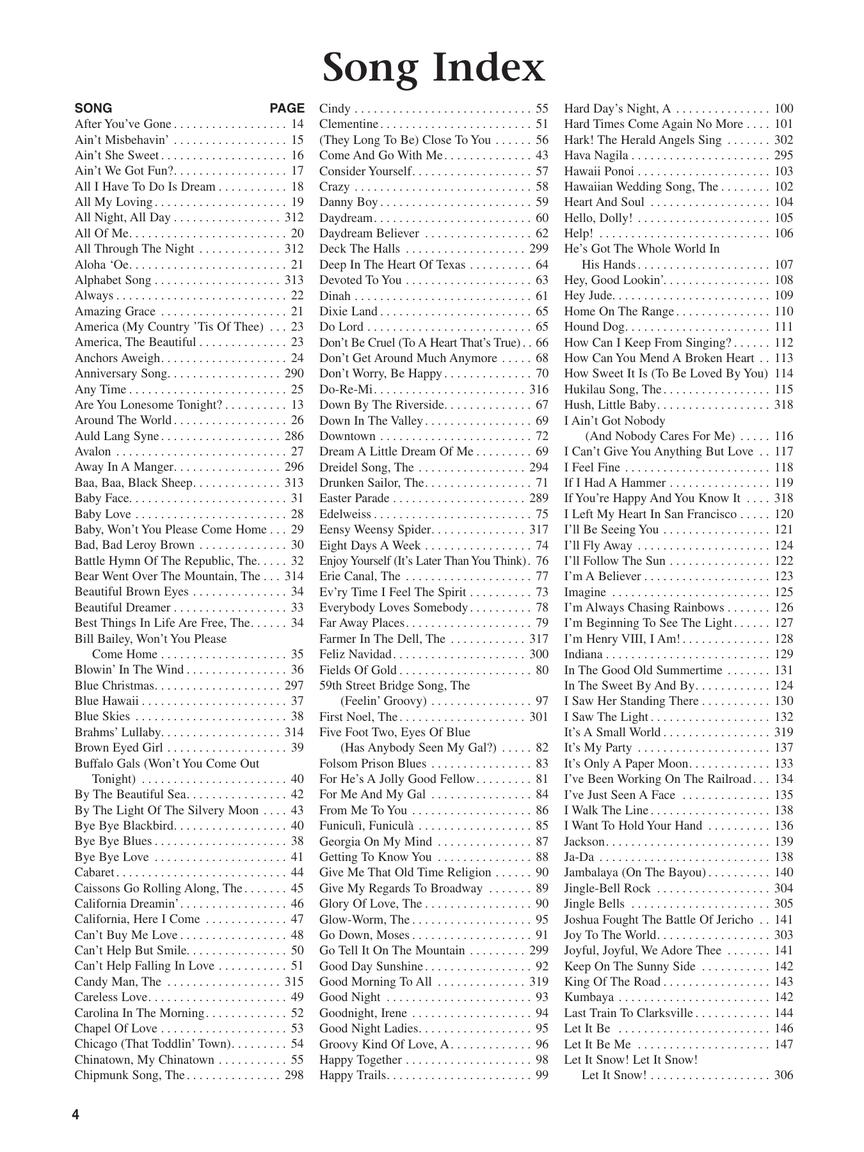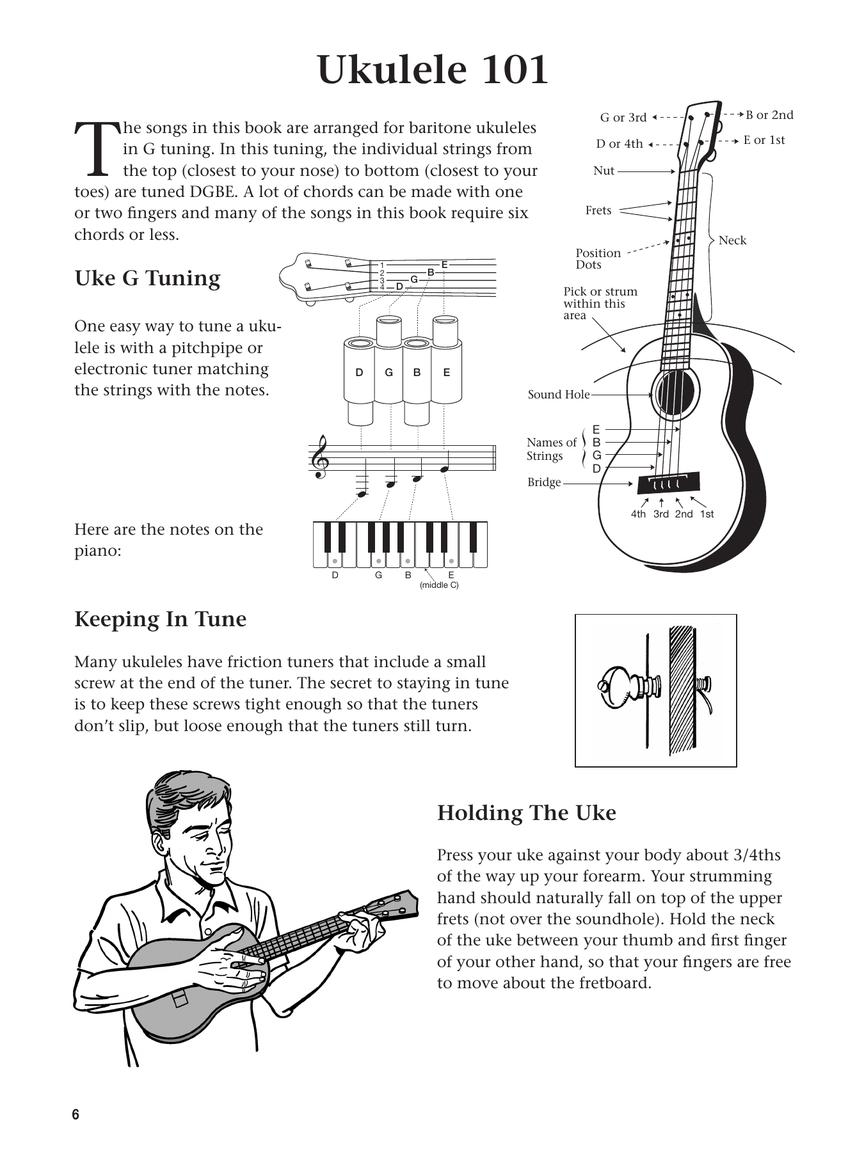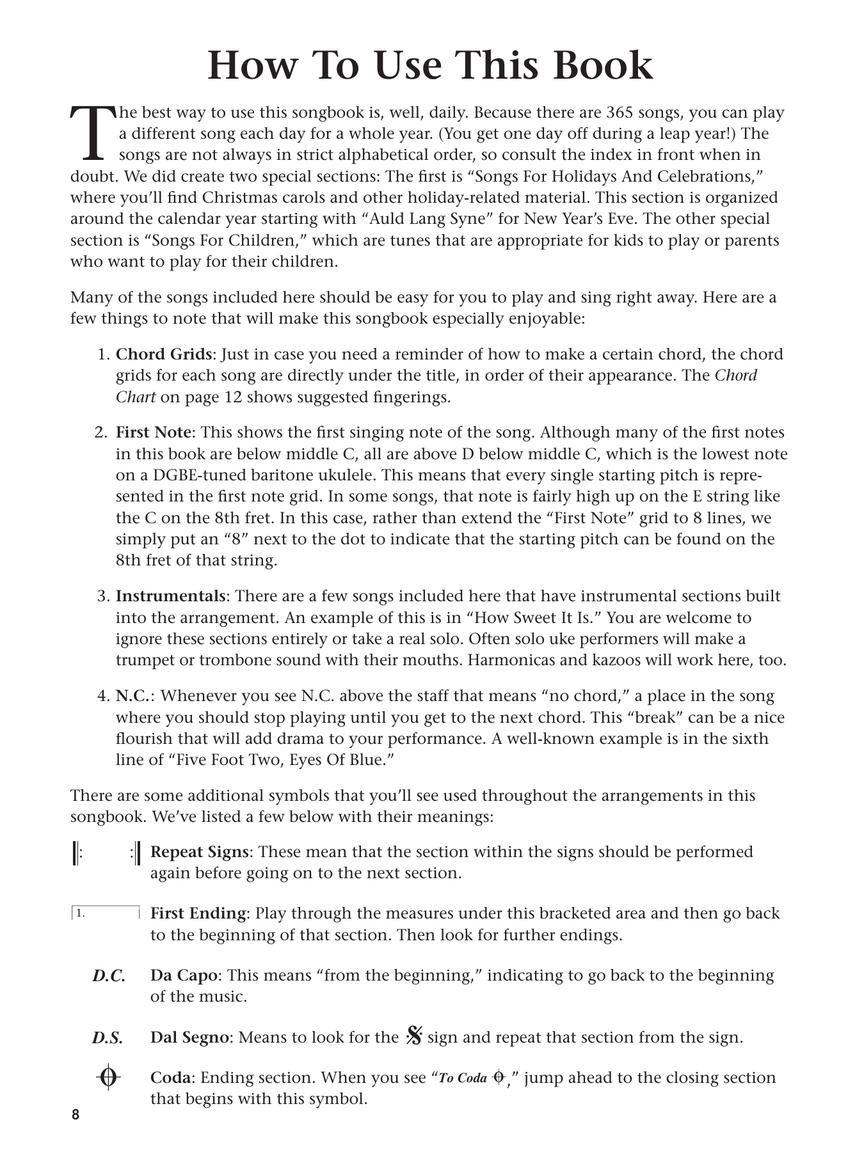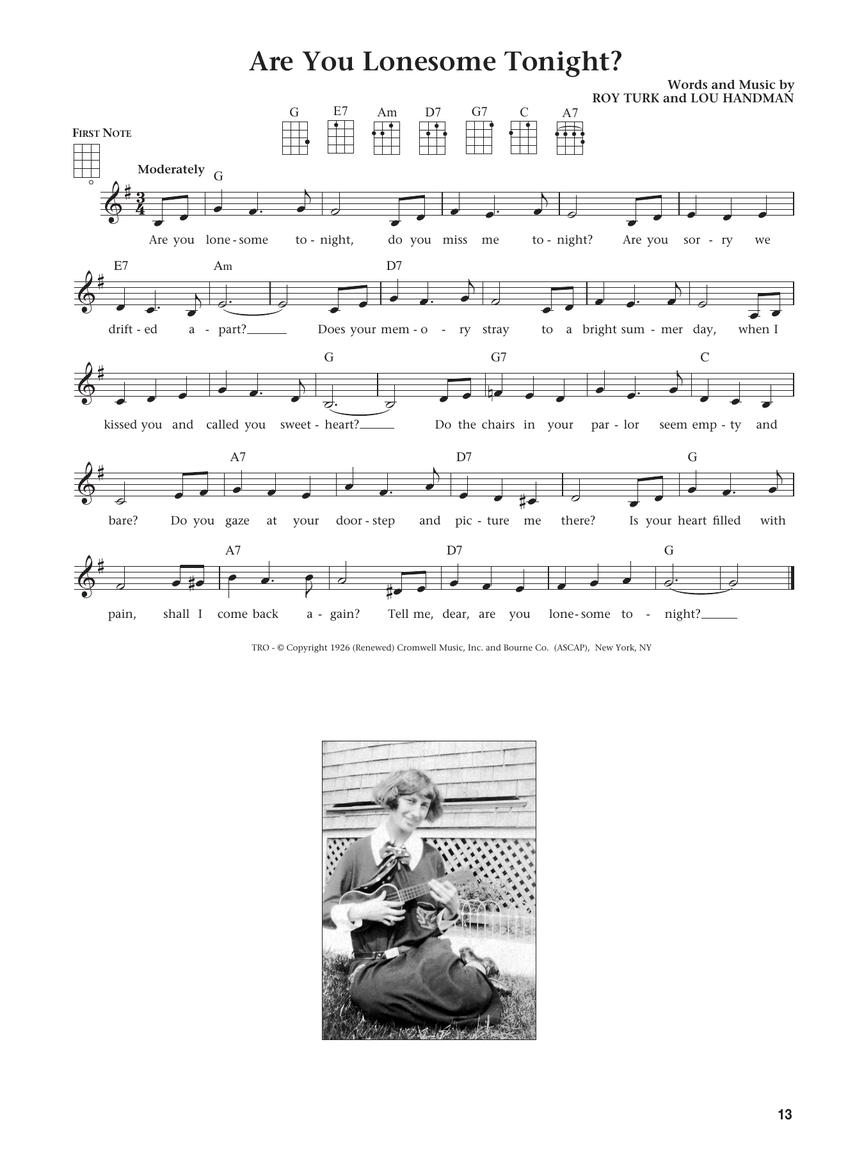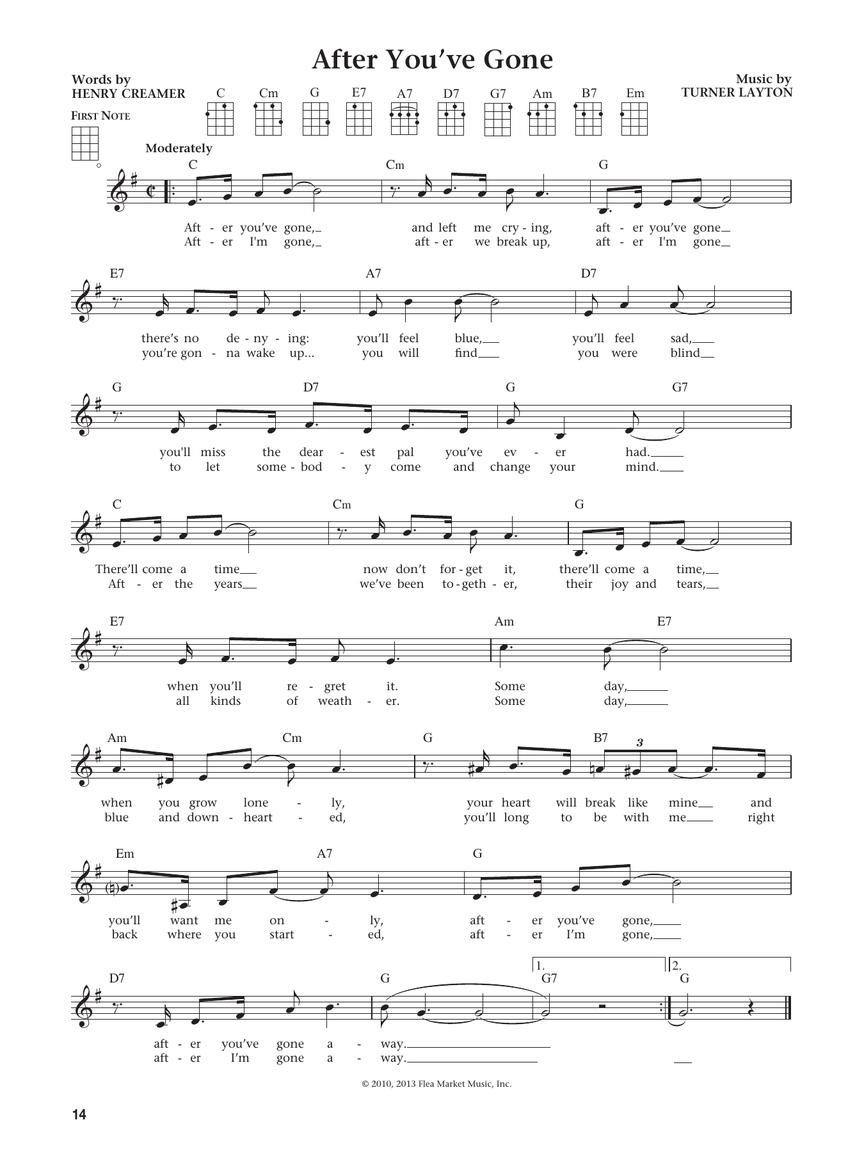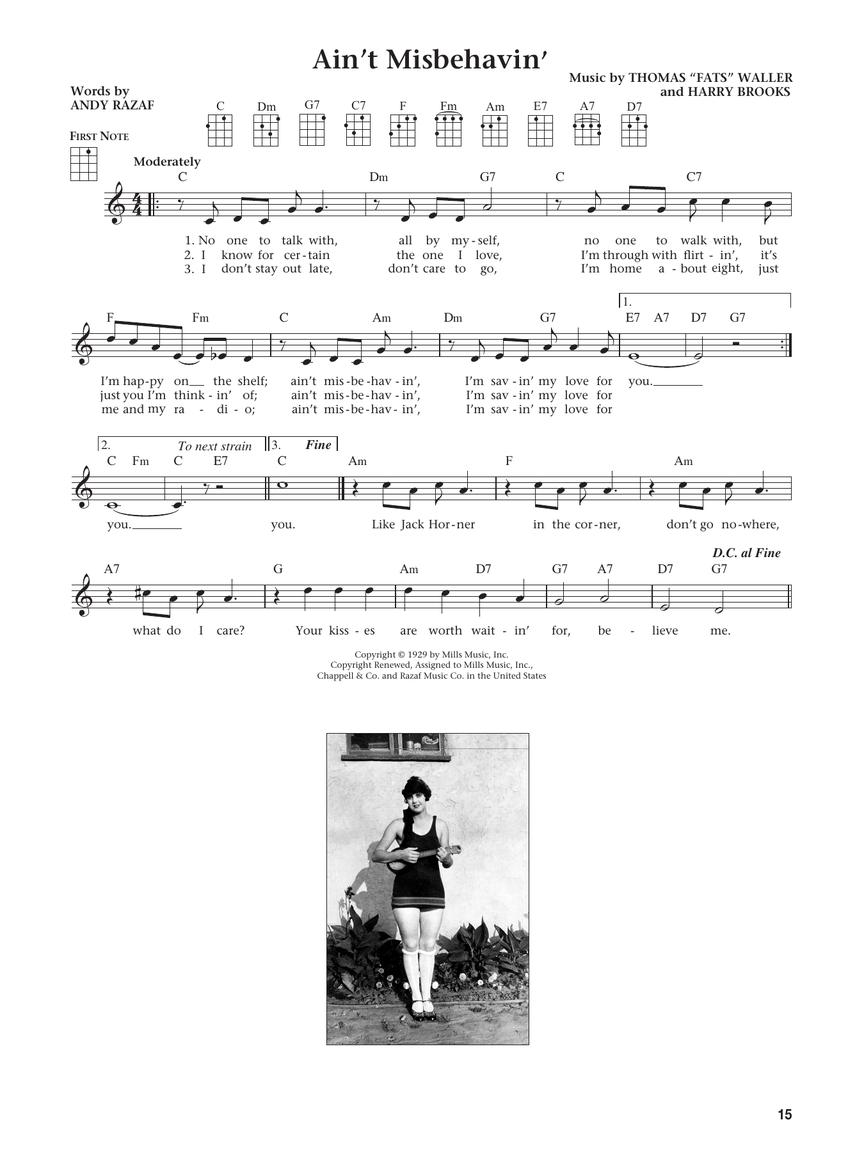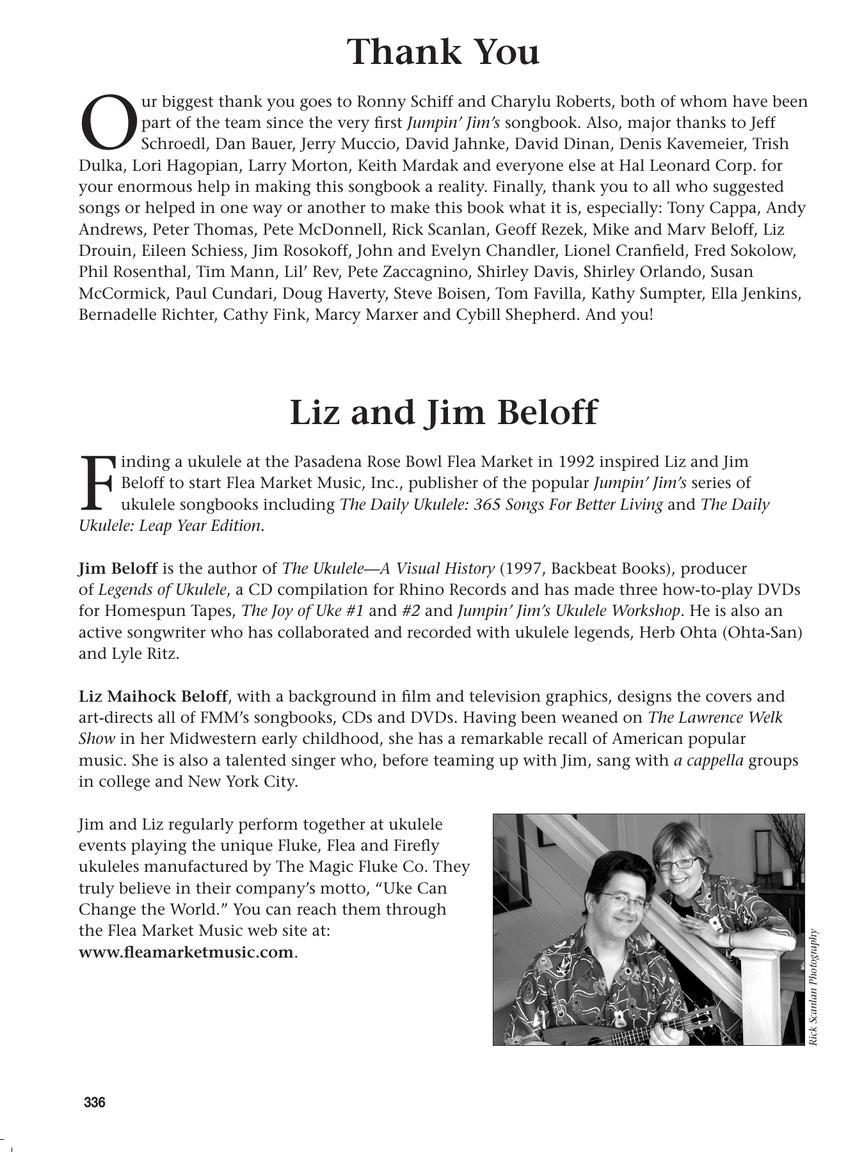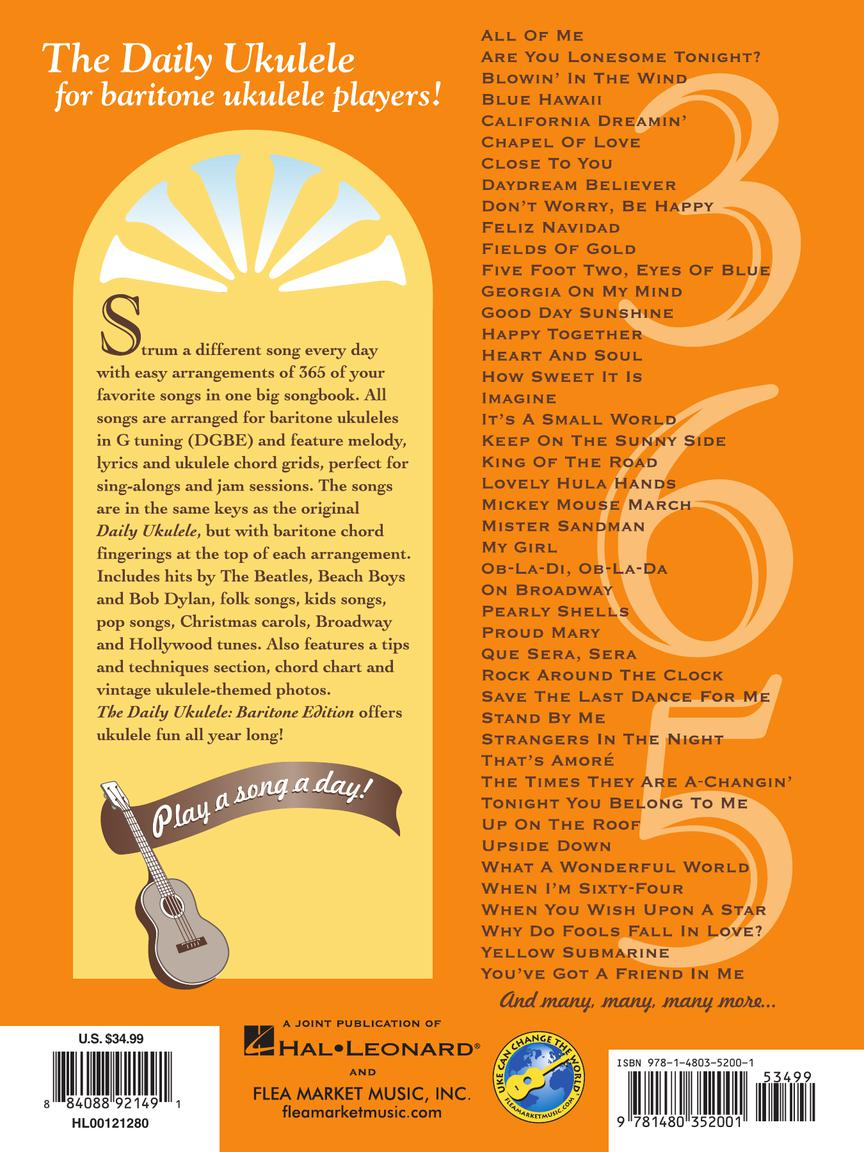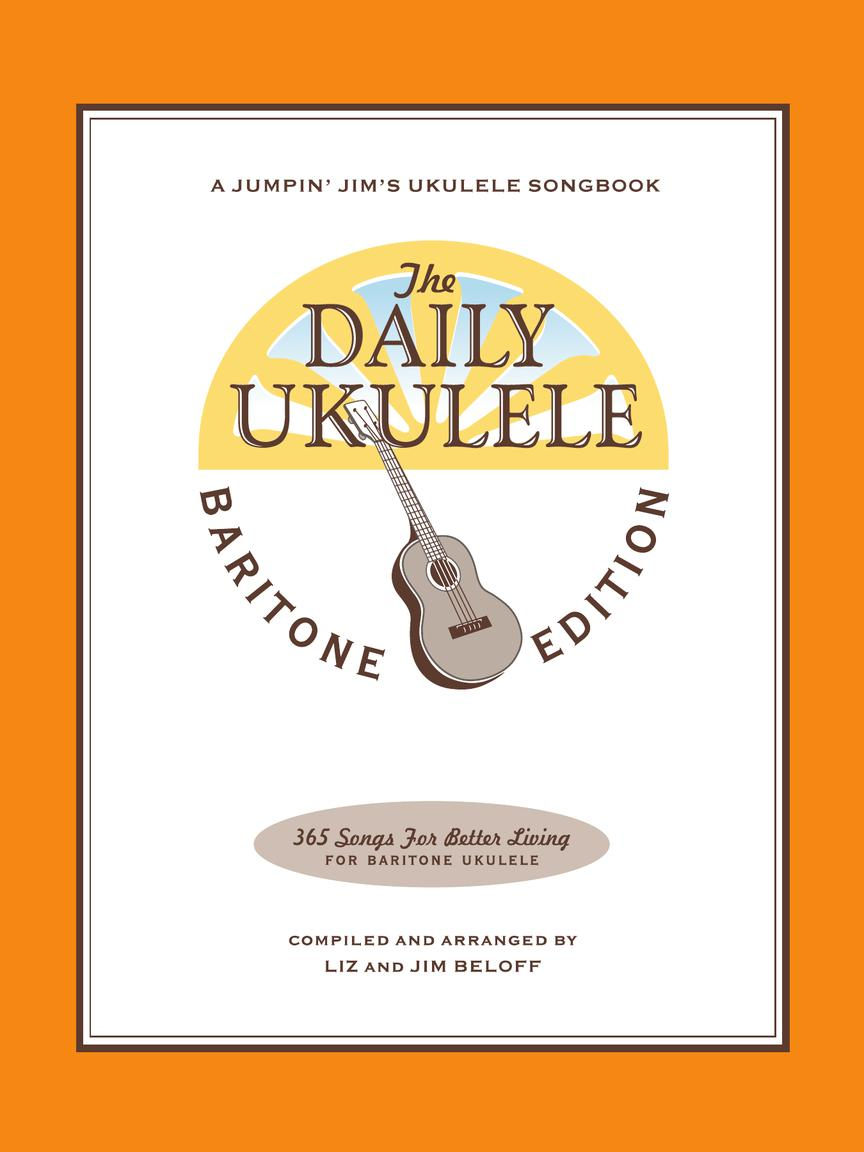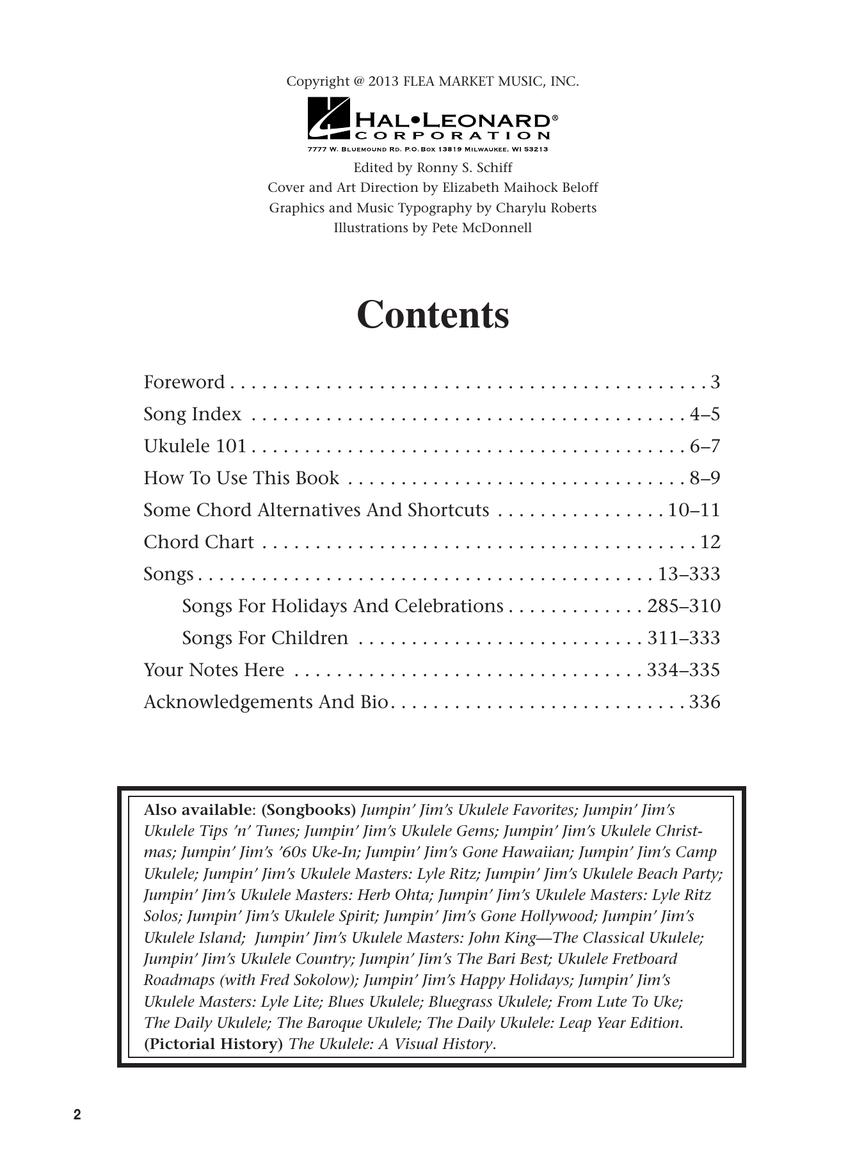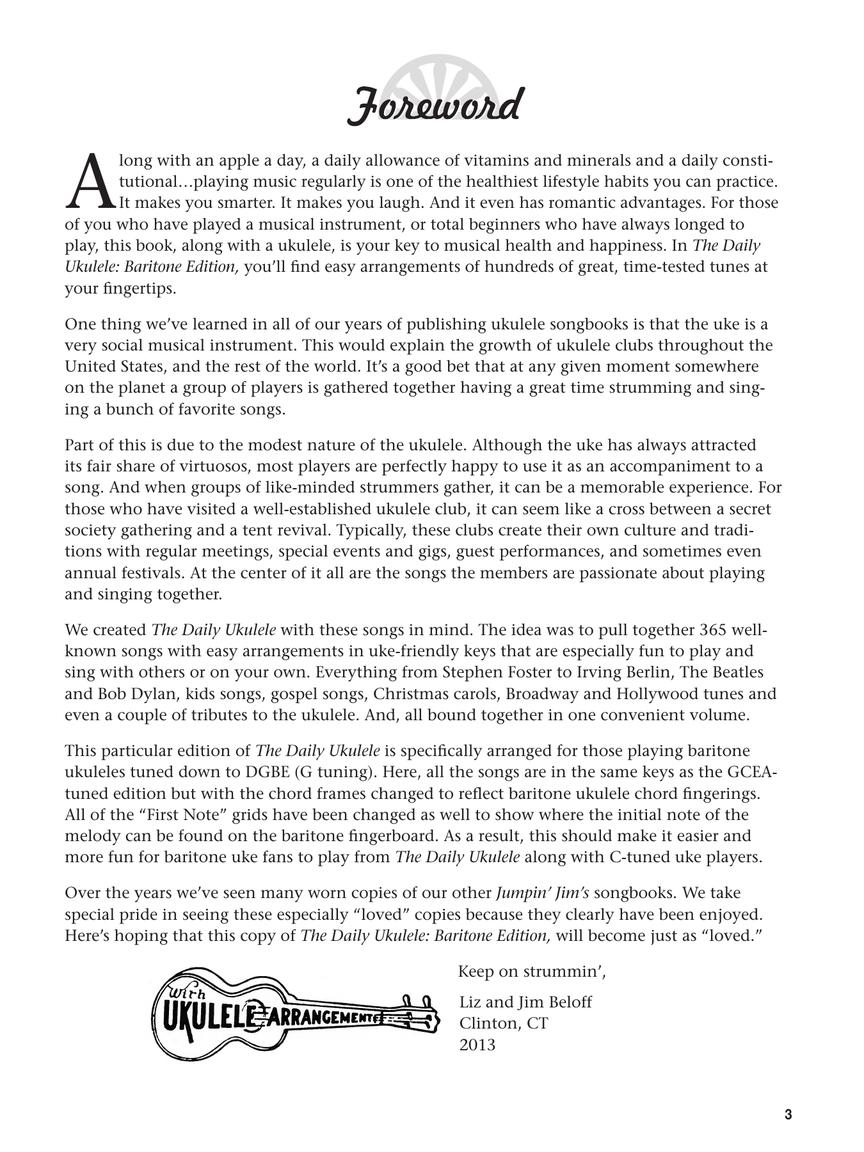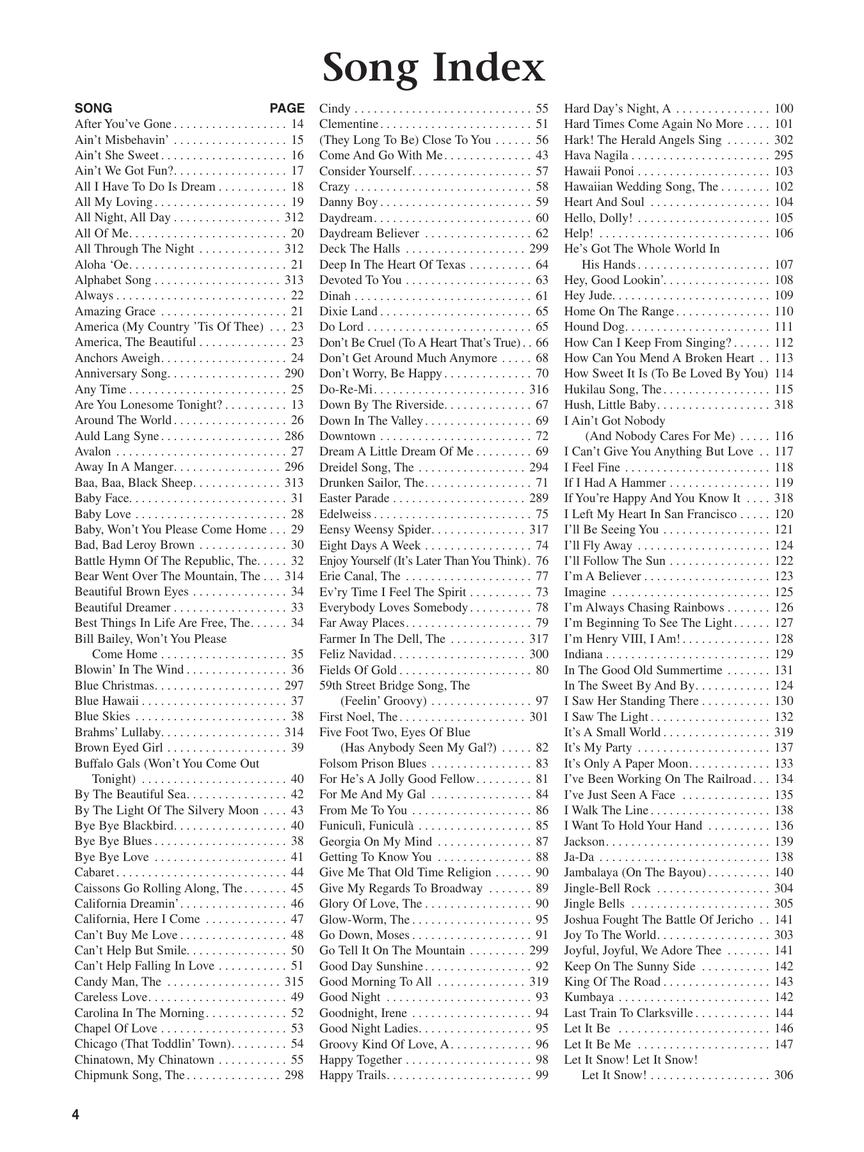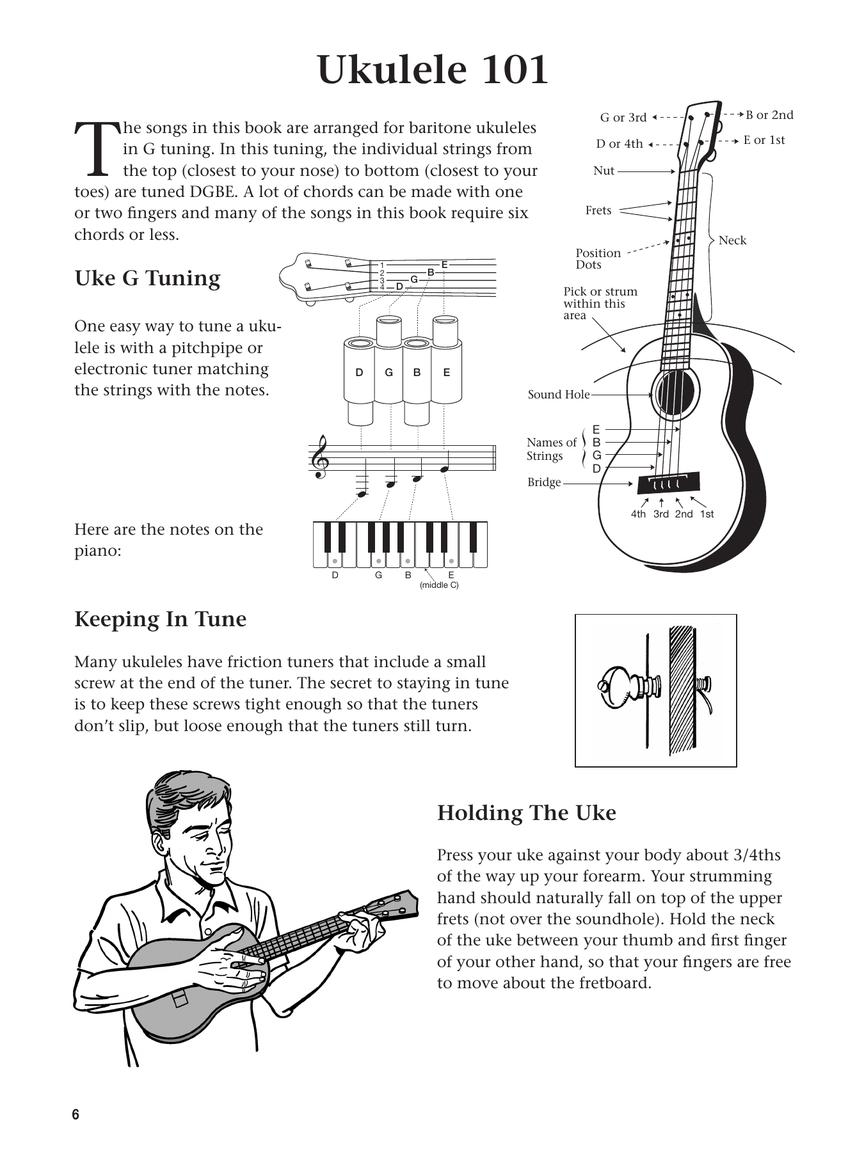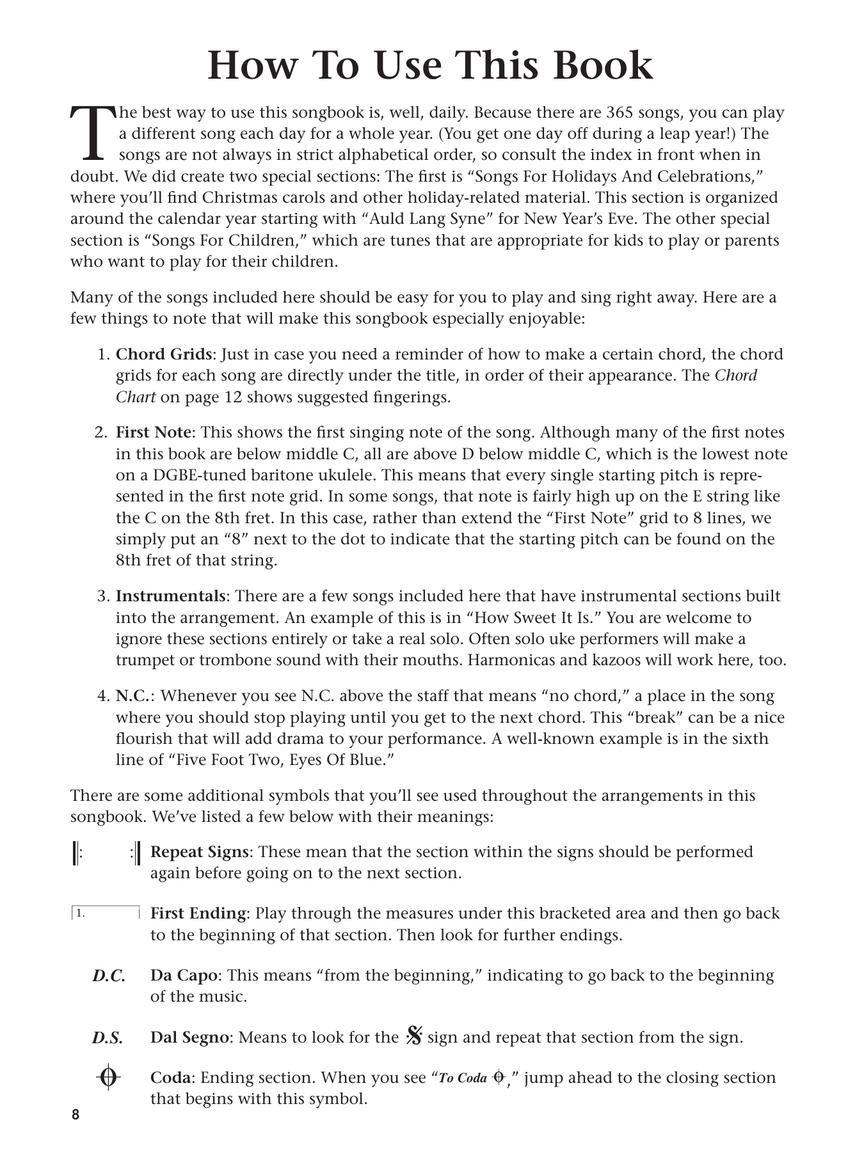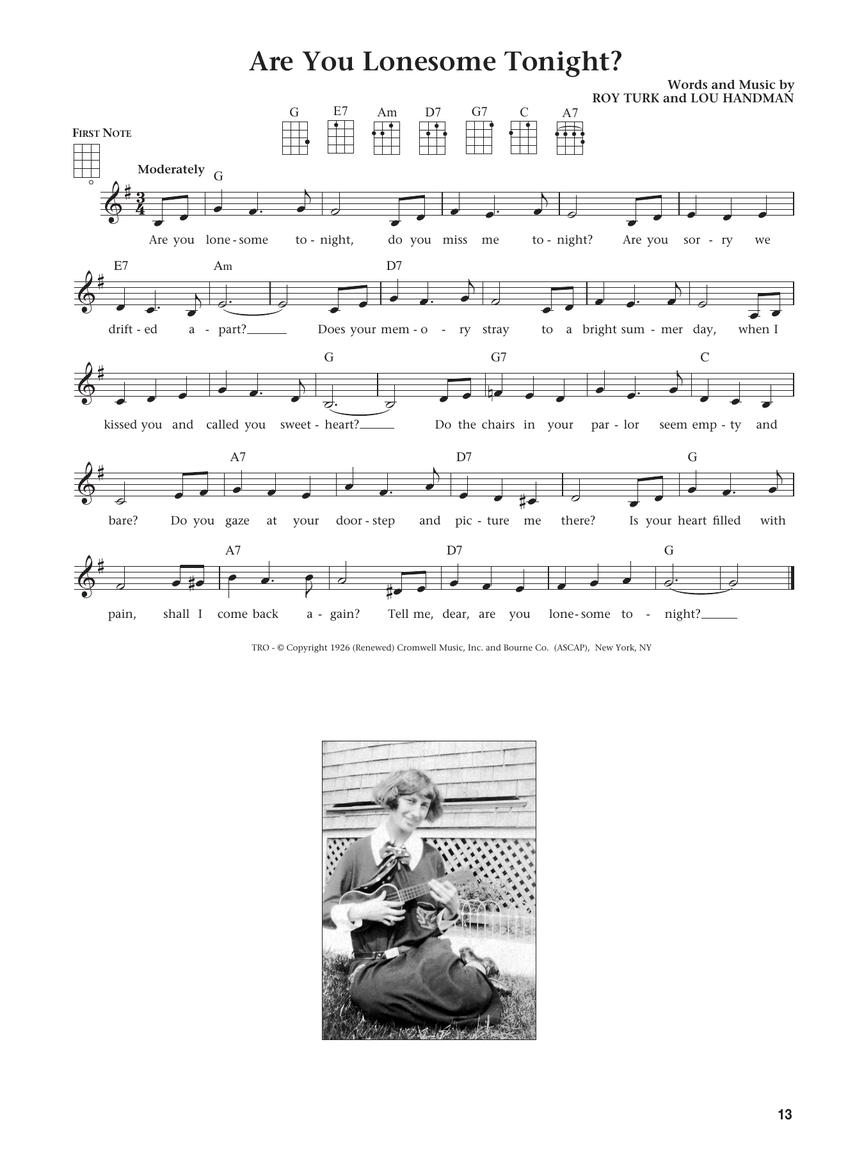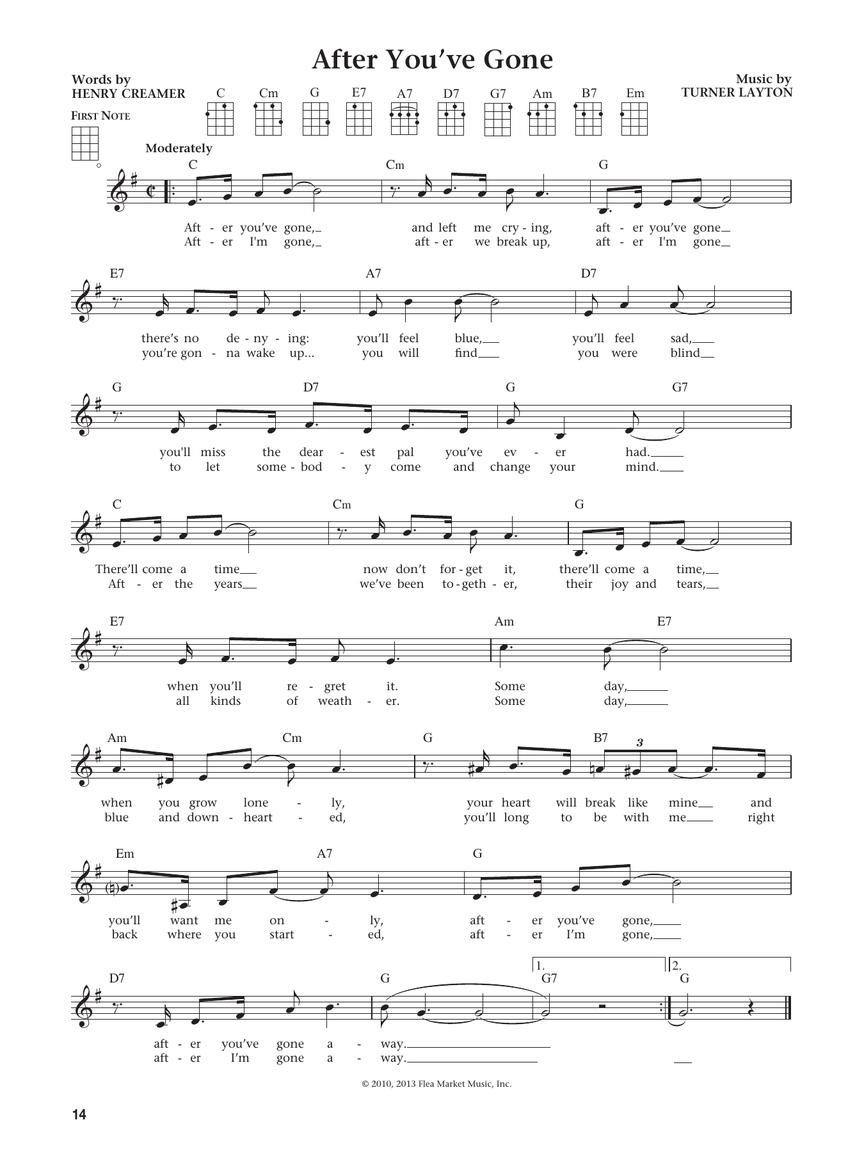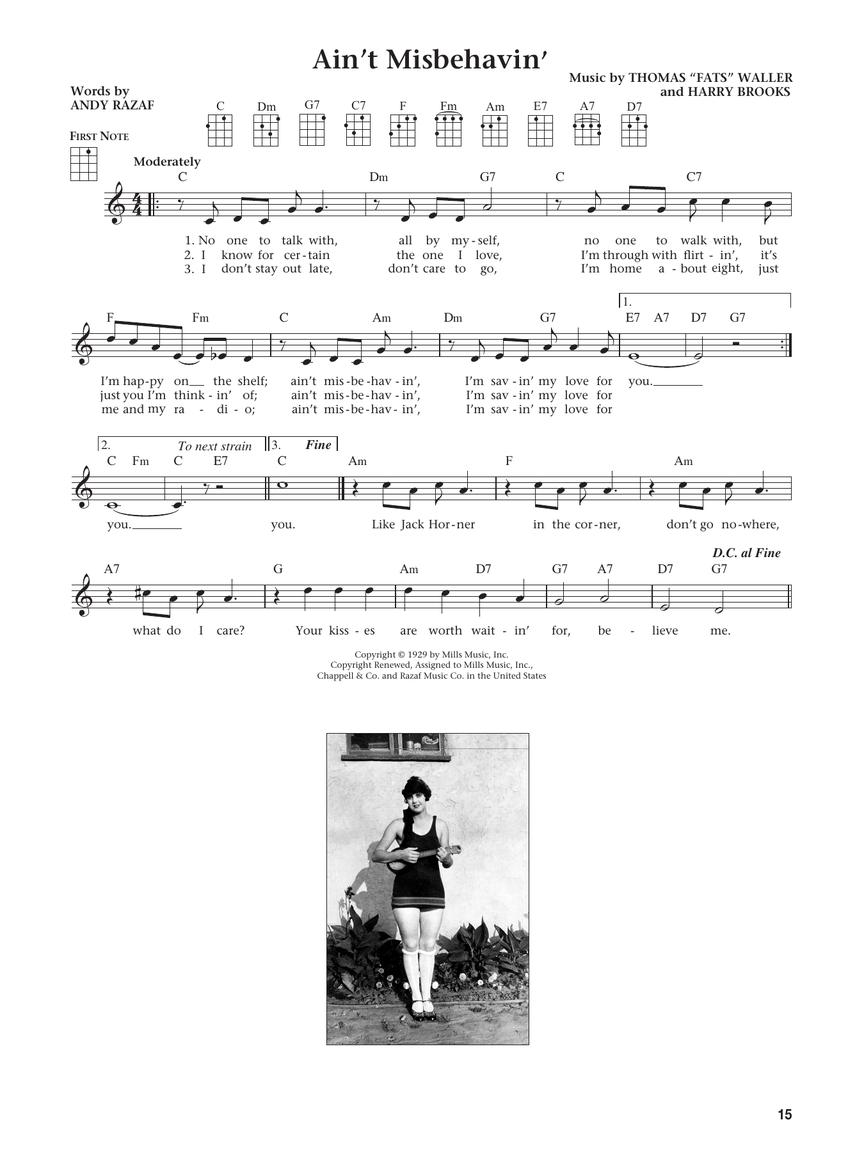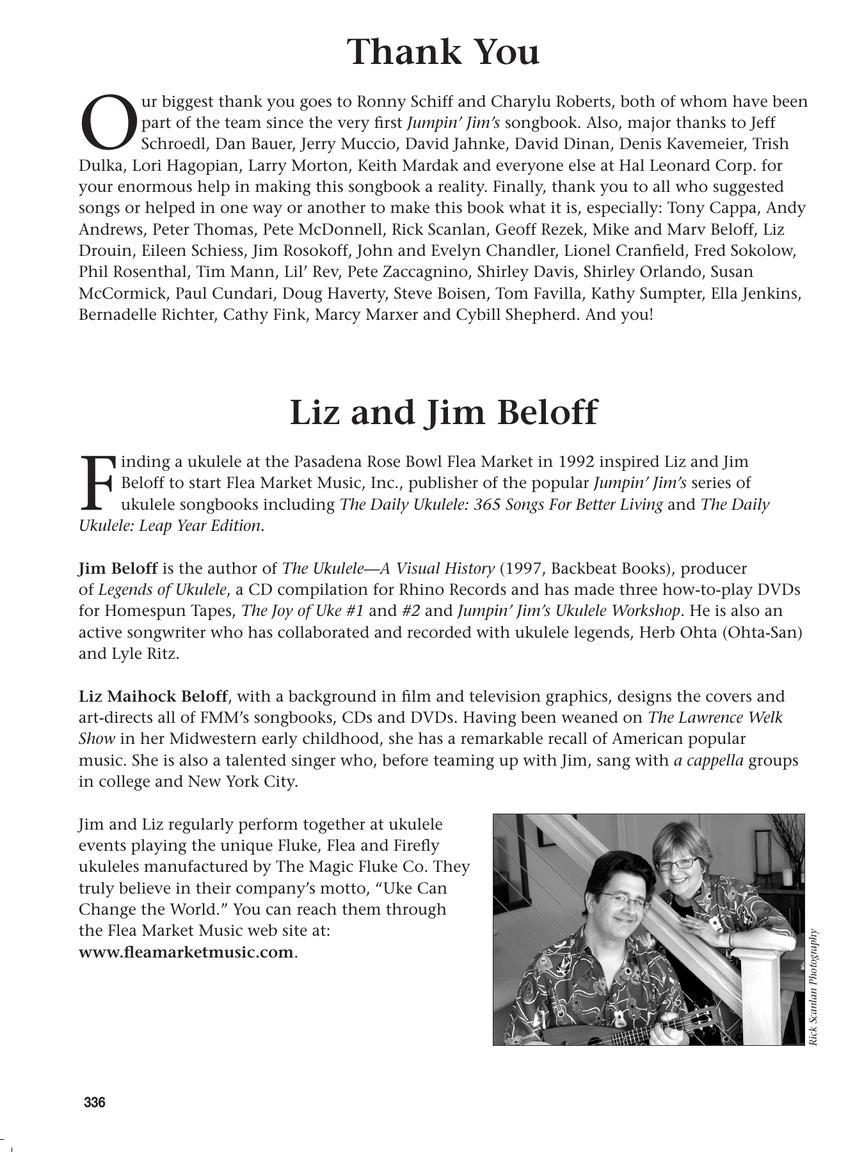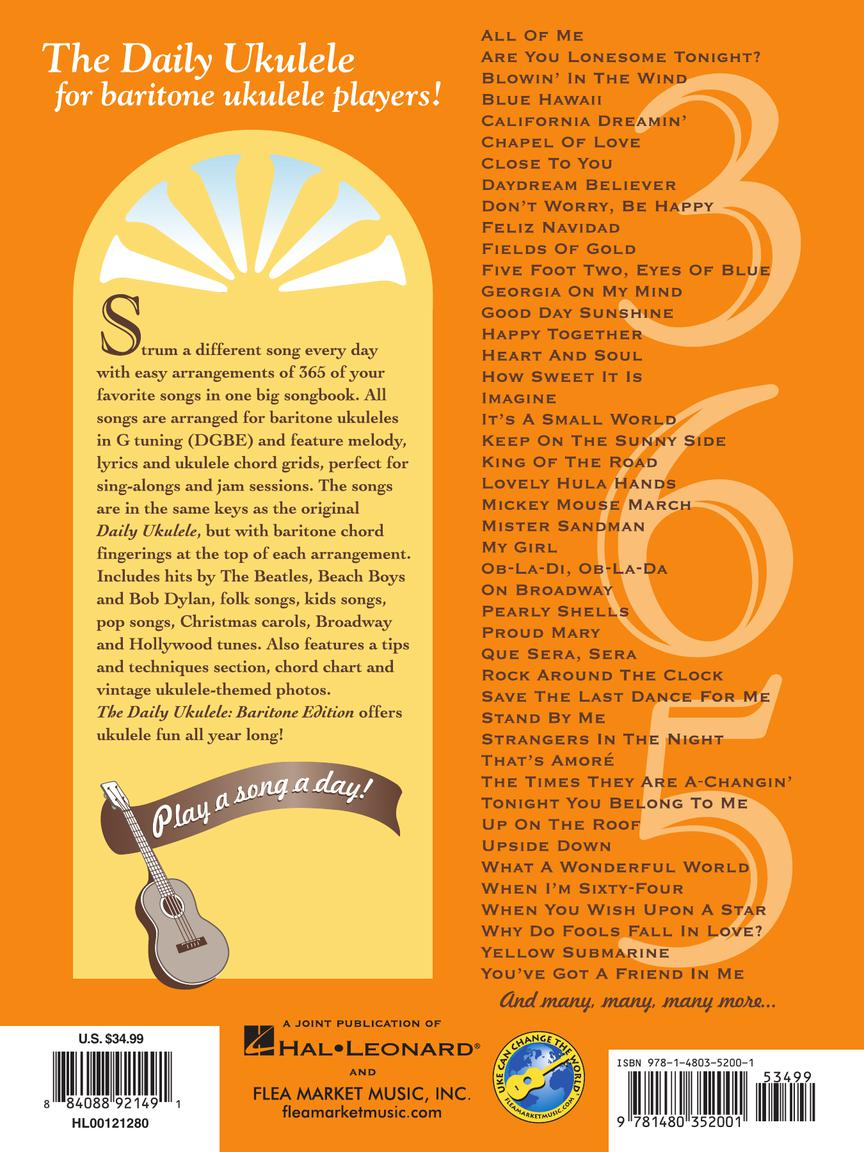 All 12 sample page(s) are viewable on-line.
If you are a registered site member, have verified your email address, and have the correct permissions you can view ALL the pages of this PDF or Samples pages at a larger size using the LearningUkulele.com Online PDF Viewer .
This Download is NOT part of your LearningUkulele.com membership level.
Sign-up for Premium Site Access or Upgrade Your Plan your current access level to download this PDF or your can purchase a copy for download.
After purchasing a PDF , a download link will be sent to you within 24hrs. Working on getting it to be automated.
The Daily Ukulele - Baritone Edition
Product Code: HL00121280
Author(s): Jim Beloff
Publisher(s): Curt Sheller Publications
Published: May 5, 2022
Updated: May 5, 2022
ISBN-13: 9781480352001
Size: 9 x 12
Pages: 336
Price: Hard Copy: $39.99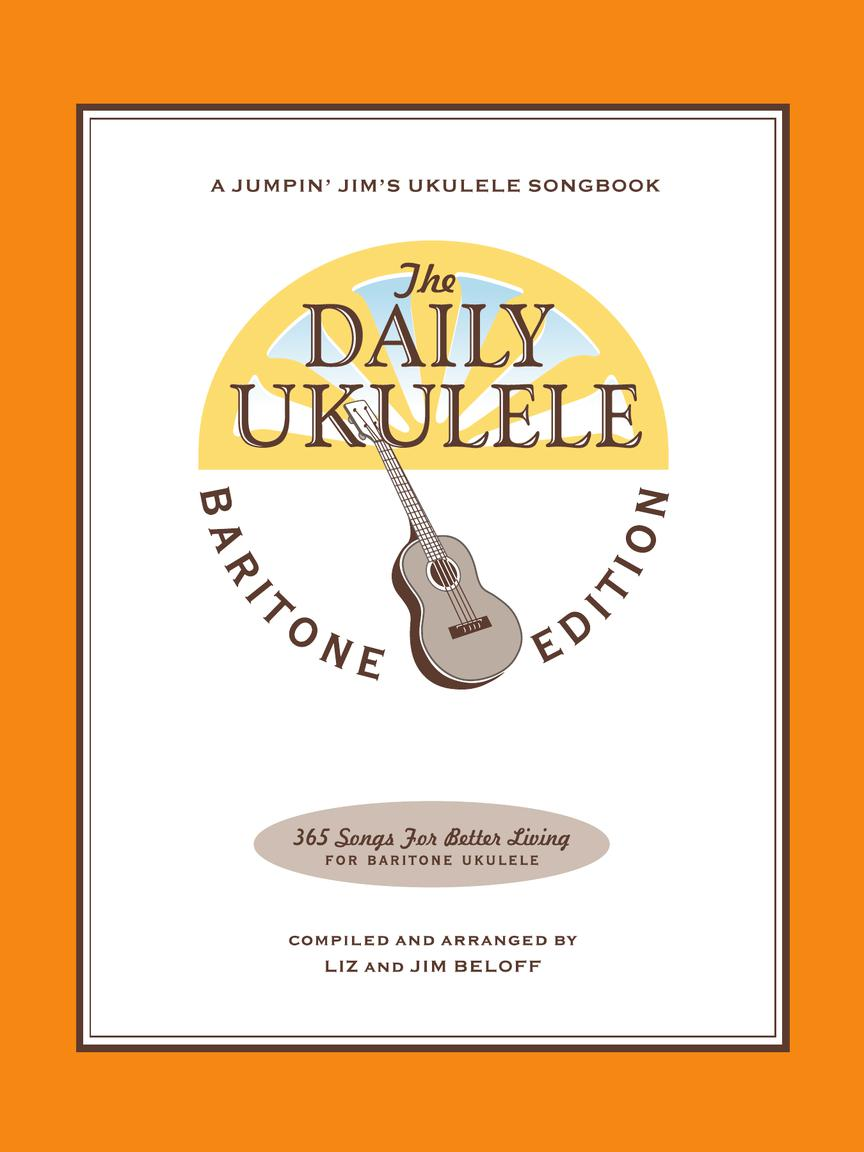 Now baritone ukulele players can have fun every day, too! Strum a different song every day with easy arrangements of 365 of your favorite songs in one big songbook! The Daily Ukulele features ukulele arrangements with melody, lyrics and uke chord grids and are in ukulele-friendly keys that are particularly suited for groups of one to one hundred to play and sing.
Includes favorites by the Beatles, Beach Boys and Bob Dylan, folk songs, pop songs, kids' songs, Christmas carols and Broadway and Hollywood tunes, all with a spiral binding for ease of use. Also features a Tips & Techniques section, chord chart, and vintage ukulele-themed photos and art throughout. The Daily Ukulele offers ukulele fun all year long!
Looking for one specific arrangement? Individual selections from this title are available for download at Sheet Music Direct .
See the Table of Contents (below) for a listing of all the songs and to instrumental solo arrangements, play-along tracks, and more information right here on LearningUkulele.com and Learning Ukulele with Curt.
Table of Contents
The Daily Ukulele - Baritone Edition
List of Songs
RMA indicates that a Harmonic Analysis Worksheet is Available.
After You've Gone •

RMA

Ain't She Sweet •

RMA

Ain't We Got Fun? •

RMA

All I Have To Do Is Dream •

RMA

All Night, All Day
All Through The Night
Aloha Oe •

RMA

Alphabet Song •

RMA

Always •

RMA

Amazing Grace •

RMA

America, The Beautiful
Anchors Aweigh
Anniversary Song
Any Time
Are You Lonesome Tonight? |

RMA

Around The World
Auld Lang Syne
Avalon
Away In A Manger
Baa Baa Black Sheep •

RMA

Baby Face
Baby Love
Baby, Won't You Please Come Home
Bad, Bad Leroy Brown
Battle Hymn Of The Republic
The Bear Went Over The Mountain •

RMA

Beautiful Brown Eyes
Beautiful Dreamer
The Best Things In Life Are Free
Bill Bailey, Won't You Please Come Home
Blowin' In The Wind
Blue Christmas
Blue Hawaii
Brahm's Lullaby •

RMA

Buffalo Gals (Won't You Come Out Tonight?)
By The Beautiful Sea
By The Light Of The Silvery Moon
Bye Bye Blackbird •

RMA

Bye Bye Blues •

RMA

Bye Bye Love
The Caissons Go Rolling Along
California Dreamin'
California, Here I Come
Can't Buy Me Love
Can't Help But Smile
Can't Help Falling In Love
The Candy Man
Careless Love
Carolina In The Morning
Chapel Of Love
Chicago (That Toddlin' Town)
Chinatown, My Chinatown
The Chipmunk Song
Cindy
(Oh, My Darling) Clementine
(They Long To Be) Close To You
Come And Go With Me
Consider Yourself
Daydream
Daydream Believer •

RMA

Deck The Hall
Deep In The Heart Of Texas
Devoted To You
Dinah
Dixie Land
Do Lord
Do-Re-Mi •

RMA

Don't Be Cruel (To A Heart That's True)
Don't Worry, Be Happy
Down By The Riverside
Down In The Valley
Downtown
Dream A Little Dream Of Me
The Drunken Sailor
Easter Parade
Edelweiss
Eensy Weensy Spider •

RMA

Eight Days A Week
Enjoy Yourself (It's Later Than You Think)
The Erie Canal
Every Time I Feel The Spirit
Everybody Loves Somebody
Far Away Places
The Farmer In The Dell •

RMA

Fields Of Gold
The 59th Street Bridge Song (Feelin' Groovy)
The First Noel
Folsom Prison Blues
For He's A Jolly Good Fellow
For Me And My Gal
From Me To You
Funiculi, Funicula
Georgia On My Mind •

RMA

Getting To Know You
Give Me That Old Time Religion
Give My Regards To Broadway
The Glory Of Love
The Glow Worm
Go Down, Moses
Go, Tell It On The Mountain
Good Day Sunshine
Good Morning To All •

RMA

Good Night
Good Night Ladies
Goodnight, Irene
A Groovy Kind Of Love
Happy Together •

RMA

Happy Trails
A Hard Day's Night
Hard Times Come Again No More
Hark! The Herald Angels Sing
Hava Nagila (Let's Be Happy)
Hawaii Ponoi
The Hawaiian Wedding Song (Ke Kali Nei Au)
He's Got The Whole World In His Hands
Heart And Soul
Help!
Hey Jude •

RMA

Home On The Range
Hound Dog
How Can I Keep From Singing
How Can You Mend A Broken Heart
How Sweet It Is (To Be Loved By You)
The Hukilau Song
Hush, Little Baby •

RMA

I Ain't Got Nobody (And Nobody Cares For Me)
I Can't Give You Anything But Love
I Feel Fine
I Left My Heart In San Francisco
I Saw Her Standing There
I Saw The Light
I Walk The Line
I Want To Hold Your Hand
I'll Be Seeing You
I'll Fly Away
I'll Follow The Sun
I'm Always Chasing Rainbows
I'm Beginning To See The Light
I'm Henry VIII, I Am
I've Been Working On The Railroad
I've Got Peace Like A River
I've Just Seen A Face
If I Had A Hammer (The Hammer Song)
If You're Happy And You Know It •

RMA

Imagine
In The Good Old Summertime
Indiana (Back Home Again In Indiana)
It's A Small World •

RMA

It's My Party •

RMA

It's Only A Paper Moon
Ja-Da
Jackson
Jambalaya (On The Bayou)
Jingle Bell Rock
Jingle Bells
Joshua (Fit The Battle Of Jericho)
Joy To The World •

RMA

Joyful, Joyful, We Adore Thee
Keep On The Sunny Side •

RMA

King Of The Road •

RMA

Kumbaya •

RMA

Last Train To Clarksville
Let It Be
Let It Be Me (Je T'appartiens)
Let It Snow! Let It Snow! Let It Snow!
Let Me Call You Sweetheart
Let The Rest Of The World Go By
Let's Get Together (Get Together)
The Letter
Limehouse Blues
Loch Lomond
Long, Long Ago
Look For The Silver Lining
Love Me Do •

RMA

Love Me Tender •

RMA

Love Potion Number 9 •

RMA

Lovely Hula Hands
Lullaby (Cradle Song)
Makin' Whoopee!
Marine's Hymn
Mary Had A Little Lamb •

RMA

Me And Bobby McGee
Michael Row The Boat Ashore
Mickey Mouse March
Midnight Special
Miss The Mississippi And You
Mister Sandman
Moonlight Bay
More We Get Together
My Blue Heaven
My Bonnie Lies Over The Ocean
My Country, 'Tis Of Thee (America)
My Dreidel
My Girl
My Guy
My Love
My Old Kentucky Home
The Night Before
Nobody Knows The Trouble I've Seen
O Come, All Ye Faithful
Oh, What A Beautiful Mornin'
Oh Where, Oh Where Has My Little Dog Gone •

RMA

Oh, Babe, What Would You Say?
Old Folks At Home (Swanee River)
On A Slow Boat To China
On The Beach At Waikiki
On The Good Ship Lollipop
On The Road Again
On The Sunny Side Of The Street
On Top Of Old Smoky
Over The River And Through The Woods
Pearly Shells (Pupu O Ewa)
Peggy Sue
Pennies From Heaven
Please Please Me
Polly Wolly Doodle •

RMA

Pomp And Circumstance
Prayer Of Thanksgiving
Princess Poo-Poo-Ly
Proud Mary
Que Sera, Sera (Whatever Will Be, Will Be)
The Rainbow Connection
Raindrops Keep Fallin' On My Head
Rawhide •

RMA

Red Rubber Ball
Ring Of Fire
Rock-A-My Soul
Rock Around The Clock •

RMA

Rocky Top •

RMA

Row, Row, Row Your Boat •

RMA

Rudolph The Red-Nosed Reindeer
Runaway
Runnin' Wild
Sakura (Cherry Blossoms)
Save The Last Dance For Me
Second Hand Rose
Seems Like Old Times
Sentimental Journey
Shall We Gather At The River?
She Loves You
She'll Be Comin' 'Round The Mountain
Shenandoah
Shine On, Harvest Moon
Side By Side
Sidewalks Of New York
Silent Night
Simple Gifts
Sing
Sixteen Tons
Skip To My Lou •

RMA

Sloop John B.
Smiles
Some Folks
Some Of These Days
Song Of The Islands
Song Sung Blue
A Spoonful Of Sugar
Stand By Me
Strangers In The Night
Sunny Afternoon
Sunrise, Sunset
Supercalifragilisticexpialidocious
Surfin' U.S.A.
Swanee
Sweet By And By
Swing Low, Sweet Chariot
Take Me Out To The Ball Game
Taps
Tell Me Why
That Hawaiian Melody
That'll Be The Day
That's Amore (That's Love)
There Is A Tavern In The Town
There's A Kind Of Hush (All Over The World)
These Boots Are Made For Walkin'
This Land Is Your Land
This Little Light Of Mine
Those Were The Days
Three Little Birds
Tie Me Kangaroo Down Sport
The Times They Are A-Changin'
Tiny Bubbles
To You, Sweetheart, Aloha
Tonight You Belong To Me •

RMA

Too-Ra-Loo-Ra-Loo-Ral (That's An Irish Lullaby)
Toot, Toot, Tootsie! (Good-bye!)
Try To Remember
Turn! Turn! Turn! (To Everything There Is A Season)
26 Miles (Santa Catalina) •

RMA

Twinkle, Twinkle Little Star •

RMA

Ukulele Lady
Ukuleles Are The Best
Unchained Melody
Under The Boardwalk •

RMA

Up On The Roof
Upside Down
The Wabash Cannon Ball
Wade In The Water
Wake Up Little Susie
Walk Right In •

RMA

Walkin' My Baby Back Home
Waltzing Matilda
Water Is Wide
Wayfaring Stranger •

RMA

We Shall Overcome
We Three Kings Of Orient Are
We Wish You A Merry Christmas
We'll Meet Again
What A Wonderful World
What'll I Do?
When I Fall In Love
When I'm Sixty-Four
When Irish Eyes Are Smiling
When The Red, Red Robin Comes Bob, Bob Bobbin' Along
When The Saints Go Marching In
When You Wish Upon A Star
When You're Smiling (The Whole World Smiles With You)
Whispering
A White Sport Coat (And A Pink Carnation)
Why Do Fools Fall In Love
Wildwood Flower •

RMA

Will The Circle Be Unbroken
With A Little Help From My Friends
The World Is Waiting For The Sunrise
World Without Love
Wouldn't It Be Loverly
Wouldn't It Be Nice
Yankee Doodle Boy
The Yellow Rose Of Texas
Yellow Submarine
Yes Sir, That's My Baby
You Are My Sunshine •

RMA

You Made Me Love You (I Didn't Want To Do It)
You're A Grand Old Flag
You're Nobody 'til Somebody Loves You
You've Got A Friend In Me •

RMA

You've Got To Hide Your Love Away
Your Cheatin' Heart
Zip-A-Dee-Doo-Dah
The current PDF or eBook always has the latest changes and errata incorporated for the most up-to-date version of the file. If you downloaded the book from LearningUkulele.com you'll be notified when there is a new version of the book available or let me know if you need the lastest version.
Errata
The Daily Ukulele - Baritone Edition
No Errata available for: The Daily Ukulele - Baritone Edition
The current PDF or eBook always has the latest changes and errata incorporated for the most up-to-date version of the file. If you downloaded the book from LearningUkulele.com you'll be notified when there is a new version of the book available or let me know if you need the lastest version.
Related Books & Charts
Related Books for The Daily Ukulele - Baritone Edition.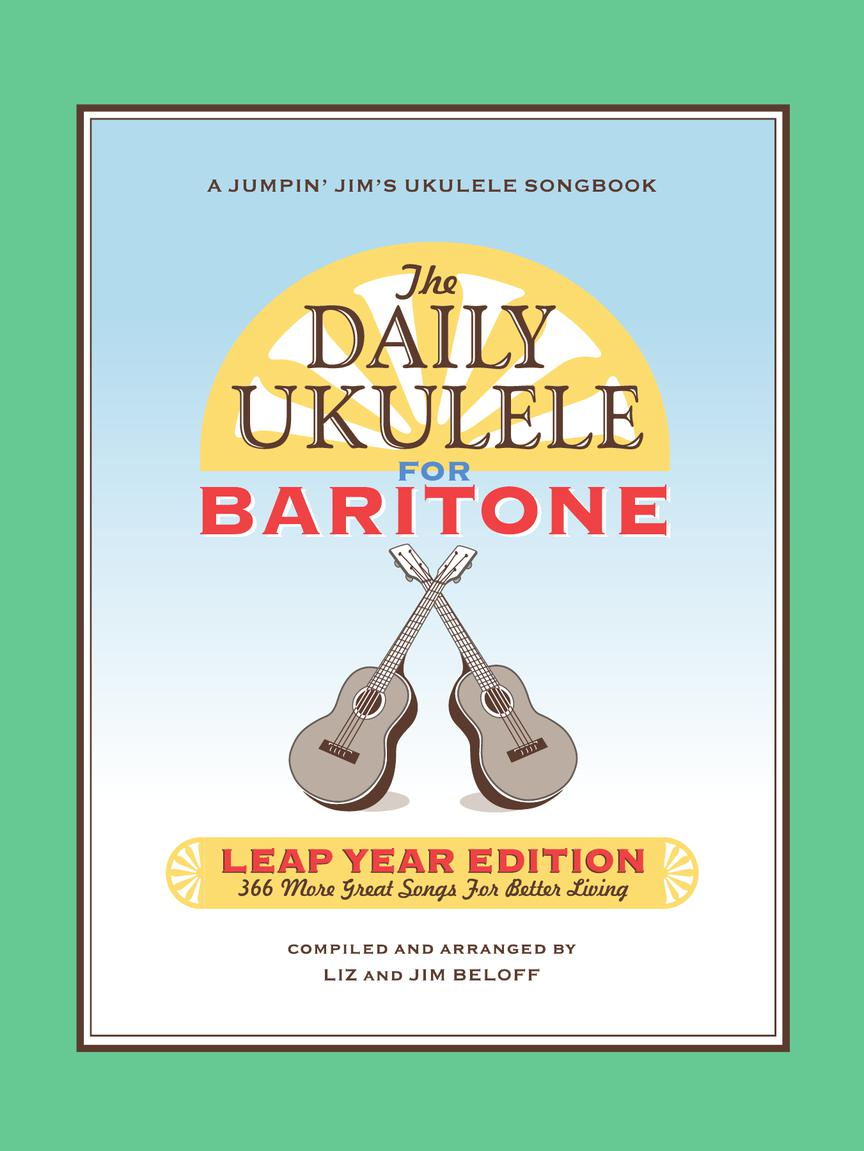 The Daily Ukulele: Leap Year Edition for Baritone Ukulele
Updated: 05 May 2022
Now baritone ukulele players can enjoy the Daily Ukulele: Leap Year Edition songbook. This super collection features all the same songs from the Leap Year Edition in the original keys but with baritone ukulele chord grids (DGBE tuning).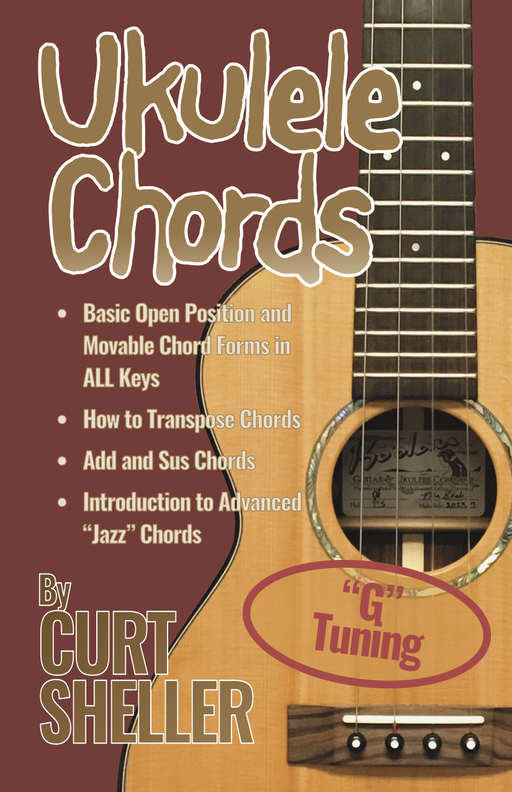 Ukulele Chords - G Tuning
Updated: 31 Jan 2022
This chord book is the perfect size for every ukulele gig bag or case and a great addition to you music book library. Ukulele Chords covers basic open position and basic movable form chords. From these two chord categories a variety of songs and styles can be played. Seventh chords, Major Sevenths, Minor Sevenths, Diminished, Augmented chords sus and add chords. Tunings: G with low or high D - (DGBE or dGBE).
Books
Reference Charts