View the Download section of this page to download the song files for the complete and most up-to-date versions.
My Funny Valentine is a show tune from the 1937 Richard Rodgers and Lorenz Hart musical Babes in Arms in which it was introduced by former child star Mitzi Green. Recorded by Chet Baker, Frank Sinatra, Ella Fitzgerald, Andy Williams, Miles Davis, Nico and Chaka Khan. The song is a popular jazz standard, appearing on over 1300 albums performed by over 600 artists.
Main Song Download(s)
The main downloads for this Song.
top
My Funny Valentine - Premium Play-along Track Leadsheet
Leadsheet to the premium play-along track My Funny Valentine in the key of Eb.

Members Only
Log-in to access.
Song Road Map
Tips and tricks for remembering a song.
top
A Road Map Through Song
Remembering songs is all about the form and harmonic content and movement with taking in the similarities between songs. And, just like a road map they're landmarks that will trigger memories of how to get through various sections, changes or parts of a song.
This section of a song's page presents some tips on how I try and remember a particular song.
No Road Map for My Funny Valentine check back soon.
Related Song Files, Resources and Assets
Related Assets for My Funny Valentine at this time.
top
Movable 7th Chords for Ukulele Chord Chart - C Tuning
A handy dandy single sheet chart showing the each voicing of the four, seventh chords Big Six seventh chord voicings.

Members Only
Log-in to access.
Related Lessons
Related Lessons for My Funny Valentine at this time.
top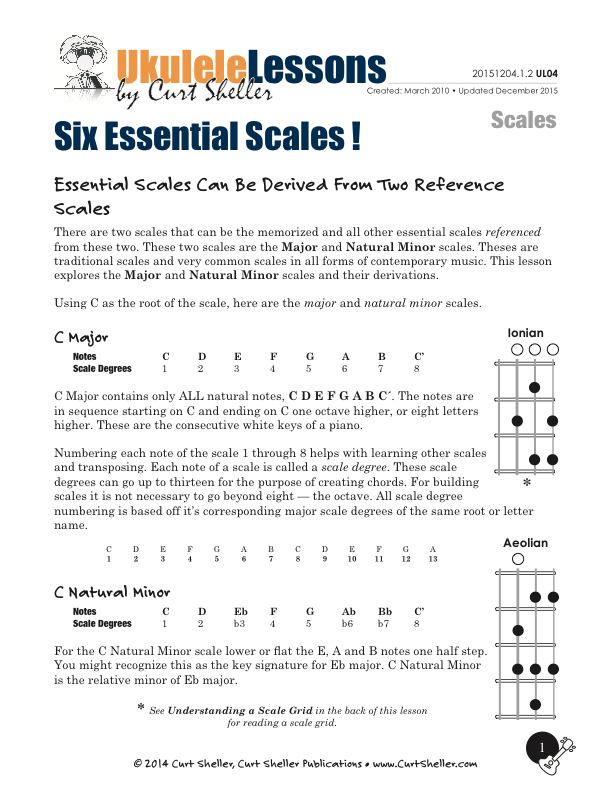 The six essential scales are: Blues, Major Pentatonic, Mixolydian, Dorian, Aeolian, and Ionian. From the six essential scales, you can get through a wide variety of traditional and contemporary music.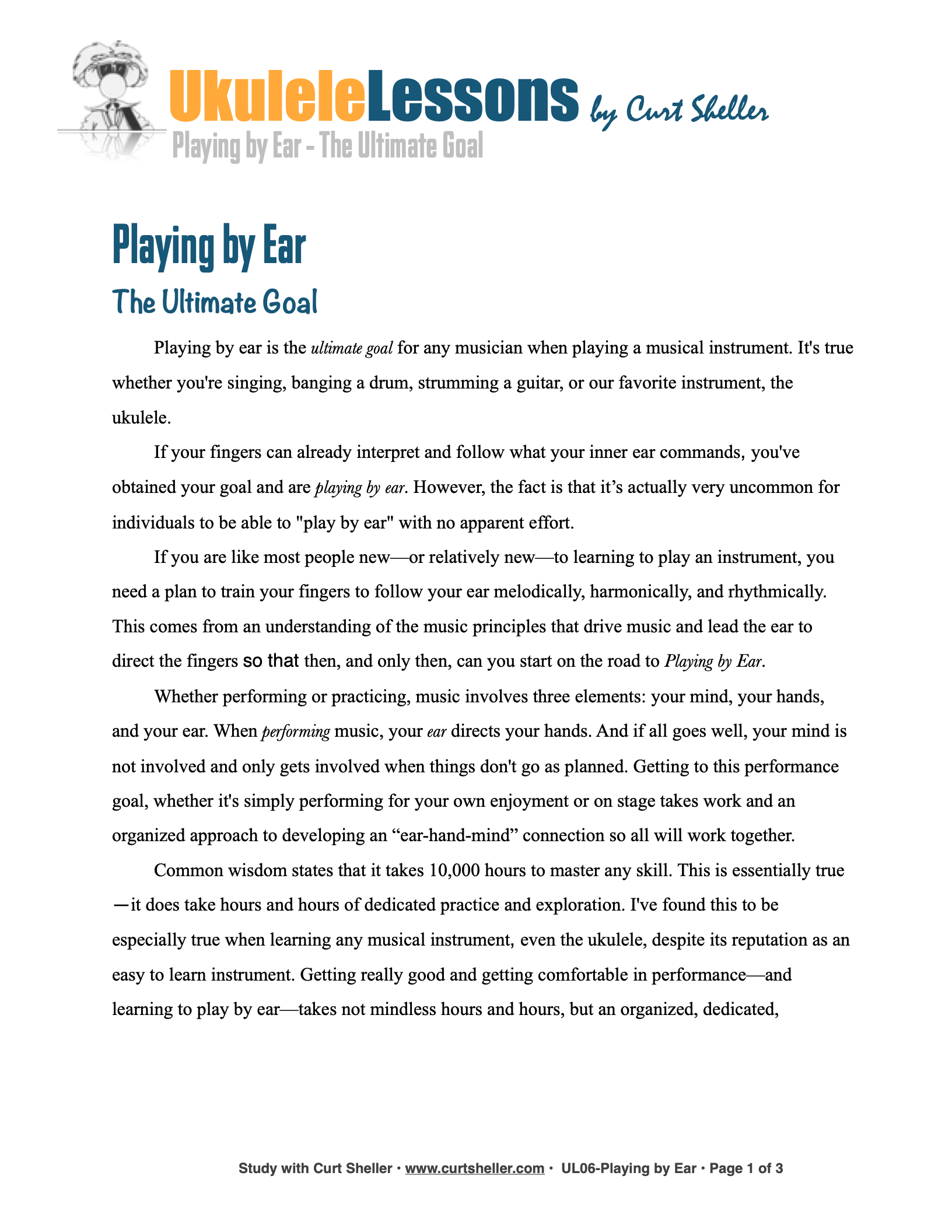 Playing by ear is the ultimate goal for any musician when playing a musical instrument. It's true whether you're singing, banging a drum, strumming a guitar, or our favorite instrument, the ukulele.
Related Song Books
Related Books for My Funny Valentine at this time.
top
No related books for My Funny Valentine at this time.
Related Lesson Series
Related Lessons Series for My Funny Valentine at this time.
top
Related Songs
Related Songs for My Funny Valentine at this time.
top
No related songs for My Funny Valentine at this time.
Related Videos
Related Videos for My Funny Valentine.
top
No videos for My Funny Valentine at this time.
NOTE: Each higher membership level includes ALL the benefits of the lower membership levels. The Private Lesson Plans include all the benefits of a Premium Access Plans as long as you remain a student on on the schedule.
Just browsing over both books, they look fantastic! I'm a guitarist and uke player for over 25 years and was thinking about writing a ukulele book but you've already written what I think are the best, most comprehensive and thorough books I've ever seen for the instrument. I just might end up buying every book you've written and I'll be giving my highest recommendation for your books to my friends and students. Thank you so much for taking the time to write such great books! — Peter Rhee
Aloha, Curt, All I can say is WOW! What you have accomplished is simply incredible! All the best — Glen Hirabayashi, The Aloha Boys
Folks, if you haven't stopped by Curt's site, do so right now! ..And get his books, they are fantastic. This guy knows his stuff and is able to pass it along too. — Alan Johnson Proprietor, The 4th Peg
I can highly recommend Curt's Uke books — I have four of them and they are excellent. — fatveg — Portland
Thanks for visiting and checking out the site!

Original Curtie Animation from 1987 for my first web site on a Macintosh II.
32 years ago.
"Built LearningUkulele.com for myself, and sharing with the `Ukulele community!"
LearningUkulele.com has one of the largest collections of lessons, songs, and TABS, luthiers, ukulele builders, ukulele festival and club information, and, ukulele links on the web. I've been on the ®Internet since the early 1990's and This site just never stops growing!!!
Content is added and updated almost daily - so check back often.