All of Me
A jazz standard written by Gerald Marks and Seymour Simons in 1931.
Published: Oct 1, 2011 Updated: Apr 9, 2019 • Visitors: 56 • Page Views: 1
ukulele ANY Subjects: jazz • standard • repertoire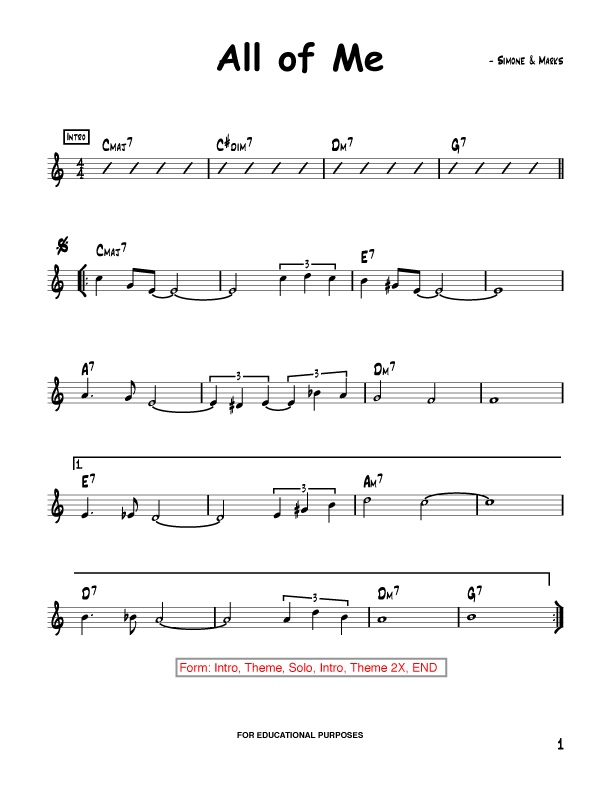 Showing 1 of 1 sample page(s).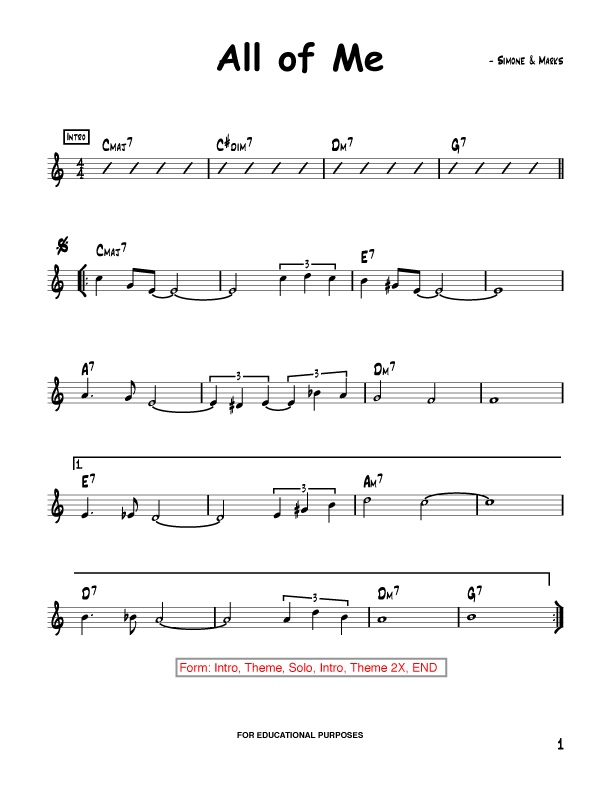 View the Download section of this page to download the song files for the complete and most up-to-date versions.
All of Me is a popular song and jazz standard written by Gerald Marks and Seymour Simons in 1931.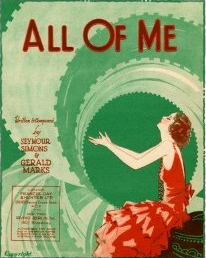 It is also covered by Eric Clapton on his 2013 album Old Sock with Paul McCartney. In an episode of the 1970s television show Sanford and Son, Redd Foxx (joined by Scatman Crothers on guitar) sings a short but memorable version. "All of Me" is also performed in the Muppet Show episode guest starring Paul Williams. The song is featured prominently in the 1984 Steve Martin/Lily Tomlin film of the same name.
In more recent years, it has been recorded by Pia Zadora, Anne Murray and Jason Danieley. Also, a punk rock rendition of the song was recorded by NOFX. The song was a major hit on records by Paul Whiteman and Louis Armstrong in 1932, and was successfully revived by Johnnie Ray in 1952.[2] Chelsea Krombach performed the song for her debut album Look for the Silver Lining. Laurence Juber has also performed and recorded this song in an all acoustic version played by him. It was featured on his album PCH in 2007. Michael Bublé has released a cover of it on his album, Crazy Love, to be re-released. It is the title track on the 2011 debut album of Australian singer Liam Burrows.
Main Song Download(s)
The main downloads for this Song.
All of Me - Lead Sheet
Lead sheet for premium play-along track.
Members Only
Log-in to access.
All of Me - Premium Play-along Track
Premium play-along track to be used with accompanying lead sheet.
Members Only
Log-in to access.
Song Road Map
Tips and tricks for remembering a song.
A Road Map Through Song
Remembering songs is all about the form and harmonic content and movement with taking in the similarities between songs. And, just like a road map they're landmarks that will trigger memories of how to get through various sections, changes or parts of a song.
This section of a song's page presents some tips on how I try and remember a particular song.
For some reason this song has always given trouble memorizing it.
Here is how I remember All of Me in the key of C major.
Chords
Start on the I chord in C which is Cmaj7 as it is typically uses 4-part a.k.a. "jazz" chords.
Up a major 3rd to the III7 chord and the start of a brief cycle E7, A7 V of II, Dm7 (the II chord in the key of C major).
Then back to the II7 the E7 and a V of VI Secondary Dominant to the VI Am7 chord.
Then II7 D7 to a II V Dm7 G7 turnback. Actually the first ending as typically written, a.k.a., The Real Book.
Starting over on the I, Cmaj7 then up a major 3rd to the III7 chord and the start of a brief cycle E7 A7 Dm7 to the IV chord Fmaj7 prime it to the IVm7 Fm7 then III VI7 II V to the turnback (TB).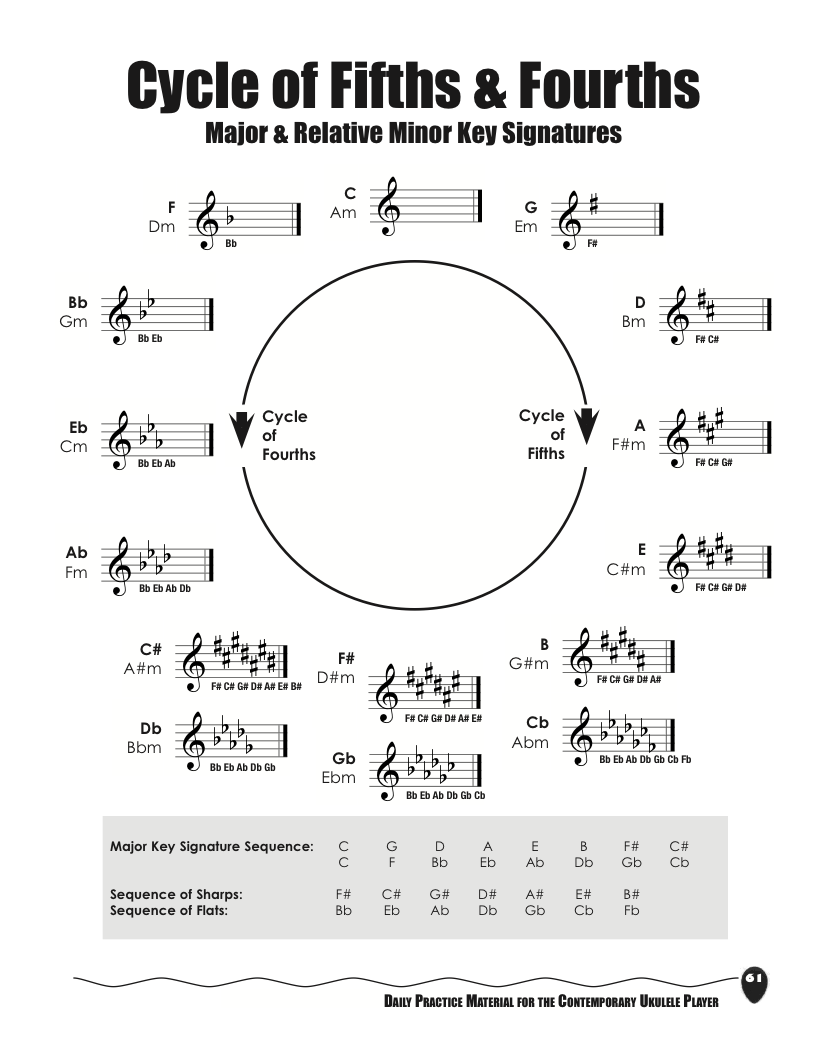 For the play-along track there is a standard 4 bar intro and cool ending that we used.
Listen to the play-along track and name the chords as they go by. For really advanced players name the chords and the chord tones that are the chords. Name the color tones, etc...
Melody
Starting Note: Root then descending major arpeggio R 5 3.
Memorizing Melodies - we actually remember a lot of melodies. It's our fingers that don't seem to remember them. And, training them to respond to the intervals, scales, arpeggios and sequences that make of melodies is where all the work is. And that is a whole series of lessons and training that needs to be done.
Related Song Files, Resources and Assets
Related Assets for All of Me at this time.
No additional asset for All of Me at this time.
Related Lessons
Related Lessons for All of Me at this time.
Related Song Books
Related Books for All of Me at this time.
No related books for All of Me at this time.
Related Lesson Series
Related Lessons Series for All of Me at this time.
No related lesson series for All of Me at this time.
Related Songs
Related Songs for All of Me at this time.
All The Things You Are
All The Things You Are is a song composed by Jerome Kern, with lyrics written by Oscar Hammerstein II. It was written for the musical Very Warm for May (1939), where it was introduced by Hiram Sherman, Frances Mercer, Hollace Shaw, and Ralph Stuart. It was later featured in the film Broadway Rhythm (1944), and was performed during the opening credits and as a recurring theme for the romantic comedy A Letter for Evie (1945). The song ranked in the top five of the Record Buying Guide of Billboard, a pre-retail listing which surveyed primarily the jukebox industry. Recordings by Tommy Dorsey, Artie Shaw, and Frankie Masters propelled the song during its initial popularity.
Related Videos
Related Videos for All of Me.
Sanford and son - Red Foxx Singing All of me
Fred Sanford (Red Foxx) singing All of Me. it's to celebrate the arrival of an old friend of Fred's, Bowlegs, a musician, who's visiting.
disqus displayed in production only!!!
---
NOTE: Each higher membership level includes ALL the benefits of the lower membership levels.

The Private Lesson Plans include all the benefits of a Premium Access Plans as long as you remain a student on on the schedule.
Just browsing over both books, they look fantastic! I'm a guitarist and uke player for over 25 years and was thinking about writing a ukulele book but you've already written what I think are the best, most comprehensive and thorough books I've ever seen for the instrument. I just might end up buying every book you've written and I'll be giving my highest recommendation for your books to my friends and students. Thank you so much for taking the time to write such great books! — Peter Rhee
Aloha, Curt, All I can say is WOW! What you have accomplished is simply incredible! All the best — Glen Hirabayashi, The Aloha Boys
Folks, if you haven't stopped by Curt's site, do so right now! ..And get his books, they are fantastic. This guy knows his stuff and is able to pass it along too. — Alan Johnson Proprietor, The 4th Peg
I can highly recommend Curt's Uke books — I have four of them and they are excellent. — fatveg — Portland
Thanks for visiting and checking out the site!

Original Curtie Animation - 1987 for my first web site
32 years ago.
LearningUkulele.com has one of the largest collections of lessons, songs, and TABS, luthiers, ukulele builders, ukulele festival and club information, and, ukulele links on the web. I've been on the ®Internet since the early 1990's and This site just never stops growing!!!
Content is added and updated almost daily - so check back often.