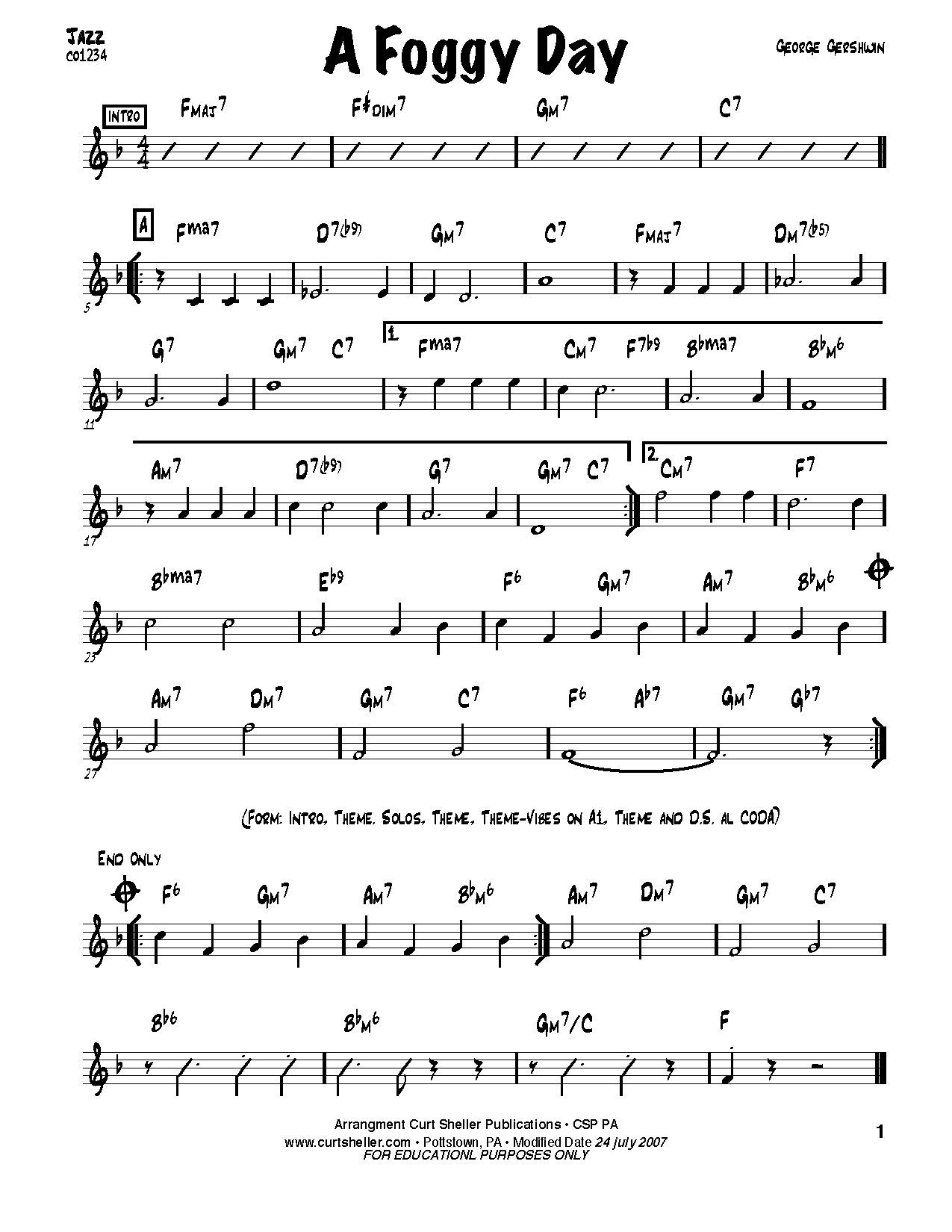 All 1 sample page(s) are viewable on-line.
If you are a registered site member and have the correct permissions you can view ALL the pages of this PDF or Samples pages at a larger size. You can resize the browser window smaller to a tablet or phone size and the pages will magically grow larger.
Or, use the Online PDF Viewer . available for premium members .
View the Download section below to download the song files for the complete and most up-to-date versions.
A Foggy Day is a song composed by George Gershwin, with lyrics by Ira Gershwin, introduced by Fred Astaire in the 1937 film A Damsel in Distress. It was originally titled "A Foggy Day (In London Town)", and is often still referred to as such.
A Foggy Day

— Premium Play-along Track

A Foggy Day in London Town.
Play-along Demo: Desafinado
This play-along track is ONLY available to active users with Gold Level, Premium Site Access. "Can't give it all away."
Listen to this FREE track as a sample of the quality of these custom play-along tracks.
---
I, (Curt) originally created these tracks to perform over for gigs and this was a demo for booking gigs.
These Premium Play-along Tracks are available to LearningUkulele.com Site Members and are my personal one-of-kind tracks I (Curt) and Chuck Anderson recorded and arranged.
Links & Resources
Mel Torme , A Foggy Day in London Town — The Velvet Frog singing A foggy day in London town on the Nat King Cole show
Main Song Download(s)
The main downloads for this Song.
A Foggy Day, Lead Sheet

Updated: 31 Dec 2016

Members Only
Log-in to access.
A Foggy Day - Premium Play-along Track

Updated: 20 May 2022
Premium play-along track.

Members Only
Log-in to access.
Related Lessons
Related Lessons for A Foggy Day.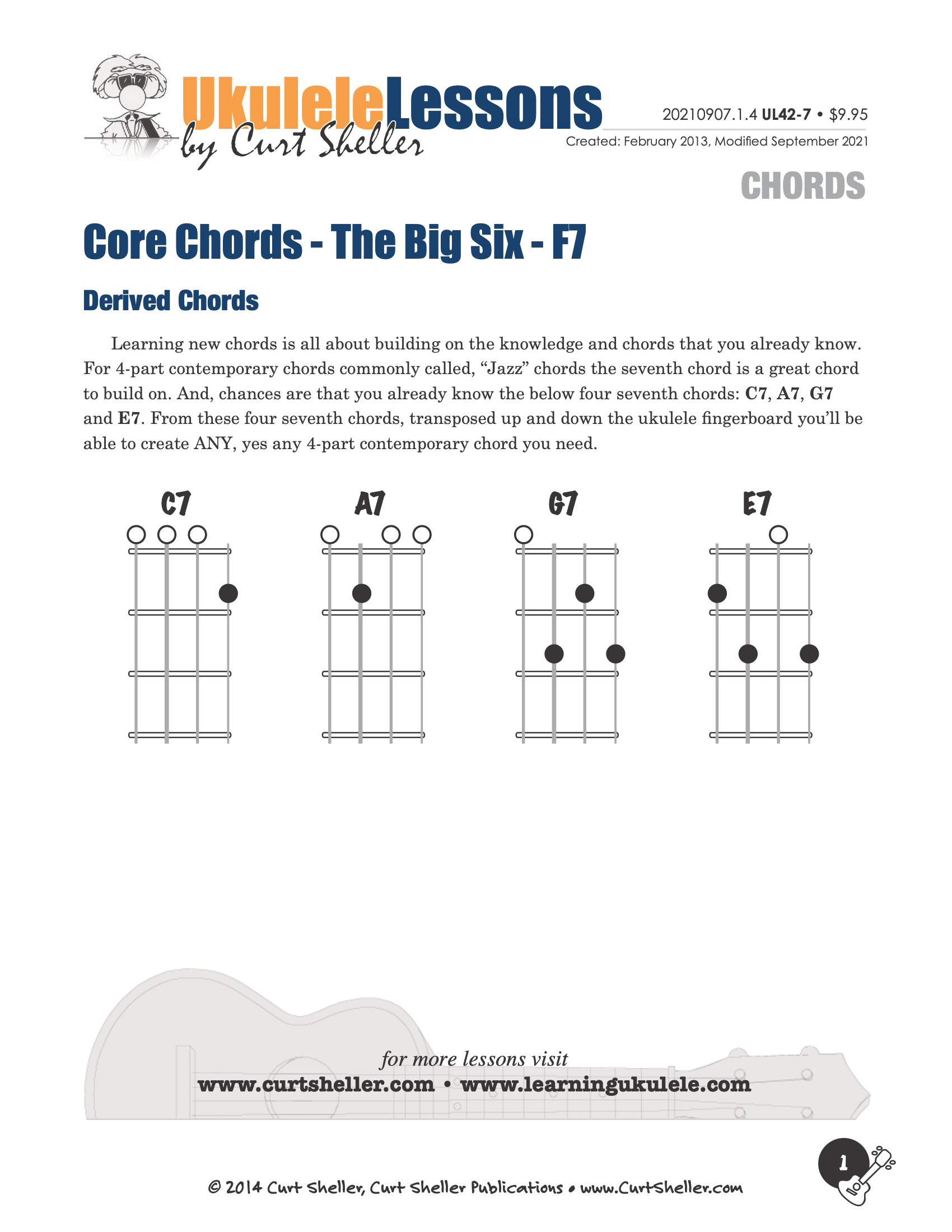 Core Chords - The Big Six - Building a Solid Chord Foundation
• Updated: 07 Sep 2021
The Big Six Core Chords is a series of lessons for building your core, essential 4-part chords. These chords commonly called jazz chords, are really just 4-part chords used in a wide range of musical styles. These chords include: Seventh , Major Seventh, Minor Seventh, Half Diminished Seventh or Minor Seven Flat Five, Diminished Seventh, and Augmented Seventh. These six chords form a core set of chords.
Related Books
Related Books for A Foggy Day.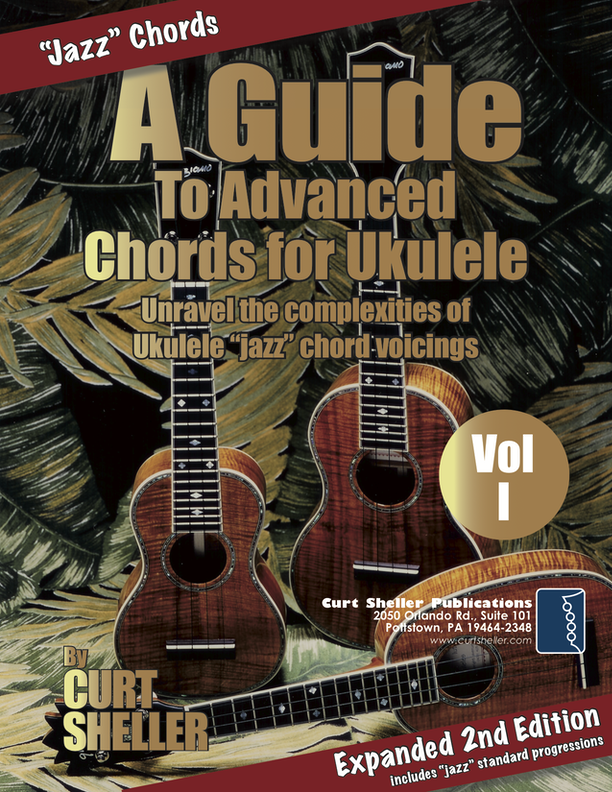 A Guide to Advanced Ukulele Chords - Volume I

Updated: Feb 13, 2020
Beyond learning basic Ukulele chords, most players struggle with advanced chords. Commonly called "jazz" chords, these more sophisticated voicings find a wide use in all forms of music. A Guide to Advanced Chords for Ukulele - presents a highly organized and efficient approach to the mysterious subject of advanced chords. Chord dictionaries are not the answer.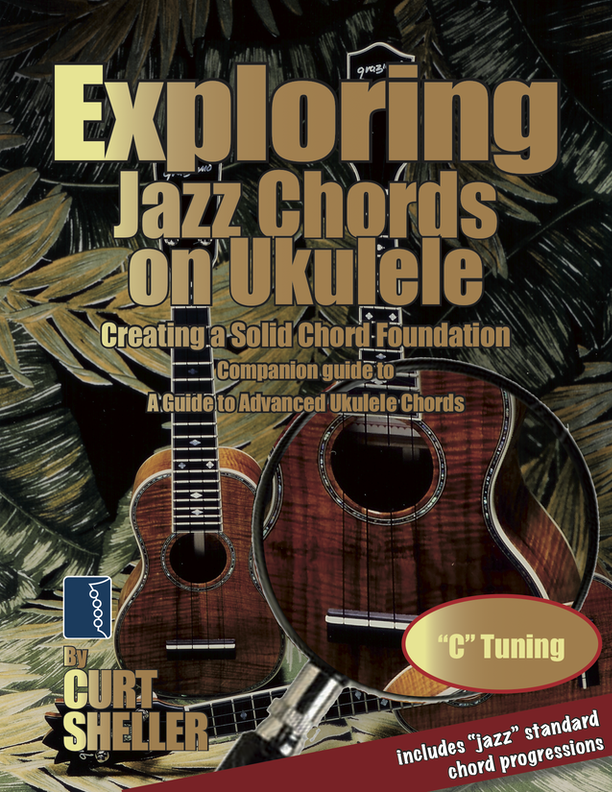 Exploring Jazz Chords on Ukulele

Updated: Apr 20, 2022
Exploring jazz chords using a variety of common chord progressions based on songs from the standard jazz repertoire. Core Chords are the basic set of chords needed to play a wide range of music, in a variety of styles. This set of chords includes basic open position chords, basic movable form chords and the core 4-part "jazz" chords.
Related Song Files, Resources and Assets
Related Assets for A Foggy Day.