Audio Cables Di Effects Mixing Pickups Recording Snakes


Radial Engineering
Radial Engineering
1588 Kebet Way
Port Coquitlam, British Columbia, Canada
V3C 5M5
Listing Info
from the Radial Engineering web site
Radial Engineering Ltd. is a manufacturer of professional audio products based in Vancouver, British Columbia, Canada. The company offers a wide array of products that are sold under brand names such as Radial, Tonebone, Primacoustic, Reamp and Zebracase. These are offered through a network of dealers and distributors that span the globe. Quality construction, exceptional audio performance and superb customer service are the underpins that have served to make Radial one of the most respected and trusted brands in the industry.
Which DI?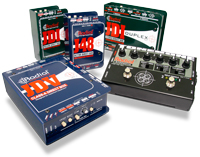 A simple rule of thumb:
If the source is active, use a passive DI box
If the source is passive, use an active DI box
Source Instruments - Ukulele with Piezo Pickup


these are the same for a Classical guitar
Radial has a great page for selecting the right DI for pretty much any instrument and pickup combination: Comparing DIs
More information available on the Radial Engineering's web site.
Even more information, discussion and comments on this listing below.
Additional Information for: Radial Engineering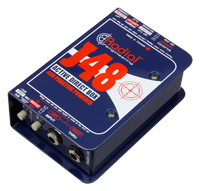 Radial Engineering R8001010JDI Single-Channel Passive Direct Box with Jensen Transformer
The JDI is a high performance passive direct box for live concert touring and professional studio recording applications, featuring a premium Jensen transformer for exceptional audio performance.
The Radial JDI is a passive direct box designed to handle extreme signal levels without distortion of any kind. At the heart, the Radial JDI employs the world class Jensen JT-DB-EPC audio transformer delivering a smooth, warm sounding Bessel curve, reminiscent of the finest vintage gear. Ruler flat from 10Hz to 40kHz and with virtually zero phase deviation, the JDI delivers the natural, pure sound of the instrument without artifact. By its no-power passive design, the Radial JDI performs both high-to-low impedance conversion and signal balancing over a magnetic bridge that passes signal while rejecting stray DC voltage. This makes the JDI particularly adept at eliminating hum and buzz caused by ground loops.