What to Practice?
That is the age old question when learning a musical instrument. This lesson explores that foundation needed for various styles of music and what would you need to be successful with each style.
Drawing from The Elements of a Successful Music Program page, right here on the Learning Ukulele with Curt site. The various areas of study, exploration, practice — whatever you want to call it are:
Technique is the physical control and coordination needed to play an instrument or sing.
Theory is the body of principles behind music.
Ear Training is the development of the active and passive capacity to relate to music aurally.
Reading is the ability to reproduce music from written notation.
Repertoire includes the songs within a musician's performance ability.
Improvisation is the ability to spontaneous create melody over a predetermined chord progression.
Musical Idioms is the study of music and the musical styles it involves well-developed categories as; Rock, Blues, Country, Jazz, Bluegrass, Classical, Folk, Urban, and Fusion. It also includes subdivisions and specializations.
Songwriting is the creation of original music based on a single melodic line with a chord progression.
Arranging involves the choice of instruments, tempo, rhythmic feel, form, intros, endings, interludes, solos, harmonies, and instrumental accompaniment of a song.
Interpretation involves the ability to perform a song or composition in a unique and personal way. This is the Artistic, being a musician, part pf performing. By increasing your vocabulary of scales, intervals, arpeggios, sequences, chords, rhythmic patterns, and dynamics you'll have a foundation to drawn for creating your own voice on your chosen instrument.
With 2000+ lessons, songs, books, videos, play-along tracks and related assets as of 12 August 2022 on LearningUkulele.com — it can get a bit overwhelming to figure out what to work on and even simply where to start. Start with the Lessons Series , a curated set of lessons, each covering a specific and area of study.
First, a Few Practice Principles
Establish a long term musical goal, and keep it in mind at each practice session.
Focus on your weaknesses, not on your strengths. Work only on the weaknesses that are relevant to your long term musical goal (Principle No. 1).
Set a short-term goal before each practice session, so you know how the first 10 minutes will be used before you start.
Practice what you don't know, NOT what you do know.
If it sounds good, it's not practice, and it doesn't count towards your practice session.
Don't practice anything wrong; not one single note or one beat. When in doubt, triple check the note or beat, and then check it again.
Don't play pieces or songs through from beginning until end; work on parts or pieces of songs.
Leave your instrument out, or, if you're a singer, leave your music out on a music stand, in a place where you will see it every day.
Practice for at least 10 minutes every day. If you miss days, don't give up. Just get back on schedule.
Don't practice the same thing, in the same order, that you did the day before.
I use this line on my private students ALL the time when they're trying to do something too… fast. Slowdown, speed is a by-product of playing accurately and under control.
Fast is nothing more than slow — quicker. — Curt
Getting Started Series of Lessons
Although this might be viewed as a beginner series of lessons, and you might think you are beyond that stage. I venture to guess that ever seasoned players will get something out if it. Take a quick pass through the lessons in the Getting Started Series and fill in some gaps. Even myself when reviewing and editing the lessons and material in LearningUkulele.com I often refresh my memory and can use something I haven't used in a while.
Two Approaches Too Learning Music
The Song-Based Approach
The song-based approach is one where you pick a song and the song tells you what you need to know to perform the song. This approach really needs the guidance of someone who already knows how songs work and the components of songs in general. And, specifically, can guide you in learning that particular song.
A Systematic Approach
This approach builds a solid foundation of what is needed to perform ANY song by building a set of chords that are required for most songs. It really benefits from the guidance of an expert teacher, coach, advisor, mentor, etc…
This is my approach – NOT to, specifically, teach you songs, but to teach you the principles that are inherent in every song. This allows you to learn any song and develop your repertoire and voice. We do use songs based on the principles being learned. Or, if you are working on a performance piece.
With this approach, you can help the person using the Song-Based Approach.
End of Lesson - Thanks, Hope You Enjoyed It!
Related Lessons, Videos, Lesson Series, Songs, Books & Reference Charts, Resources & Assets, Workshops are below.
Related Lessons
Related Lessons for What to Practice?.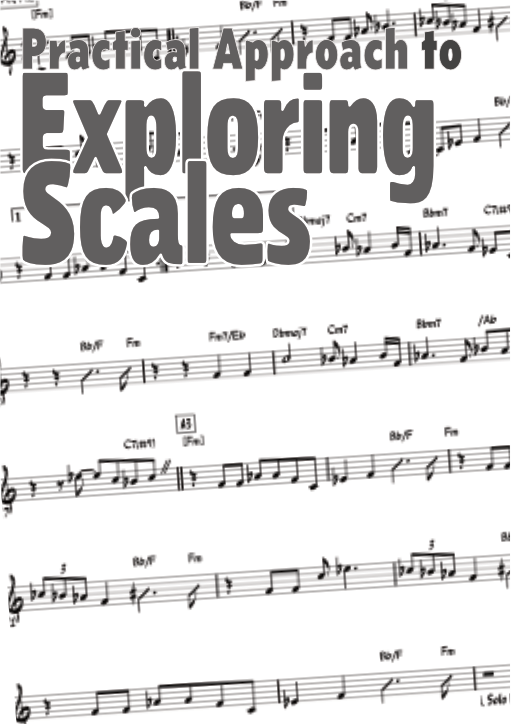 A Practical Approach to Exploring Scales
Updated: 10 Jul 2023
On ukulele there aren't many positions where you can play a one octave scale from the root to octave. An instrument like the guitar with the additional lower strings five and six allows one to play a one octave scale in multiple positions in the basic 4-fret, 4-finger position. On ukulele there might be one or two depending on the scale and the key - and whether your using a low string four tuning. This lesson offers a practical approach to practicing your scales on ukulele.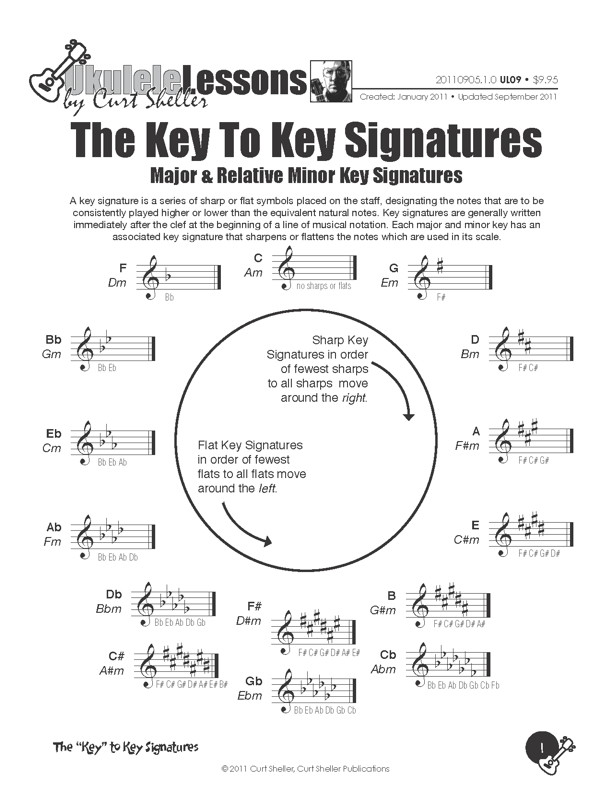 Major & Relative Minor Key Signatures
Updated: 13 Feb 2020
A "Key Signature" is a series of sharp or flat symbols placed on the staff, designating the notes that are to be consistently played higher or lower than the equivalent natural notes. Key signatures are generally written immediately after the clef at the beginning of a line of musical notation. Each major and minor key has an associated key signature that sharpens or flattens the notes which are used in its scale.
Related Lesson Series
Related Lessons Series for What to Practice?.
Related Books & Charts
Related Books for What to Practice?.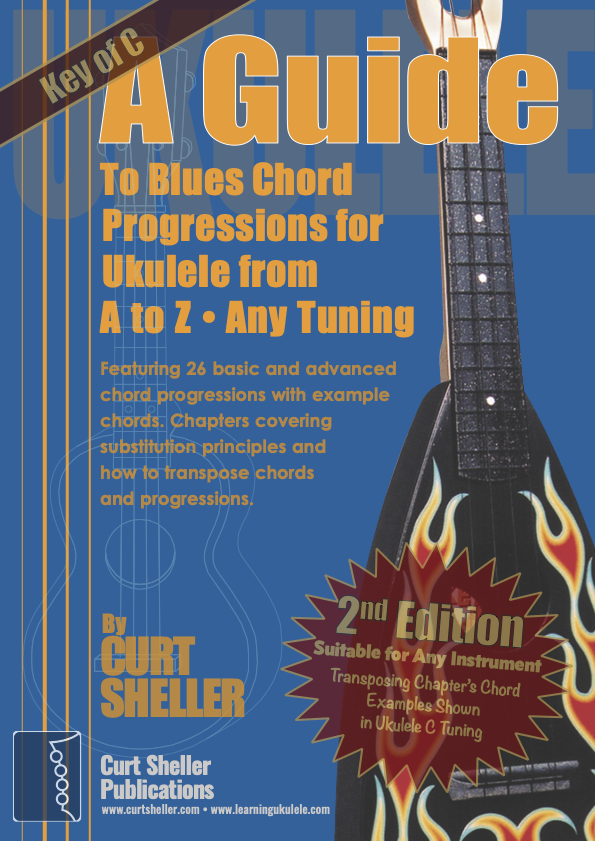 A Guide to Blues Chord Progressions for Ukulele A to Z
Updated: 15 Jun 2006
The Blues are at the heart of all American music. It has influenced Country, Rock, Folk, Jazz, Bluegrass and just about every form of American music we listen to today. 26 blues progression in C and G tuning, progressing from basic to advanced jazz progression, with chord grids and substitutions explained.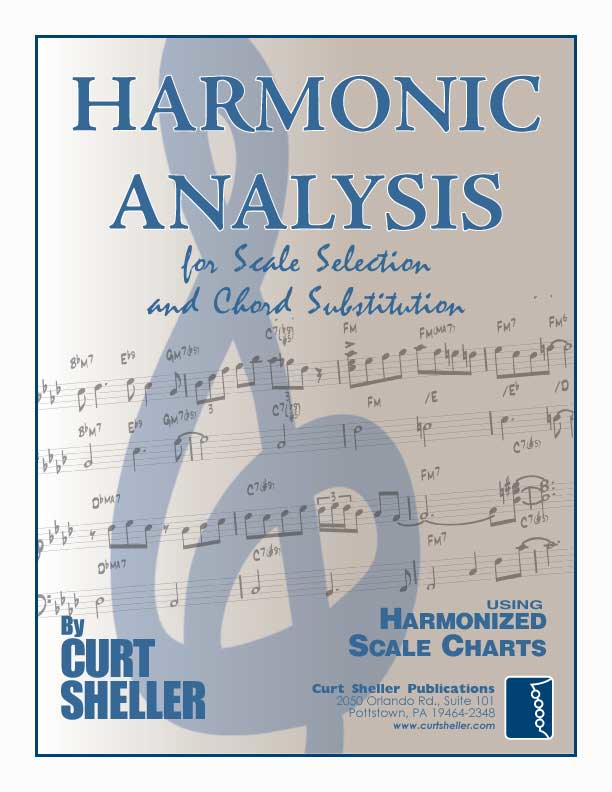 Harmonic Analysis for Scale Selection and Chord Substitution
Updated: 10 Jun 2021
Harmonic Analysis is the understanding of the functional sequence of chords. It is the process used to analyze the harmonic structure of a progression, song or composition. This analysis is then used to make scale selections for improvisation and chord substitution.
Books
Reference Charts
Related Lesson Files, Resources and Assets
Related Assets for What to Practice?.