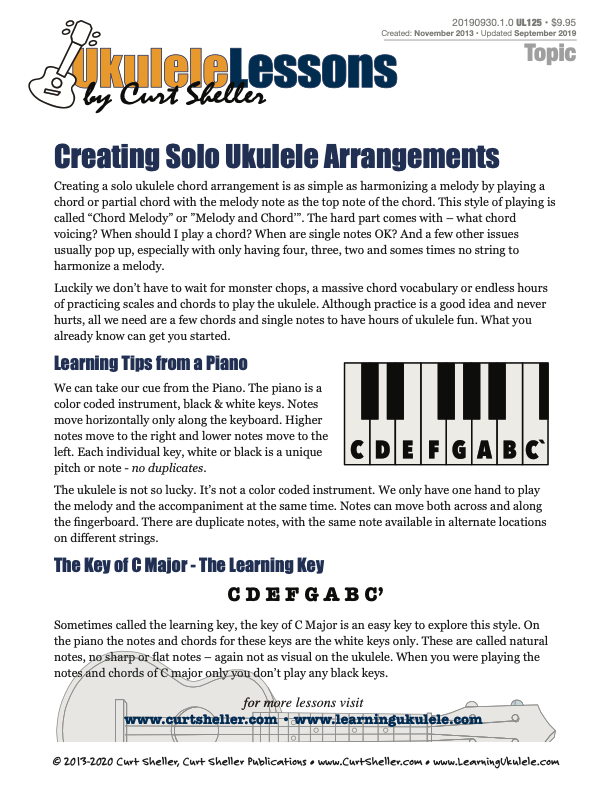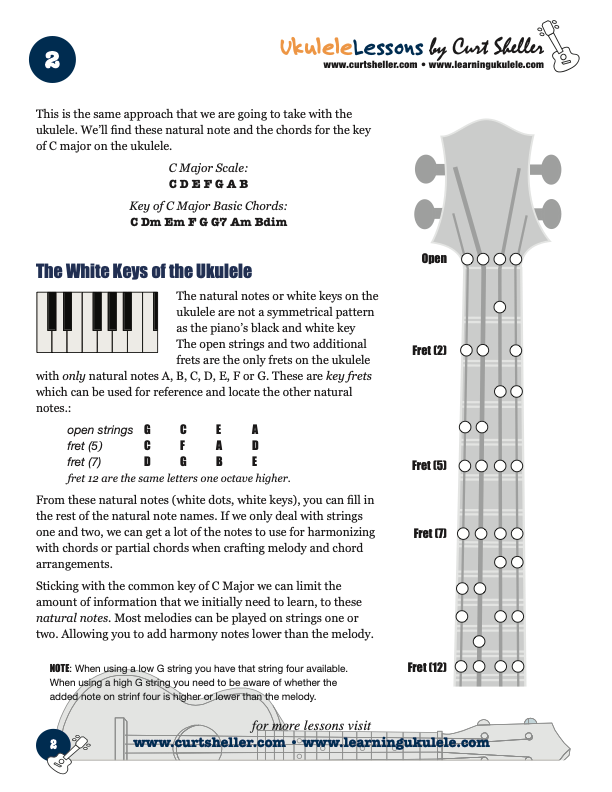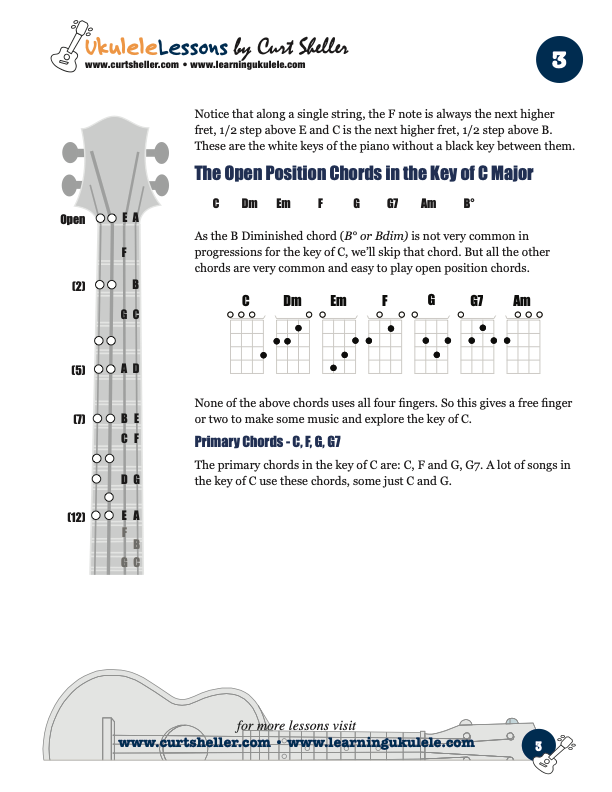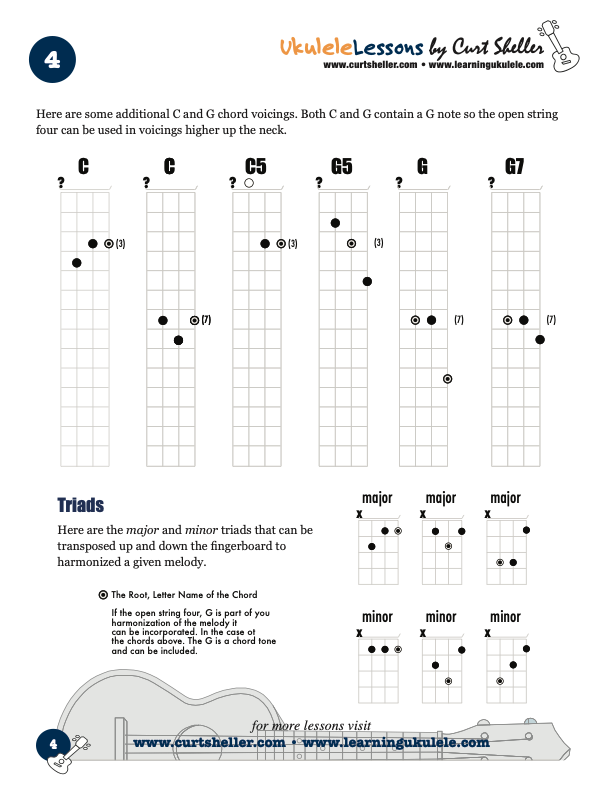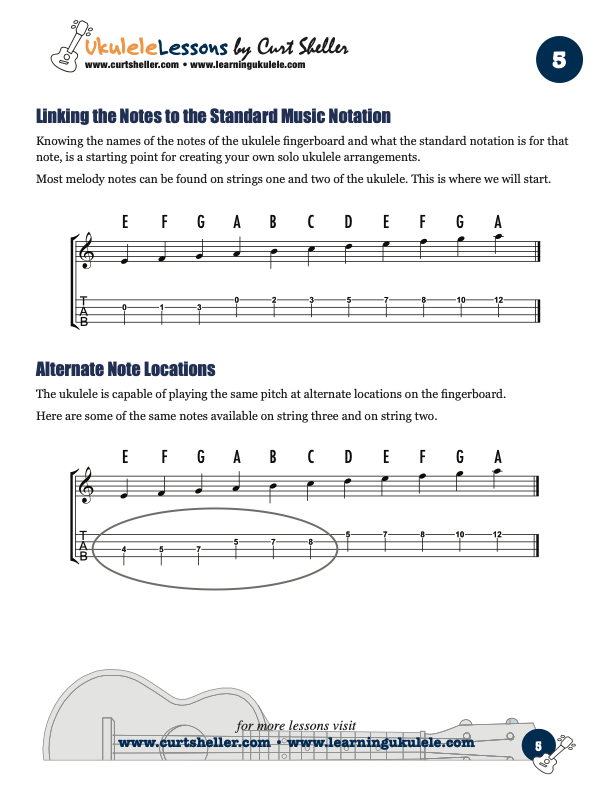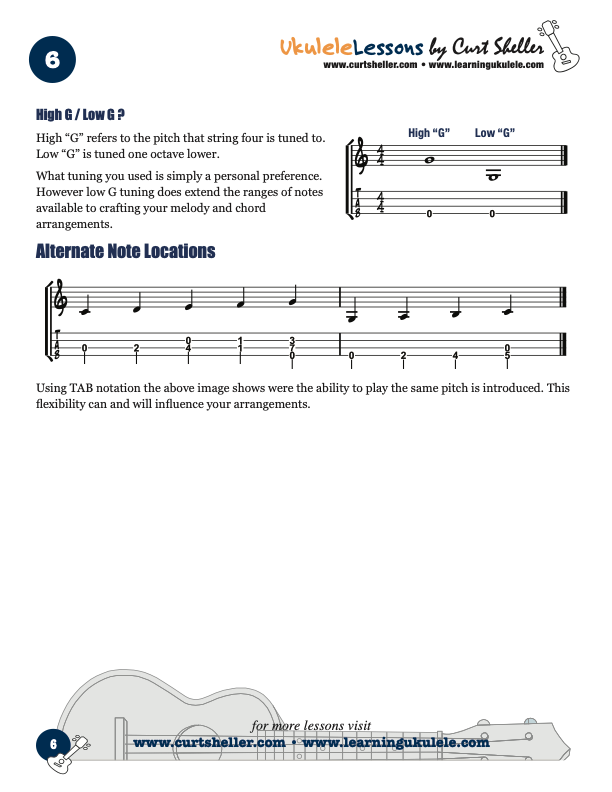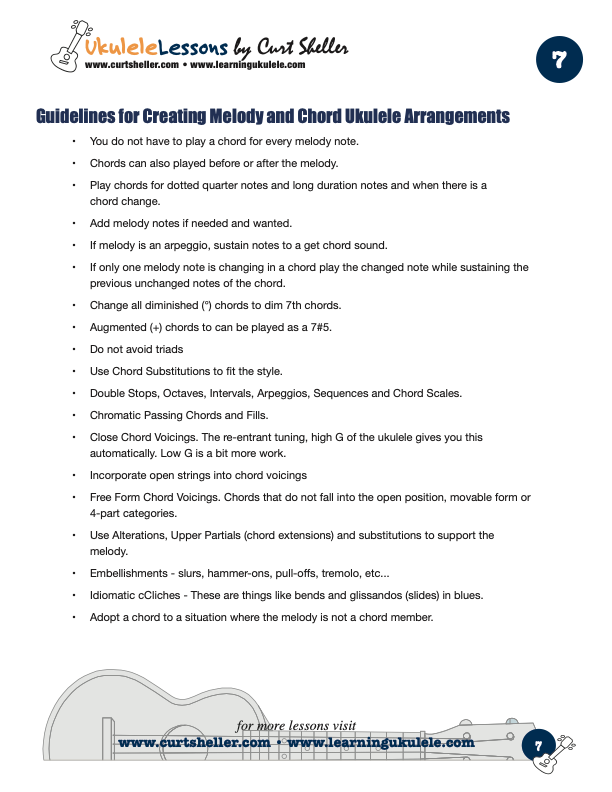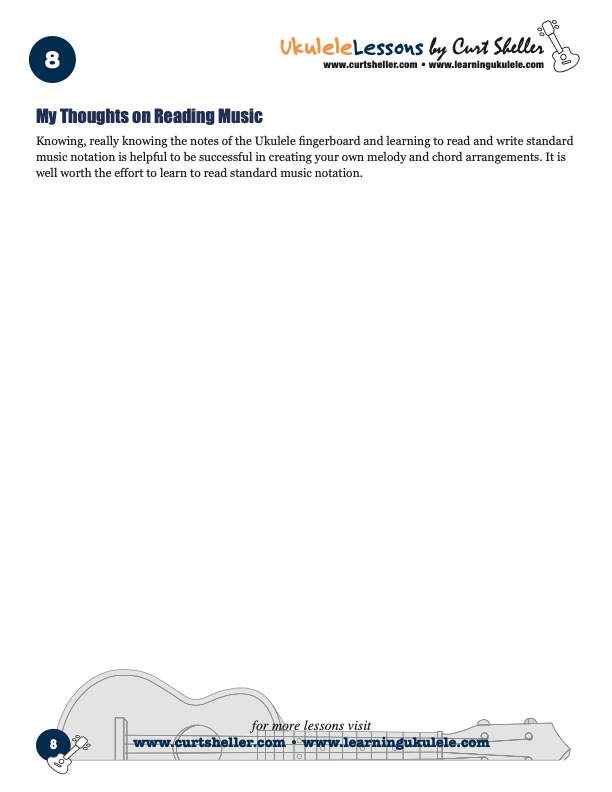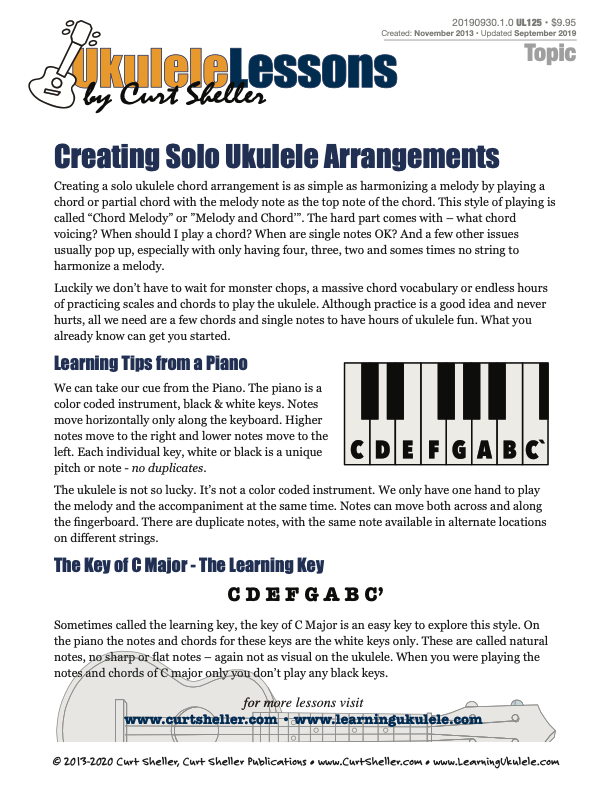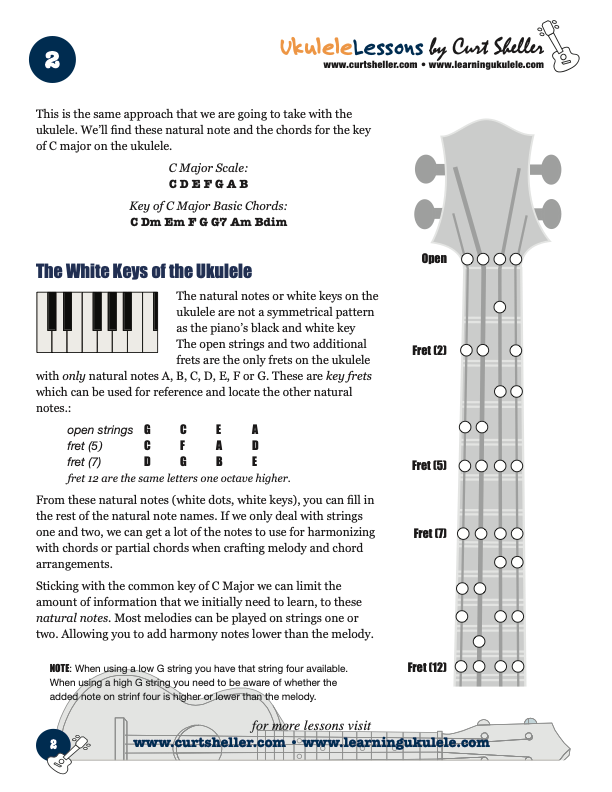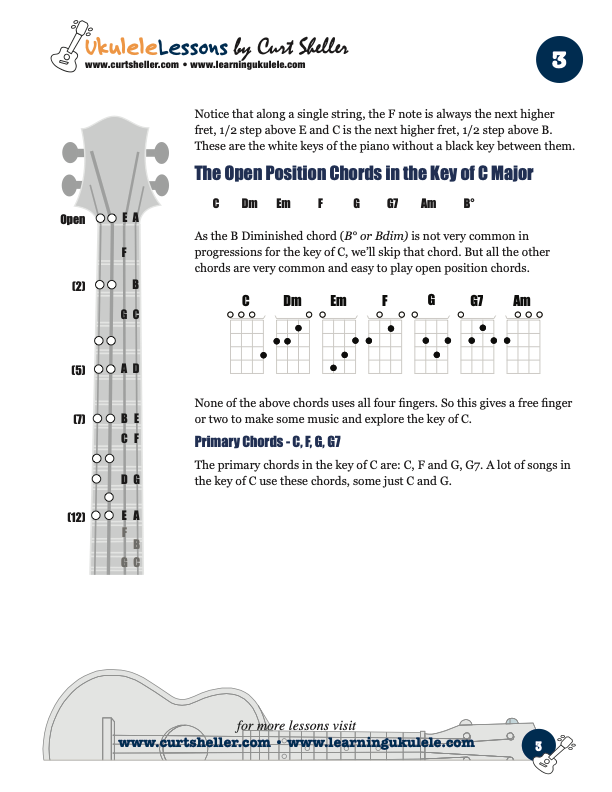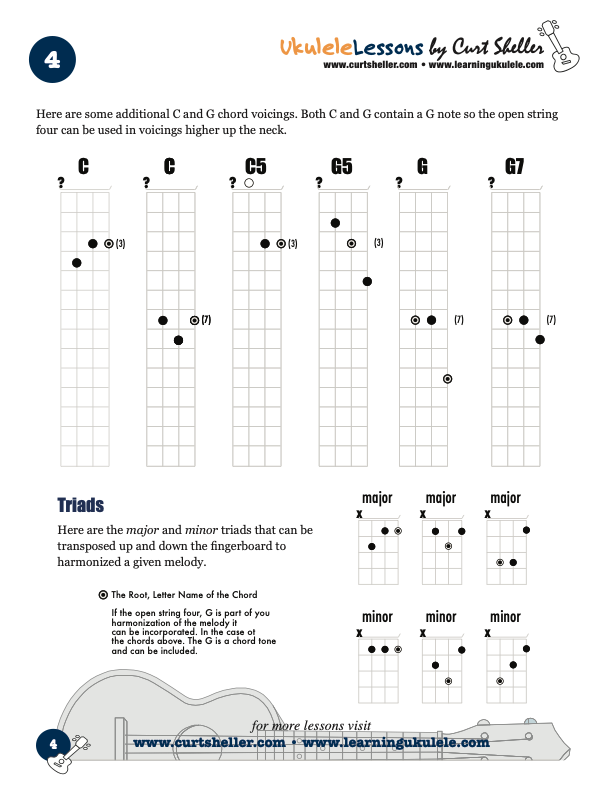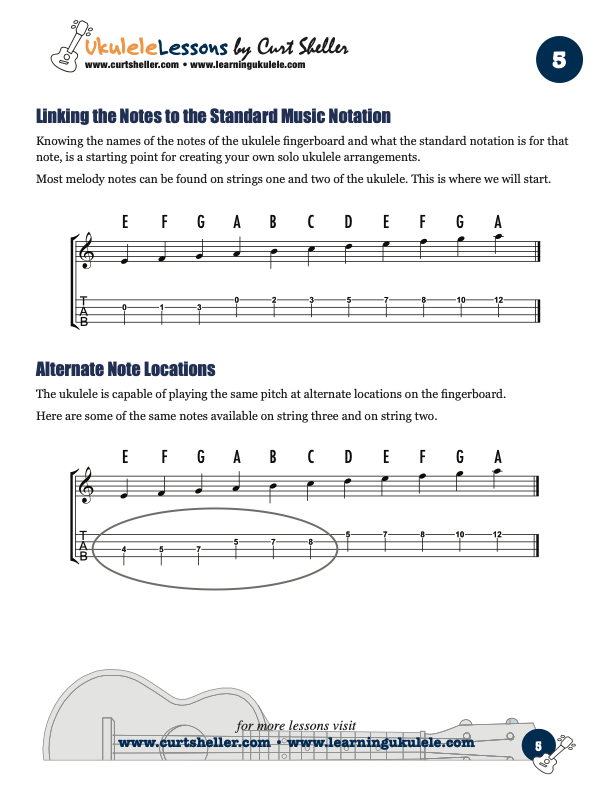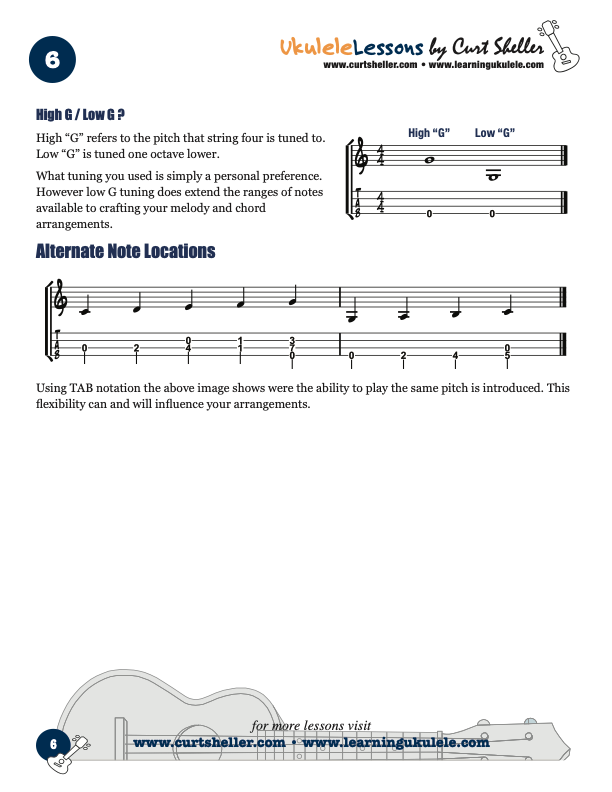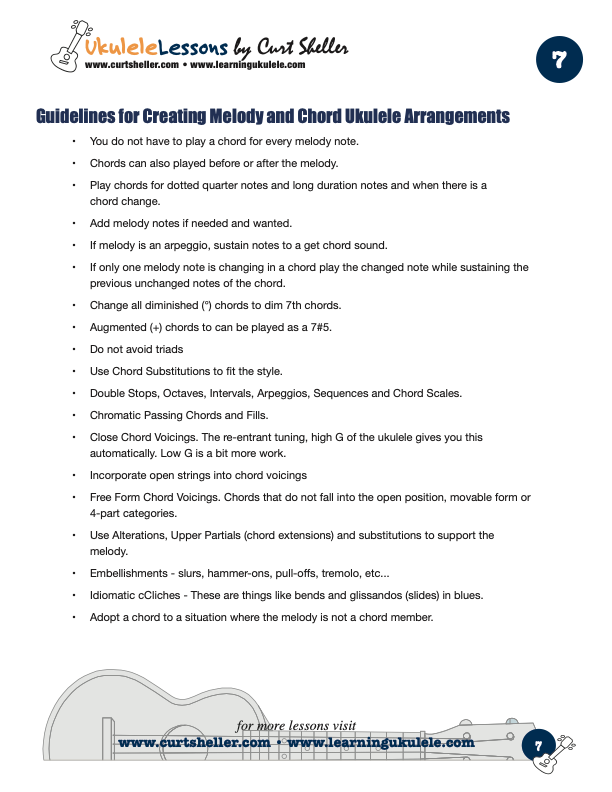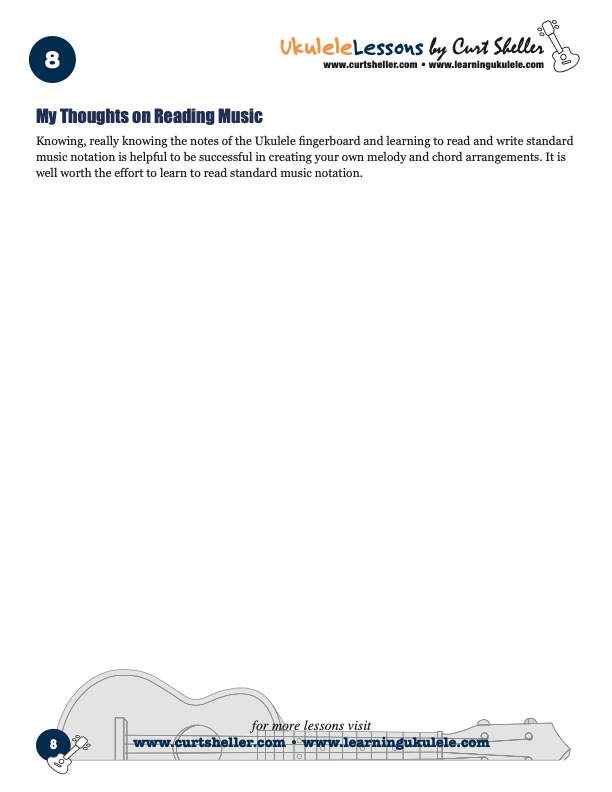 All 8 sample page(s) are viewable on-line.
To view the pages at a larger size you can resize the browser window smaller to a tablet or phone size and the pages will magically grow larger. If you are a registered member and have the correct permissions.
This Download is NOT part of your LearningUkulele.com membership level. Sign-up for a Site Access or Upgrade your current access level to download this PDF or your can purchase a copy for download.
Each PDF file is a formatted high resolution file that prints out great. You'll need Adobe Reader or a PDF viewing application to view your PDF file.
Melody and Chord Tips
Guidelines for creating melody and chord arrangements on ukulele.
Creating Melody and Chord Arrangements, in theory are as simple as harmonizing the melody with a chord. Which is playing a chord that has the melody note as the top note of the chord voicing. In practice it is a little more involved, but not much more.
The Art of Playing Melody and Chords at the Same Time
Chord Melody or Melody and Chord is the art of playing the melody and chords at the same time. This is what solo piano players do all the time. They have two hands to do it. On ukulele we have to do it all with one hand and only four strings. In the common high "G", C tuning, the available range of notes for creating melody and chord arrangements on ukulele is around two octaves, give or take a few notes. A little more on the lower end for a low "G", C tuning.
Crafting Melody and Chord Arrangements
Creating Melody and Chord Arrangements, in theory are as simple as harmonizing the melody with a chord. Which is playing a chord that has the melody note as the top note of the chord voicing. In practice it is a little more involved, but not much more.
A few things you should know before starting:
The notes of the Ukulele Fingerboard and what they look like in Standard Music Notation . TAB will NOT help with this.
The ability to identify the notes and chord intervals of a chord. Chord Spelling - A C major chord is C E G, the root, third and fifth of a C major scale. A G7 chord is G B D F, the root, third, fifth and flat seven of a G major scale.
Melody and Chord Guidelines
A few tip, tricks and guidelines for creating melody and chord arrangements.
You do not have to play a chord for every melody note. Chords can also played before or after the melody.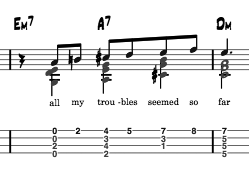 Play a chord for dotted quarter notes and longer.
Play a chord when there is a chord change.
Add melody notes if needed and wanted.
If melody is an arpeggio, play as single notes and sustain the notes to get create the chord.
If only one melody note is changing in a chord play the changed note while sustaining the previous unchanged notes of the chord.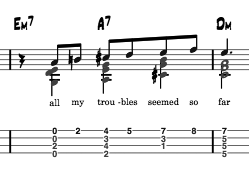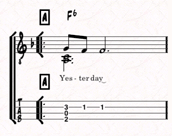 Change all diminished triads to dim 7th 4-part chords.
Augmented triads to can be played as a 7#5.
Do not avoid the effectiveness of triads
Use chord substitutions to fit the style.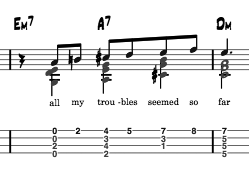 Look for places for parallel, oblique, similar and contrary motion in your chord voicings.
Double stops, octaves, intervals, arpeggios, sequences and chord scales.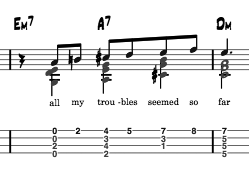 The full melody and chord solo Melody and Chord Solo Arrangement for Walk Don;t Run
Use the principles of Voice Leading
Chromatic passing chords and fills.
Close chord voicings. The re-entrant tuning of the ukulele gives you this automatically.
Incorporate an open strings chord voicing in to the arrangement.
Use a Free form chord voicing.
A Free Form Chord is a chord that does not fall into the open position, movable form or 4-part chord categories.
Alterations, upper partials (chord extensions) and substitutions. Root to 9, b9, #9, third to 11, #11, fifth to 13, b5, #5 to fit the style
Alterations should not change the chords harmonic function.
Embellishments - slurs, hammer-ons, pull-offs, tremolo, etc...
Idiomatic Cliches - These are things such a bend or glissando (slides) in blues.
Alternate Chord Voicings - A melody of a ninth can be harmonized by raising the root of a chord 2 frets or lowering the third of a minor chord one fret and the third of a major seventh or seventh chord two frets.
A melody of an eleventh can be harmonized by raising the third of a minor chord two frets and the third of a major seventh or seventh chord one fret. Or, lowering the fifth of a seventh, minor seventh or major seventh chord two frets.
Learn the critical notes of a chord such as the thirds and sevenths of major, minor and sevenths chords. Without these notes in the chord you loose the essence of the chord.
The two most critical notes are the melody and the seventh of a chord.
Leaving out the root and fifth of a chord implies 5, 6 and 7 part harmony. This is very useful on an instrument such as the a ukulele.
Crafting an arrangement using Introductions and Turnarounds and Endings
Theme, variations and re-harmonizations.
Fake Books
A Fake Book is a music book that shows the melody and chords for a song only. This is called a lead sheet and a musician is responsible for creating their own arrangement for the song. Long ago this was called "faking" a song.
End of Lesson - Thanks, Hope You Enjoyed It!
Download the lesson's PDF file for the latest, complete, and most up-to-date version of the lesson. As well as additional information not presented on-line.
Members and Active Students need to sign-in
to download this lesson's PDF for the complete lesson.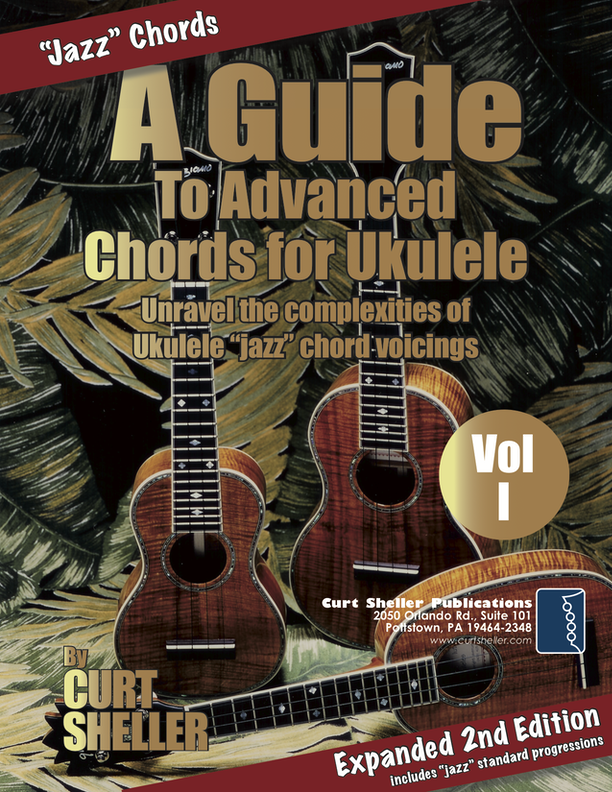 A Guide to Advanced Ukulele Chords - Volume I

Updated: Feb 13, 2020
Beyond learning basic Ukulele chords most players struggle with advanced chords. Commonly called 'jazz' chords, these more sophisticated voicings find a wide use in all forms of music. A Guide to Advanced Chords for Ukulele - presents a highly organized and efficient approach to the mysterious subject of advanced chords. Chord dictionaries are not the answer.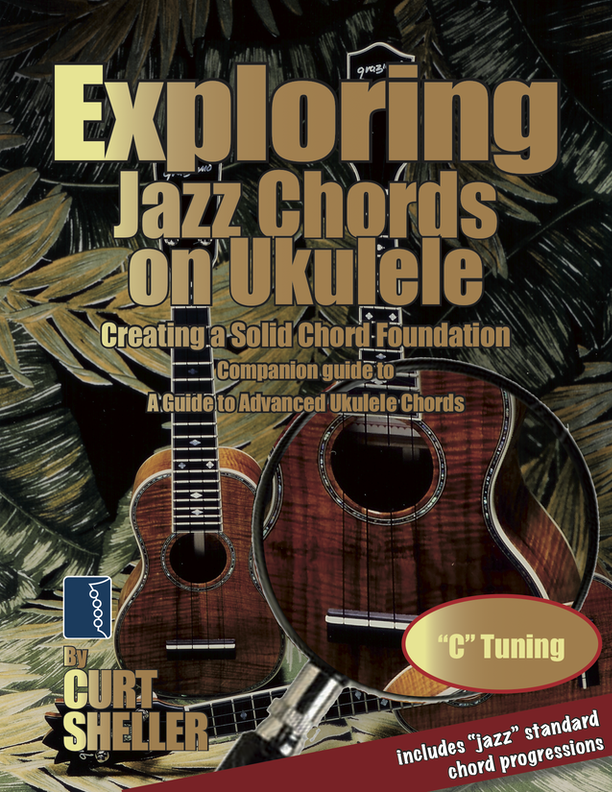 Exploring Jazz Chords on Ukulele

Updated: Nov 24, 2009
Exploring jazz chords using a variety of common chord progressions based on songs from the standard jazz repertoire. Core Chords are the basic set of chords needed to play a wide range of music, in a variety of styles. This set of chords includes basic open position chords, basic movable form chords and the core 4-part "jazz" chords.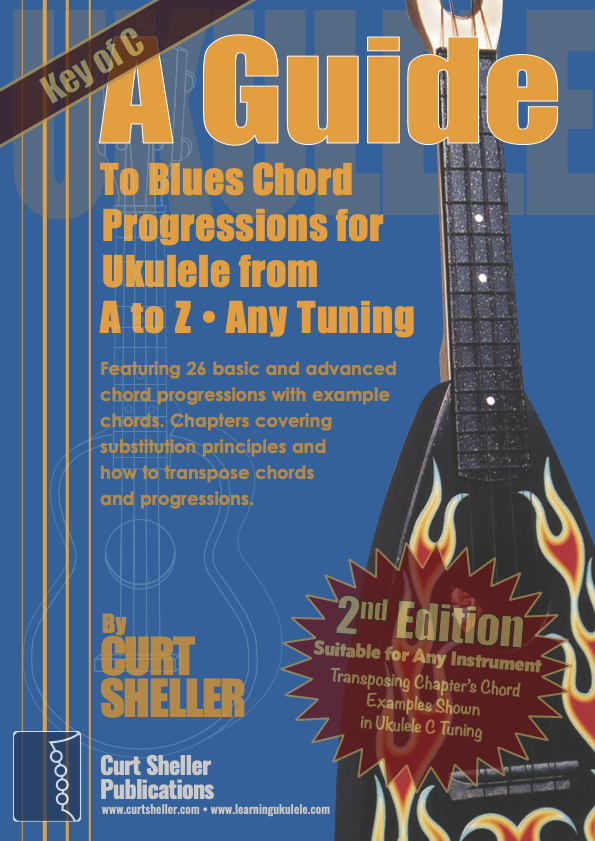 A Guide to Blues Chord Progressions for Ukulele A to Z

Updated: Jun 15, 2006
The Blues are at the heart of all American music. It has influenced Country, Rock, Folk, Jazz, Bluegrass and just about every form of American music we listen to today. 26 blues progression in C and G tuning, progressing from basic to advanced jazz progression, with chord grids and substitutions explained.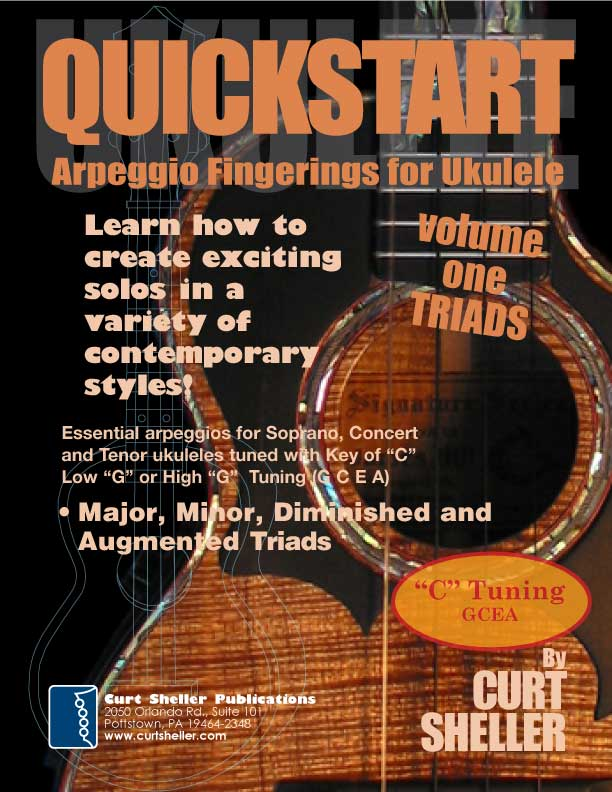 QuickStart Arpeggio Fingerings for Ukulele, Triads C Tuning

Updated: Jan 10, 2020
QuickStart Scale Arpeggio Fingerings for Ukulele - Triads is a concise, well organized book ideal for any ukulele player beginning to explore the ukulele's full potential as a musical instrument. Arpeggio Fingerings for Ukulele - Triads keeps a sharp focus on essential arpeggios and their fingerings. All material is covered in every key.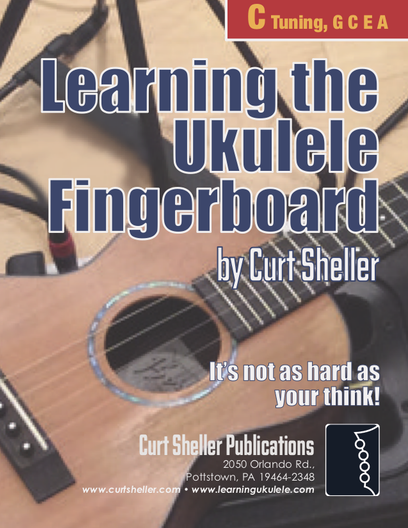 Learning the Ukulele Fingerboard - C Tuning

Updated: Apr 19, 2017
Finally, learn the names of the notes of the fingerboard. Learning the notes of your instrument allows you the flexibility of not having to remember so many shapes. There are simply way too many chords, scale and notes patterns, and shapes to remember. It all comes down the notes.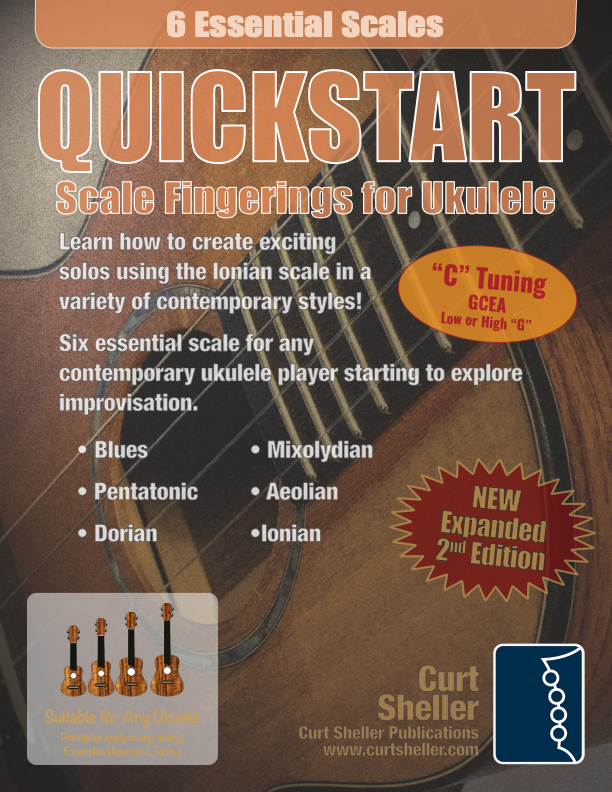 QuickStart Scale Fingerings for Ukulele, Volume I, C Tuning

Updated: Jun 24, 2006
Learn to create exciting solos in a variety of contemporary styles! Scales are used to improvise, create melodies and riffs. With a broad knowledge of the essential scales that are used in contemporary music and a mastery of the ukulele's fingerboard and fingering principles you're well on your way.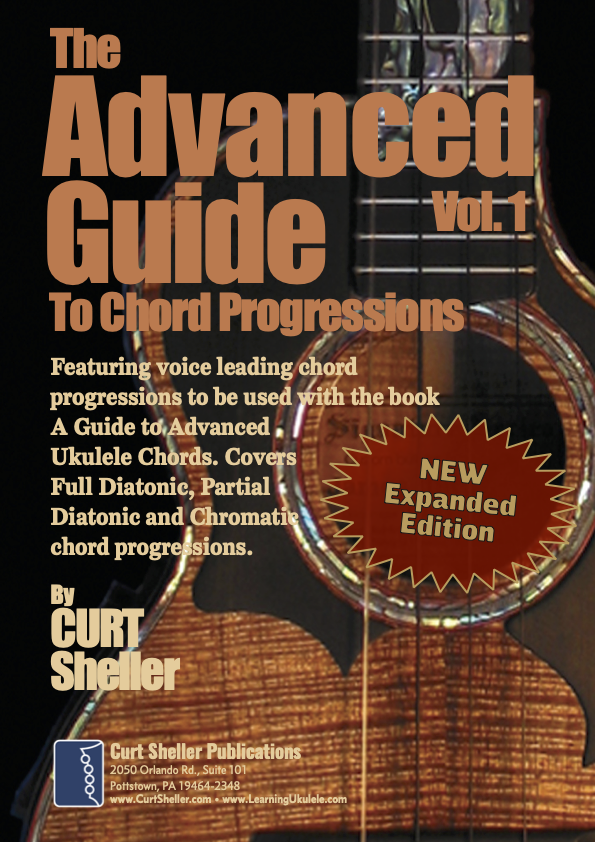 The Advanced Guide to Chord Progressions for Ukulele - Volume I

Updated: Jan 10, 2020
Before individual chords become the background of songs, they must be put into orders called chord progressions. The Advanced Guide to Chord Progressions for Ukulele organizes progressions according to string family, position, voice leading and chord magnetism.
While My Guitar Gently Weeps
Updated: Aug 8, 2020
While My Guitar Gently Weeps is a song written by George Harrison of The Beatles for their double album The Beatles (also known as The White Album). The song was ranked #135 on Rolling Stone's list of the 500 greatest songs of all time and #7 on their list of the 100 greatest guitar songs of all time.
Yesterday
Updated: Jan 28, 2020
Yesterday is a song originally recorded by The Beatles for their 1965 album Help!. The song first hit the United Kingdom top 10 three months after the release of Help!. The song remains popular today with more than 1,600 cover versions, one of the most covered songs in the history of recorded music. The song was not released as a single in the UK at the time of its release in the United States, and thus never gained number 1 single status in that country. However, "Yesterday" was voted the best song of the 20th century in a 1999 BBC Radio 2 poll of music experts and listeners.
Blue Bossa
Updated: Feb 9, 2016
Blue Bossa is an instrumental jazz composition by Kenny Dorham (August 30, 1924 - December 5, 1972). It was introduced on Joe Henderson's 1963 album Page One. A blend of hard bop and bossa nova, the tune was possibly influenced by Dorham's visit to the Rio de Janeiro Jazz Festival in 1961. The tune has since been recorded numerous times by different artists, making it a jazz standard.
Blue Skies
Updated: Dec 27, 2017
Blue Skies is a popular song, written by Irving Berlin in 1926. The song was composed in 1926 as a last minute addition to the Rodgers and Hart musical, Betsy. Although the show only ran for 39 performances, "Blue Skies" was an instant success, with audiences on opening night demanding 24 encores of the piece from star, Belle Baker. During the final repetition, Ms. Baker forgot her lyrics, prompting Berlin to sing them from his seat in the front row.
Eleanor Rigby
Updated: Oct 28, 2016
Eleanor Rigby is a song by The Beatles, originally released on the 1966 album Revolver. The song was primarily written by Paul McCartney, although in an interview conducted by Playboy magazine in 1980, John Lennon claimed that "the first verse was his and the rest are basically mine." Pete Shotton, a close friend of Lennon who was present at the time, said "Though John (whose memory could be extremely erratic) was to take credit, in one of his last interviews, for most of the lyrics, my own recollection is that 'Eleanor Rigby' was one 'Lennon-McCartney' classic in which John's contribution was virtually nil."
Feliz Navidad
Updated: Oct 23, 2019
Feliz Navidad is a Christmas song written in 1970 by the Puerto Rican singer-songwriter José Feliciano. With its simple Spanish chorus (the traditional Christmas/New Year greeting, "Feliz Navidad, próspero año y felicidad" meaning "Merry Christmas, a prosperous year and happiness") and equally simple English verse "I wanna wish you a Merry Christmas from the bottom of my heart", it has become a classic Christmas pop song in the United States, throughout the Spanish-speaking world and internationally.
NOTE: Each higher access level includes ALL the benefits of the lower levels. Private Lessons include all the benefits of a Premium Access Plans as long as you remain a student on the schedule.
---
Just browsing over both books, they look fantastic! I'm a guitarist and uke player for over 25 years and was thinking about writing a ukulele book but you've already written what I think are the best, most comprehensive and thorough books I've ever seen for the instrument. I just might end up buying every book you've written and I'll be giving my highest recommendation for your books to my friends and students. Thank you so much for taking the time to write such great books! — Peter Rhee
Aloha, Curt, All I can say is WOW! What you have accomplished is simply incredible! All the best — Glen Hirabayashi, The Aloha Boys
Folks, if you haven't stopped by Curt's site, do so right now! ..And get his books, they are fantastic. This guy knows his stuff and is able to pass it along too. — Alan Johnson Proprietor, The 4th Peg
I can highly recommend Curt's Uke books — I have four of them and they are excellent. — fatveg — Portland
Thanks for visiting and checking out the site!

Original Curtie Animation from 1987 for my first web site on a Macintosh II. 34 years ago. Man, does time fly.
"Built for myself (Curt), and sharing with the `Ukulele community!"
LearningUkulele.com has one of the largest collections of lessons, songs, and TABS, luthiers, ukulele builders, ukulele festival and club information, and, ukulele links on the web. I've been on the ®Internet since the early 1990's and This site just never stops growing!!!
Content is added and updated almost daily - so check back often. I really do need to get out more ;-)