LESSONSeries : Solo Ukulele - Creating Melody and Chord Arrangements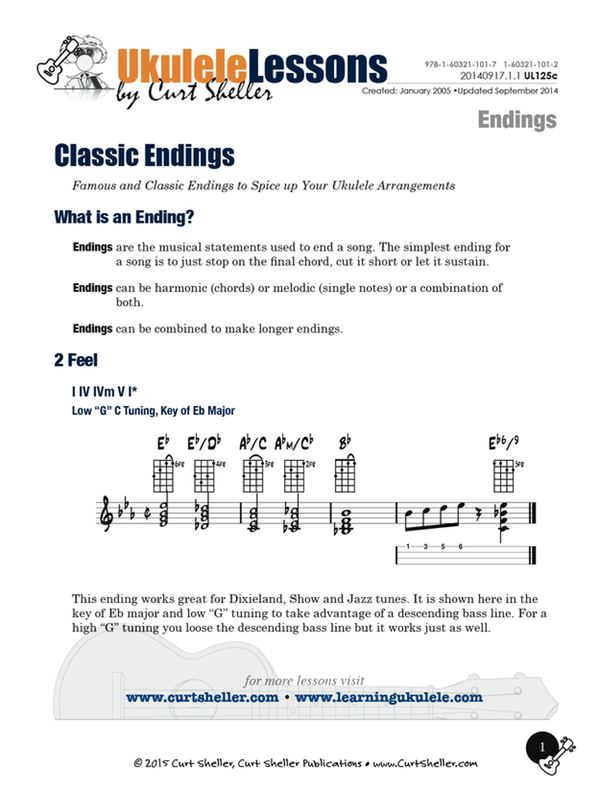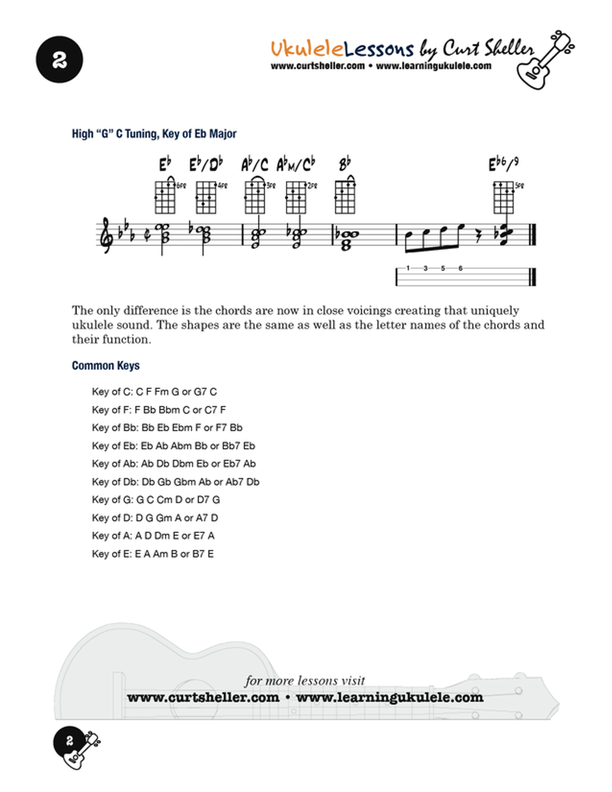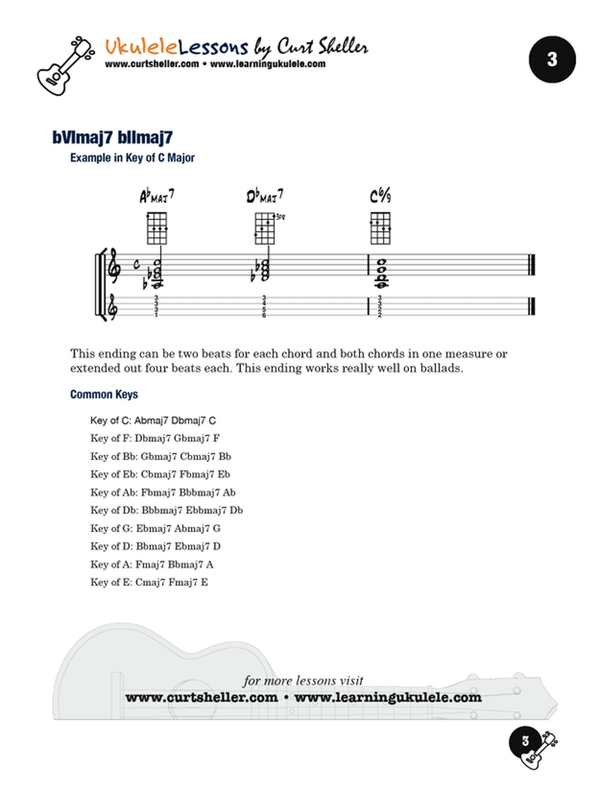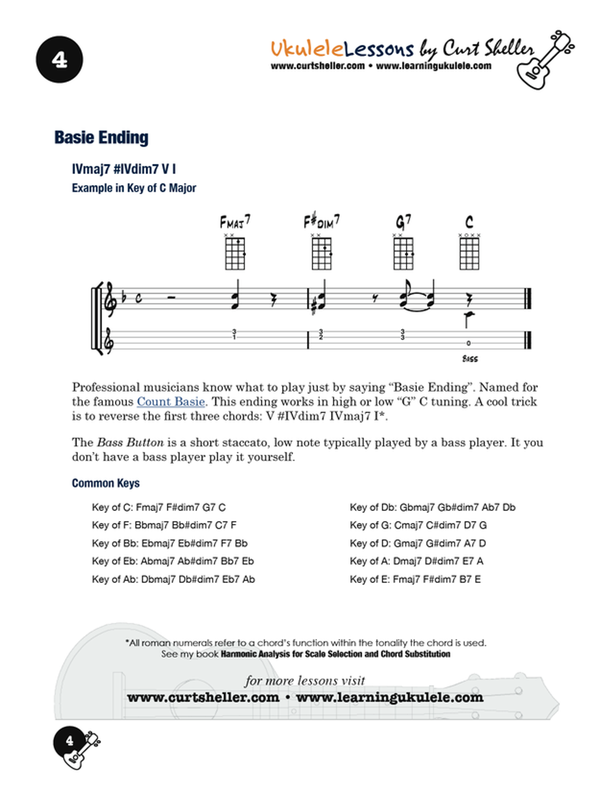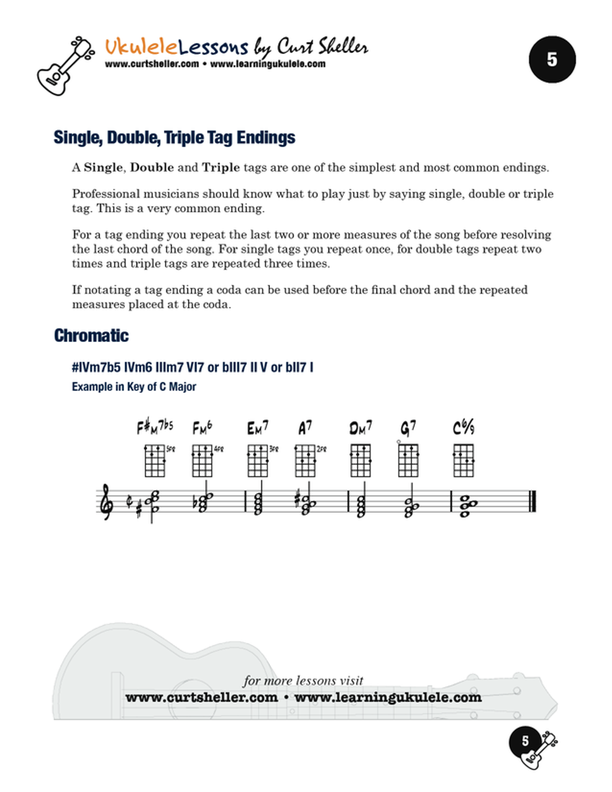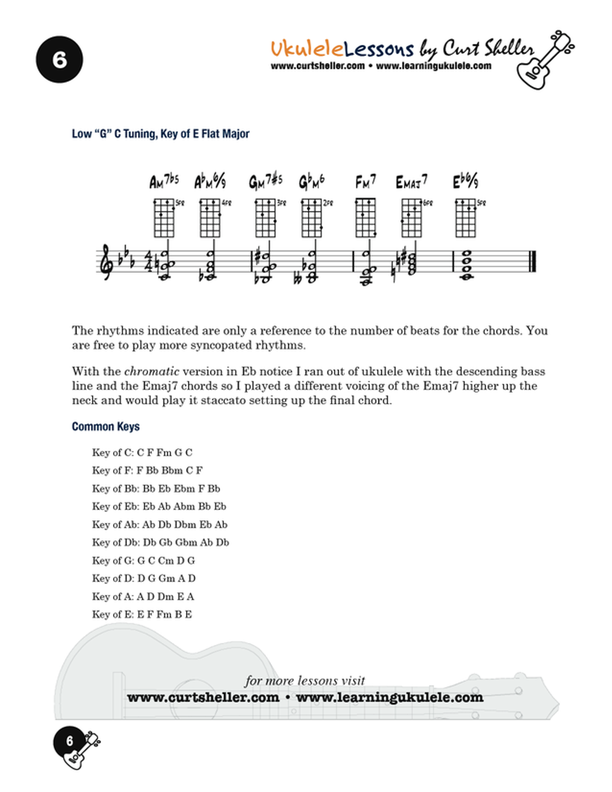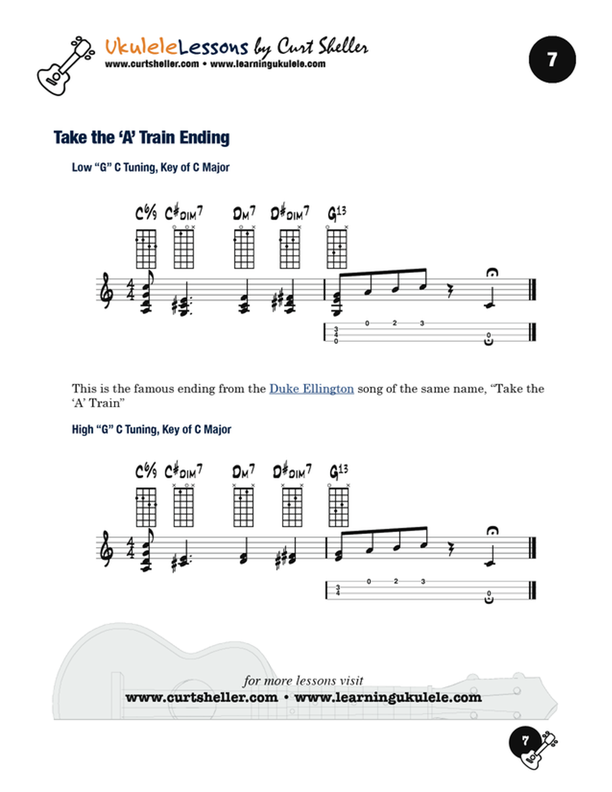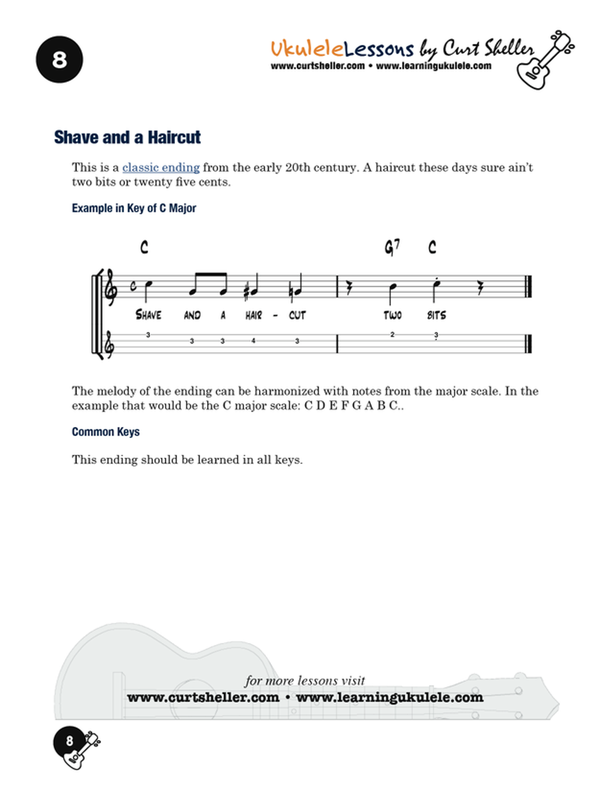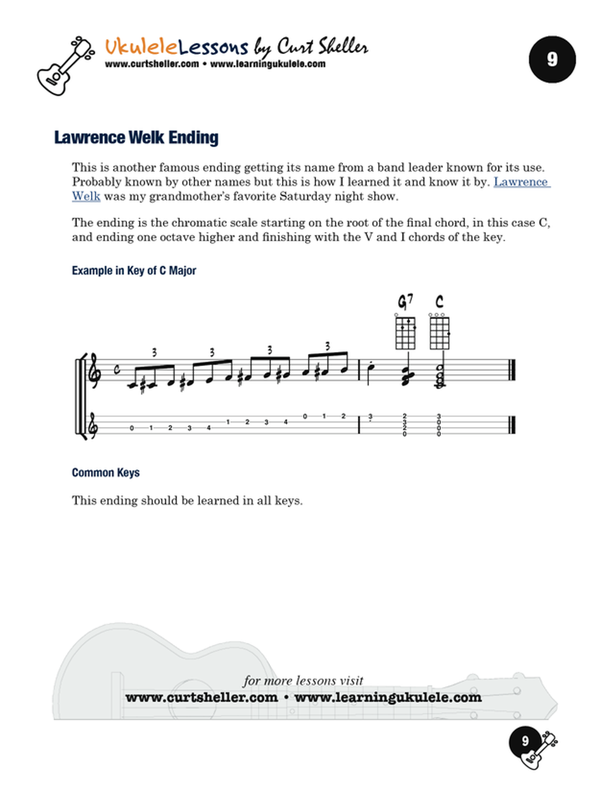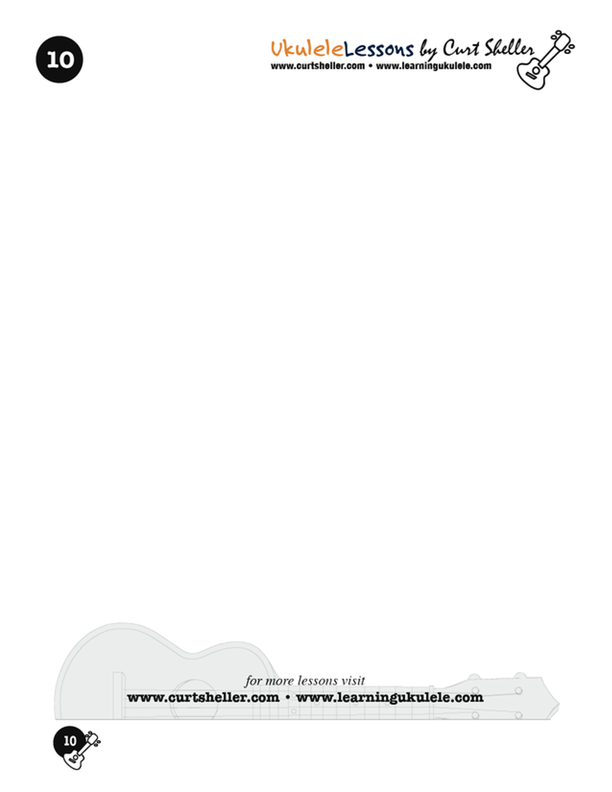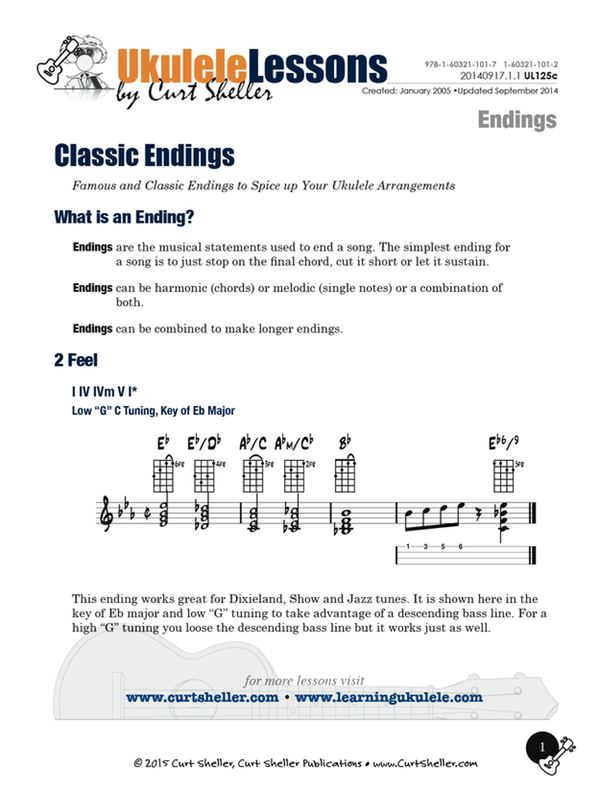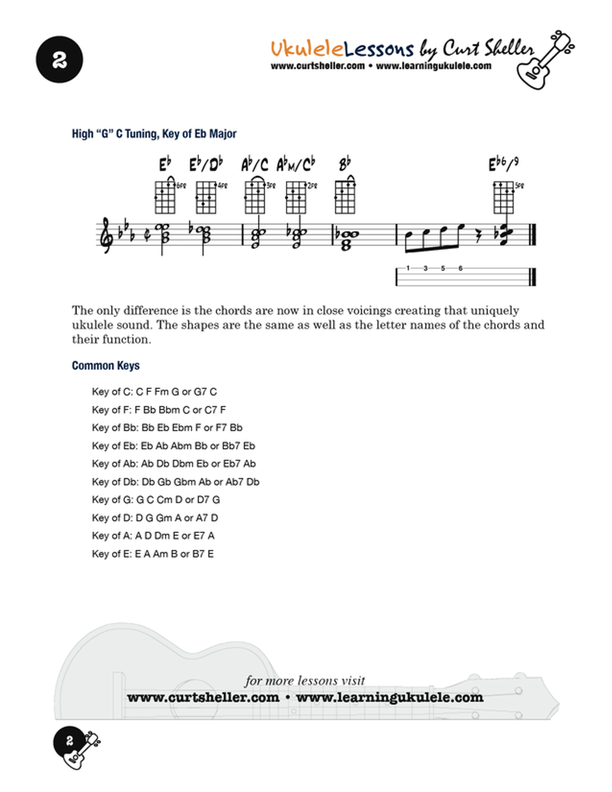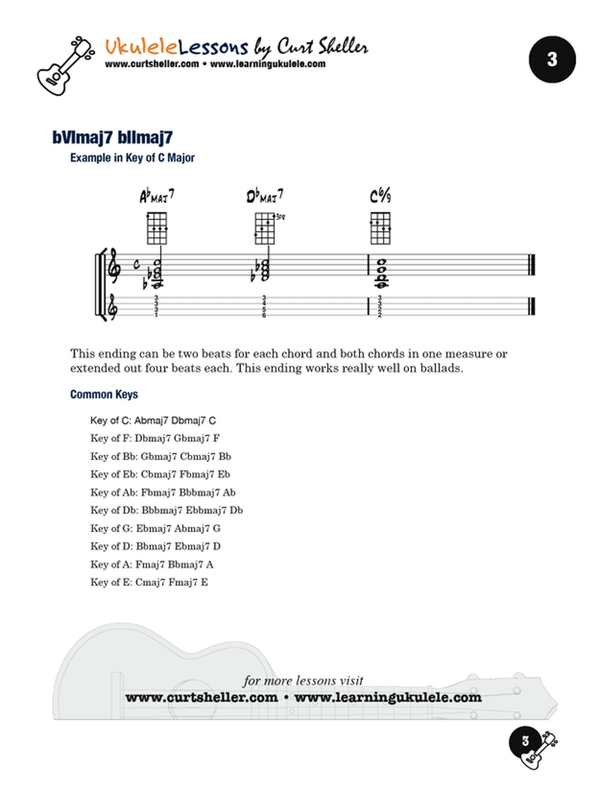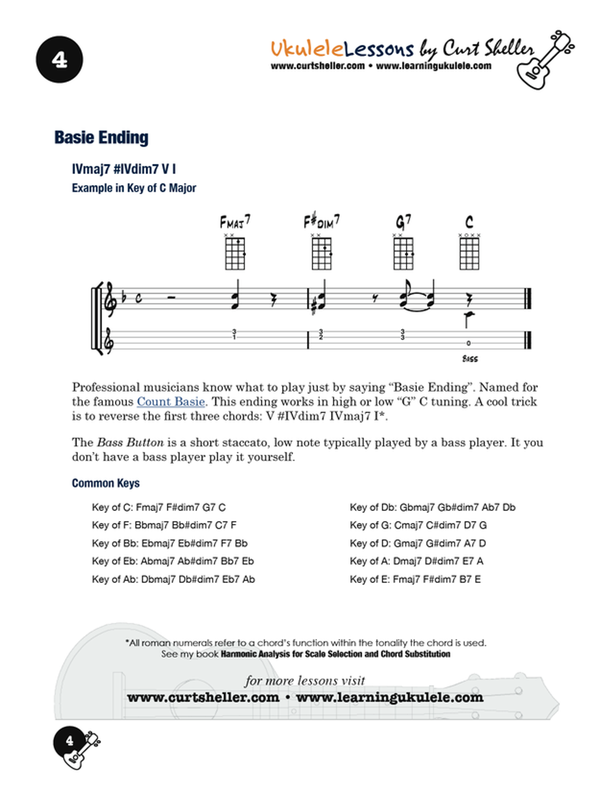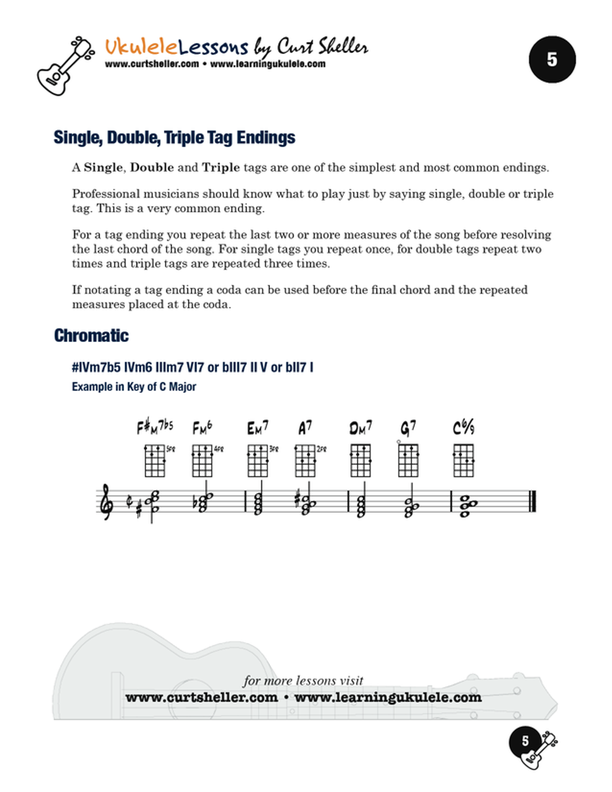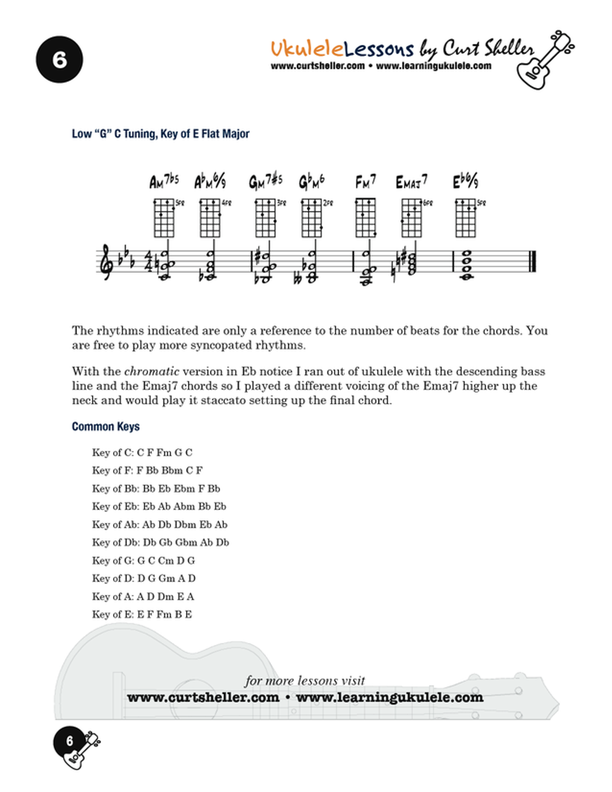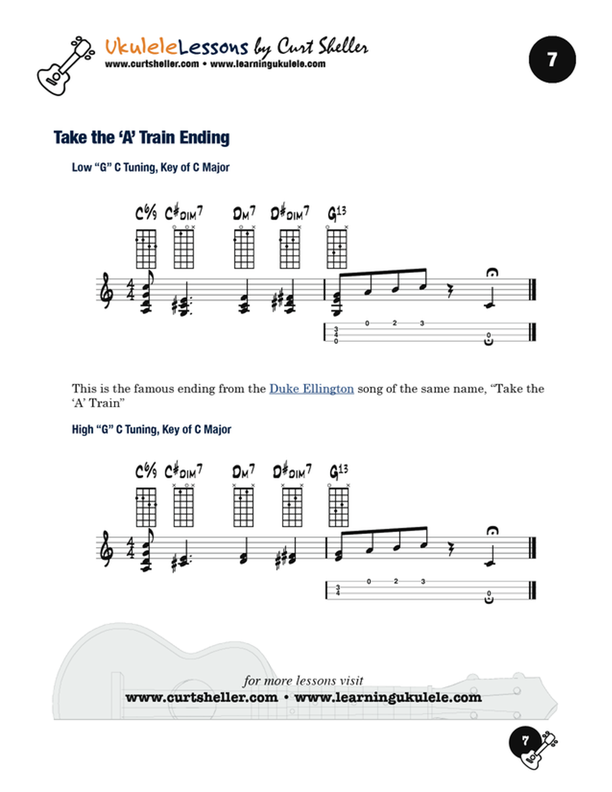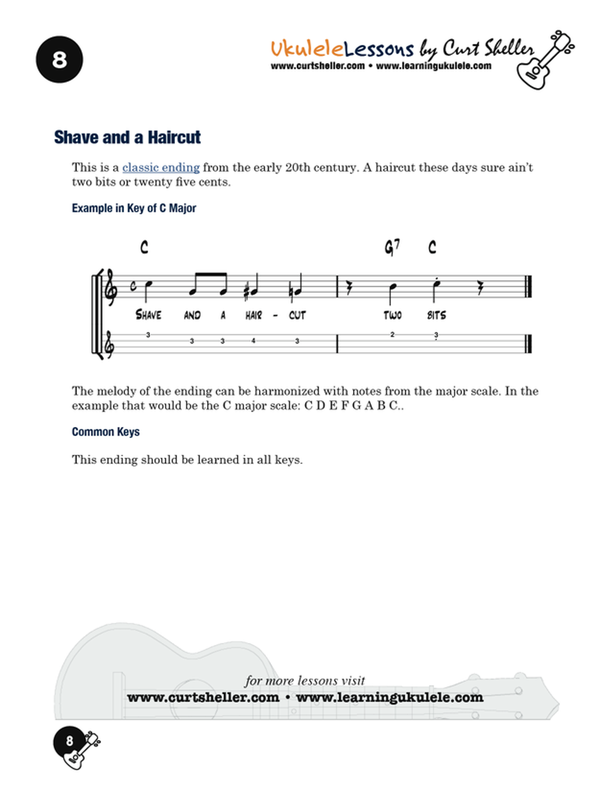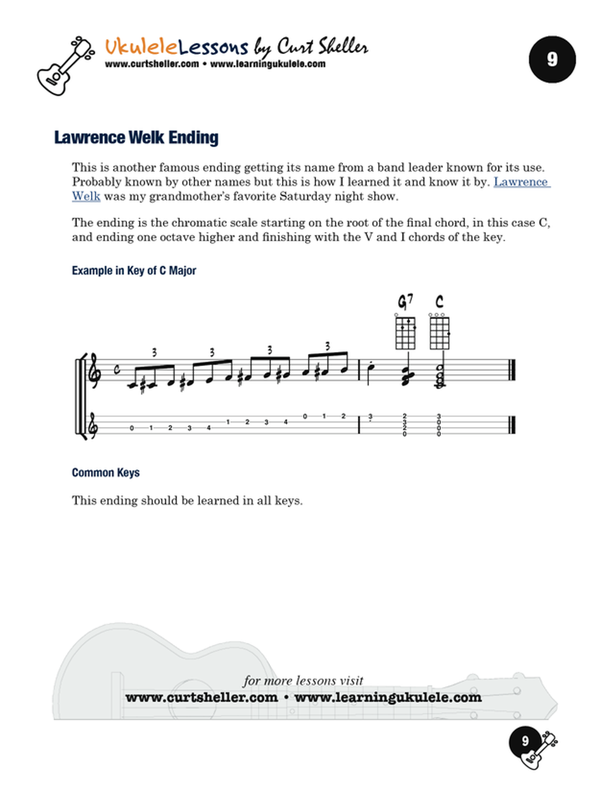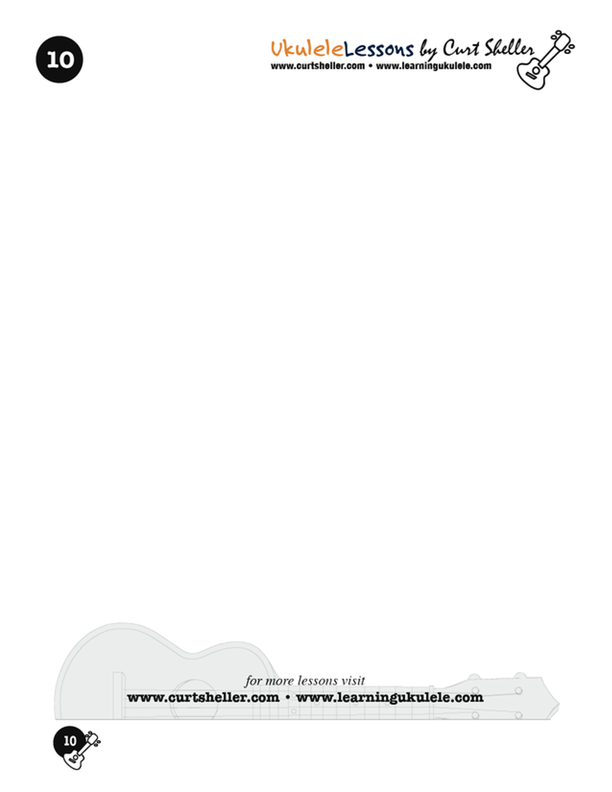 All 10 sample page(s) are viewable on-line.
If you are a registered site member, have verified your email address, and have the correct permissions you can view ALL the pages of this PDF or Samples pages at a larger size using the LearningUkulele.com Online PDF Viewer .
This Download is NOT part of your LearningUkulele.com membership level.
Sign-up for Premium Site Access or Upgrade Your Plan your current access level to download this PDF or your can purchase a copy for download.
After purchasing a PDF , a download link will be sent to you within 24hrs. Working on getting it to be automated.
Each PDF file is a formatted, high resolution file that prints out great. You'll need a PDF Reader or application capable of viewing PDF files to view the PDF.
Download the PDF file for the latest, complete, and most up-to-date version. As well as additional information not presented on-line.
Members and Active Students need to sign-in to download this lesson's PDF for the complete lesson.
Classic Endings for `Ukulele
Common songs endings that are used over and over in the standard song repertoire.
Additional Content
Available for Premium Site Access Plans Only
Endings Covered in This Lesson
Hawai'ian Turnaround in C Major
A classic chord progression utilized in Hawaiian tunes. ( This turnaround is not in the PDF download )
LESSON: The Hawaiian Turnaround in Key C
Two Feel
This ending works great for Dixieland, Show and Jazz tunes. It is shown here in the key of Eb major and low "G" tuning to take advantage of a descending bass line. For a high "G" tuning you loose the descending bass line but it works just as well.
The reason for the different voicing for the C/Bb is to get a moving line in the melody as well as the bassline.
VIDEO: Classic Endings, "Two Feel" video below
bVImaj7 bIImaj7
This ending can be two beats for each chord and both chords in one measure or extended out four beats each. This ending works really well on ballads.
Sign-IN — it's FREE — to view, un-blur this lesson.
Classic Endings for `Ukulele…
Basie Ending
Named after the late Count Basie a jazz pianist, organist, bandleader, and composer. Widely regarded as one of the most important jazz bandleaders of his time, Count Basie led his popular Count Basie Orchestra for almost 50 years. I remember as a 10 year old lad standing right at the edge of the stage – right at the feet of the great Count Basie and looking up and listening to this great big band on Steel Pier in Atlantic City, NJ USA. That was some great stuff.
VIDEO: Classic Endings, "Basie" video below
The Bass Button is a short staccato, low note typically played by a bass player. It you don't have a bass player play it yourself.
Single, Double and Triple Tags
A Single, Double and Triple tags are one of the simplest and most common endings.
Professional musicians should know what to play just by saying single, double or triple tag. This is a very common ending.
For a tag ending you repeat the last two or more measures of the song before resolving the last chord of the song. For single tags you repeat once, for double tags repeat two times and triple tags are repeated three times.
If notating a tag ending a coda can be used before the final chord and the repeated measures placed at the coda.
Chromatic
The rhythms indicated are only a reference to the number of beats for the chords. You are free to play more syncopated rhythms.
With the chromatic version in Eb notice I ran out of ukulele with the descending bass line and the Emaj7 chords so I played a different voicing of the Emaj7 higher up the neck and would play it staccato setting up the final chord.
Take the 'A' Train Ending
This is the famous ending from the Duke Ellington song of the same name, "Take the 'A' Train"
Shave and a Hair Cut
This is a classic ending from the early 20th century. A haircut these days sure ain't two bits or twenty five cents.
Lawrence Welk Ending
This is another famous ending getting its name from a band leader known for its use. Probably known by other names but this is how I learned it and know it by. Lawrence Welk was my grandmother's favorite Saturday night show.
The ending is the chromatic scale starting on the root of the final chord, in this case C, and ending one octave higher and finishing with the V and I chords of the key.
Train Wreck
And the ever popular Chaos or Train Wreck ending :-). Well, not really a structured ending, everybody plays what they want. This one needs no guidance from me as most musicians already have their own version.
A Train Wreck is when the train has left the tracks. Ending a songs in this fashion has the same results.
Download the PDF file for the latest, complete, and most up-to-date version. As well as additional information not presented on-line.
End of Lesson - Thanks, Hope You Enjoyed It!
Related Lessons, Videos, Lesson Series, Songs, Books & Reference Charts, Resources & Assets, Workshops are below.
Videos
Related Videos for Classic Endings for `Ukulele.
Related Lessons
Related Lessons for Classic Endings for `Ukulele.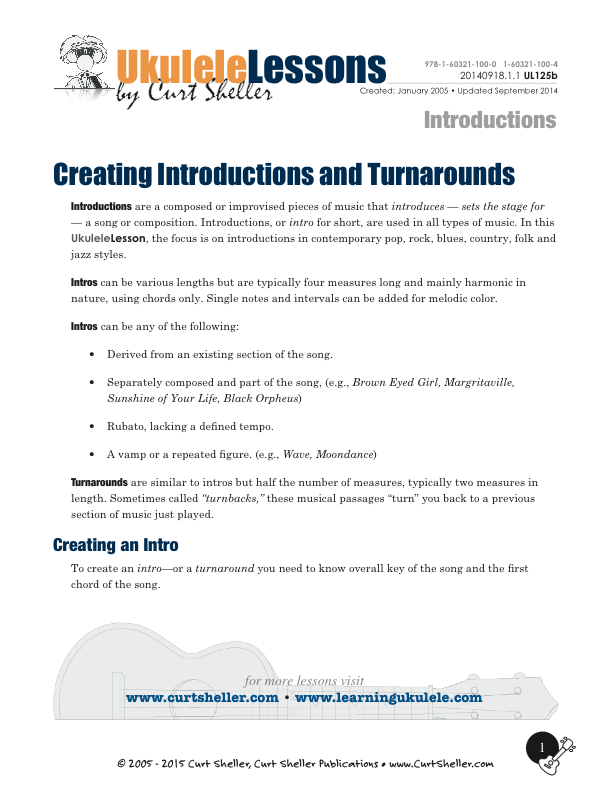 Creating Introductions and Turnarounds for `Ukulele
Updated: 20 Mar 2020
Introductions are a composed or improvised pieces of music that introduce - sets the stage for - a song or composition. Introductions, or intro for short, are used in all types of music. In this lesson, the focus is on introductions in contemporary pop, rock, blues, country, folk and jazz styles.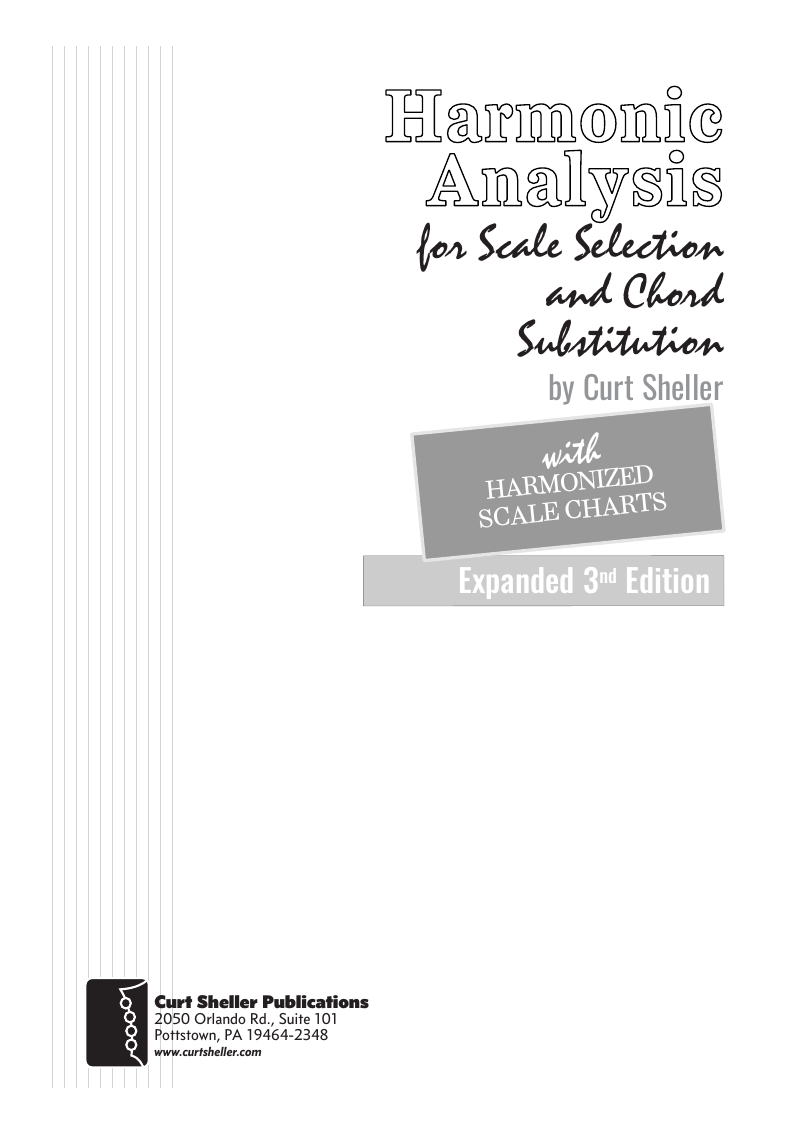 Harmonic Analysis Lesson Series
Updated: 06 Jan 2020
Harmonic Analysis ( HA ) is the process used to determine the harmonic function of chords within a chord progression. A chord progression is defined as a sequence of chords, each chord has a root and has a particular chord type. The relationship of a chord's root to a scale determines its function within that scale's tonality. Once a chord's function is identified, scale selections along with chord and scale substitutions can be made. This process is called Root Movement Analysis ( RMA ). This series of lessons are extracted from my book for use with individual private and on-line students. Each lesson directly corresponds the chapters in my book Harmonic Analysis for Scale Selection and Chord Substitution by Curt Sheller (me).
Related Lesson Series
Related Lessons Series for Classic Endings for `Ukulele.
Harmonic Analysis for Scale and Chord Selection
Updated: 09 Jun 2023
Harmonic Analysis (HA), also known as the study of chord relationships, is the method used to identify the harmonic role of chords within a chord progression or song. A chord progression refers to a sequence of chords, with each chord having a root note and belonging to a specific chord type. The function of a chord within a particular scale's tonality is determined by its relationship to that scale.
Related Songs
Related Songs for Classic Endings for `Ukulele.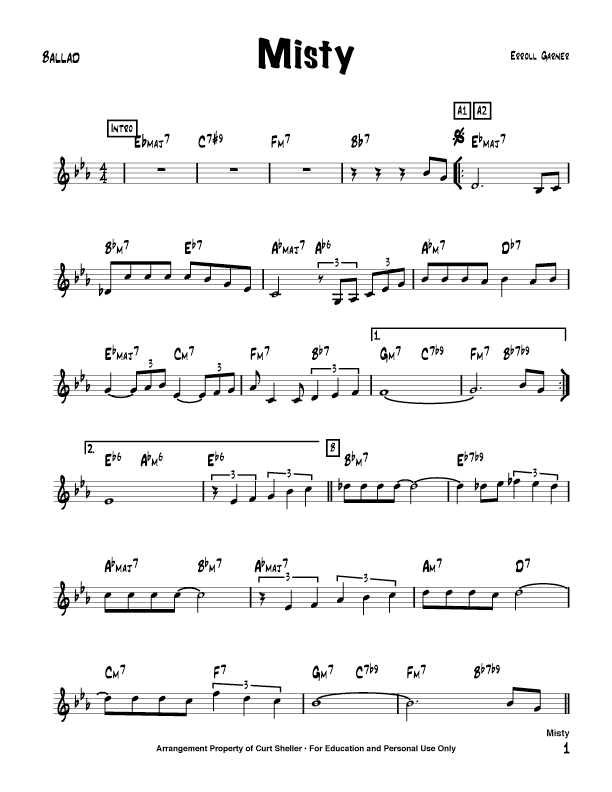 Misty
Updated: 27 Dec 2017
Misty  is a jazz standard written in 1954 by the pianist Erroll Garner. Originally composed as an instrumental following the traditional 32-bar format, the tune later had lyrics by Johnny Burke and became the signature song of Johnny Mathis, reaching #12 on the U.S. Pop Singles chart in 1959. It has been covered numerous times, perhaps most notably by Ella Fitzgerald, Sarah Vaughan (1959), Frank Sinatra and Earl Grant (1961), Lloyd Price (1963), and also by Ray Stevens (1975) as a country song.
Related Books & Charts
Related Books for Classic Endings for `Ukulele.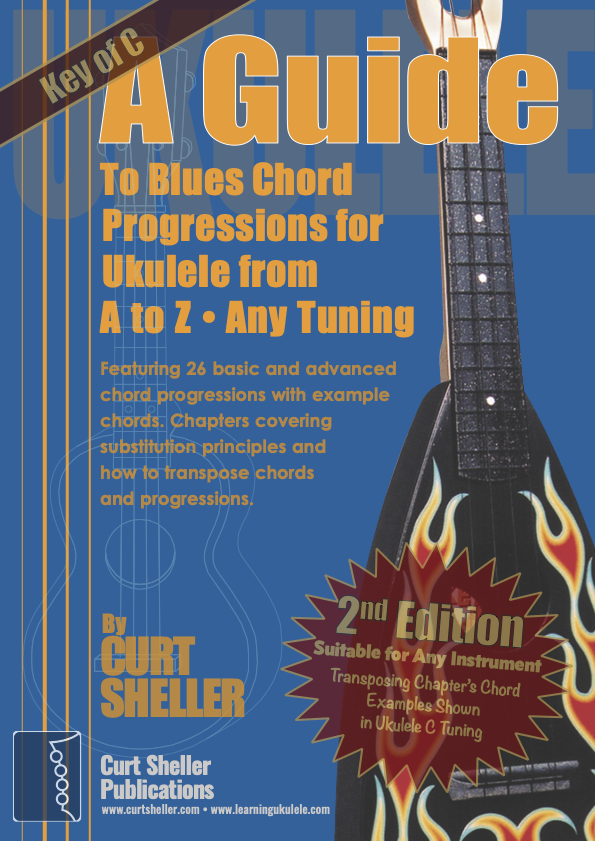 A Guide to Blues Chord Progressions for Ukulele A to Z
Updated: 15 Jun 2006
The Blues are at the heart of all American music. It has influenced Country, Rock, Folk, Jazz, Bluegrass and just about every form of American music we listen to today. 26 blues progression in C and G tuning, progressing from basic to advanced jazz progression, with chord grids and substitutions explained.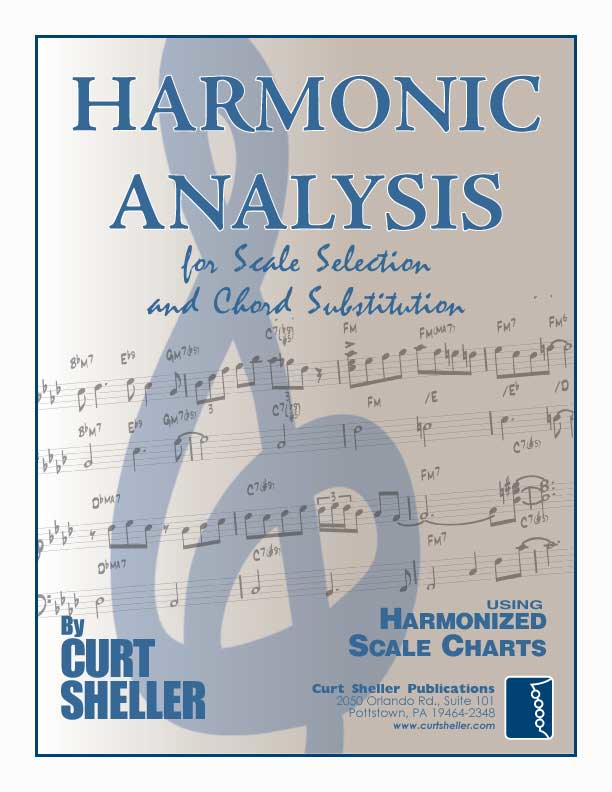 Harmonic Analysis for Scale Selection and Chord Substitution
Updated: 10 Jun 2021
Harmonic Analysis is the understanding of the functional sequence of chords. It is the process used to analyze the harmonic structure of a progression, song or composition. This analysis is then used to make scale selections for improvisation and chord substitution.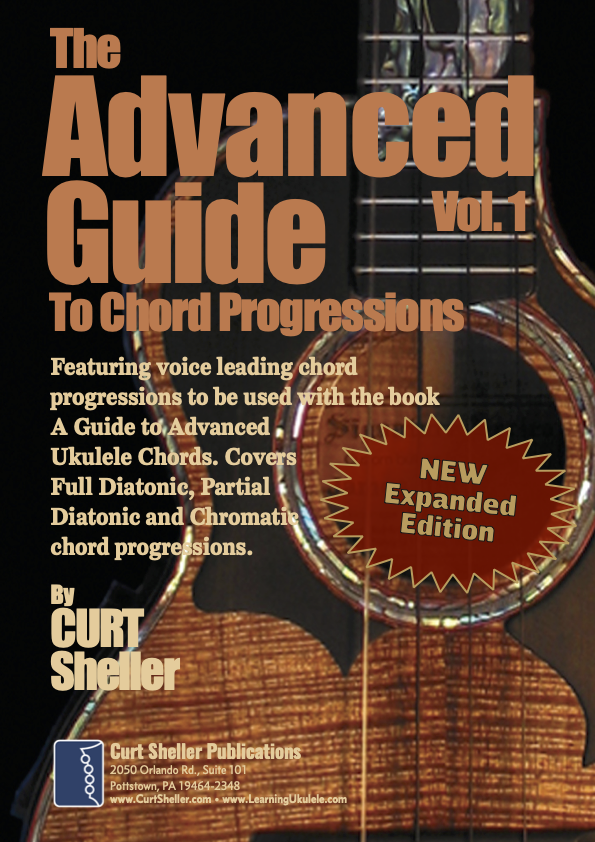 The Advanced Guide to Chord Progressions for Ukulele - Volume I
Updated: 18 Jan 2023
Before individual chords become the background of songs, they must be put into orders called chord progressions. The Advanced Guide to Chord Progressions for Ukulele organizes progressions according to string family, position, voice leading and chord magnetism.
Books
Reference Charts
Related Lesson Files, Resources and Assets
Related Assets for Classic Endings for `Ukulele.