Reading Chord Charts
It's not as hard as you might think.
Learn a New Ukulele Chord Each Day of 2018!!!
Today's Chord a Day, February 20th - dim7 •
Each day of 2018 there's a new chord you can learn and add to your chord vocabulary. First time here? Start with the January 1st chord.
There is also a series of lessons I ran 2013 called Chord a Week, "Open Position Chords" Series . This series explores several open position chords and their movable versions.
Learn a new strumming pattern(s) starting each week 2018 with my new video series!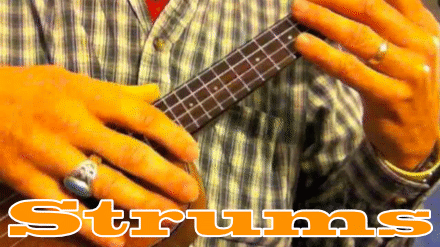 Reading Chord Charts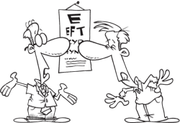 A Chord Chart (or chart) is a form of musical notation that in addition to writing out non-embellished melody, describes harmonic and rhythmic information. It is the most common form of notation used by professional musicians playing jazz or popular music. It's intended primarily for a rhythm section ( usually consisting of piano, guitar, drums and bass ). In these genres the musicians are expected to be able to improvise the actual notes used to represent the chord and the appropriate ornamentation or counter melody.
A Road Map Through a Song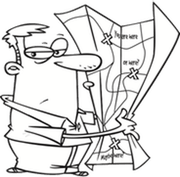 A Road map Through a Song – Your road map through a song includes – the landmarks, traffic signs and directions to from one place, the beginning of the song, to another, the end of the song. For a song that would be the key and modulations, the sections, type of chords, codas, repeats and the music signs used to determine you path through the song.
A Chord Chart is simply these directions. It contain the chords and form of the song to play. I might or might not contain directions on where to put you fingers, chord diagrams or where to play any particular note. Depending on the intended final use of the chart it can as simple as the chords to completely written out instrument part for a recording.
At a minimum it should contain are the chords and form of the song. The lyrics are for the singers. Chord diagrams are for beginners who might not have a chord vocabulary of chords to cover all the chords in a given song. TAB serves a different function and is not needed in a chord chart.
Depending on the song, my chord charts might contain any signature licks and riffs for that song. These will be in standard notation on the chart. I'll provide TAB for ukulele players separately. Using standard music notation allows ANY musician that can read music to play the song on any instrument.
A Few Reading Lessons to Get You Started
The following two lessons are the first lessons for a series of lessons on reading in the open positiona dn a series for more advanced reading up the neck.
Just browsing over both books, they look fantastic! I'm a guitarist and uke player for over 25 years and was thinking about writing a ukulele book but you've already written what I think are the best, most comprehensive and thorough books I've ever seen for the instrument. I just might end up buying every book you've written and I'll be giving my highest recommendation for your books to my friends and students. Thank you so much for taking the time to write such great books! — Peter Rhee
Aloha, Curt, All I can say is WOW! What you have accomplished is simply incredible! All the best — Glen Hirabayashi, The Aloha Boys
Folks, if you haven't stopped by Curt's site, do so right now! ..And get his books, they are fantastic. This guy knows his stuff and is able to pass it along too. — Alan Johnson Proprietor, The 4th Peg
I can highly recommend Curt's Uke books — I have four of them and they are excellent. — fatveg — Portland
Thanks for visiting and checking out the site!
Content is added and updated almost daily - so check back often.
LearningUkulele.com has one of the largest collections of lessons, songs, and TABS, luthiers, ukulele builders, ukulele festival and club information, and, ukulele links on the web. I've been on the ®Internet since the early 1990's and This site just never stops growing!!!