2020 Funky Frets Virtual Uke Fest
Friday October 2, 2020 • 6PM to 9PM & Saturday October 3, 2020 • 11AM to 8PM and Sunday, October 3, 20202 • Noon (12PM) (EDT, UTC-4 )
What is UTC? UTC is Coordinated Universal Time (or UTC) is the primary time standard by which the world regulates clocks and time. Basically we, East Coast USA are 4 hours behind UTC-0. UTC-0 is the time zone for Iceland, Ireland, United Kingdom, London, Madrid, Portugal, Algiers.
As we had to go virtual for our 6th Annual Funky Frets Uke Fest. And, as luck would have it, Curt - your LearningUkulele.com master mind, has been doing virtual lessons for several years, way before the COVID-19 Pandemic and LearningUkulele.com has the tech setup up to manage the festival.
This page will have the Artists, the Schedule, Zoom links, and all the resourdces you need for the festival.
NOTE: You'll need to register for this festival. This a tickted event with ALL the proceeds being split between the artists (excluding the cost of the t-shirts).
Funky Frets is having a fun Friday night welcome session with an oppurtunity to shop with our vendors. On Saturday we have a full day of workshops with two options at each time slot, artist Q&A round table disscussions, a ukulele jam, open mic and artist performances. This festival will be taking place on Zoom with links going active below the day of the festival. Attendees will also receive an email the week before with Zoom links and the password.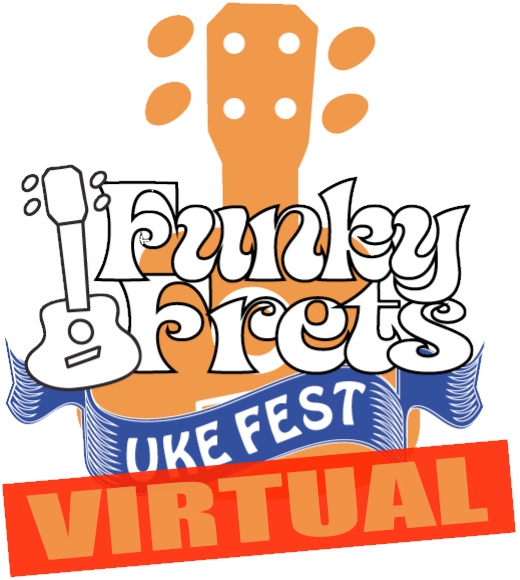 All donations will be split amoung our artists to help support them during a time of gigs being postponed and canceled. This virtual festival will showcase what these amazing artist have to offer in 2021. We don't want this years lineup to miss out on the special touches that Funky Frets Uke Fest has to offer in person, so we are excited to announce all of these artists are being invited back to join us in 2021 to strum and ride the rails with us next year.
A $25 donation get you access to the live Zoom sessions.
A $50 donations get you access to the live Zoom, a festival shirt, two weeks of the festival recording to rewatch and catch any sessions you missed. Also, a two week free Gold trial membership to www.learningukulele.com.
AFTER TICKET PURCHASE: After you purchase your ticket(s), we will see it and set you up with a LearningUkulele.com member account with access to the festival Zoom links . Your LearningUkulele.com membership will go active when we the week before the festival. The week before the festival you'll will also receive the Zoom password to access the actual sessions. You'll then have access till after the festival, depending on the donation/ticket you selected. If youb are a current member of LearningUkulele.com your membership remain active as it currently stands.
Any questions please email funkyfrets@gmail.com
Zoom links will be available to PAID festival attendees the week before the festival. The links on this schedule will be active the day of the festival. A password is required to join the Zoom Room and will be sent to all paid attendees.
Schedule
NOTE: All times are East Coast, USA (UTC -4). Festival will be broadcast using ZOOM. Links and password will be sent when you sign-up. Link will also be below.
What is UTC? UTC is Coordinated Universal Time (or UTC) is the primary time standard by which the world regulates clocks and time. Basically we, East Coast USA are 4 hours behind UTC-0. UTC-0 is the time zone for Iceland, Ireland, United Kingdom, London, Madrid, Portugal, Algiers.
Friday
• October 2, 2020
Friday Night: We will have a fun session with Funky Frets and some vendor opportunities.
All times are USA East Coast (UTC-4). Click on the Zoom icons to go to that Zoom Room. Links to rooms will be active that day of the festival and rooms will open 15 minutes before start of festival - FOR TICKET HOLDERS ONLY. Check your email (remember the spam area as well) for your password and links as it was mailed the week before.
Welcome Session
Get settled in and we'll go over how to navigate our virtual festival.

Learn to Cook Musubi With Wllliam & Bern
Funky Fret's own Bernadette Sheller (Bern) and William Ernestburg will entertain you and show you how to cook Musabi. Bring your uke and strum along throughout the cooking lesson.
Recipe link coming to cook along or try later.
Vendors Product Showcase and Q&A
Come join us for a vendor Q&A and showcase. Several of our traditional Funky Frets Uke Fest vendors will showcase what they have been up to.
Vendors will be able to setup Zoom appts for Saturday and Sunday.
Sparrow Ukulele
The Sparrow Instrument Company is a small family owned business located in Richmond, Virginia.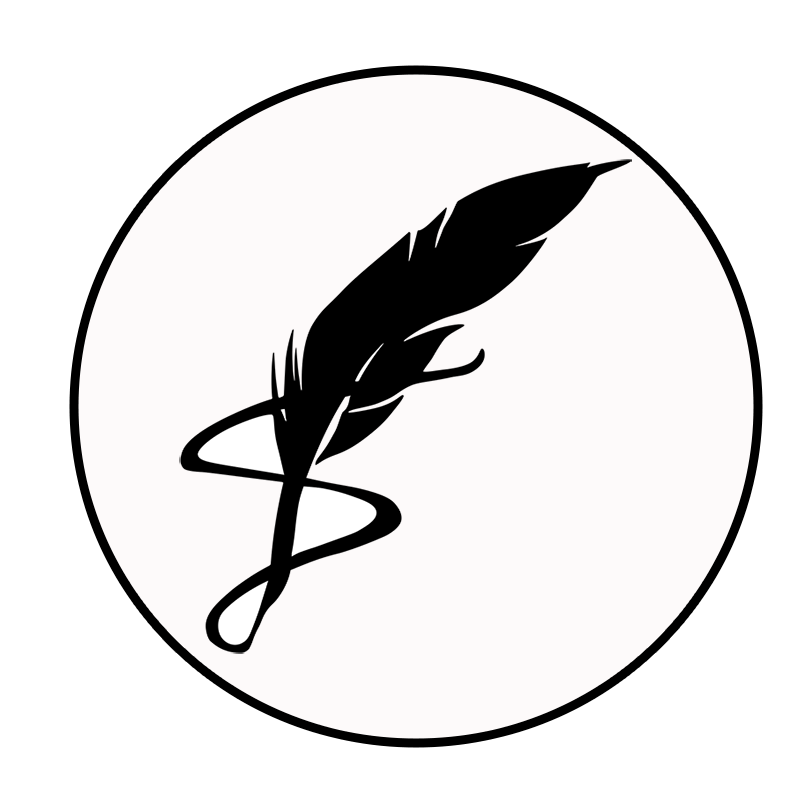 The Hug Strap, Melissa Nannen
Handmade, adjustable ukulele strap. The Hug Strap® is a ukulele strap that works without strap buttons on your waisted ukulele.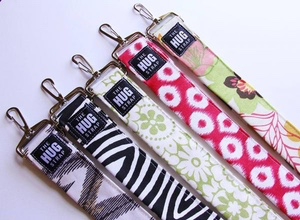 Debihula, Hawaiian Style
Hawaiian style handicrafts, Leis by Debi - Beautiful Leis made from Ribbons and Mini Tassel Dolls, Books written by Debi Velasco and Julie Julie Coleson.

Radical Artistic Treasures by Roy Cox
Rat ukes are constructed to make the best use of old, distinctive, sometimes broken, ukuleles.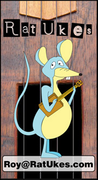 Saturday
• October 3, 2020
All times are USA East Coast (UTC-4). Click on the icons to go to that Zoom room. If you are already in the room for your next workshop, there is no need to leave and come back.
The numbers one and two are Virtual Zoom Room One and virtual Zoom Room Two for the workshops. There are two workshops going on at a time. We are recording the sessions and, if all turns out well you can view the workshops after the festival. The Open-Mic and Performances are ALL on Room One . Workshops and Q&A are in rooms one and two.
Welcome Session
Get settled in and we'll go over how to navigate our virtual festival.

Workshops
Introduction to Chord Melody from Scratch
with Christopher Davis-Shannon - All Levels
Turn your ukulele into a one man band! Learn the basics of combining melody and harmony to allow us to play two parts at once on this tiny instrument. In this workshop we will build a chord melody arrangment from the ground up, not just teaching an arrangement but breaking down aspects of how to build your own from scratch. Accessible to most levels of player that are confident with basic strumming and barre chords.
The Heart and the Brain of the Ukulele
with Uncle Zac - All Levels
Make A Uke Sound Like A Uke - This workshop is designed for any player and ukes of all sizes and tunings who wants to break out of first gear and learn some left and right hand techniques that will help your uke sing.

We will explore several tips & tricks from chord substitution to strumming rhythms to put a new set of tools in your "UkeBag" and take your playing to the next level.
Lunch & Open Mic
Lunch/Open Mic
Lunch is on you. That is one of the things that we could not figure our how to do virtual. But, if you tuned in on Friday night where William and Bern showed you how whip up some Musubi.
Lunch entertainment is on your fellow ukulele players and you. Be sure to sign-up for the Open-Mic. You only need one song. And, every ukulele player should have at least one song they can perform to show off the ukulele to the unknowning who haven't yet discover the power of the ukulele.
We have a limited number of Open Mic slots to be performed during the event. First come first serve. Once the slots are filled we will notify everyone. Please be ready to perform once song live during the Zoom session at 12:30pm Saturday 10/3.

Workshops
Beginner Fingerpicking
with Curt Sheller - All Levels
Exploring Basic Fingerstyle on Ukulele. Classical and Alternating Thumb style fingerstyle technique applied to ukulele.
This is now an entire series of lessons and a book dedicated to exploring fingerpicking on ukulele. The first book in the series is for Alternating Thumb Fingerpicking style. A systematic approach covering ALL aspects of this style.
Learn a Melody and Chord to Georgia On My Mind
with Bill Wynne - All Levels
Learn a melody and chord version "Georgia On My Mind.", the classic 1930 song written by Hoagy Carmichael and Stuart Gorrell.
Jim's Play Ukulele By Ear
with Jim D'Ville - All Levels
Jim has combined the most popular elements of his Play Ukulele By Ear #1 and #2 workshops into a sleek new presentation which offers the ear a delightful journey through some of the most popular chord progressions in western pop music. This is a hands on, ears on, play along session utilizing super familiar songs. Once you start learning songs this way you'll never go back to simply playing from the book.
Circle of Fifths For Dummies
with Rachel Manke - All Levels
"The painless version without the algebra.) - Heard about this mysterious thing that helps people learn to jam without having the sheet music?  We'll demystify it some and get the basic idea across.  For beginners.
Petey Mack Jam
Over 9 years ago Pete Mack fell in love. He fell in love with a little four stringed instrument that he had only witnessed people making fun of or using it for outdated music. Then he saw Jake Shimabukuro play in his now famous video, 'While My Guitar Gently Weeps' and that was it... Petey Mack's life was forever changed.
Petey Mack leads a great jam that will have you laughing and sings like you haven't before.
Artist Performances
Evening Wind Down with Artist Performances





Workshops
Ukulele Online
with Glen Hirabayashi - All Levels
Glen helps you explore and unravel the technology, hardware and software with some of the possibilities for playing ukulele, real-time and jamming online.
The Hawai'ian Songs of the Daily Uke Books
with William Ernestburg - All Levels
Learn a Hul with Debi and you can perform along with Debi in the final performances of the night.

The Power of Triads - You Already Know More Than You Think
with Curt Sheller - All Levels
At the heart of just about every chord is a triad. This workshop explores these powerful harmonic and melodic music gems.
We'll explore traditional and contemporary triads, starting with the triads you already know but don't know you already know. Finally learning what a sus2, sus4, add 2, add9 chord is. And, how to use them.
Triads can be used for everything from creating melodies and improvisation with single notes and chords all the way to creating contemporary songs.
Learn Hula with Debi
with Debi Velasco - All Levels
Learn a Huls with Debi and you can perform along with Debi in the final performances of the night. This is of the benefits of a virtual uke fest. You can do ti anonymously if you like.
Debi Velasco has over 30 years experience in teaching and performing Polynesian dances, including Hawaiian, Tahitian and Maori.
Artist Performances & Hula with Debi
Artist Performances, Festival Wrap-up & Perform Hula with Debi
Debi's Hula class and student performance is always a hit at our live festival. Nows, you chance for dancing shy among us, to dance the Hula with nobody else aware that you are dancing.







Sunday
• October 4, 2020
All times are USA East Coast (UTC-4). Click on the icons to go to that Zoom Room. Links to rooms will be day of the festival and rooms will open 15 minutes before start of festiva - FOR TICKET HOLDERS ONLY. Check your email (remember the spam area as well) for your password as it was mailed the week before.
Sunday Funky Frets Virtual Train Book Jam
Sunday: Although we are not doing the Strum-Along Train Ride as we do with the in-person festival. Doesn't mean we can't jam along virtually with the Funky Frets Train Book. Suzanne Kane will lead us all throught the jam. We'll be providing virtual train backgrounds you can use. aybe we'll sound a train whistle periodically to get a virtual experience.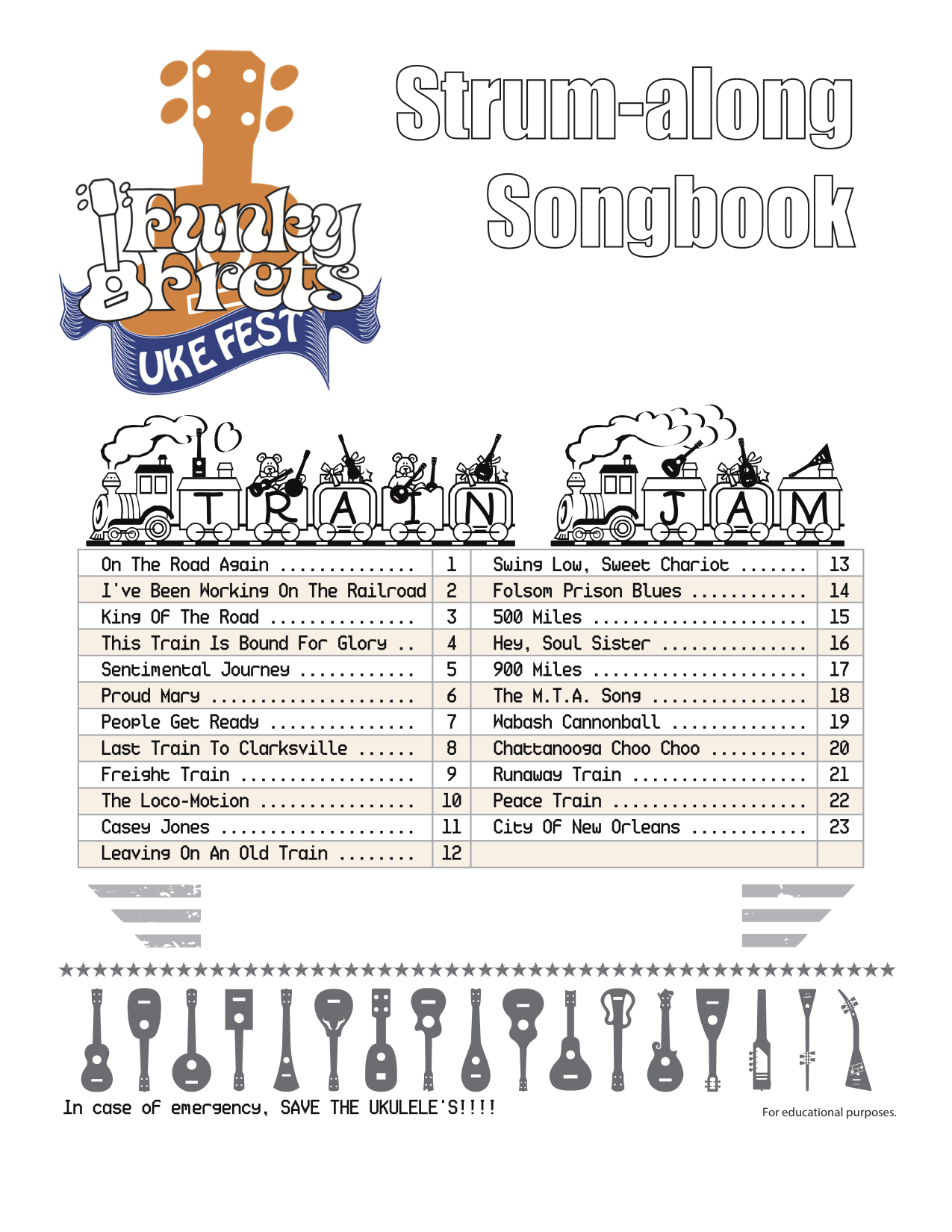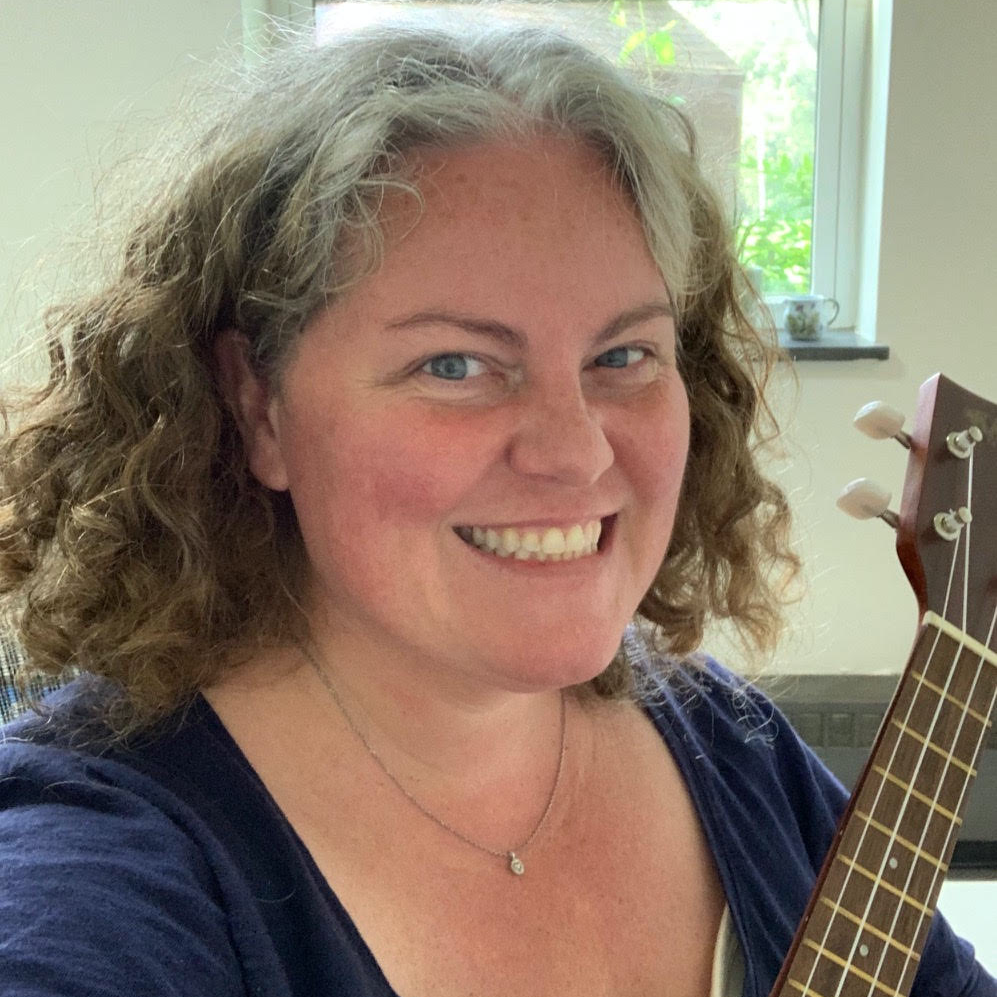 Thanks For Sticking Around and Supporting the 2020 Funky Frets Virtual Uke Fest & The Artists
That's a wrap for 2020 and what would have been the 6th Annual Funky Frets "In-Person" Uke Fest. But, thanks to the 2019-COVID/Cornovirus worldwide pandemic, a "New Normal" happened. Hopefully, we have an in-person festival for the 7th Annual Funky Frets Uke Fest and Funky Frets Music Store's tenth anniversary with all the great fest activities in-person and safe.
We'll be having the same artists with different workshops in 2021, and Ben Carr's finger should be healed by them. The perils and benefits of building your own house. "Gotta protect those hands, Ben - Curt"
Tune in to Funky Frets TV every Wednesday night at 7PM (UTC-4) for all the latest news and info going on around the ukulele community and Funky Frets.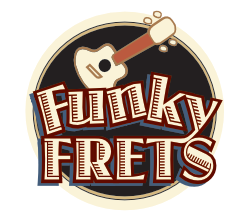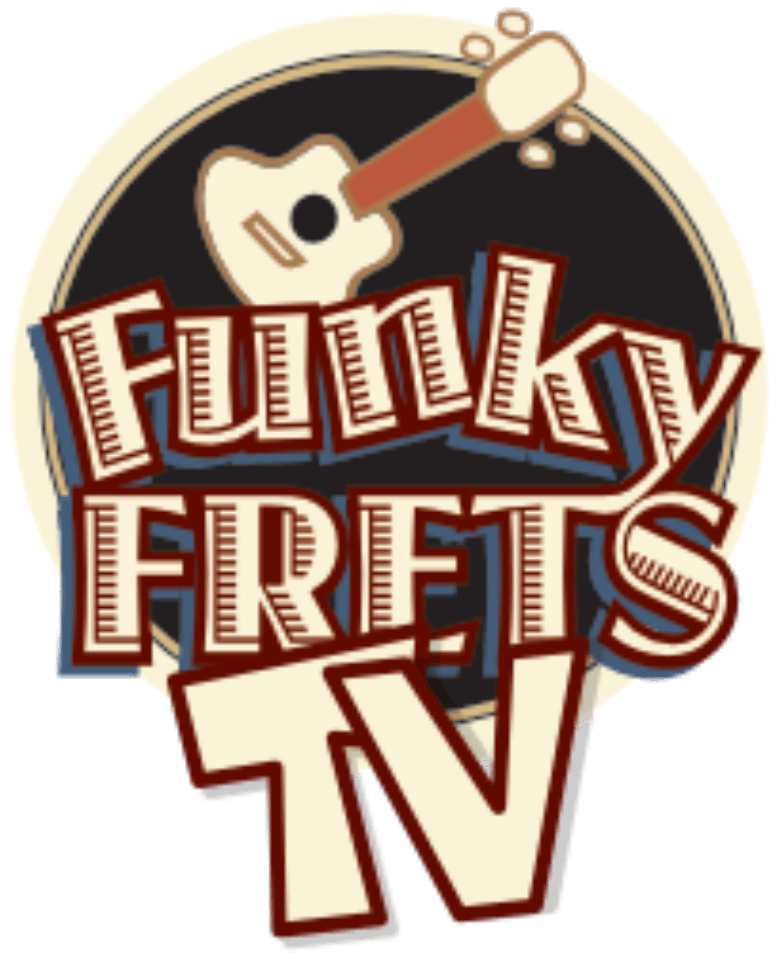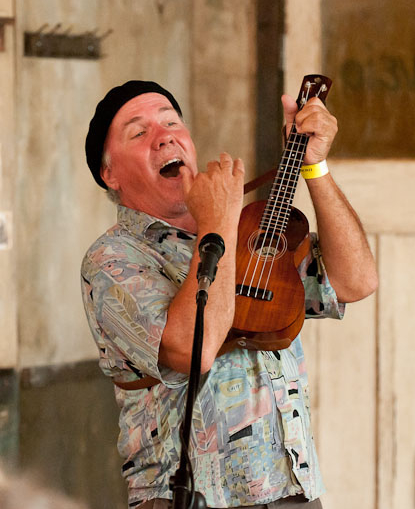 Jim D'Ville
Jim D'Ville is a music educator and facilitator who is on a mission to get ukulele players off the paper and playing music by ear. For nearly a decade Jim has taught his Play Ukulele By Ear workshops to thousands of players in the United States, Canada, Australia, and the United Kingdom. Jim has taught and performed at major ukulele events including the Ukulele Festival of Scotland, Kerrville Folk Festival, the NAMM Show, Melbourne (Australia) Ukulele Festival, West Coast Ukulele Retreat and many others. Jim is the author of the Play Ukulele By Ear DVD series and hosts the popular Play Ukulele By Ear website (www.PlayUkuleleByEar.com). Jim is a Contributing Editor to Ukulele (magazine) and is sponsored in-part by Ukulele (www.ukulelemag.com) and Aqulia Strings (aquilacorde.com/enz).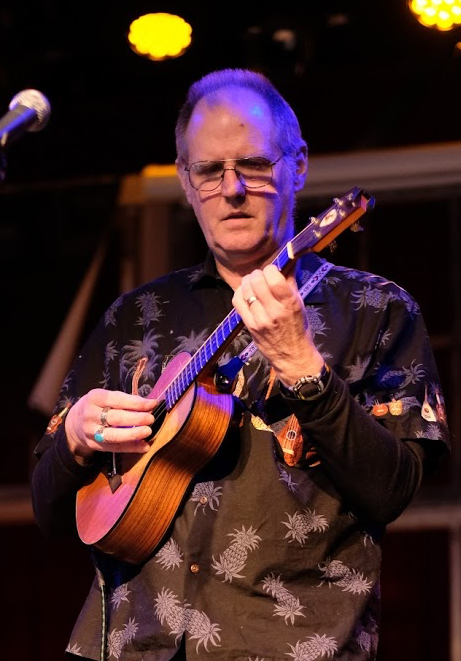 photo by Eric Max
Curt Sheller
With Curt's re-introduction to the ukulele after a 20 year break and taking advantage of his thirty plus years jazz guitar training and skills, he began pursuing the potential of the ukulele exploring instrumental music using the vast repertoire available from the traditional contemporary jazz repertoire and with a few originals thrown in for fun. Curt has developed an international reputation as a ukulele expert having written over 30 books for ukulele and over 600 lessons for the ukulele available on his LearningUkulele.com site.
As and author and private music teacher Curt created Curt Sheller Publications in 1995 and has been on the web since. Curt has over 40 years of playing experience and has been involved in private music education for the past 20 plus years.
Curt had the great privilege and honor of studying with Chuck Anderson for over 30 years. One of the most knowledgeable musicians you'll ever run into. Mainly studying jazz guitar, there was no subject off limits. Curt studied arranging, private teaching, 20th century harmony, performing and working with other musicians, and anything that would come up in the lessons.
www.CurtSheller.com www.LearningUkulele.com www.FunkyFrets.com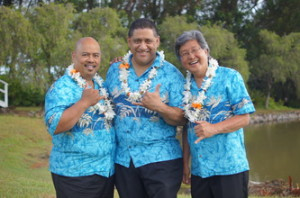 The Aloha Boys
Born and raised in Hawai'i and transplanted to the Washington D.C. area to pursue careers, The Aloha Boys, Glen Hirabayashi, Isaac Ho'opi'i and Irv Queja - met in 1996 while playing music for their children at Halau O 'Aulani, a school of Hawai'ian culture, in the Washington, D.C. area. A special and exciting bond grew musically among the Aloha Boys, who love to kanikapila or play an acoustic down-home, backyard-style Hawai'ian music, a style which includes everything from the very traditional to contemporary songs and styles. They all sing lead and backing vocals. Their voices blend in a nahenahe (soft pleasant) style. They have performed at numerous functions from backyard parties to concerts and at many venues including Carnegie Hall and on the National Mall at the openings of the World War II Memorial and the Smithsonian National Museum of the American Indian, the Kennedy Center Millenium Stage, the Barns at Wolf Trap, and in Rheims, France, Toronto, Canada, New York City, Boston, Philadelphia, Baltimore, Charlotte, Southern California and Hawai'i. In Hawai'i, their peformances include Pakele Live, the Gabby Festival, Slack Key Guitar Festival O'ahu Style, and Slack Key Guitar Festival, Virginia Style. The music of the Aloha Boys brings them and their audience back to a lifestyle that is unique and precious to Hawai'i.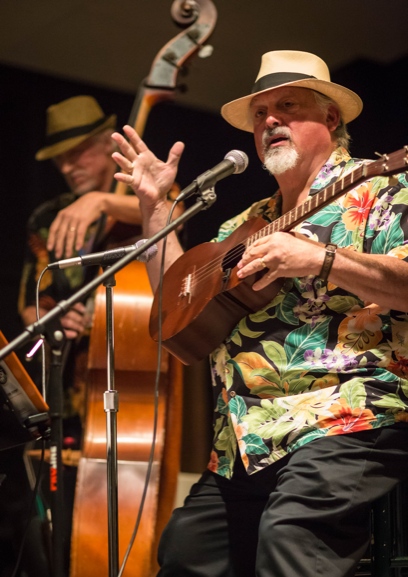 Uncle Zac
"UncleZac" is a Fairfield County CT ukulele performer and teacher who has played the uke for over 50 years. He has a wide range of styles and materials that he performs and teaches. He has performed in several bands including Sharkey & the unknowns, a local 50 s and 60 s oldies group, Tim Currie's Mowtown Band, Roswell & the Ukulaliens, a five piece ukulele band, The NY Ukulele Ensemble, "uke consultant" to the Darien High School Ukulele Group and leader of the Laphalele's, a senior uke ensemble in New Canaan , CT. He presently fronts a trio performing uke & vocals with sax/clarinet/flute and upright base known as UncleZac & the ZacTones
Unclezac is the author of two chord charts, "Bari to Soprano and Back Ukulele Chord Chart" and The Ultimate Chord Inversion Chart for Ukulele" distributed by The Magic Fluke Company.
UncleZac is the author of several chord charts, "Bari to Soprano and Back Ukulele Chord Chart" and The Ultimate Chord Inversion Charts for Ukulele. In addition to teaching private and group lessons, he has also presented several workshops and performed at venues including The New York Uke Fest, The Tampa Bay Uke Fest, The New Jersey Folk Project Uke Fest, The Fort Lauderdale Uke Fest and The Funky Frets Uke Fest in 2015.
He plays music from Leon Redbone to Jimmy Buffett to Allan Sherman and more. Primarily a bari player, he never travels with only one uke because as uke legend, Fred Fallin, says, "each one has a different voice", a necessity for different songs, so bring more than one.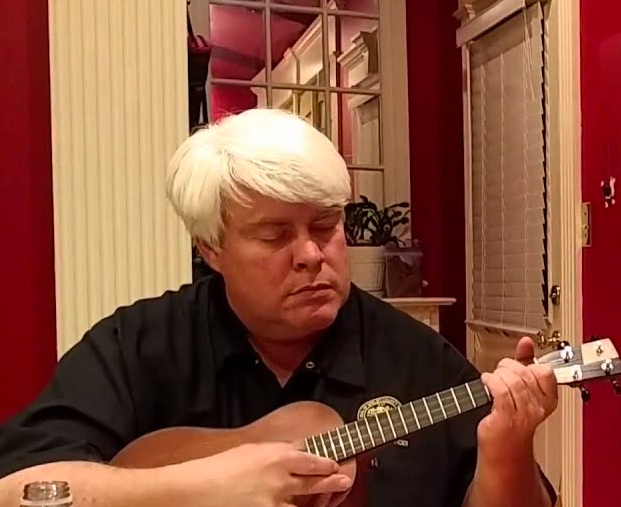 Petey Mack
Over 8 years ago I fell in love. I fell in love with a little four stringed instrument that I had only witnessed people making fun of or using it for outdated music. Then I saw Jake Shimabukuro play in his now famous video, 'while my guitar gently weeps' and that was it… my life was forever changed.
I bought one that night and waited very impatiently for it to show up. I looked up everyone I could find on YouTube to learn the ways of this fascinating new instrument I was enjoying… And some of these first people I made contact with, I am still great friends with after all these years.
I am a people loving, easy going country boy from the southern states of America. My approach to the ukulele follows my own 'kiss' theory.. Which is 'keep it simple, and strum' meaning make every thing as simple as you can, and most importantly enjoy yourself. I tell all my students that I have only one rule and it's my rule #1…
Q: What's my Rule #1?
A: Yah gotta have FUN!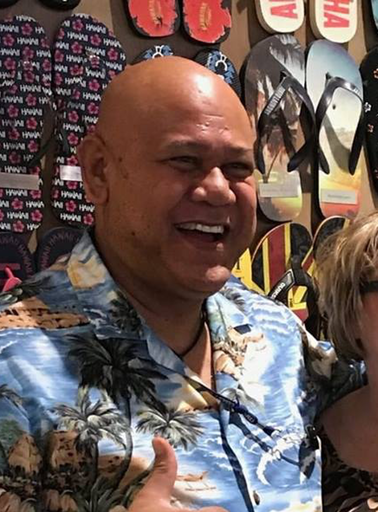 William Ernestburg
William Ernestburg is from From Laie, Oahu, Hawaii. He is a proud graduate of Kahuku High School. William served in the United States Coast Guard with distinction for 30 years.
William is a member of the Hawaii State Society (HSS), the HSS 'Ukulele Hui', and Halau O'Aulani.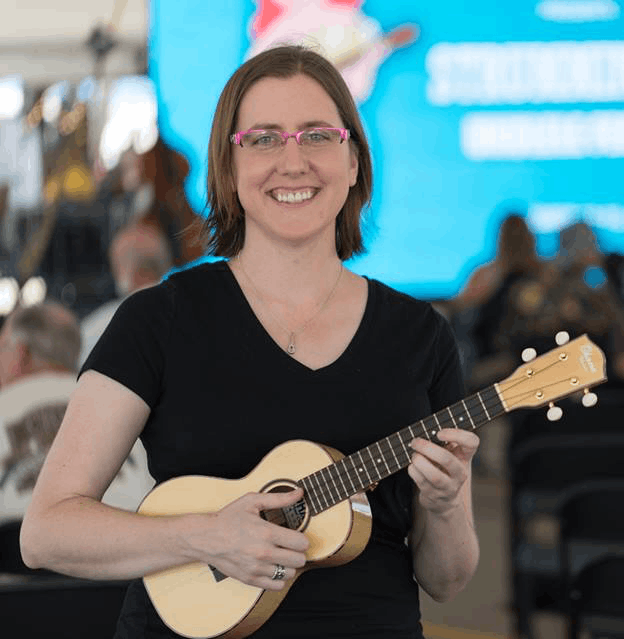 Rachel Manke
Rachel Manke began playing the uke in 1999, in preparation of Y2K, when we were all supposed to become nomads following a complete technology meltdown. Well, alright, that was silly. Still, it turned out to be a good decision.
She started on a $25 Hilo soprano and first connected to the uke world via the founders of the Ukulele Hall of Fame Museum. Rachel studied a bit with Joel Eckhaus (student of Roy Smeck) and wandered and has dabbled here and there learning to play. She has a penchant for Tin Pan Alley, Old Time music and the fancy old-school uke chord solo flourish. Favorite recent gigs include the Boston Ukulele Union Ukulele Melee, Silver Creek International Ukulele Carnival and A Prairie Home Companion.
Rachel presently lives in Richmond, VA. If you want to know more about her... well that's what Google is for.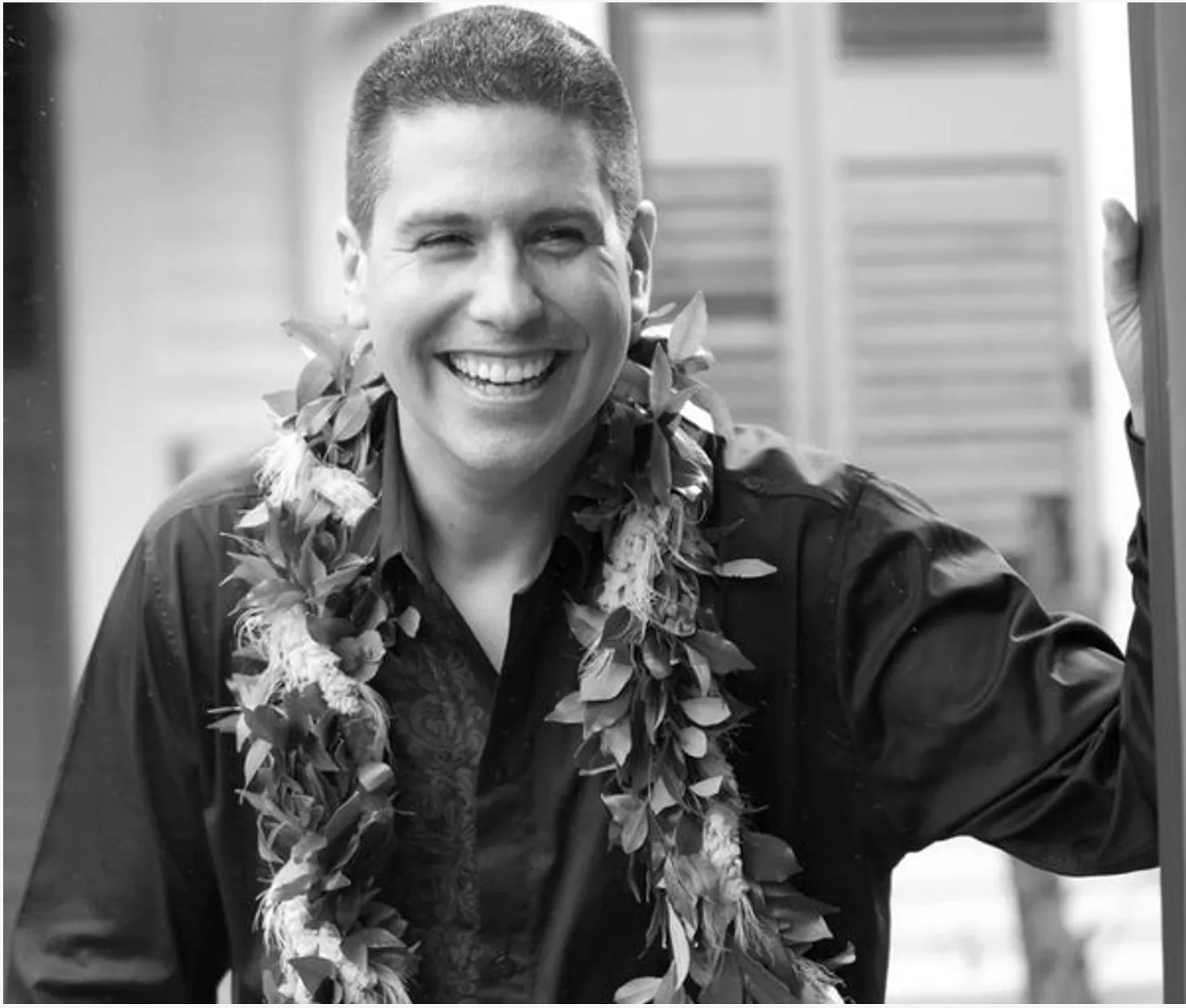 Bill Wynne
For over 45 years, Philadelphia native Bill Wynne has shared the music and culture of Hawaii with audiences from Carnegie Hall to the Monarch Room of the Royal Hawaiian Hotel in Waikiki. An expert in slack key guitar, steel guitar, and ukulele, Wynne is best known for his exceptional skill in the traditional Hawaiian art of falsetto singing for which he was awarded first prize – a Hula Records recording contract – in the 2005 Aloha Festivals Falsetto Contest. Wynne learned practically everything he knows about Hawaiian music through the careful study of recordings – a collecting frenzy which has a resulted in an enviable library of more than 25,000 rare Hawaiian music recordings which he now shares via his 24-hour-a-day internet-based radio station, Ho`olohe Hou Radio (www.hoolohehou.com). Wynne has twice hosted his own TV specials from Honolulu as part of the Pakele Live series and appeared more than 20 times at the New York Botanical Gardens as part of its "Visions of Hawaii" exhibit.
Ho`olohe Hou Radio - Bill Wynne's 24 hour-a-day Internet Radio Station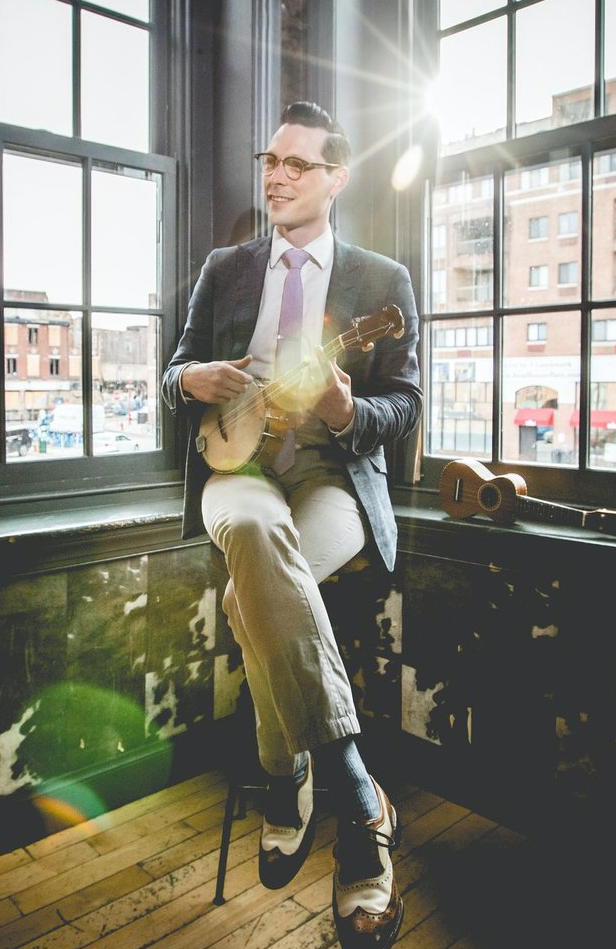 Christopher Davis-Shannon
Christopher Davis-Shannon's music is the essence of honest simplicity. Bringing together influence ranging from Fats Waller to Chet Baker, he creates an atmosphere that will instantly transport you back to jazz clubs, and speakeasies of the early 20th century. Not Content being labelled a traditionalist, he forges ahead breathing new li
fe into old classics, weaving together a sound that is enjoyed by both young and old.
As a multi-Instrumentalist, songwriter, and educator, based in Philadelphia, Davis-Shannon maintains a steady tour schedule with his own music as well as a sideman for various acts. He brings to the stage not just the pure joy of music, but a vast knowledge of the history behind the songs that he holds close to his heart. His intricate instrumental work and plaintive vocals are infused with soulfulness which cannot be faked, and a respect for his predecessors which is rarely equaled.
Mike Batchelor at Kettle Pot Tracks may have said it best:
"Christopher writes good songs, plays the crap out of them, and smiles every second he's doin' it. Let this guy into your lives a little, and be better for it!"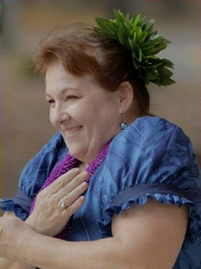 Debi Velasco
Debi Velasco has over 30 years experience in teaching and performing Polynesian dances, including Hawaiian, Tahitian and Maori.
NOTE: Each higher access level includes ALL the benefits of the lower levels. Private Lessons include all the benefits of a Premium Access Plans as long as you remain a student on the schedule.
Just browsing over both books, they look fantastic! I'm a guitarist and uke player for over 25 years and was thinking about writing a ukulele book but you've already written what I think are the best, most comprehensive and thorough books I've ever seen for the instrument. I just might end up buying every book you've written and I'll be giving my highest recommendation for your books to my friends and students. Thank you so much for taking the time to write such great books! — Peter Rhee
Aloha, Curt, All I can say is WOW! What you have accomplished is simply incredible! All the best — Glen Hirabayashi, The Aloha Boys
Folks, if you haven't stopped by Curt's site, do so right now! ..And get his books, they are fantastic. This guy knows his stuff and is able to pass it along too. — Alan Johnson Proprietor, The 4th Peg
I can highly recommend Curt's Uke books — I have four of them and they are excellent. — fatveg — Portland
Thanks for visiting and checking out the site!

Original Curtie Animation from 1987 for my first web site on a Macintosh II.
33 years ago.
"Built for myself (Curt), and sharing with the `Ukulele community!"
LearningUkulele.com has one of the largest collections of lessons, songs, and TABS, luthiers, ukulele builders, ukulele festival and club information, and, ukulele links on the web. I've been on the ®Internet since the early 1990's and This site just never stops growing!!!
Content is added and updated almost daily - so check back often.