See/show the Sidebar Navigation Panel for more links regarding songs.
This is from Wikipedia and an interesting take on styles.
( from WidipediA ) Music can be divided into many genres different ways. These classifications are often arbitrary and closely related styles often overlap. Many[who?] do not believe that generic classification of musical styles is possible in any logically consistent way, and also argue that doing so sets limitations and boundaries that hinder the development of music. While no one doubts that it is possible to note similarities between musical pieces, there are often exceptions and caveats associated. Labeling music with genres often do not reflect a specific culture, race, or time period. Larger genres comprise more specific sub genres.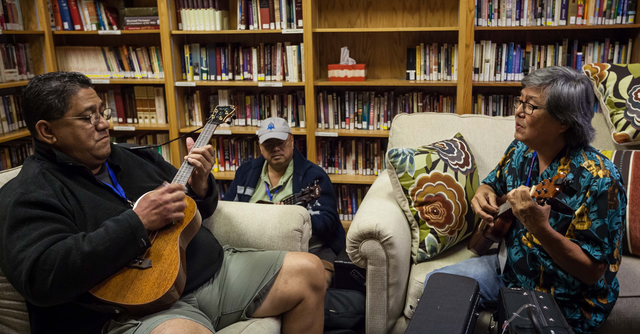 Music Styles / Genres and How to Play Them on Ukulele
Bluegrass
Bluegrass music is a form of American roots music, and a related genre of country music. Influenced by the music of Appalachia, Bluegrass has mixed roots in Irish, Scottish, Welsh, and English traditional music, and was also later influenced by the music of African-Americans through incorporation of jazz elements.
Bluegrass songs are typically up-tempo and in Cut Time .
As far as strumming on the guitar is's a bass note chord bass note chord. On ukulele it needs to be simulated as there are no real bass notes on a ukulele. So the strum is more like what is done on the mandolin. On mandolin a player will do a shorter stroke on beats one and three on the lower strings in a more staccato style and a fuller chord on beats two and four. This gives the illusion of the bass note chord style. Think Boom, Chick, Boom, Chick. Bluegrass can also be performed fingerstyle using the alternating thumb style with the thumb plucking a single note and the finger pinching or strumming multiple strings. THis really points to the low string four tuning to get close to playing in the Bluegrass style.
Lesson: Alternating Thumb Style
Blues
Blues are at the heart of all American music. be it Rock, Country, Folk, Pop or Jazz. There is a blues component and influence that can be found in all those styles.
Blues is a genre and musical form that originated in African-American communities in the "Deep South" of the United States around the end of the 19th century. The genre is a fusion of traditional African music and European folk music, spirituals, work songs, field hollers, shouts and chants, and rhymed simple narrative ballads. The blues form, ubiquitous in jazz, rhythm and blues and rock and roll, is characterized by the call-and-response pattern and specific chord progressions, of which the twelve-bar blues is the most common. The blue notes are also an important part of the sound. Blues shuffles or walking bass reinforce the trance-like rhythm and form a repetitive effect called a groove.
The Blues Section of LearningUkulele.com
Bossa Nova
Bossa Nova , Bossa for short, is a genre of Brazilian music, which developed and was popularized in the 1950s and '60s and is today one of the best-known Brazilian music genres abroad. The phrase bossa nova means literally "new trend". A lyrical fusion of samba and jazz, bossa nova acquired a large following in the 1960s, initially among young musicians and college students.

Bossa nova is most commonly performed on the nylon-string classical guitar, played with the fingers rather than with a pick.

Lesson: Learning the Bossa Nova Style
Cha Cha
Cha Cha as a dance music genre, cha-cha-chá is unusual in that its creation can be attributed to a single composer, Enrique Jorrín, then violinist and songwriter with the charanga band Orquesta América. This rhythm was developed from the danzón-mambo
Latin
In the Rock and Pop worlds, latin typically refers to Latin Rock - a pseudo style up to the player to interpret.
In the Jazz work it needs to be more specific. Such as: Samba, Bossa, Cha Char, Rumba, Merengue, etc...
Latin Jazz
Latin Jazz is a genre of jazz with Latin American rhythms. Many od the styles below would fall into this category. And needs more specifics.
Merengue
Merengue is a type of music and dance originating in the Dominican Republic which has become one of the most popular genres throughout Latin America and major cities in the United States
Reggae
Reggae is a music genre that originated in Jamaica in the late 1960s. While sometimes used in a broad sense to refer to most types of popular Jamaican dance music, the term reggae more properly denotes a particular music style that was strongly influenced by traditional mento and calypso music, as well as American jazz and rhythm and blues, especially the New Orleans R&B practiced by Fats Domino and Allen Toussaint, and evolved out of the earlier genres ska and rocksteady.
Rumba
During the second half of the 19th century, several secular dance-oriented music styles were developed by Afro-Cuban workers in the poor neighborhoods of Havana and Matanzas. These syncretic styles would later be referred to as "rumba", a word that also meant "party". Traditionally, the three main styles of rumba are yambú, columbia and guaguancó, each of which has a characteristic dance, rhythm and singing.
Samba
Samba is a Brazilian musical genre and dance style originating in Brazil, with its roots in Africa via the West African slave trade and African religious traditions, particularly Angola and the Congo. Although there were various forms of samba in Brazil in the form of various popular rhythms and regional dances that originated from the drumming, samba as music genre is seen as a musical expression of urban Rio de Janeiro, then the capital of Imperial Brazil.
Ska
Ska is a music genre that originated in Jamaica in the late 1950s and was the precursor to rocksteady and reggae. Ska combined elements of Caribbean mento and calypso with American jazz and rhythm and blues. It is characterized by a walking bass line accented with rhythms on the upbeat. Ska developed in Jamaica in the 1960s when Prince Buster, Clement "Coxsone" Dodd, and Duke Reid formed sound systems to play American rhythm & blues and then began recording their own songs. In the early 1960s, ska was the dominant music genre of Jamaica and was popular with British mods
Swing
Swing music, or simply swing, is a form of American music that developed in the early 1930s and became a distinctive style by 1940. Swing uses a strong rhythm section of double bass and drums as the anchor for a lead section of brass instruments such as trumpets and trombones, woodwinds including saxophones and clarinets, and sometimes stringed instruments such as violin and guitar, medium to fast tempos, and a "lilting" swing time rhythm. The name swing came from the phrase 'swing feel' where the emphasis is on the off–beat or weaker pulse in the music.
Food for thought: "Rock is 2 and Jazz is 3."
Tango
Tango is a style of music in 2/4 or 4/4 time that originated among European immigrant populations of Argentina and Uruguay (collectively, the "Rioplatenses"). It is traditionally played on a solo guitar, guitar duo, or an ensemble, known as the orquesta típica, which includes at least two violins, flute, piano, double bass, and at least two bandoneóns. Sometimes guitars and a clarinet join the ensemble. Tango may be purely instrumental or may include a vocalist. Tango music and dance have become popular throughout the world.
Waltz
A waltz (German: Walzer; French: Valse, Italian: Valzer, Spanish: Vals, Polish: Walc), probably deriving from German Ländler, is dance music in triple meter, often written in 3/4 time. A waltz typically sounds one chord per measure, and the accompaniment style particularly associated with the waltz is (as seen in the example to the right) to play the root of the chord on the first beat, the upper notes on the second and third beats.
A song can be in 3/4 and not be a waltz. Simply treat is as any 4/4 style but 3 beats not 4.
Jazz Waltz
Jazz Waltz is a style played in 3/4 time. It's a two bar pattern with the first bar is eight, quarter eight quarter and the second bar is the traditional three quarter notes. It does however have a distant bass note pattern as shown in the music notation below which suggest a Low string four tuning. Example is shown using C Tuning with a Low G.
As this is a bass notes / chord style fingerstyle is a great technique to execute this pattern.
NOTE: Each higher access level includes ALL the benefits of the lower levels. Private Lessons include all the benefits of a Premium Access Plans as long as you remain a student on the schedule.
---
Just browsing over both books, they look fantastic! I'm a guitarist and uke player for over 25 years and was thinking about writing a ukulele book but you've already written what I think are the best, most comprehensive and thorough books I've ever seen for the instrument. I just might end up buying every book you've written and I'll be giving my highest recommendation for your books to my friends and students. Thank you so much for taking the time to write such great books! — Peter Rhee
Aloha, Curt, All I can say is WOW! What you have accomplished is simply incredible! All the best — Glen Hirabayashi, The Aloha Boys
Folks, if you haven't stopped by Curt's site, do so right now! ..And get his books, they are fantastic. This guy knows his stuff and is able to pass it along too. — Alan Johnson Proprietor, The 4th Peg
I can highly recommend Curt's Uke books — I have four of them and they are excellent. — fatveg — Portland
Thanks for visiting and checking out the site!
Original Curtie Animation from 1987 for my first web site on a Macintosh II. 34 years ago. Man, does time fly.
"Built for myself (Curt), and sharing with the `Ukulele community!"
LearningUkulele.com has one of the largest collections of lessons, songs, and TABS, Luthiers, ukulele builders, ukulele festival and club information, and, ukulele links on the web. I've been on the ®Internet since the early 1990's and This site just never stops growing!!!
Content is added and updated almost daily - so check back often. I really do need to get out more ;-)