Getting Started Series of `Ukulele Lessons
Published: 01 Jan 2003 Updated: 01 Jul 2023 • Visits: 2244 • Code: ULB01
The aim of this series of lessons is to provide comprehensive guidance for beginners embarking on their ukulele journey.
Our goal, both for you and for me, is to establish a solid foundation that will support your future learning and growth as a musician with a focus on the ukulele. And, YES!, you are now a musician who's main instrument is the `Ukulele.
Whether you are starting from scratch or a seasoned player looking to refresh your knowledge of the fundamentals, this lesson series will prove immensely beneficial. It will equip you with the essential skills, knowledge, and techniques required to establish a strong base for your ukulele playing. Furthermore, for those with more experience, it offers an opportunity to reinforce your understanding and expand your ability to assist and provide valuable advice to other players.
Before You Pick Up Your Ukulele
START HERE: If you are brand new to the ukulele or in a position to help others create a solid foundation of the basics the UkuleleLessonSeries: Before You Pickup Your Uke, Getting Started Basics is a good place to start before starting this series of lessons.
At LearningUkulele.com, you have full autonomy over the pace at which you navigate the lessons and materials. It is essential to proceed at a speed that feels comfortable to you and to set realistic, achievable goals. Each lesson has been carefully designed to progressively enhance your understanding, and they are interconnected. Therefore, it is crucial to allocate adequate time to each task. Rushing through or skipping sections may lead to challenges and difficulties in the future. By taking shortcuts or jumping ahead, you risk overlooking significant concepts and valuable information. Remember, it is advisable to embrace a patient and thorough approach to ensure comprehensive learning and to avoid missing out on essential elements.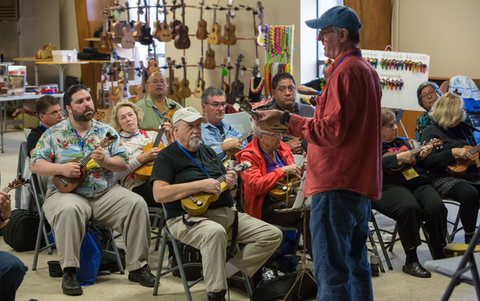 When it comes to suggesting and recommending lessons without the advantage of a personalized evaluation from a qualified teacher, it can be a challenging task. Similar to how a book cannot cater to the unique goals and needs of every individual, a series of lessons must cover a broad range of material in a somewhat general manner. Consider each set of lessons as a menu of options from which you can select based on your interests and requirements.
Currently, there are nearly 800 online ukulele lessons available, and this collection continues to grow. Over the years, I have meticulously crafted these lessons to encompass a wide range of topics and tasks. If you are unable to find a particular topic or task you are seeking, there is a high probability that LearningUkulele.com offers relevant content or can create a lesson that is specifically tailored to meet your needs.
Registered Members Only Access
9 Lessons in the "Getting Started Series of `Ukulele Lessons" Series
Viewing the lessons in this Lesson Series is only available to Registered visitors with a Verified email address. This is all in an effort to cut down on the amount of spam registrations that we've been receiving.
The lessons are also available individually in the Lessons area of the site. A Lesson series simply organizes these lessons into a logical sequence for learning.