Tune-up
With so many electronic tuners available and at affordable prices. There is no reason to be playing out of tune. Always remember you are training you ear and need to feed it accurate information.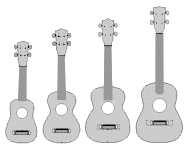 Any tuning is possible on a ukulele as long as the ukulele's construction supports it and a string is available.
There are three somewhat common tunings in popular use today, C, D and G tuning - with C tuning the most popular - with a a few different names.
Re-entrant ukulele tuning?
If coming from the guitar where the strings are tuned low to high, ofter called a linear tuning. An instrument like the ukulele with a re-entrant tuning where the lowest note of the instrument might not be the lowest string can seem a little strange at first. This re-entrant tuning, which places all the notes of a chord within one octave is part of the unique ukulele sound. This is especially for the smaller soprano and concert ukuleles.

For C Tuning ( G C E A ) the above fretted notes are ALL the exact same pitches when using the re-entrant tuning. And when using a low G string the note on the string four is one octave lower than the re-entrant tuning's string four.
To tune the ukulele relative to its self, compare the fretted notes on strings four ( closest to your nose ), three and two to the open string. Tune up or down to the match this open string's note.
No Excuse For Being Out Of Tune
Web Sites to Tune Up At
Software and iPhone/iPad apps
Here are a few of the software tuners I've used. - The Peterson iStroboSft is the software tuner I currently use.
- or - just buy an electronic tuner and get in-tune quickly and accurate.
Recommended Tuners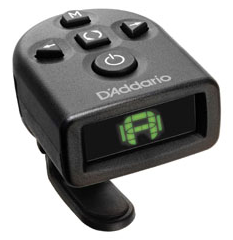 The Planet Waves, NS Micro Headstock Tuner is my favorite tuner. I have it on all my performance ukuleles. As well as the new Peterson StroboClip HD. I really have grown to like strobe tuners.
At our family music store, Funky Frets in Boyertown, PA USA we carry a lot of clip-on tuners and the one I carry with me all the time is either the Fender FT-004 or Ko'olau's O'ahu Chromatic Tuner. I clip one on in the morning at home as part of my `Ukulele uniform for the day. The repair and setup bench always has a Peterson Strobe Tuner fired up.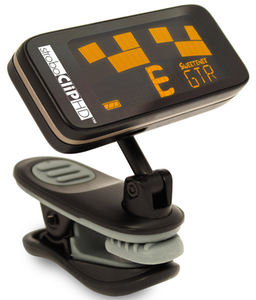 Planet Waves
Accessories
In 1994, Howard and Robert Silagy started a small guitar strap company in Hicksville, N.Y. Their approach to business was simple: make attractive, durable straps using high-quality materials and people will buy them. Over the next four years, the company grew, with sales skyrocketing because of the growing popularity of Planet Waves colorful, attractive designs and the line's thick, heavy-duty leather tabs.


Peterson Electro-Musical Products, Inc.
Strobe Tuners
In 1948, 10 years after the invention of the strobe tuner, Chicago-based Peterson Electro-Musical Products began building instrument tuners under the direction of Dick Peterson, a pioneer of solid state electronics. The first Peterson tuner was the Model 150 in 1952. This was updated to become the Model 200 in 1959 and the design was advanced to solid state with the Model 300 in 1966.


Pono
Manufactures
Pono instruments are professionally designed and handcrafted by the Ko'olau Guitar and `Ukulele Company on the Island of Java, with final adjustments and set-up on the Island of Oahu, Hawaii.


Fender Musical Instruments Corporation (FMIC)
Manufactures
Fender Musical Instruments Corporation (FMIC) is the world's leading guitar manufacturer, and its name has become synonymous with all things rock 'n' roll. Iconic Fender® instruments such as the Telecaster®, Stratocaster®, Precision Bass® and Jazz Bass® guitars are known worldwide as the instruments that started the rock revolution, and they continue to be highly prized by today's musicians and collectors.
FREE Plan - A limited selection of basic lessons ( currently over 140 ) and 100+ songs for ukulele as well as basic general music reference material — Completely FREE — Simply Register/Signup to access associated lessons, books, songs and their related assets.
---
NOTE: Each higher membership level includes ALL the benefits of each of the lower levels of membership. The Private Lesson Plans include all the benefits of the Premium Access Plans
Just browsing over both books, they look fantastic! I'm a guitarist and uke player for over 25 years and was thinking about writing a ukulele book but you've already written what I think are the best, most comprehensive and thorough books I've ever seen for the instrument. I just might end up buying every book you've written and I'll be giving my highest recommendation for your books to my friends and students. Thank you so much for taking the time to write such great books! — Peter Rhee
Aloha, Curt, All I can say is WOW! What you have accomplished is simply incredible! All the best — Glen Hirabayashi, The Aloha Boys
Folks, if you haven't stopped by Curt's site, do so right now! ..And get his books, they are fantastic. This guy knows his stuff and is able to pass it along too. — Alan Johnson Proprietor, The 4th Peg
I can highly recommend Curt's Uke books — I have four of them and they are excellent. — fatveg — Portland
Thanks for visiting and checking out the site!

Original Curtie Animation - 1987 for my first web site
31 years ago years ago.
Content is added and updated almost daily - so check back often.
LearningUkulele.com has one of the largest collections of lessons, songs, and TABS, luthiers, ukulele builders, ukulele festival and club information, and, ukulele links on the web. I've been on the ®Internet since the early 1990's and This site just never stops growing!!!