Alternate Fingerings for F7
Alternate fingerings for F7 in C tuning. The same fingerings would apply to C7 in G tuning and G7 in D tuning.
These are taken from the Ukulele Chord of the Week lessons presented 2007.
Additional Content
Available for Premium Site Access Plans Only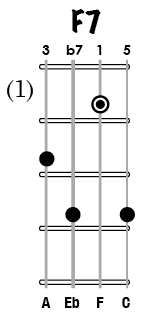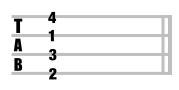 Chord Fingering (Strings 4 3 2 1)
2 3 1 4 - The most common fingering.
T 3 1 4 - I saw Pops Bayless of Shorty Long play it this way.
The F7 chord is a seventh chord (shown in "C" Tuning gCEA or GCEA). Sometimes inaccurately referred to as a dominant seventh chord.
Seventh chord A seventh chord is a chord or triad which has a note the seventh above the tonic in it. In its earliest usage, the seventh was introduced solely as an embellishing or non-chord tone. The seventh destabilized the triad, and allowed the composer to emphasize movement in a given direction. As time progressed and the collective ears of the western world became more accustomed to dissonance, the seventh was allowed to become a part of the chord itself, and in some modern music, and jazz in particular, nearly every chord is a seventh chord. The next natural step in composing tertian chords is to add the note a third above the fifth of the chord, or the seventh of the chord.
WidipediA link
End of Lesson - Thanks, Hope You Enjoyed It!
Related Lessons, Videos, Lesson Series, Songs, Books & Reference Charts, Resources & Assets, Workshops are below.