Alternate Fingerings for F7
The same F7, C tuning fingerings would apply to C7 in G tuning and G7 in D tuning.
PUBLISHED: Jan 2, 2005 UPDATED: Jan 19, 2014 • VIEWS: 3 • LESSON CODE: UL118 •
Instruments: ukulele Subjects: intermediate • advanced • jazz • chords
Alternate Fingerings for F7
Alternate fingerings for F7 in C tuning. The same fingerings would apply to C7 in G tuning and G7 in D tuning.
These are taken from the Ukulele Chord of the Week lessons presented 2007.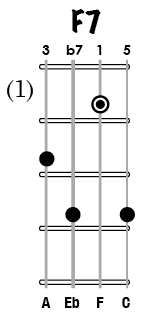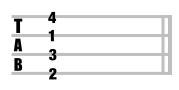 Chord Fingering (Strings 4 3 2 1)
2 3 1 4 - The most common fingering.
T 3 1 4 - I saw Pops Bayless of Shorty Long play it this way.
The F7 chord is a seventh chord (shown in "C" Tuning gCEA or GCEA). Sometimes inaccurately referred to as a dominant seventh chord.
Seventh chord A seventh chord is a chord or triad which has a note the seventh above the tonic in it. In its earliest usage, the seventh was introduced solely as an embellishing or non-chord tone. The seventh destabilized the triad, and allowed the composer to emphasize movement in a given direction. As time progressed and the collective ears of the western world became more accustomed to dissonance, the seventh was allowed to become a part of the chord itself, and in some modern music, and jazz in particular, nearly every chord is a seventh chord. The next natural step in composing tertian chords is to add the note a third above the fifth of the chord, or the seventh of the chord.
WidipediA link
NOTE: Each higher access level includes ALL the benefits of the lower levels. Private Lessons include all the benefits of a Premium Access Plans as long as you remain a student on the schedule.
Just browsing over both books, they look fantastic! I'm a guitarist and uke player for over 25 years and was thinking about writing a ukulele book but you've already written what I think are the best, most comprehensive and thorough books I've ever seen for the instrument. I just might end up buying every book you've written and I'll be giving my highest recommendation for your books to my friends and students. Thank you so much for taking the time to write such great books! — Peter Rhee
Aloha, Curt, All I can say is WOW! What you have accomplished is simply incredible! All the best — Glen Hirabayashi, The Aloha Boys
Folks, if you haven't stopped by Curt's site, do so right now! ..And get his books, they are fantastic. This guy knows his stuff and is able to pass it along too. — Alan Johnson Proprietor, The 4th Peg
I can highly recommend Curt's Uke books — I have four of them and they are excellent. — fatveg — Portland
Thanks for visiting and checking out the site!

Original Curtie Animation from 1987 for my first web site on a Macintosh II.
33 years ago.
"Built for myself (Curt), and sharing with the `Ukulele community!"
LearningUkulele.com has one of the largest collections of lessons, songs, and TABS, luthiers, ukulele builders, ukulele festival and club information, and, ukulele links on the web. I've been on the ®Internet since the early 1990's and This site just never stops growing!!!
Content is added and updated almost daily - so check back often.