Acoustic Amplifiers Manufacture Ukulele


AER Audio Electric Research
USA / Canada Distributor
Musiquip Inc.
325 Bouchard Blvd.
Montreal, QC,
Canada H9S 1A9
Phone: +1 (866) 832-8679
Fax: +1 (800) 563-2948
info@musiquip.com
www.musiquip.com
Listing Info
from the AER Audio Electric Research web site
Hand-built in Germany, AER amps are widely considered to be the hallmark of acoustic amplification.
Since 1992, our company has used high-quality components, sophisticated circuit technology, and precision craftsmanship to convert their designs into melodious sound.
At AER, electronics still means a great deal of manual work. Measuring and simulation do not suffice. In the end, every single amp is played and checked for sound and function. A small, dedicated and extremely talented team of just over 20 employees are kept busy checking, equipping, documenting, installing, assembling, and checking all over again!
The Compact 60 has proven that there is an all-round, small, powerful and yet simple to use complete solution for stage, stu- dio and home use that works up to the highest demands and standards of acoustic players.
It has found many friends around the world with it's size smiled at in the beginning being it's second strongest side. It has be- come the standard equipment "the amp of choice" for those musicians who value sound, simplicity and independence. It has qualified for nearly all instruments and applications. 60 watts, dynamic control, (200 mm) twin cone speaker, Twin-channel, 3 and 2 band EQ, digital effects, 6,5 kg (14.3 lbs)
I use the AER Compact 60/3 for my ukulele, acoustic guitar, classical guitar as well as my seven string archtop guitar - even a bass. A pretty versatile amp to be able to cover all theses playing situations. Have even ran my tele through it with great success.
The Alpha defines the starting point of professional acoustic amplification at AER. Based on the success and the experience with the Compact 60 we developed an even smaller lightweight model that has no difficulties living up to the rigors of the road.
Open sounding and quick in response this amp masters different ranges and is thus not afraid of bigger instruments. 40 watts, dynamic control, 8ohm (200 mm) twin cone speaker, Single-channel, two inputs, digital reverb, 6,1 kg (13.5 lbs)
More information available on the AER Audio Electric Research's web site.
Even more information, discussion and comments on this listing below.
Additional Information for: AER Audio Electric Research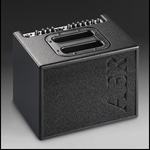 AER Compact 60
The AER Compact 60 rev.4. Small size but powerful twin-channel acoustic guitar amplifier designed to reproduce the sound quality of your instrument in a natural manner. The electronics are carefully designed to deal with piezoceramic pick-up's, microphones and any sort of line signal and with the dynamic controlled 60 watts power amplifier provide a brilliant clear sustaining sound performance throughout all the dynamic range. Used by Robin Nolan, Angelo Debarre, Bireli Lagrene, Romane, Neil Anderson, Dorado Schmitt, The Rosenberg Trio, among many others. Includes padded gigbag w/shoulderstrap. The new 4th generation editions of all models now feature a Pre FX / Post FX swtich for the DI Out signal, allowing user to choose if their Direct Out signal incorporates the amp's on-board digital effects An 3.5mm Aux input with Level control has also been added. These ultra-portable amps still offer the same outstanding reproduction of acoustic instruments and vocals that have made them an industry standard and a favorite of performing guitarists and singer-songwriters everywhere.