Learn a New Ukulele Chord Each Day of 2018!!!
Today's Chord a Day, February 20th - dim7 •
Each day of 2018 there's a new chord you can learn and add to your chord vocabulary. First time here? Start with the January 1st chord.
There is also a series of lessons I ran 2013 called Chord a Week, "Open Position Chords" Series . This series explores several open position chords and their movable versions.
Learn a new strumming pattern(s) starting each week 2018 with my new video series!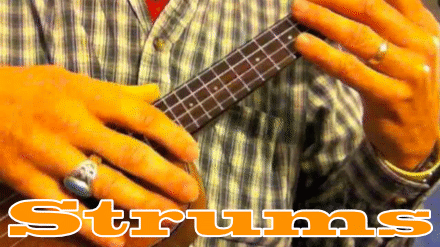 Ukulele Kids Club Inc. Published: 2017-04-10 Updated: 2017-04-10
501C Kids Organization Ukulele
Ukulele Kids Club Inc.
Ukulele Kids Club Inc. 10097 Cleary Blvd.
Suite #110
Plantation, FL 33324
USA
Corey Bergman
President and Founder
Links
from the Ukulele Kids Club Inc. web site
Nonprofit organization that embraces the healing power of music by donating ukuleles to hospitalized children. Make a difference by donating at: theukc.org
"To harness the healing power of music by promoting and supporting music therapy programs for hospitalized children, by giving away ukuleles to children in need through music therapy programs and sending the children home with the gift of music for life, and by advocating for the benefits of music therapy."
In 2010, after experiencing a personal family tragedy and life changing event, Corey embarked on a new journey with the direction of providing community service. He initiated and established the creation of a memorial fund in conjunction with the Make A Wish foundation in honor of his son Jared. At that time, Corey became a volunteer as a "Wish Granter," providing direct service and personal contact with "Wish Kids" and their families.
In 2012, Corey and his wife Edda relocated to Miami, FL, where he ventured into a new area of volunteer service at Nicklaus Children's Hospital and Joe DiMaggio Children's Hospital. At Joe DiMaggio, he was given the extraordinary opportunity to use his musicianship to aid in the palliative care and treatment of the children and their families. He was asked to join a team of doctors, psychologists, social workers and clergy to provide treatment through guitar playing. This resulted in lowering the rate of respiration and heart rate of patients monitored in intensive care units. He learned the power of music as a healing tool. Corey received the "President's Volunteer Service Award" with a letter of commendation from President Barack Obama in 2013 for his efforts at Nicklaus Children's Hospital.
More information available on the Ukulele Kids Club Inc.'s web site.
Even more information, discussion and comments on this listing.
Just browsing over both books, they look fantastic! I'm a guitarist and uke player for over 25 years and was thinking about writing a ukulele book but you've already written what I think are the best, most comprehensive and thorough books I've ever seen for the instrument. I just might end up buying every book you've written and I'll be giving my highest recommendation for your books to my friends and students. Thank you so much for taking the time to write such great books! — Peter Rhee
Aloha, Curt, All I can say is WOW! What you have accomplished is simply incredible! All the best — Glen Hirabayashi, The Aloha Boys
Folks, if you haven't stopped by Curt's site, do so right now! ..And get his books, they are fantastic. This guy knows his stuff and is able to pass it along too. — Alan Johnson Proprietor, The 4th Peg
I can highly recommend Curt's Uke books — I have four of them and they are excellent. — fatveg — Portland
Thanks for visiting and checking out the site!
Content is added and updated almost daily - so check back often.
LearningUkulele.com has one of the largest collections of lessons, songs, and TABS, luthiers, ukulele builders, ukulele festival and club information, and, ukulele links on the web. I've been on the ®Internet since the early 1990's and This site just never stops growing!!!