Additional Content
Available for Premium Site Access Plans Only
Sorry, can't give it ALL away!
This content requires a Basic Access Plan and or enrolled in the Study with Curt - On-line or Private Lesson Program.
To view additional content for this page you'll need to either Sign In or Register for or Upgrade to a Premium Site Access Plan.
Related Lessons
Related Lessons for Yesterday - Solo Ukulele Arrangement.
Related Songs
Related Songs for Yesterday - Solo Ukulele Arrangement.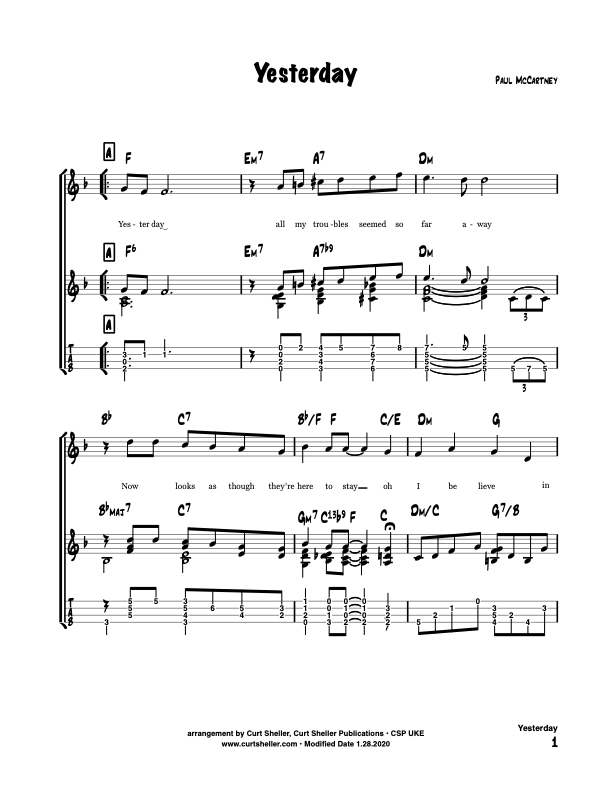 Yesterday
Updated: 28 Jan 2020
Yesterday is a song originally recorded by The Beatles for their 1965 album Help!. The song first hit the United Kingdom top 10 three months after the release of Help!. The song remains popular today with more than 1,600 cover versions, one of the most covered songs in the history of recorded music. The song was not released as a single in the UK at the time of its release in the United States, and thus never gained number 1 single status in that country. However, "Yesterday" was voted the best song of the 20th century in a 1999 BBC Radio 2 poll of music experts and listeners.