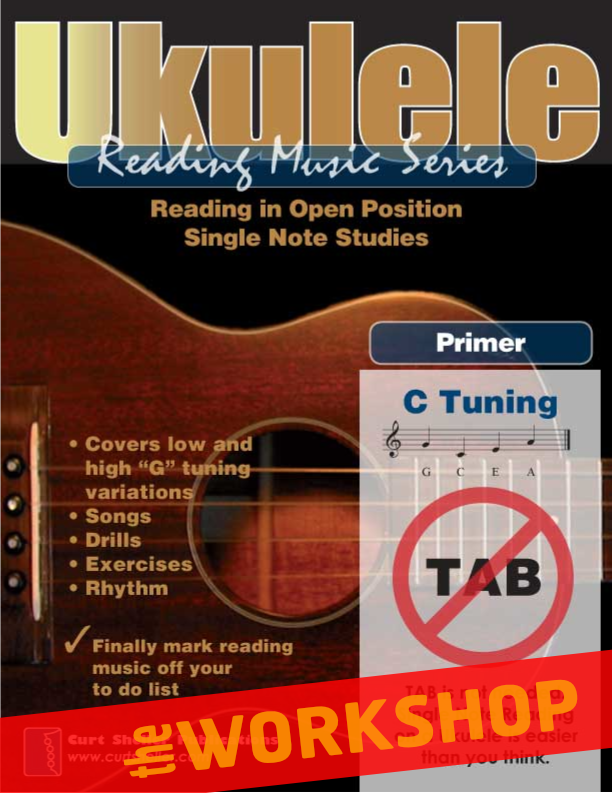 All 1 sample page(s) are viewable on-line. Click on individual thumbnail images to jump to that particular page above.
Dates TBA
FREE
---
Sign-in or Register to Purchase, Attend, or view this Workshop or view a previous workshop's video you purchased.
Reading Music on the Ukulele - Primer
Learn to read single note melodies in the first/open position. It is a lot easier than you might think with this step-by-step easy to use approach. Tunings: C with low or high G - (GCEA or gCEA).
Reading music is not as hard as one might think. It may be new and unfamiliar but is not hard when you have a proper plan of attack.
Reading music on the ukulele is easier than reading music on guitar or piano. There are only four strings with a smaller range of possible notes.
Music in the key of C with all natural notes, no flats or sharps is pretty easy to play in open position on a ukulele. This would be the same as playing the white keys of a piano.
Standard music notation has been the Lingua Franco of musicians, both professionals and hobbyists for many centuries.
Reading standard music notation opens you up to vast world of published music.
Reading simple melodies in open position is the first step to reading music on the uke.
Video(s)
Video(s) will be available a few days after each session of the workshop.
Workshops Download(s)
Workshop handout(s) , are only available to members that have registered to attended, have attended this workshop, or purchased the workshop after the initial live presentation.
End of Workshop - Thanks, Hope You Enjoyed It!
Related Lessons, Videos, Lesson Series, Songs, Books & Reference Charts, Resources & Assets, Workshops are below.
Related Workshops
Related Workshops for Reading Music on the Ukulele - Primer.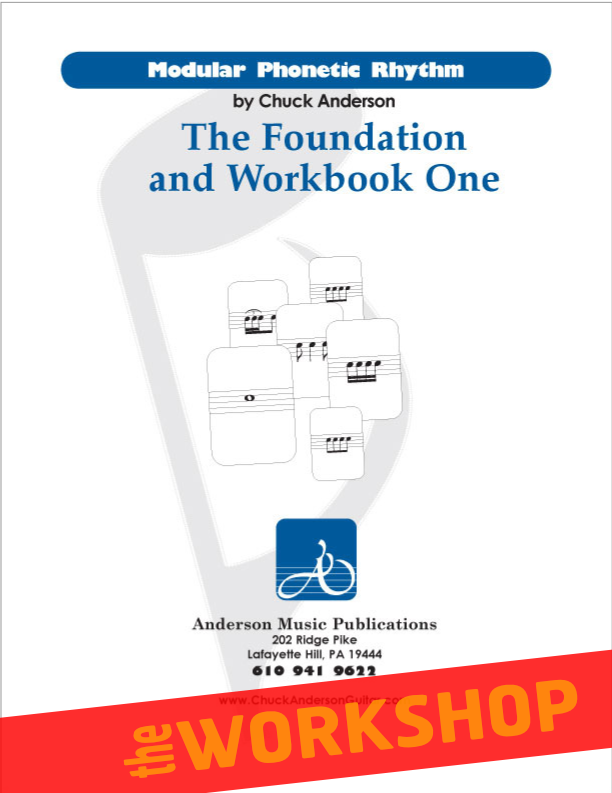 Rhythm, Avoid at Your Own Peril
Updated: 11 Mar 2022
The often neglected and taken for granted subject of "Rhythm". Music is Melody, Harmony, and "Rhythm." We are drawn, initially to music by melody at a very early age, with the instrument of our voice. With ukulele you typically learn chords - the harmony and never really dive into learning rhythm. Unless you're a drummer we take rhythm for granted.
Related Books & Charts
Related Books for Reading Music on the Ukulele - Primer.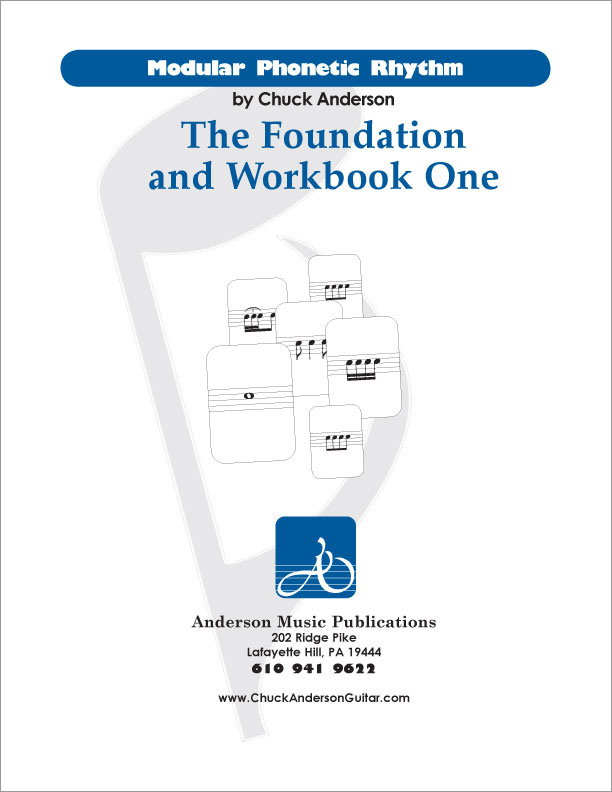 Modular Phonetic Rhythm, The Foundation and Workbook 1
Updated: 08 Dec 2021
Modular Phonetic Rhythm represents a significant advance in the teaching and application of rhythm. Eliminating many inefficient aspects of rhythm education, Modular Phonetic Rhythm streamlines the traditional educational approach, resulting in a reflexive reaction to rhythm.
Related Workshop Files, Resources and Assets
Related Assets for Reading Music on the Ukulele - Primer.