Learn a New Ukulele Chord Each Day of 2018!!!
Today's Chord a Day, March 23rd - C13 •
Each day of 2018 there's a new chord you can learn and add to your chord vocabulary. First time here? Start with the January 1st chord.
There is also a series of lessons I ran 2013 called Chord a Week, "Open Position Chords" Series . This series explores several open position chords and their movable versions.
Learn a new strumming pattern(s) starting each week 2018 with my new video series!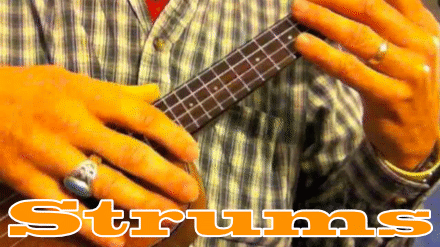 AER Audio Electric Research Published: 2013-11-14 Updated: 2017-11-19
Acoustic Amplifiers Manufacture Ukulele
AER Audio Electric Research
USA / Canada Distributor
Musiquip Inc.
325 Bouchard Blvd.
Montreal, QC,
Canada H9S 1A9
Phone: +1 (866) 832-8679
Fax: +1 (800) 563-2948
info@musiquip.com
www.musiquip.com
Links
from the AER Audio Electric Research web site
Hand-built in Germany, AER amps are widely considered to be the hallmark of acoustic amplification. 
Since 1992, our company has used high-quality components, sophisticated circuit technology, and precision craftsmanship to convert their designs into melodious sound.
At AER, electronics still means a great deal of manual work. Measuring and simulation do not suffice. In the end, every single amp is played and checked for sound and function. A small, dedicated and extremely talented team of just over 20 employees are kept busy checking, equipping, documenting, installing, assembling, and checking all over again!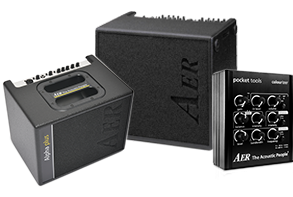 The Compact 60 has proven that there is an all-round, small, powerful and yet simple to use complete solution for stage, stu- dio and home use that works up to the highest demands and standards of acoustic players.
It has found many friends around the world with it's size smiled at in the beginning being it's second strongest side. It has be- come the standard equipment "the amp of choice" for those musicians who value sound, simplicity and independence. It has qualified for nearly all instruments and applications. 60 watts, dynamic control, 8ohm (200 mm) twin cone speaker, Twin-channel, 3 and 2 band EQ, digital effects, 6,5 kg (14.3 lbs)

I use the AER Compact 60/3 for my ukulele, acoustic guitar, classical guitar as well as my seven string archtop guitar. A pretty versatile amp to be able to cover all theses playing situations. Have even ran my tele through it with great success.

The Alpha defines the starting point of professional acoustic amplification at AER. Based on the success and the experience with the Compact 60 we developed an even smaller lightweight model that has no difficulties living up to the rigors of the road.
Open sounding and quick in response this amp masters different ranges and is thus not afraid of bigger instruments. 40 watts, dynamic control, 8ohm (200 mm) twin cone speaker, Single-channel, two inputs, digital reverb, 6,1 kg (13.5 lbs)
More information available on the AER Audio Electric Research's web site.
Even more information, discussion and comments on this listing.
Just browsing over both books, they look fantastic! I'm a guitarist and uke player for over 25 years and was thinking about writing a ukulele book but you've already written what I think are the best, most comprehensive and thorough books I've ever seen for the instrument. I just might end up buying every book you've written and I'll be giving my highest recommendation for your books to my friends and students. Thank you so much for taking the time to write such great books! — Peter Rhee
Aloha, Curt, All I can say is WOW! What you have accomplished is simply incredible! All the best — Glen Hirabayashi, The Aloha Boys
Folks, if you haven't stopped by Curt's site, do so right now! ..And get his books, they are fantastic. This guy knows his stuff and is able to pass it along too. — Alan Johnson Proprietor, The 4th Peg
I can highly recommend Curt's Uke books — I have four of them and they are excellent. — fatveg — Portland
Thanks for visiting and checking out the site!
Content is added and updated almost daily - so check back often.
LearningUkulele.com has one of the largest collections of lessons, songs, and TABS, luthiers, ukulele builders, ukulele festival and club information, and, ukulele links on the web. I've been on the ®Internet since the early 1990's and This site just never stops growing!!!