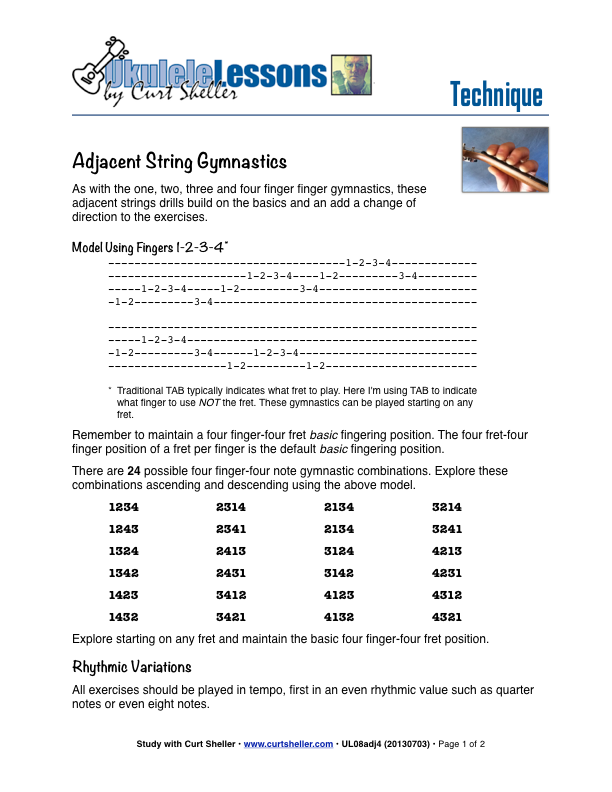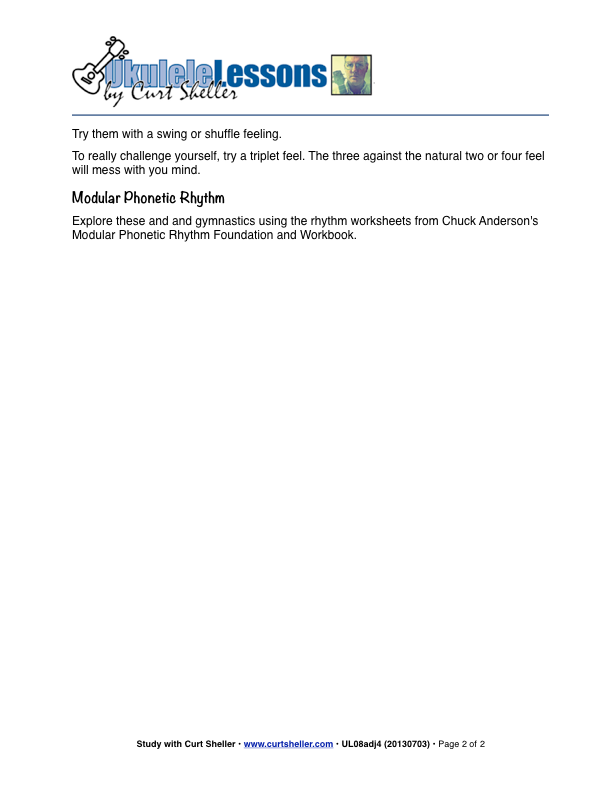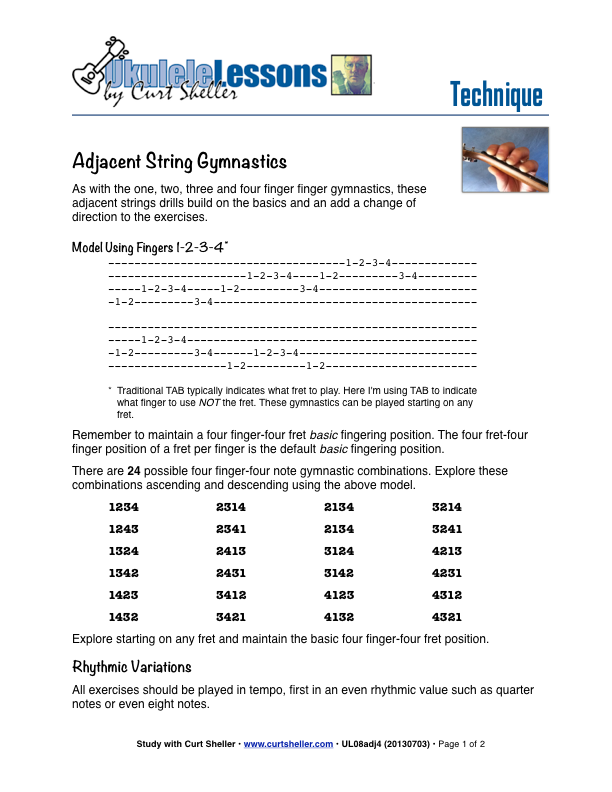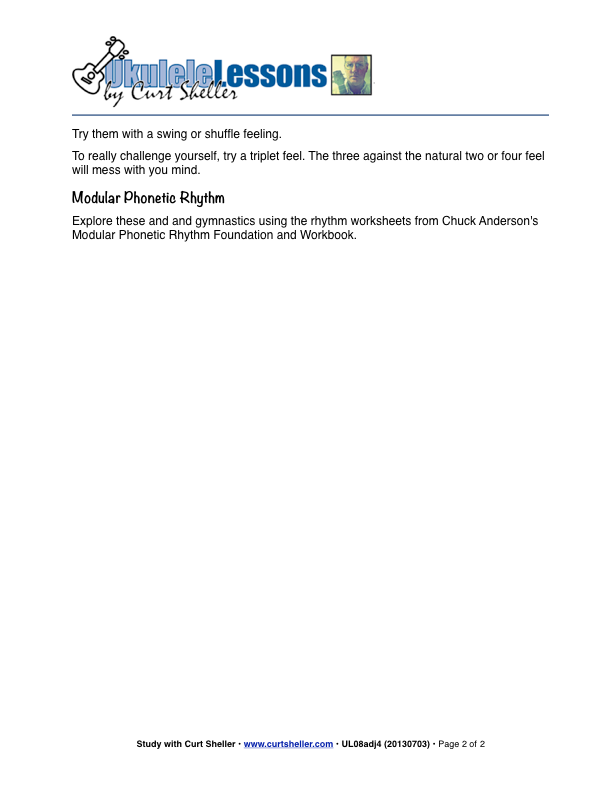 All 2 sample page(s) are viewable on-line.
If you are a registered site member and have the correct permissions you can view ALL the pages of this PDF or Samples pages at a larger size. You can resize the browser window smaller to a tablet or phone size and the pages will magically grow larger.
Or, use the Online PDF Viewer . available for premium members .
Each PDF file is a formatted, high resolution file that prints out great. You'll need Adobe Reader or a PDF viewing application to view your PDF file.
Adjacent String Pairs Fingering Drills
Building on the one, two, three and four finger finger gymnastics, these adjacent strings drills add a change of direction to the exercises.
End of Lesson - Thanks, Hope You Enjoyed It!
Download or View PDF for Complete Lesson
Download this lesson's PDF file for the latest, complete, and most up-to-date version of the lesson. As well as additional information not presented on-line.
Members and Active Students need to sign-in to download this lesson's PDF for the complete lesson.
Related Lessons
Related Lessons for Adjacent String Pairs Fingering Drills.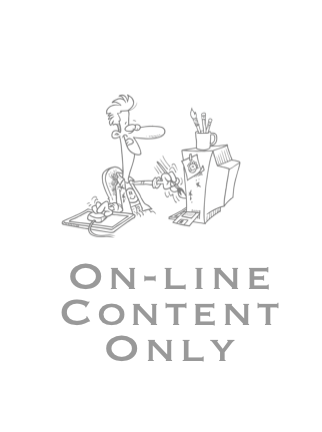 Fingering Gymnastics - a.k.a. Fingering Drills Introduction
• Updated: 18 Dec 2018
Ukulele Gymnastics series contains quite a few lessons for developing your finger strength and independence of the fretting hand. The fretting hand is responsible for playing chords and single notes. The fretting hand and plucking hand are responsible for getting the music out.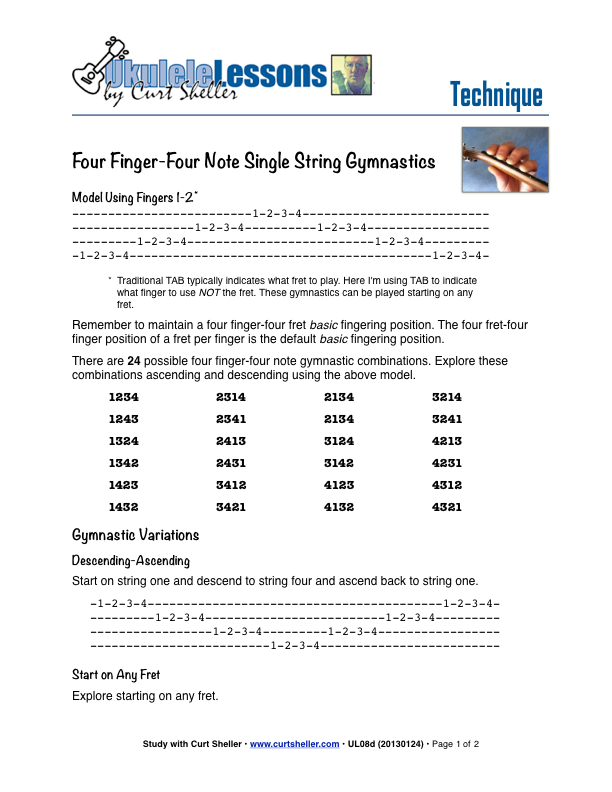 Four Finger-Four Note Basic Single String Fingering Drills for `Ukulele
• Updated: 20 Mar 2020
To play the ukulele effectively, your fingers need physical strength, agility, flexibility and coordination. This four finger-four note drill is designed to get your hands in shape. These exercises work no matter what style of ukulele you play or want to play.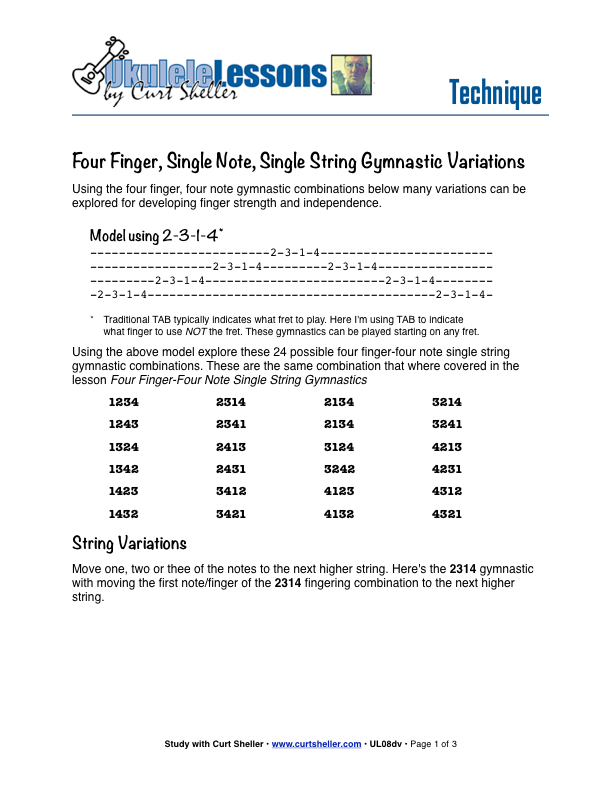 Four Finger, Single Note, Single String Gymnastic Variations
• Updated: 26 Dec 2014
All the basic single string one, two, three and four finger gymnastics can be revisited and variations created by moving note to higher strings. Rhythmic variation are also possible.
This lesson takes the original four finger-four notes single string gymnastics and creates adjacent string variations.
Related Books
Related Books for Adjacent String Pairs Fingering Drills.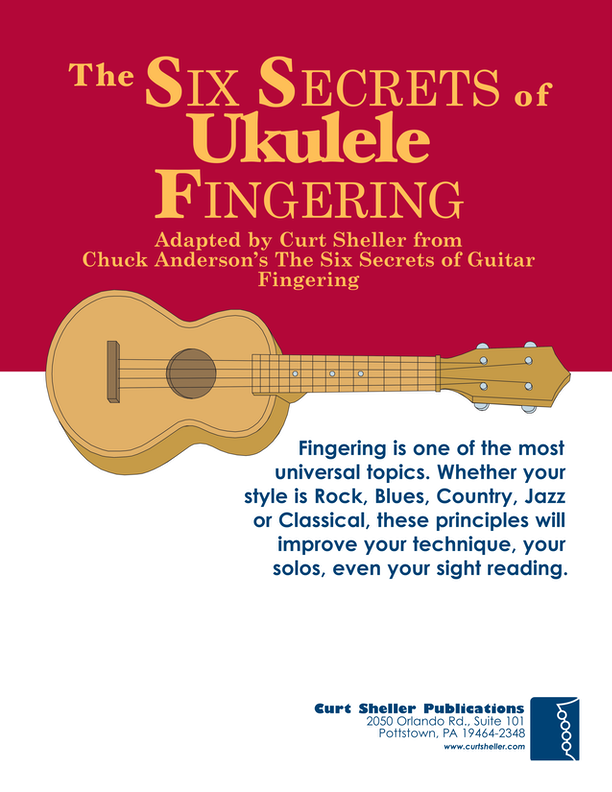 Six Secrets of Ukulele Fingering

Updated: Aug 17, 2021
Learn the six fingering principles to navigating the ukulele fingerboard. Fingering is one of the most universal topics. Whether your style is Rock, Blues, Country, Jazz or Classical, these principles will improve your technique, your solos, even your sight reading. Think of fingering as a series of pathways. When you learn to connect these pathways, there are benefits not only to technique but also to creativity.