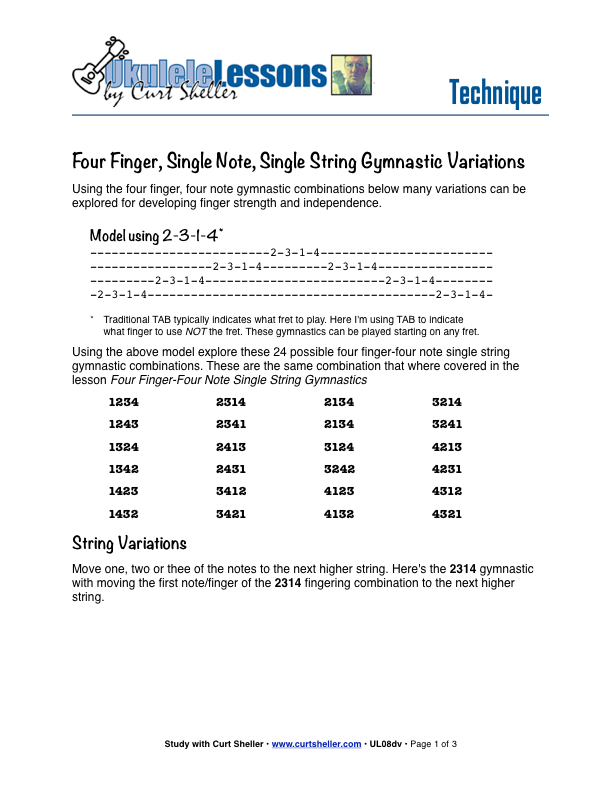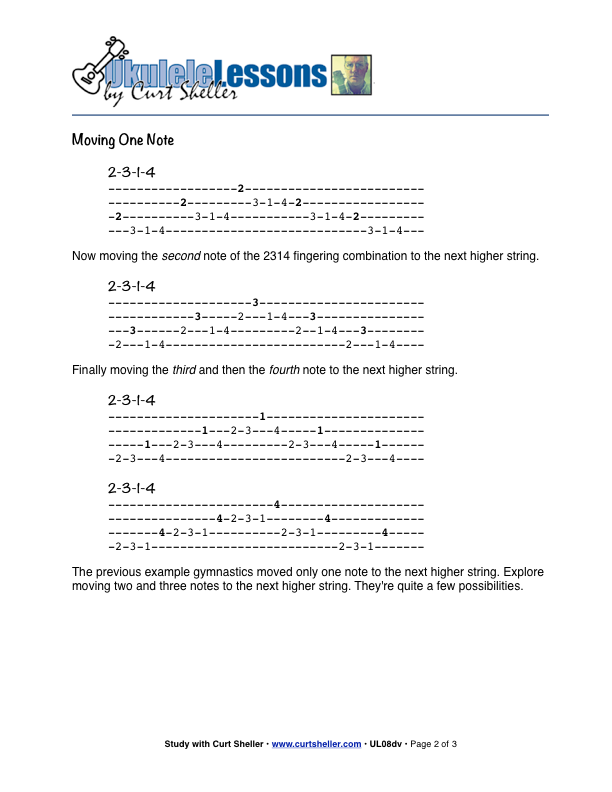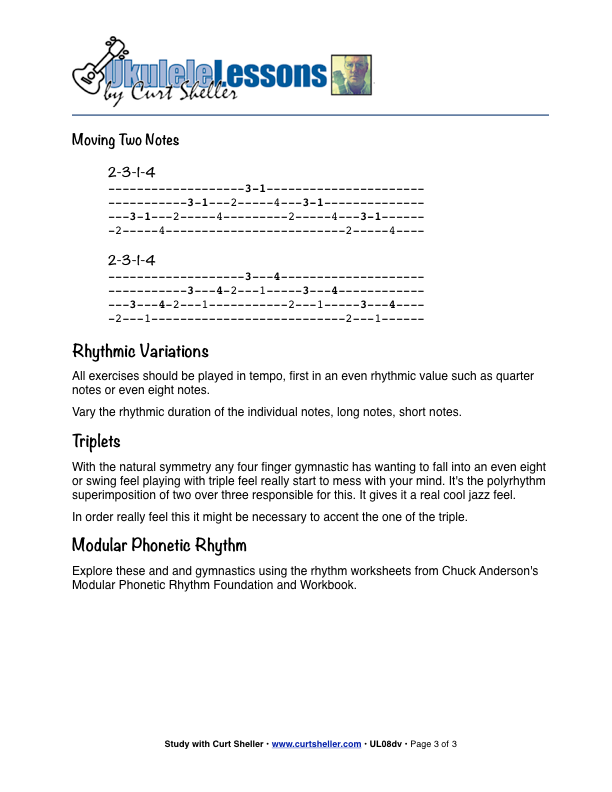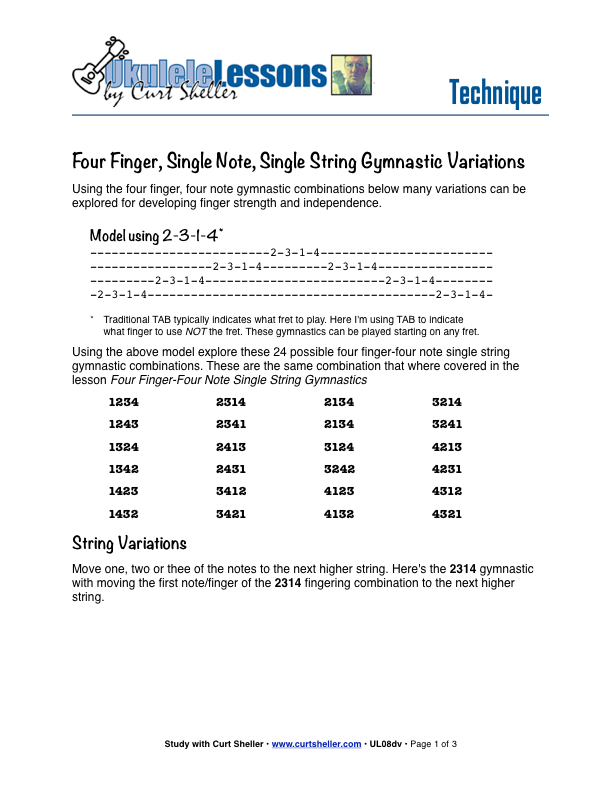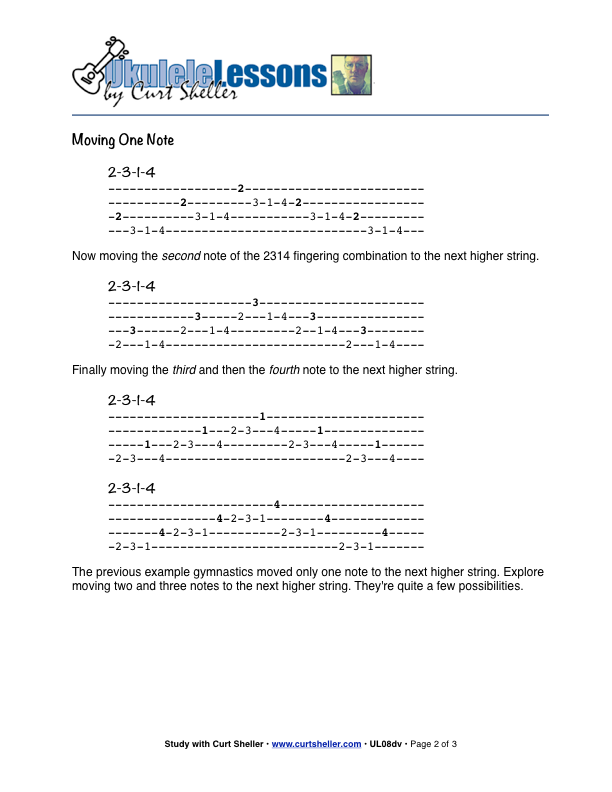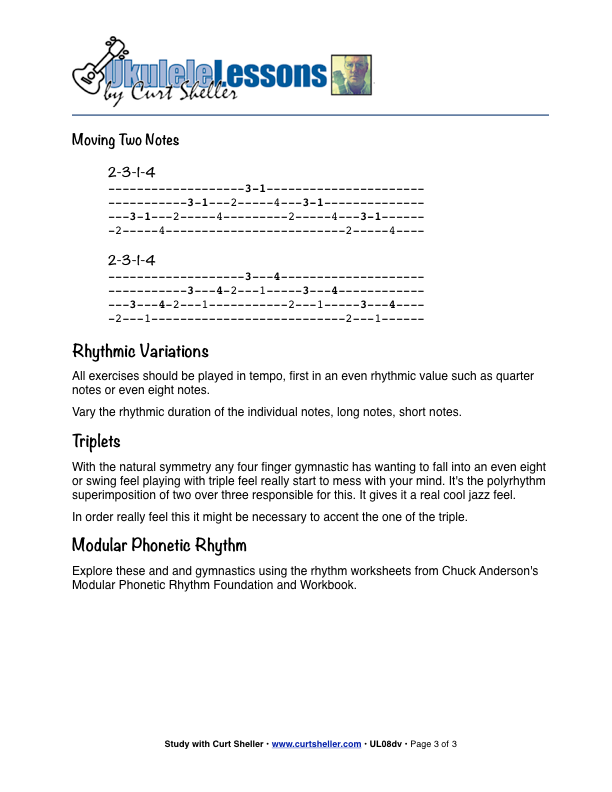 All 3 sample page(s) are viewable on-line.
If you are a registered site member and have the correct permissions you can view ALL the pages of this PDF or Samples pages at a larger size. You can resize the browser window smaller to a tablet or phone size and the pages will magically grow larger.
Or, use the Online PDF Viewer . available for premium members .
Each PDF file is a formatted, high resolution file that prints out great. You'll need Adobe Reader or a PDF viewing application to view your PDF file.
Four Finger, Single Note, Single String Gymnastic Variations
All the basic single string one, two, three and four finger gymnastics can be revisited and variations created by moving note to higher strings. Rhythmic variation are also possible.
This lesson takes the original four finger-four notes single string gymnastics and creates adjacent string variations.
#####Next Steps
After the basic single note drills the next steps all depend on where you are in your development and any particular technique issues you might want to work on. Try the open string, pairs, barre, repeating note and chord drills.
See the Related Material > Lessons tab above for these related lessons.
Additional Content
Available for Premium Site Access Plans Only
Tips and Technique Suggestions
Common tips applicable to ALL finger drills.
As these drills don't really sound all that musical. They can be played while watching TV or riding a stationary bike. Their main goal is to get in a lot of reps and develop your chops.
However, even if done as part of another activity, you should focus on the drills.
Keep your finger tips pointing to the strings. That's their job, to play notes.
Keep your thumb in the position of strength and support — Behind the Neck!
Keep your fingers close to the strings, ready to go. Your fingers need to be over the frets and string that they are currently playing or going to play. Four fingers can cover four frets.
Always play in-control and accurate. This is easy to accomplish if you do the drills SLOW and in-control. Fast is nothing than, slow quicker.
Say the finger combination that you are working on to insure the fingers are actually doing the drill you think you are doing.
If the next note is higher and on the same string, keep the current finger down – No need to release the string just to press is down again.
Do ALL drills ascending and descending, the same drill. 1234 ascending and 4321 descending are different drills. There are 4 single fingers, 12 two finger combinations, 24 three finger combinations, and 24 four finger combinations.
Start on different frets.
Start on string one and play descending then ascending.
Do a sub set of the strings. Get really good at strings one and two then add string three, etc. Build on a solid foundation.
Try combinations of the 2, 3, and 4 finger drills. This one is hard to track if doing more the two different combinations at a time, so ready them might help.
Download or View PDF for Complete Lesson
Download this lesson's PDF file for the latest, complete, and most up-to-date version of the lesson. As well as additional information not presented on-line.
Members and Active Students need to sign-in to download this lesson's PDF for the complete lesson.
Related Lessons
Related Lessons for Four Finger, Single Note, Single String Gymnastic Variations.
Related Books
Related Books for Four Finger, Single Note, Single String Gymnastic Variations.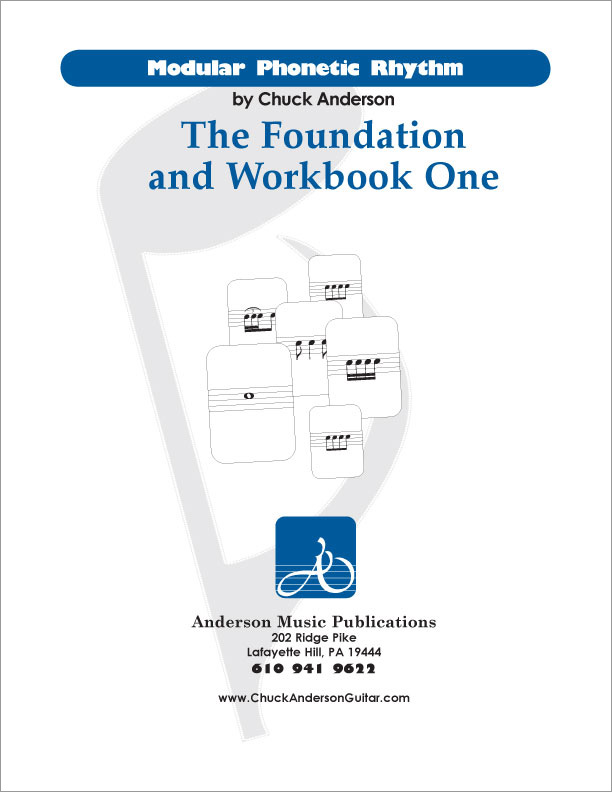 Modular Phonetic Rhythm, The Foundation and Workbook 1

Updated: Dec 8, 2021
Modular Phonetic Rhythm represents a significant advance in the teaching and application of rhythm. Eliminating many inefficient aspects of rhythm education, Modular Phonetic Rhythm streamlines the traditional educational approach, resulting in a reflexive reaction to rhythm.