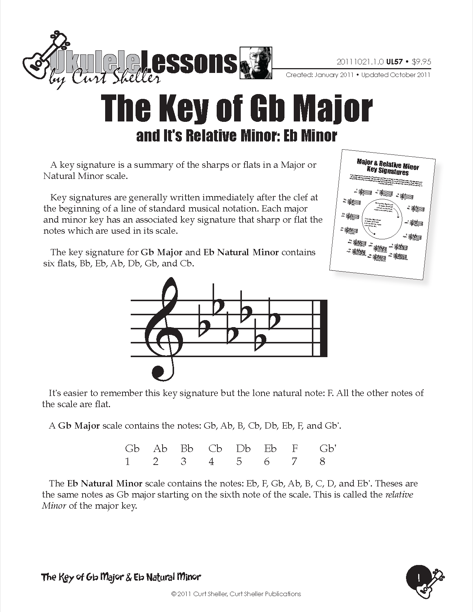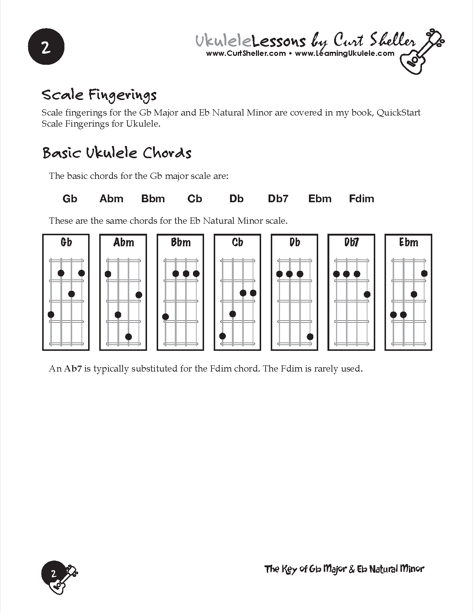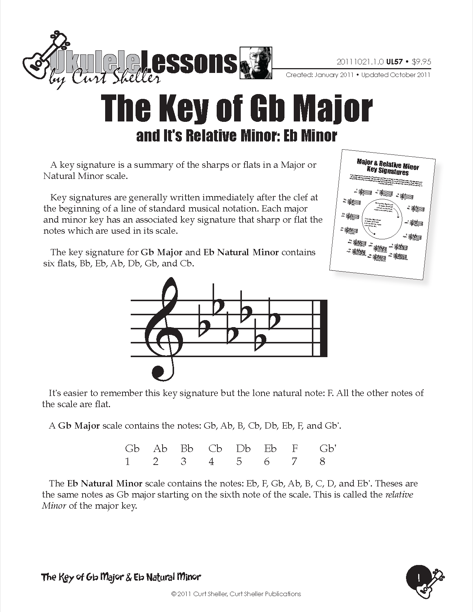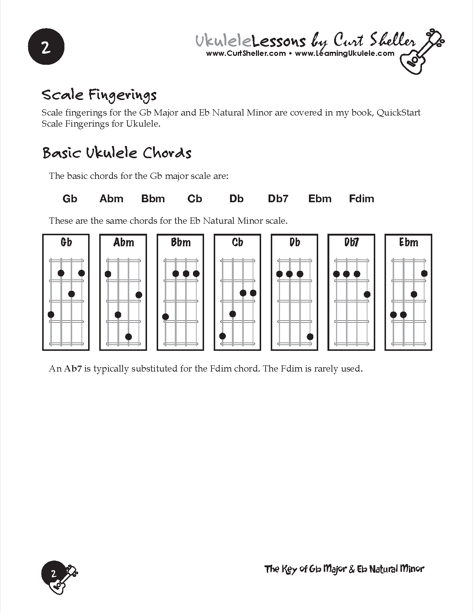 All 2 sample page(s) are viewable on-line.
If you are a registered site member and have the correct permissions you can view ALL the pages of this PDF or Samples pages at a larger size. You can resize the browser window smaller to a tablet or phone size and the pages will magically grow larger.
Or, use the Online PDF Viewer . available for premium members .
Each PDF file is a formatted, high resolution file that prints out great. You'll need Adobe Reader or a PDF viewing application to view your PDF file.
Key Signatures - G Flat Major and E Flat Minor
Gb major is a major scale based on G flat, consisting of the pitches Gb, Ab, Bb, Cb, Db, Eb, and F. Its key signature has six flats: Bb, Eb, Ab, Db, Gb and Cb.
Its relative minor is E flat minor, and its parallel minor is G flat minor, usually replaced by F-sharp minor, since G flat minor, which would have nine flats, is not normally used.
The enharmonic equivalent key to Gb is F#, containing the same pitches but different names.
Additional Content
Available for Premium Site Access Plans Only
Download or View PDF for Complete Lesson
Download this lesson's PDF file for the latest, complete, and most up-to-date version of the lesson. As well as additional information not presented on-line.
Members and Active Students need to sign-in to download this lesson's PDF for the complete lesson.
Related Lessons
Related Lessons for Key Signatures - G Flat Major and E Flat Minor.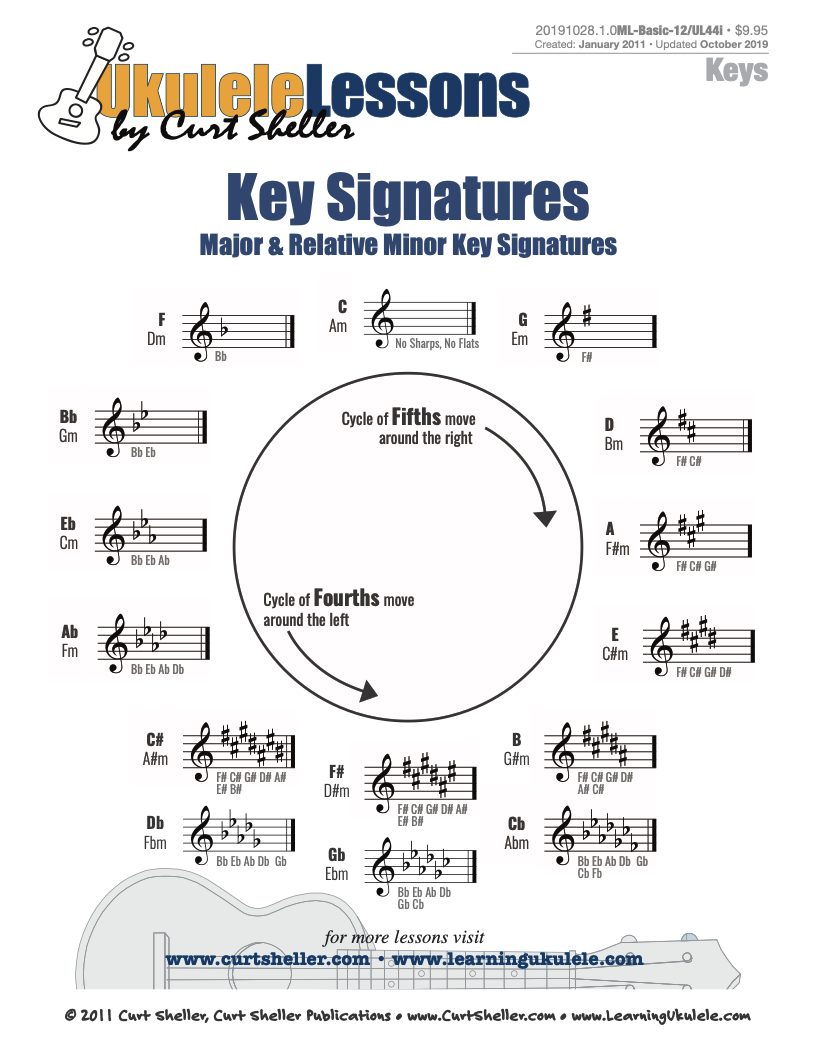 Key Signatures and the Circle of Fifths and Fourths
• Updated: 02 Mar 2021
There is a load of information in traditional "Key Signatures." Unlocking the principles in this circle leads to a better understanding of music and how things work. A key signature is a series of sharp or flat symbols placed on the staff, designating the notes that are to be consistently played higher or lower than the equivalent natural notes.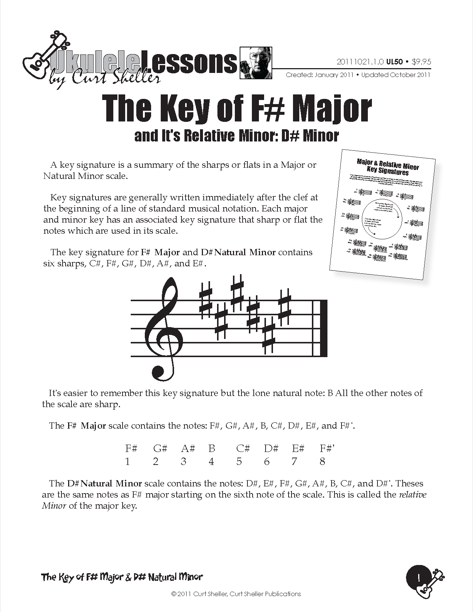 Key Signatures - F Sharp Major and D Sharp Minor
• Updated: 12 Sep 2011
"F# Major" (or the key of F#) is a major scale based on F#, with the pitches F# G# A# B C# D# E#. Its key signature has six sharps: F# C# G# D# A# E#. Its Relative Minor scale is G# Minor. Its Parallel Minor is F# Minor and, its enharmonic equivalent is Gb minor.
Related Books
Related Books for Key Signatures - G Flat Major and E Flat Minor.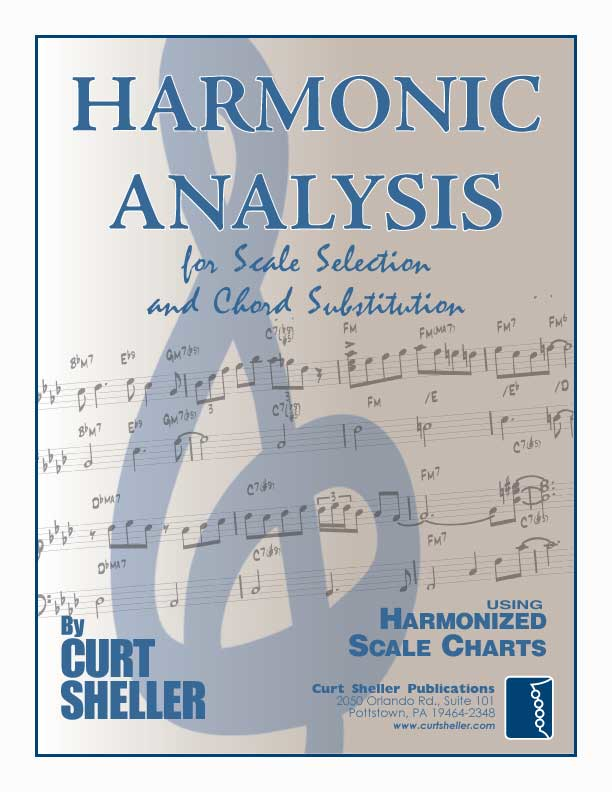 Harmonic Analysis for Scale Selection and Chord Substitution

Updated: Jun 10, 2021
Harmonic Analysis is the understanding of the functional sequence of chords. It is the process used to analyze the harmonic structure of a progression, song or composition. This analysis is then used to make scale selections for improvisation and chord substitution.