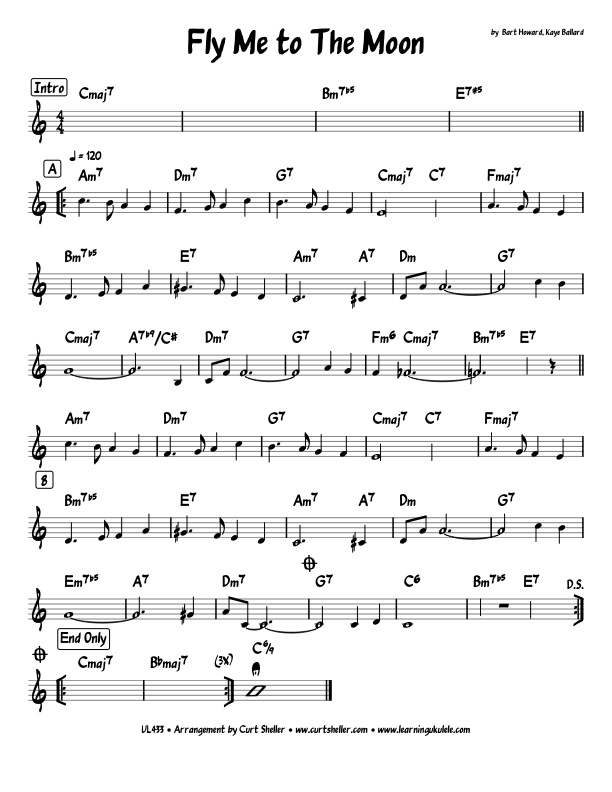 All 1 sample page(s) are viewable on-line.
If you are a registered site member, have verified your email address, and have the correct permissions you can view ALL the pages of this PDF or Samples pages at a larger size using the LearningUkulele.com Online PDF Viewer .
View the Main Song Downloads section below to download the song files for the complete and most up-to-date versions.
Fly Me to the Moon is a popular standard song written by Bart Howard in 1954. It was titled originally "In Other Words", and was introduced by Felicia Sanders in cabarets. The song became known popularly as "Fly Me to the Moon" from its first line, and after a few years the publishers changed the title to that officially.
NOTE: Unlike most of the versions on-line, the chords for my arrangement use all 4-part, a.k.a, "jazz" chords. It sounds a lot better with these than the typical uke group versions. Up Your Game! Bring your musicianship up — NOT bring the song down.
Fly Me to the Moon…
Fly Me To The Moon

— Premium Play-along Track

Premium Play-along Tracks are only available to Premium members and Active/Private Students.

Here is a Demo of Desafinado to get an idea of the quality of these custom play-along tracks.
Play-along Demo: Desafinado
---
I, (Curt) originally created these tracks to perform over for gigs and this was a demo for booking gigs.
These Premium Play-along Tracks are available to LearningUkulele.com Site Members and are my personal one-of-kind tracks I (Curt) and Chuck Anderson recorded and arranged.
Additional Video
Main Song Download(s)
The main downloads for this Song.
Related Lessons
Related Lessons for Fly Me to the Moon.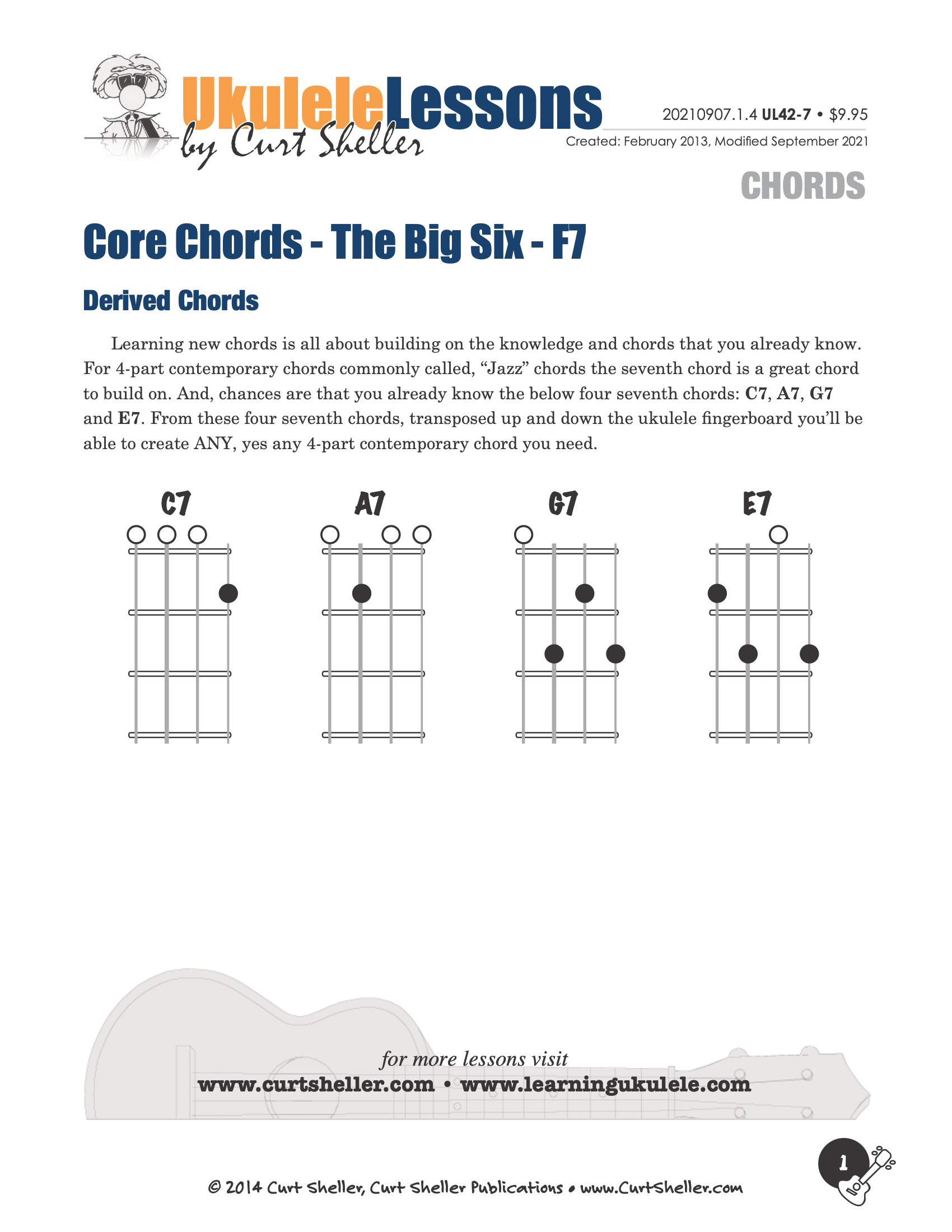 Core Chords - The Big Six - Building a Solid Chord Foundation
Updated: 07 Sep 2021
The Big Six Core Chords is a series of lessons for building your core, essential 4-part chords. These chords commonly called jazz chords, are really just 4-part chords used in a wide range of musical styles. These chords include: Seventh , Major Seventh, Minor Seventh, Half Diminished Seventh or Minor Seven Flat Five, Diminished Seventh, and Augmented Seventh. These six chords form a core set of chords.
Related Lesson Series
Related Lessons Series for Fly Me to the Moon.
Related Songs
Related Songs for Fly Me to the Moon.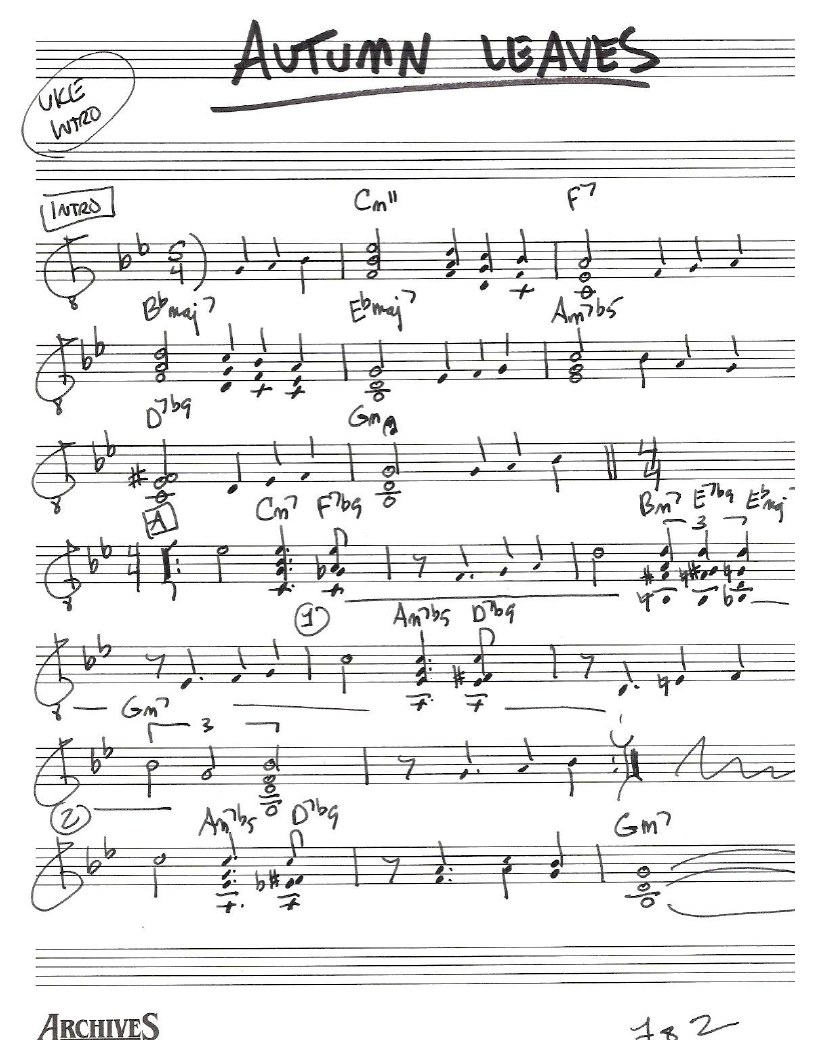 Autumn Leaves
Updated: 26 Nov 2021
Autumn Leaves is a much-recorded popular song. Originally it was a 1945 French song "Les Feuilles mortes" (literally "The Dead Leaves") with music by Joseph Kosma and lyrics by poet Jacques Prevert. Yves Montand (with Irene Joachim) introduced "Les feuilles mortes" in 1946 in the film Les Portes de la Nuit. The American songwriter Johnny Mercer wrote English lyrics in 1947 and Jo Stafford was among the first to perform this version.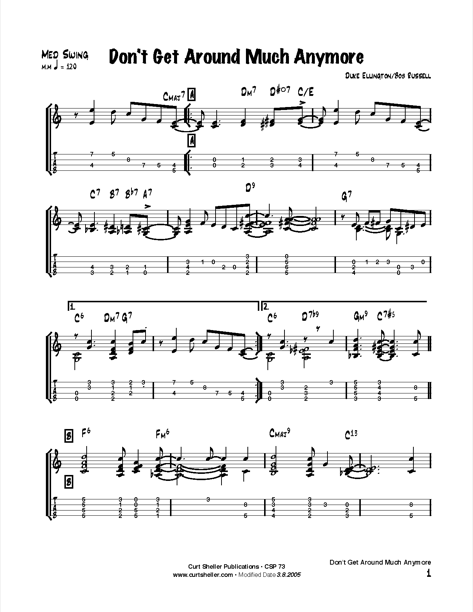 Don't Get Around Much Anymore
Updated: 03 Jan 2023
Don't Get Around Much Anymore is a jazz standard with music by Duke Ellington and lyrics by Bob Russell. The tune was originally titled "Never No Lament" and was first recorded by Ellington in 1940 as a big band instrumental. Russell's lyrics and the new title were added in 1942.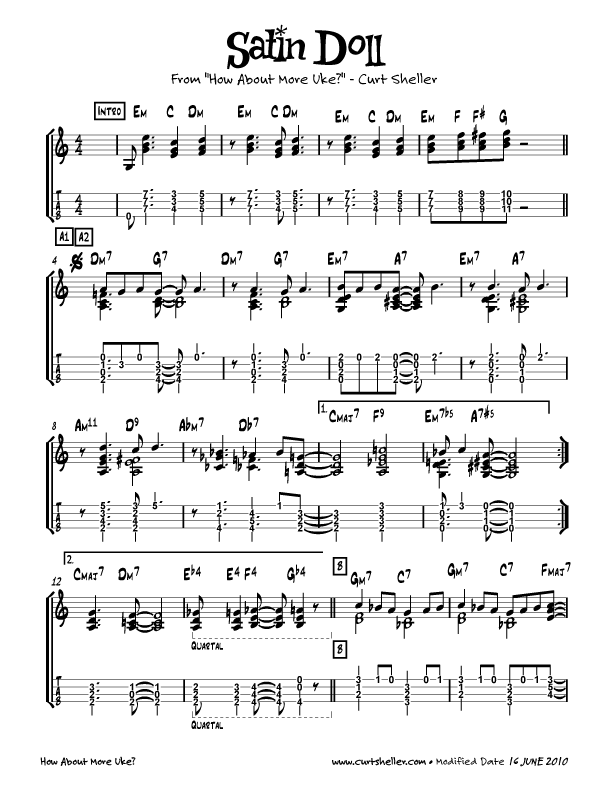 Satin Doll
Updated: 11 Feb 2020
Satin Doll - is a jazz standard written by Duke Ellington and Billy Strayhorn with lyrics by Johnny Mercer. Written in 1953, the song has been recorded countless times, by such artists as Ella Fitzgerald, Frank Sinatra, 101 Strings, and Nancy Wilson. Its chord progression is well known for its unusual use of chords and opening with a ii-V-I turnaround.
Related Books & Charts
Related Books for Fly Me to the Moon.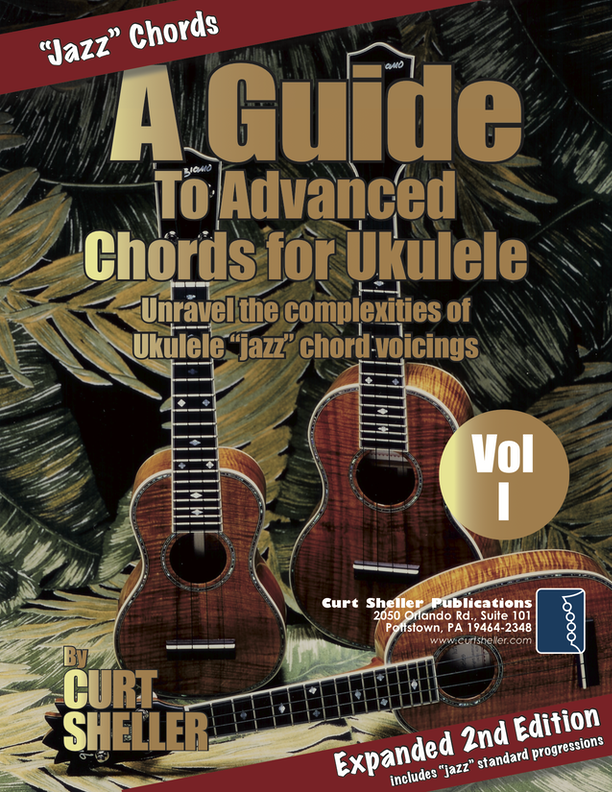 A Guide to Advanced Ukulele Chords - Volume I
Updated: 13 Feb 2020
Beyond learning basic Ukulele chords, most players struggle with advanced chords. Commonly called "jazz" chords, these more sophisticated voicings find a wide use in all forms of music. A Guide to Advanced Chords for Ukulele - presents a highly organized and efficient approach to the mysterious subject of advanced chords. Chord dictionaries are not the answer.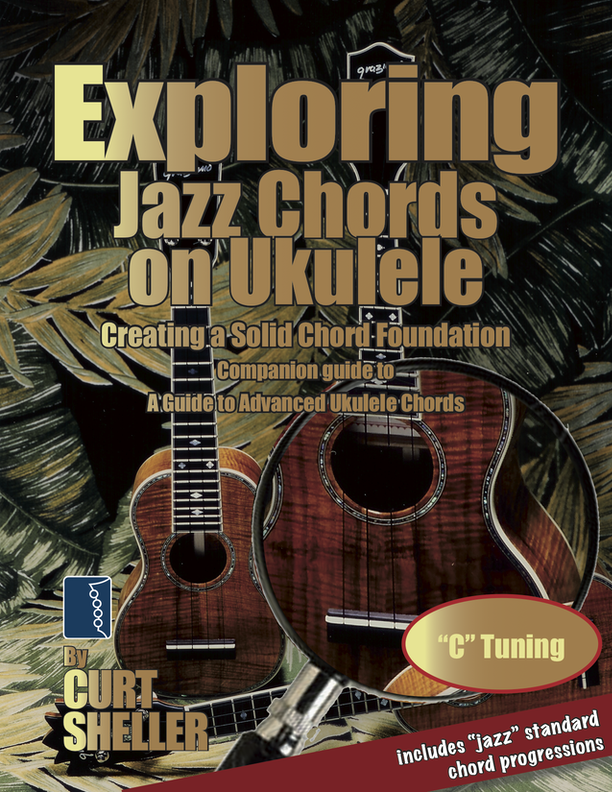 Exploring Jazz Chords on Ukulele
Updated: 20 Apr 2022
Exploring jazz chords using a variety of common chord progressions based on songs from the standard jazz repertoire. Core Chords are the basic set of chords needed to play a wide range of music, in a variety of styles. This set of chords includes basic open position chords, basic movable form chords and the core 4-part "jazz" chords.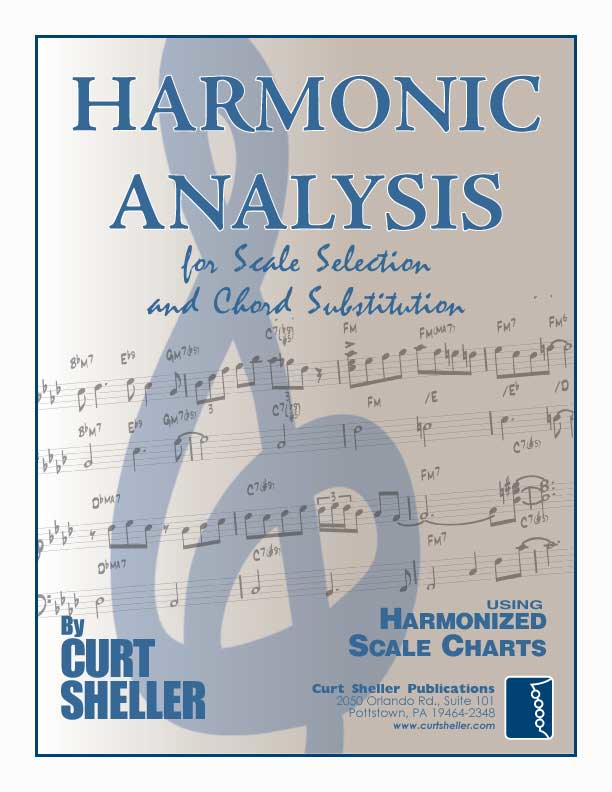 Harmonic Analysis for Scale Selection and Chord Substitution
Updated: 10 Jun 2021
Harmonic Analysis is the understanding of the functional sequence of chords. It is the process used to analyze the harmonic structure of a progression, song or composition. This analysis is then used to make scale selections for improvisation and chord substitution.