Gallop Strum
The Gallop Strum has application in Metal, Country, and Tex Mex.
The Gallop Strum is a Level IV strum where the beat is sub divided into four and counted 1 2 3 4 for each beat. Strum down on the 1 and down on the 3 and up on the 4.
Video Available for Premium Site Members Only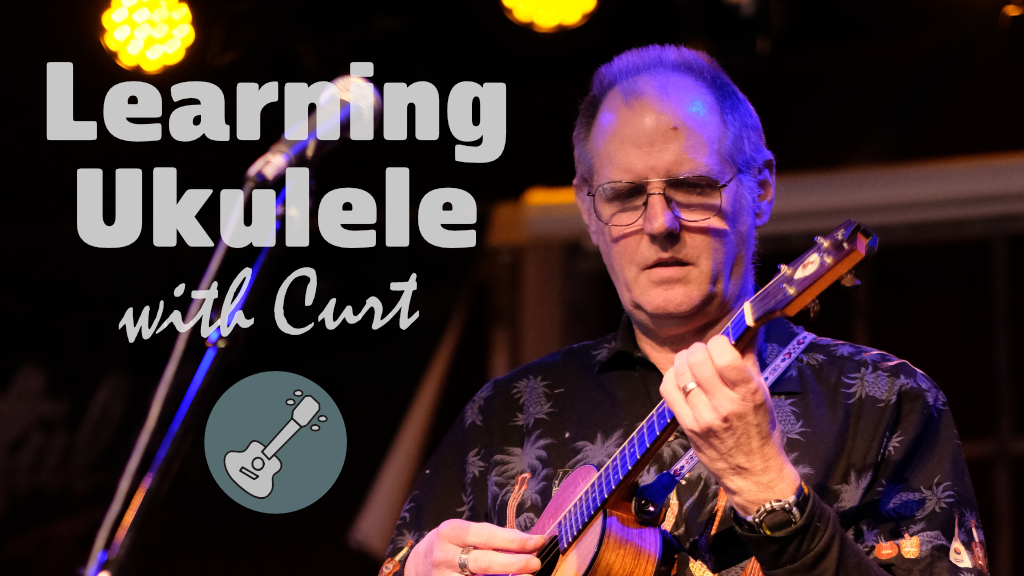 This Video is NOT part of your LearningUkulele.com Site Access level. Sign-up for Premium Site Access or Upgrade your current access level to view this video. Sorry can't continue to justify giving soo much away for FREE. For FREE videos hit up YouTube.
End of Lesson - Thanks, Hope You Enjoyed It!
Related Lessons
Related Lessons for Gallop Strum at this time.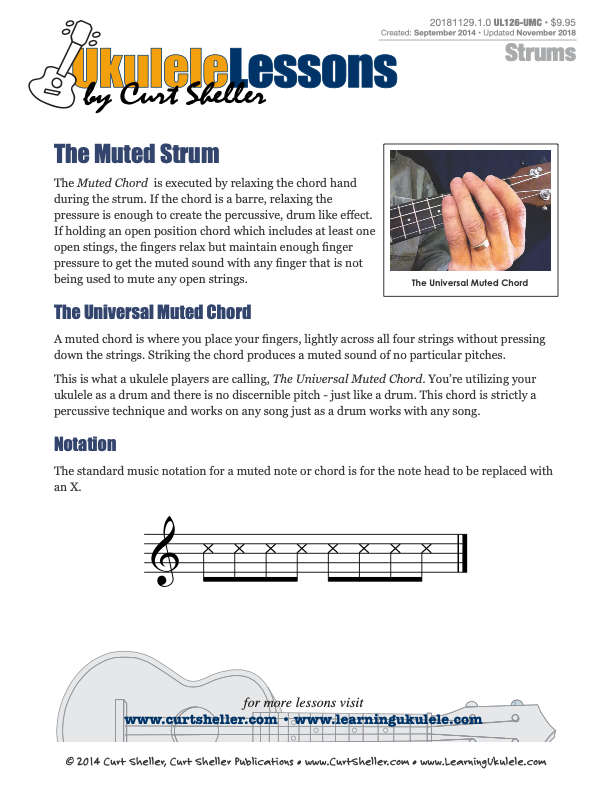 The Muted Strum
• Updated: Oct 19, 2015
The muted strum is executed by relaxing the chord hand during the strum. If the chord is a barre, relaxing the pressure is enough to create the percussive, drum like effect. If holding an open chord, the fingers relax but maintain enough finger pressure to get the muted sound. This is what a few players are calling, The Universal Muted Chord. You're utilizing your ukulele as a percussive instrument and there is no discernible pitch - just like a drum. This chord works on any song just as a drum works with any song and does't care what the key is.
This is a great chord to use when learning a new strum.
Related Books
Related Books for Gallop Strum at this time.
Related Lesson Series
Related Lessons Series for Gallop Strum at this time.
Building Your Core Strums for Ukulele

Updated: Jan 1, 2003
Rhythm are in-separately linked to strums. Using the Modular Phonetic Rhythm System developed by Chuck Anderson this series of lessons start with the core four strums all ukulele players use and throughly digs in to the many variations possible.
Ukulele Strums - Getting Started

Updated: Jan 1, 2003
Strums are in-separately linked to rhythm. Using the Modular Phonetic Rhythm System developed by Chuck Anderson this series of lessons starts with the core four strums all ukulele players use, need to know and throughly digs into the many variations possible.
Modular Phonetic Rhythm by Chuck Anderson

Updated: Jan 1, 2003
Modular Phonetic Rhythm represents a significant advance in the teaching and application of rhythm. Eliminating many inefficient aspects of rhythm education, Modular Phonetic Rhythm streamlines the traditional educational approach, resulting in a reflexive reaction to rhythm.
NOTE: Each higher access level includes ALL the benefits of the lower levels. Private Lessons include all the benefits of a Premium Access Plans as long as you remain a student on the schedule.
Just browsing over both books, they look fantastic! I'm a guitarist and uke player for over 25 years and was thinking about writing a ukulele book but you've already written what I think are the best, most comprehensive and thorough books I've ever seen for the instrument. I just might end up buying every book you've written and I'll be giving my highest recommendation for your books to my friends and students. Thank you so much for taking the time to write such great books! — Peter Rhee
Aloha, Curt, All I can say is WOW! What you have accomplished is simply incredible! All the best — Glen Hirabayashi, The Aloha Boys
Folks, if you haven't stopped by Curt's site, do so right now! ..And get his books, they are fantastic. This guy knows his stuff and is able to pass it along too. — Alan Johnson Proprietor, The 4th Peg
I can highly recommend Curt's Uke books — I have four of them and they are excellent. — fatveg — Portland
Thanks for visiting and checking out the site!

Original Curtie Animation from 1987 for my first web site on a Macintosh II.
33 years ago.
"Built for myself (Curt), and sharing with the `Ukulele community!"
LearningUkulele.com has one of the largest collections of lessons, songs, and TABS, luthiers, ukulele builders, ukulele festival and club information, and, ukulele links on the web. I've been on the ®Internet since the early 1990's and This site just never stops growing!!!
Content is added and updated almost daily - so check back often.