Learn a New Ukulele Chord Each Day of 2018!!!
Today's Chord a Day, March 23rd - C13 •
Each day of 2018 there's a new chord you can learn and add to your chord vocabulary. First time here? Start with the January 1st chord.
There is also a series of lessons I ran 2013 called Chord a Week, "Open Position Chords" Series . This series explores several open position chords and their movable versions.
Learn a new strumming pattern(s) starting each week 2018 with my new video series!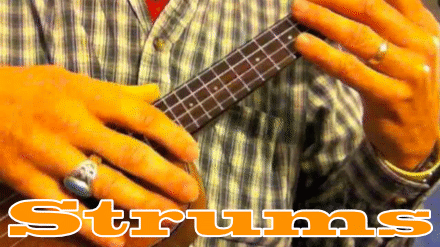 Takamine Published: 2014-01-28 Updated: 2014-01-28
Bass Di Guitar Manufacture Ukulele
Links
from the Takamine web site
For more than half a century now, Takamine has proudly dedicated itself to the art of fine guitar craftsmanship. Its longstanding devotion to innovation and continual improvement has placed it among the world's premier acoustic guitar makers, with truly fine instruments that are the first choice of performing guitarists worldwide. At Takamine, we're artisans and craftspeople at heart. High-volume builders use production machinery to speed up their output, but speed isn't the issue for us—it's the quality of the instrument. We're proud of the level of our craftsmanship, and we invite you to see it for yourself by taking a close look at our instruments, part by part.
The Delicate Soundboard Balance
Spruce and cedar soundboards have been used for well over a millennium, and the modern bracing system has been around for at least 150 years. We use a traditional "X" bracing pattern on our steel-string models, differently voiced for each application. Rather than make any radical departures, we make many small changes that add up to a significant difference in volume, balance and richness. Takamine® soundboards are braced and voiced by hand—by tapping each top, a skilled luthier knows just how to shape the braces for the best possible response.
More information available on the Takamine's web site.
Even more information, discussion and comments on this listing.
Just browsing over both books, they look fantastic! I'm a guitarist and uke player for over 25 years and was thinking about writing a ukulele book but you've already written what I think are the best, most comprehensive and thorough books I've ever seen for the instrument. I just might end up buying every book you've written and I'll be giving my highest recommendation for your books to my friends and students. Thank you so much for taking the time to write such great books! — Peter Rhee
Aloha, Curt, All I can say is WOW! What you have accomplished is simply incredible! All the best — Glen Hirabayashi, The Aloha Boys
Folks, if you haven't stopped by Curt's site, do so right now! ..And get his books, they are fantastic. This guy knows his stuff and is able to pass it along too. — Alan Johnson Proprietor, The 4th Peg
I can highly recommend Curt's Uke books — I have four of them and they are excellent. — fatveg — Portland
Thanks for visiting and checking out the site!
Content is added and updated almost daily - so check back often.
LearningUkulele.com has one of the largest collections of lessons, songs, and TABS, luthiers, ukulele builders, ukulele festival and club information, and, ukulele links on the web. I've been on the ®Internet since the early 1990's and This site just never stops growing!!!