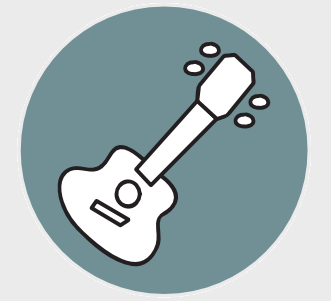 All 1 sample page(s) are viewable on-line.
To view the pages at a larger size you can resize the browser window smaller to a tablet or phone size and the pages will magically grow larger. If you are a registered member and have the correct permissions.
View the Download section below to download the song files for the complete and most up-to-date versions.
Jordu is a jazz standard written by Irving "Duke" Jordan in 1953. This song was first made popular by Clifford Brown and Max Roach, but many other jazz musicians have performed or recorded renditions of it, including Stan Getz, Chet Baker, and Charlie Byrd.
It has a traditional AABA jazz form. The A section is composed of two measure patterns, the first being a non-chordal pick-up measure in which the lead player starts a phrase on the "and" of beat 1 and leads right into the second half of the two measure phrase in which the rhythm players and the lead players both hit on 1, 3, and the "and" of 4. The B section is a circle of fourths pattern built on dominant seventh chords. The ending of the song contains a vamp on the last two bars of the A section followed by an alteration of the initial pickup measure ending on a minor-major seventh chord.
Floyd Cramer performed the song on the organ on his 1962 album "Floyd Cramer Gets Organized" in which one half of the album was piano and the other half organ.
Lyrics for this song were written by Karrin Allyson with the title "Life is a groove". She recorded it on her 2006 Footprints CD as a duet with Nancy King.
Another vocal version was recorded by Ann Richards with the title "Where Did You Go?" which she included on her The Many Moods of Ann Richards/Two Much 2004 compilation.
---
Song Road Map
Tips and tricks for remembering a song.
Remembering songs is all about the form and harmonic content and movement with taking in the similarities between songs. And, just like a road map they're landmarks that will trigger memories of how to get through various sections, changes or parts of a song.
This section of a song's page presents some tips on how I try and remember a particular song.
---
No Road Map for Jordu check back soon.
NOTE: Each higher access level includes ALL the benefits of the lower levels. Private Lessons include all the benefits of a Premium Access Plans as long as you remain a student on the schedule.
Just browsing over both books, they look fantastic! I'm a guitarist and uke player for over 25 years and was thinking about writing a ukulele book but you've already written what I think are the best, most comprehensive and thorough books I've ever seen for the instrument. I just might end up buying every book you've written and I'll be giving my highest recommendation for your books to my friends and students. Thank you so much for taking the time to write such great books! — Peter Rhee
Aloha, Curt, All I can say is WOW! What you have accomplished is simply incredible! All the best — Glen Hirabayashi, The Aloha Boys
Folks, if you haven't stopped by Curt's site, do so right now! ..And get his books, they are fantastic. This guy knows his stuff and is able to pass it along too. — Alan Johnson Proprietor, The 4th Peg
I can highly recommend Curt's Uke books — I have four of them and they are excellent. — fatveg — Portland
Thanks for visiting and checking out the site!

Original Curtie Animation from 1987 for my first web site on a Macintosh II.
33 years ago.
"Built for myself (Curt), and sharing with the `Ukulele community!"
LearningUkulele.com has one of the largest collections of lessons, songs, and TABS, luthiers, ukulele builders, ukulele festival and club information, and, ukulele links on the web. I've been on the ®Internet since the early 1990's and This site just never stops growing!!!
Content is added and updated almost daily - so check back often.