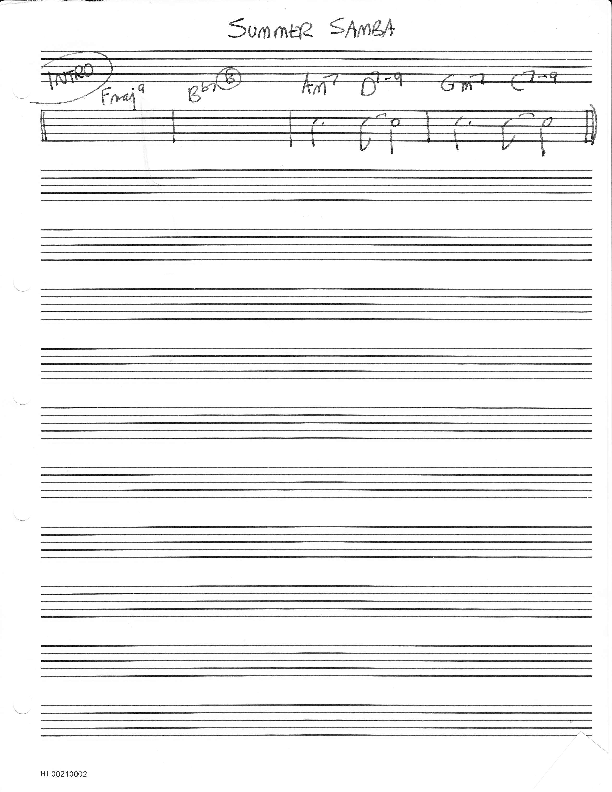 All 1 sample page(s) are viewable on-line.
If you are a registered site member and have the correct permissions you can view ALL the pages of this PDF or Samples pages at a larger size. You can resize the browser window smaller to a tablet or phone size and the pages will magically grow larger.
Or, use the Online PDF Viewer . available for premium members .
View the Download section below to download the song files for the complete and most up-to-date versions.
Summer Samba (also known as So Nice or its original Portuguese title, "Samba de Verão") is a 1964 bossa nova song by Brazilian composer Marcos Valle, with English-language lyrics by Norman Gimbel; the original Portuguese lyrics came from Paulo Sérgio Valle, brother to the composer.
The song was first popularized by the Walter Wanderley Trio in 1966 — the album Rain Forest on which it was issued reached platinum status in 1970 — also reaching the U.S."Easy Listening" chart in versions by Johnny Mathis, Vikki Carr, and Connie Francis during that same year. In fact, at least one source claims that three different versions were on the Billboard charts at the same time in 1966. Allmusic has said of Wanderley's version, "His recording ... is regarded as perhaps a more definitive bossa tune than "Girl From Ipanema." Wanderley's version was the biggest seller in the U.S., reaching #26 on the Billboard Hot 100 in 1966, (#3 on the Easy Listening chart) , and is still a favourite on Adult Standards radio stations.
Other notable versions include those by Astrud Gilberto and by Bebel Gilberto, both of which have been used in several television programs and in widely broadcast TV advertisements. As of the year 2000, the song had been recorded by more than 180 different artists worldwide.
Summer Samba

— Premium Play-along Track
Play-along Demo: Desafinado
This play-along track is ONLY available to active users with Gold Level, Premium Site Access. "Can't give it all away."
Listen to this FREE track as a sample of the quality of these custom play-along tracks.
---
I, (Curt) originally created these tracks to perform over for gigs and this was a demo for booking gigs.
These Premium Play-along Tracks are available to LearningUkulele.com Site Members and are my personal one-of-kind tracks I (Curt) and Chuck Anderson recorded and arranged.
Main Song Download(s)
The main downloads for this Song.
Summer Samba - Leadsheet for Play-along Track

Updated: 31 Dec 2016

Members Only
Log-in to access.
Summer Samba - Premium Play-along Track

Updated: 31 Dec 2016

Members Only
Log-in to access.
Related Lessons
Related Lessons for Summer Samba.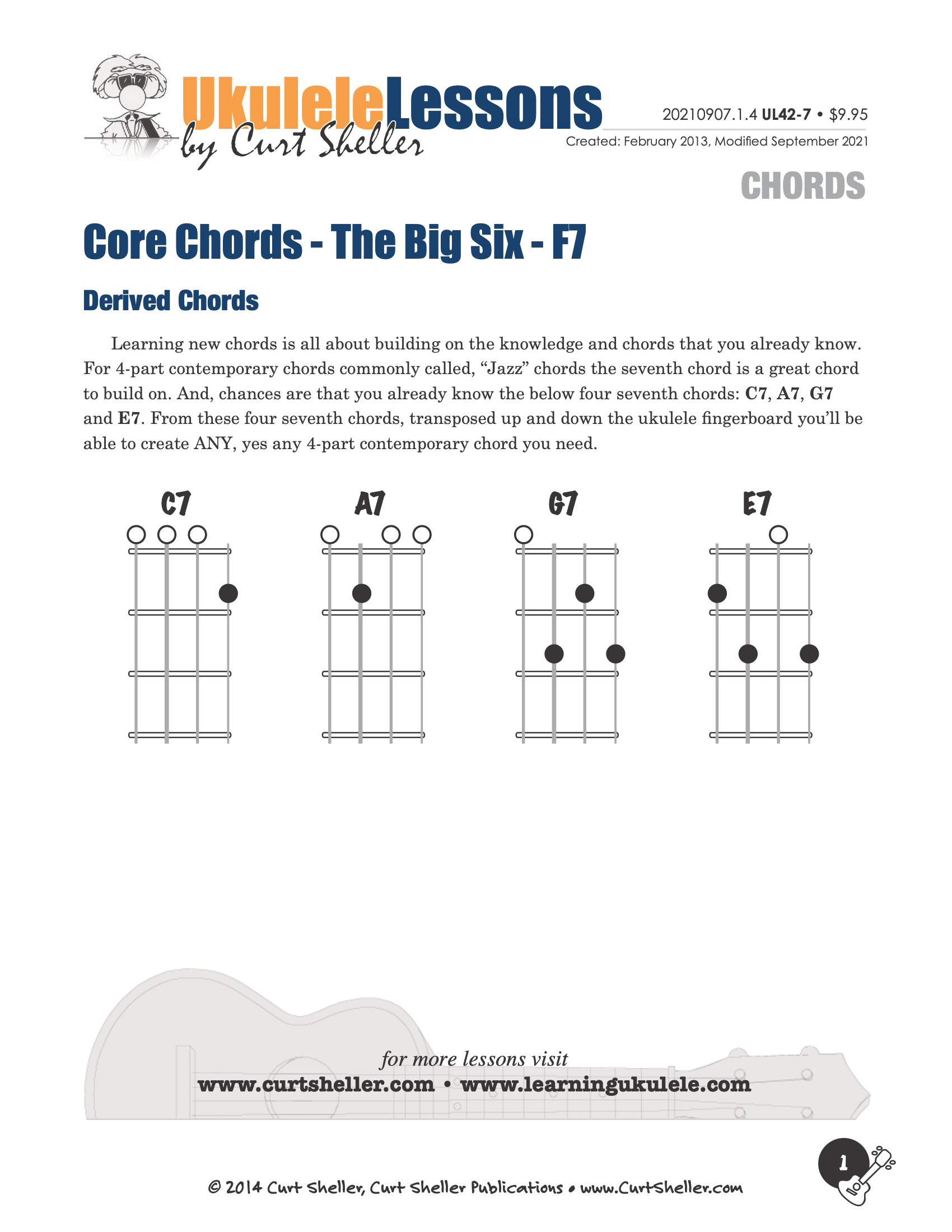 Core Chords - The Big Six - Building a Solid Chord Foundation
• Updated: 07 Sep 2021
The Big Six Core Chords is a series of lessons for building your core, essential 4-part chords. These chords commonly called jazz chords, are really just 4-part chords used in a wide range of musical styles. These chords include: Seventh , Major Seventh, Minor Seventh, Half Diminished Seventh or Minor Seven Flat Five, Diminished Seventh, and Augmented Seventh. These six chords form a core set of chords.
Related Lesson Series
Related Lessons Series for Summer Samba.
Related Song Files, Resources and Assets
Related Assets for Summer Samba.