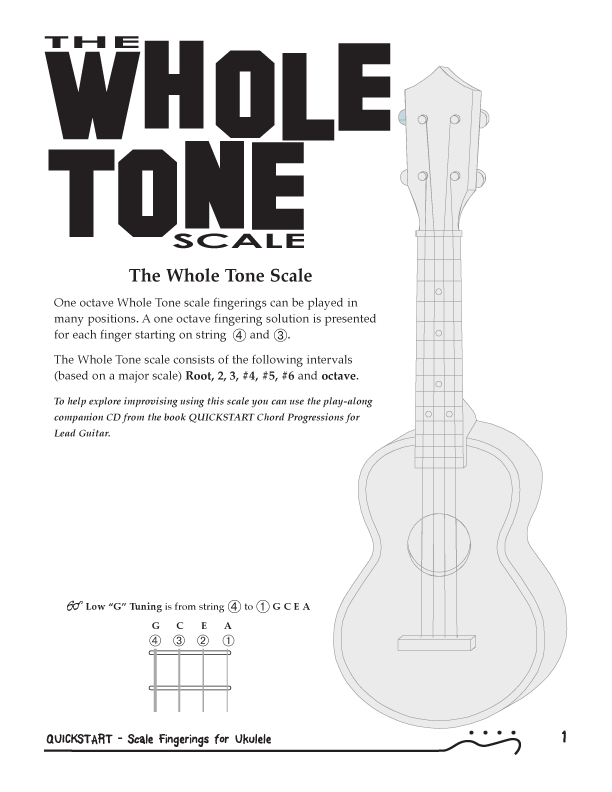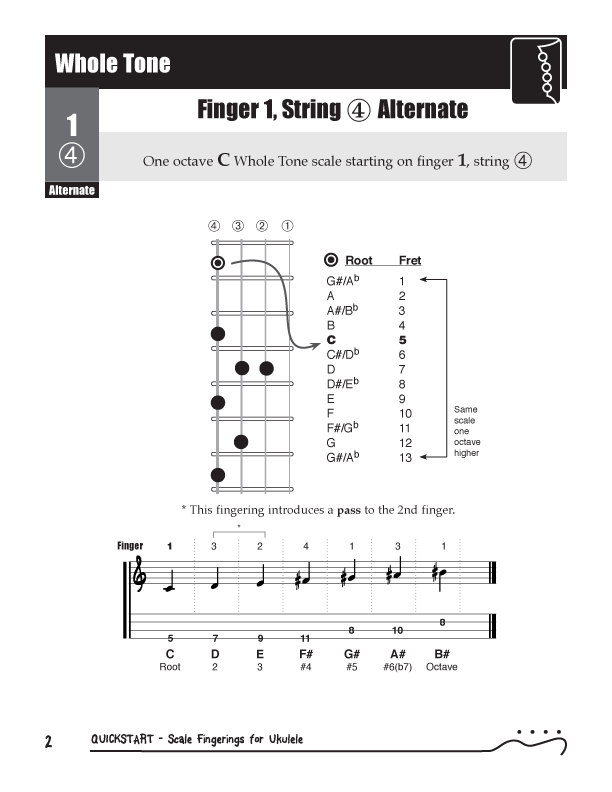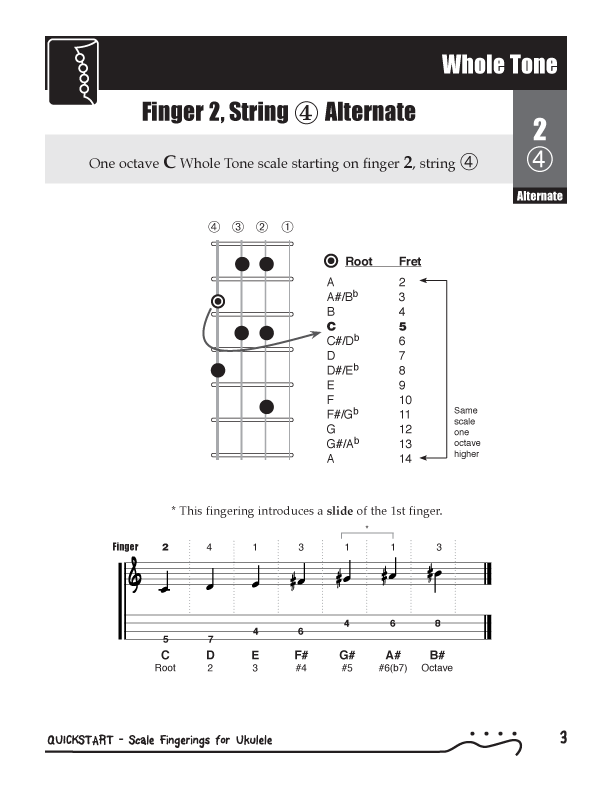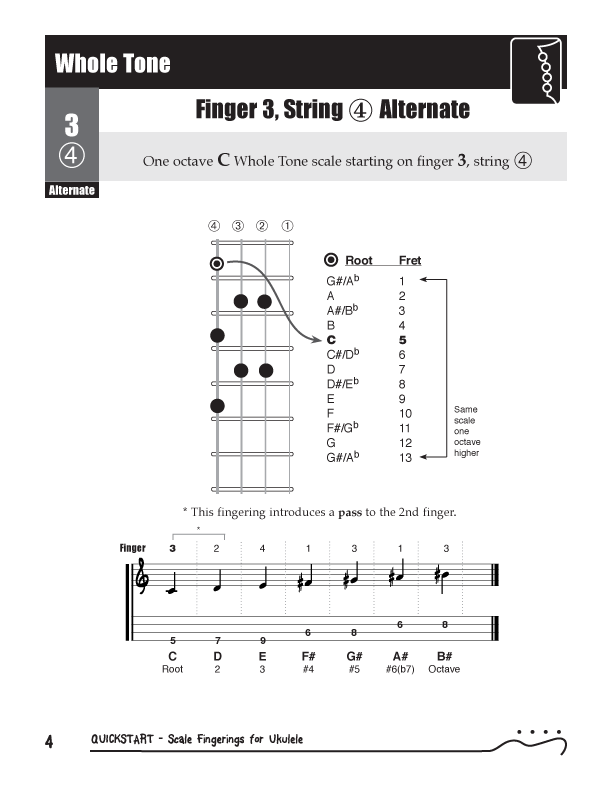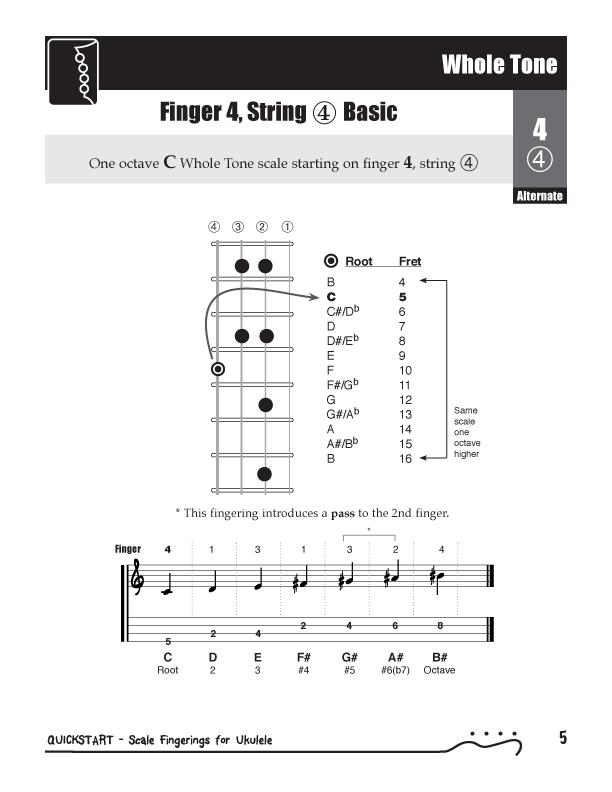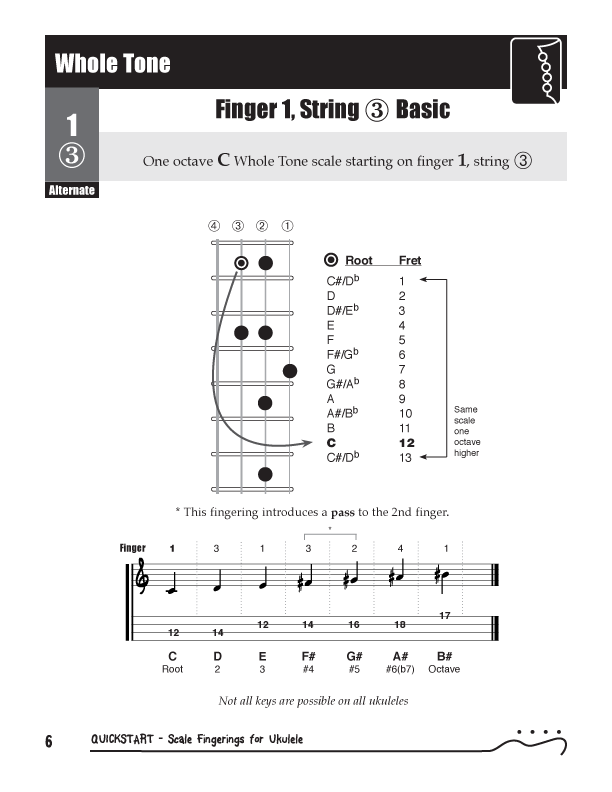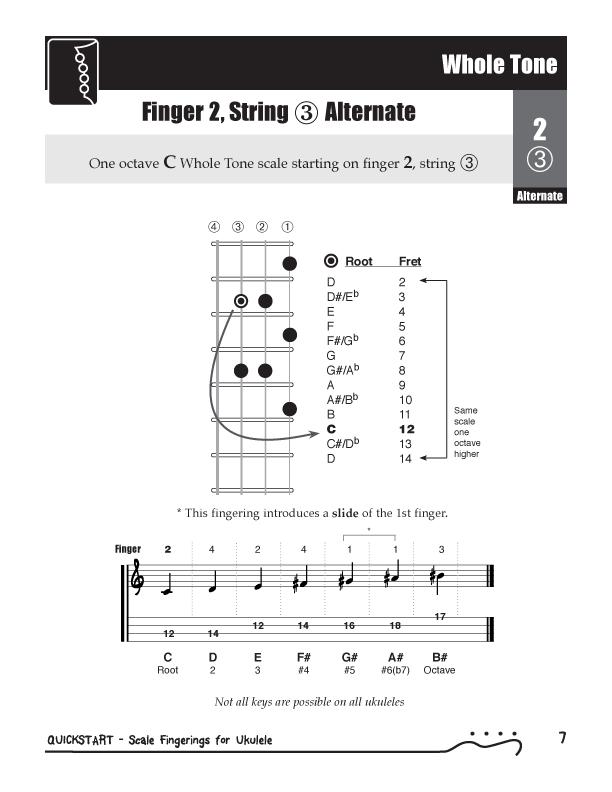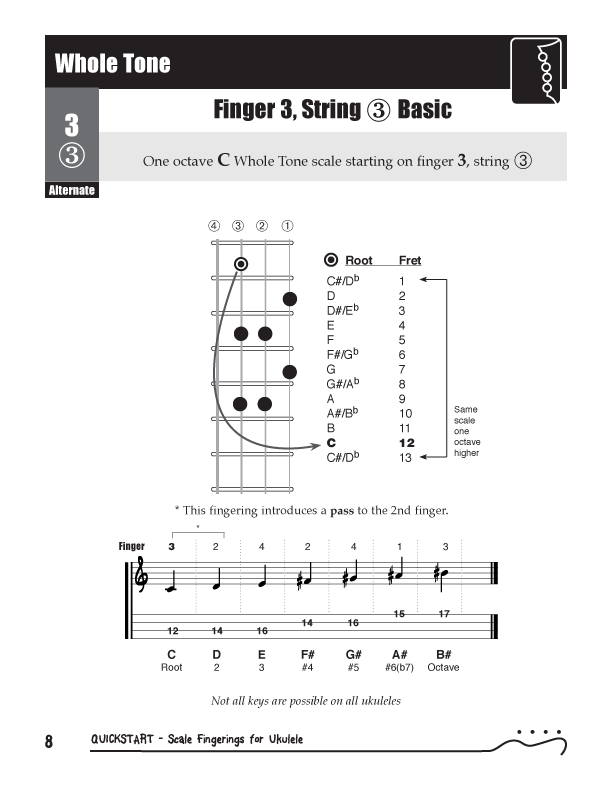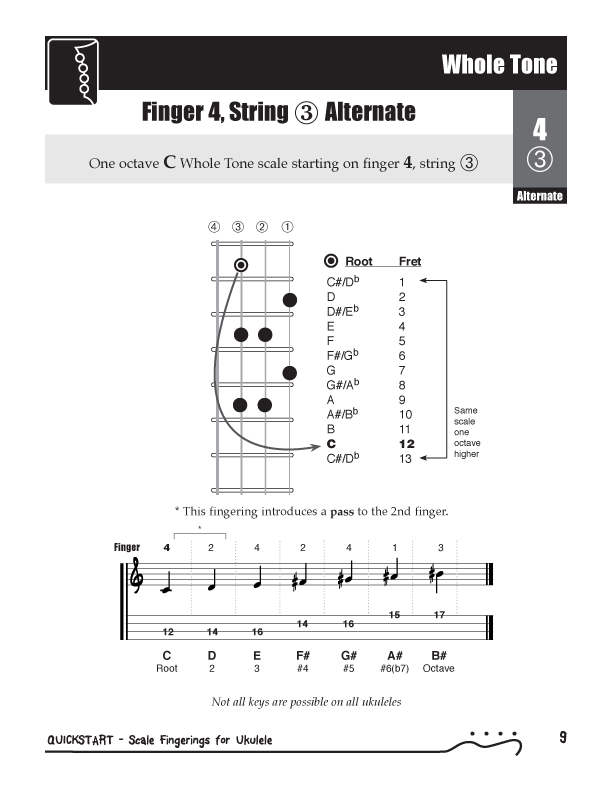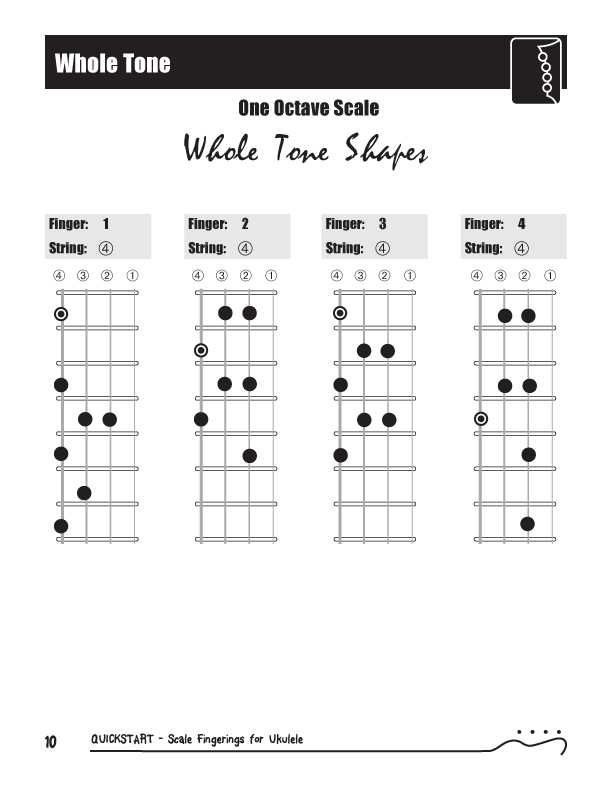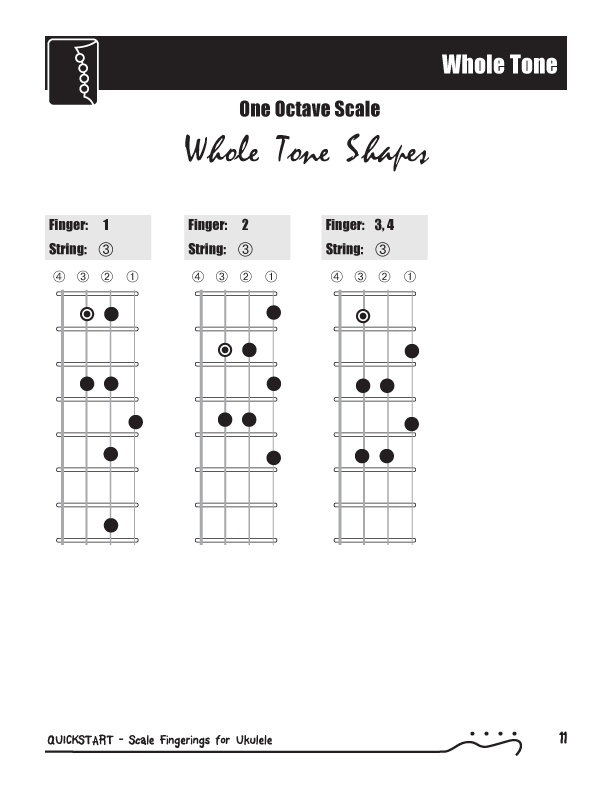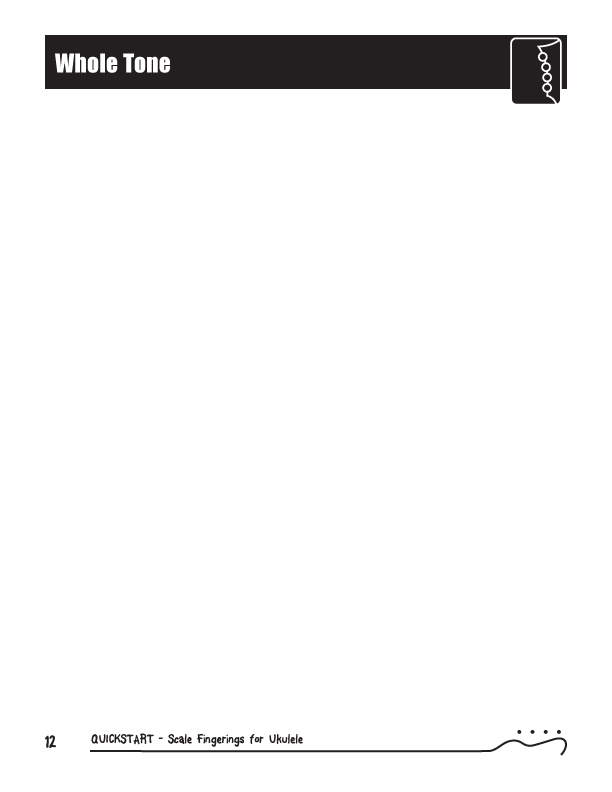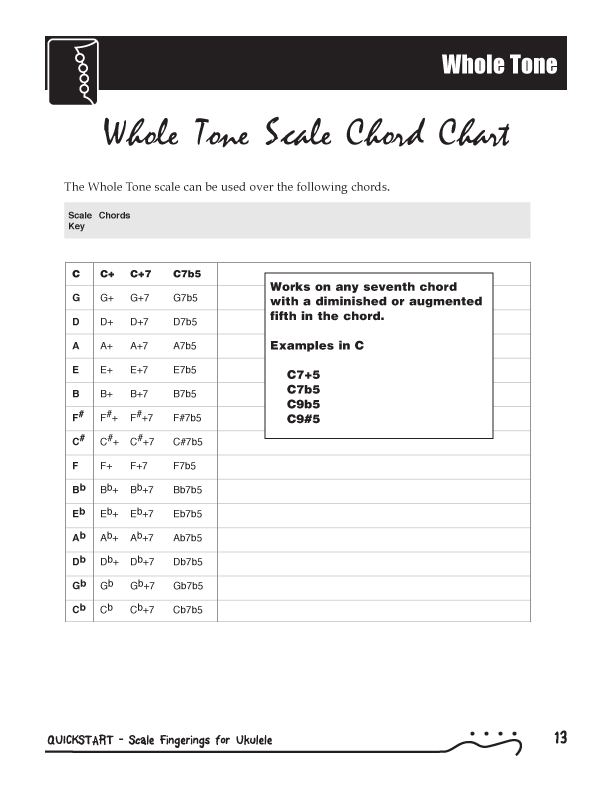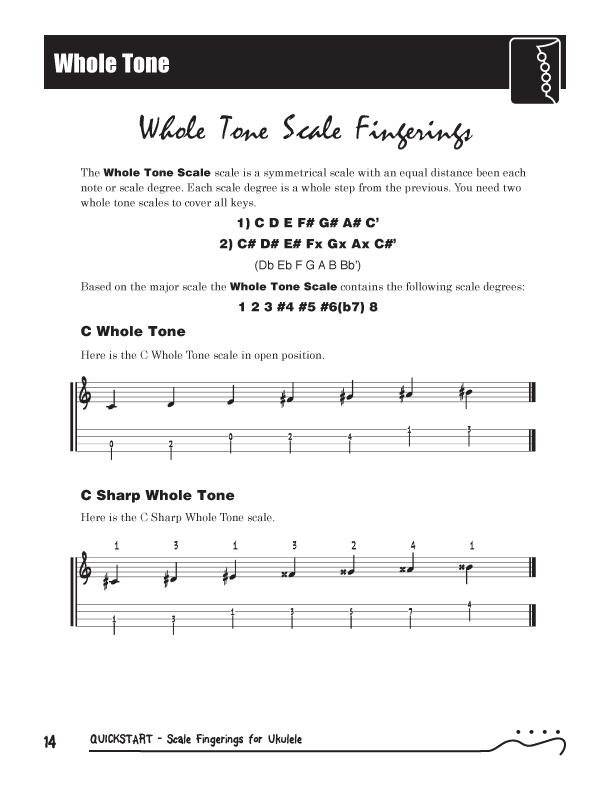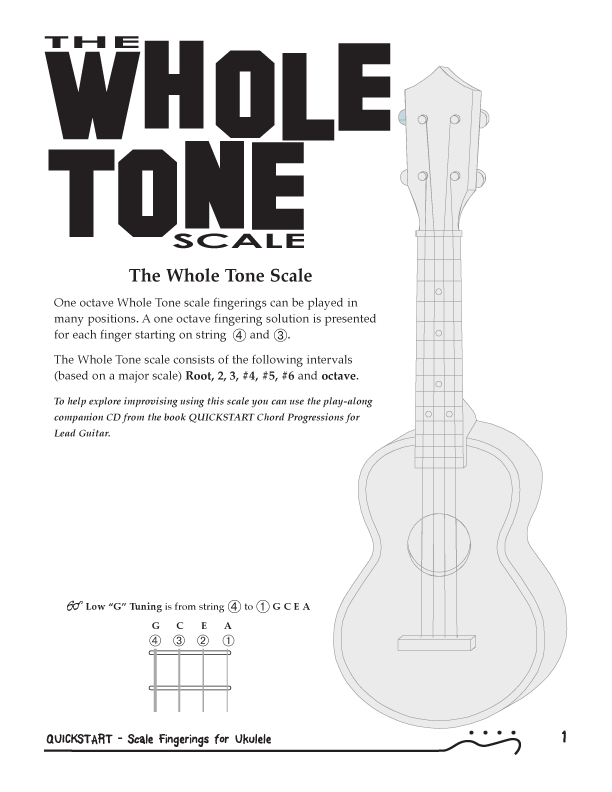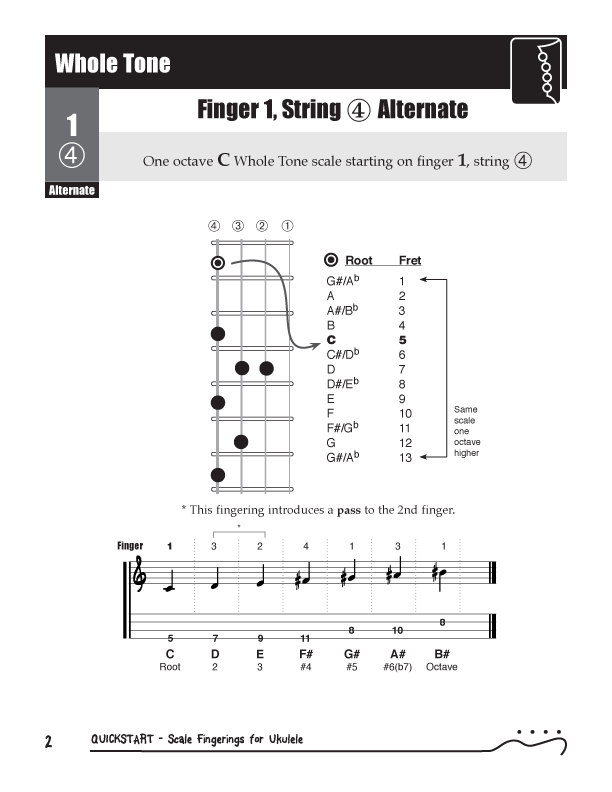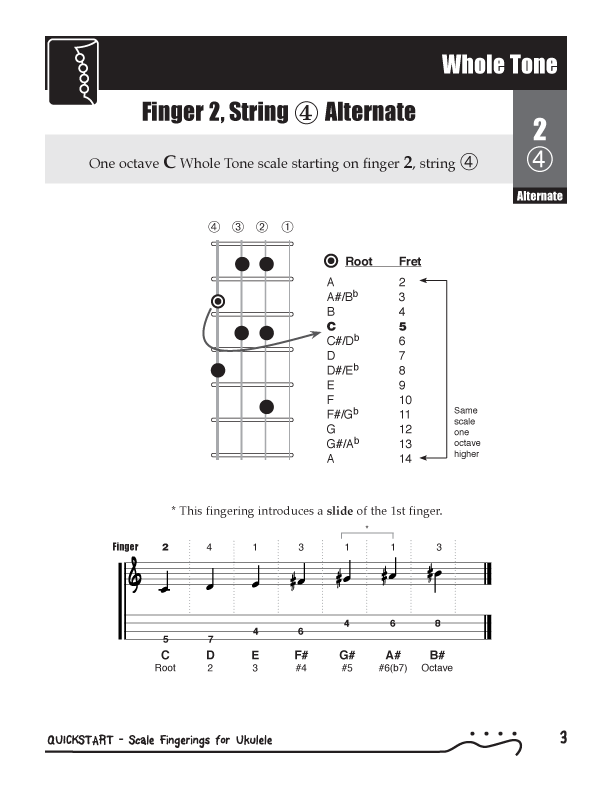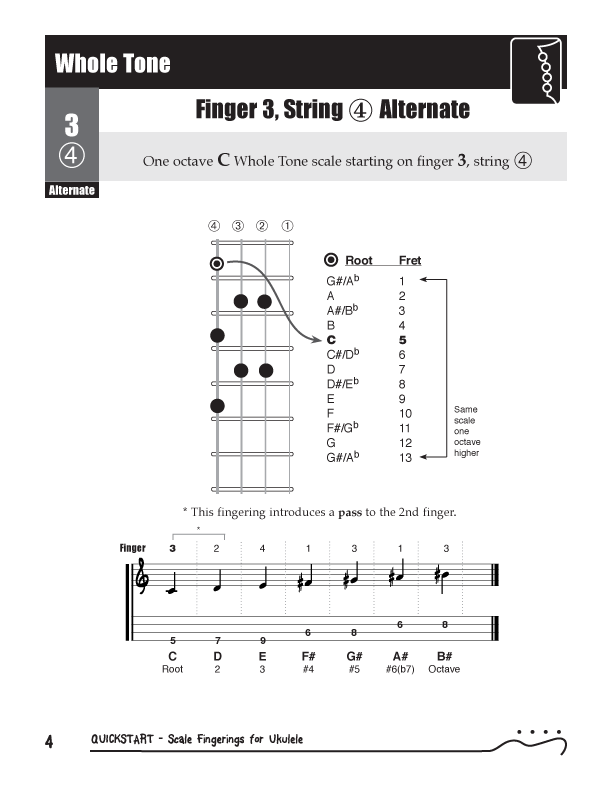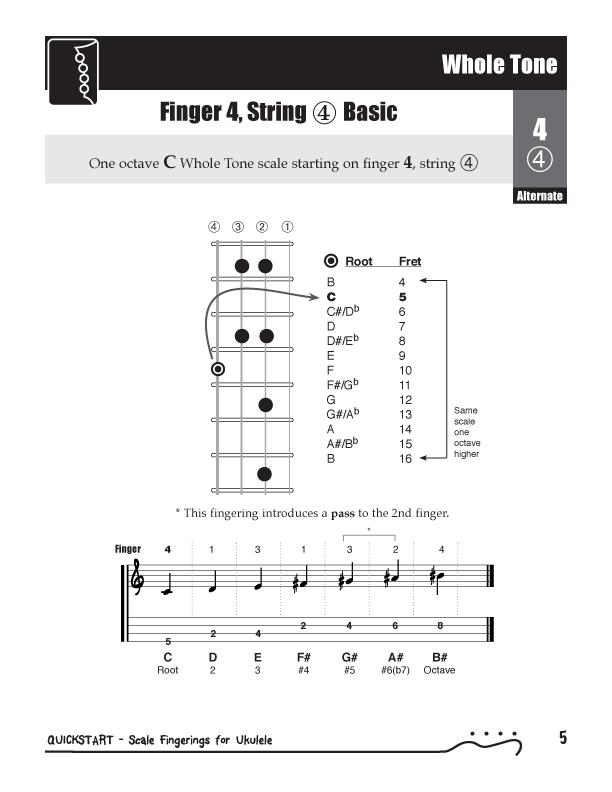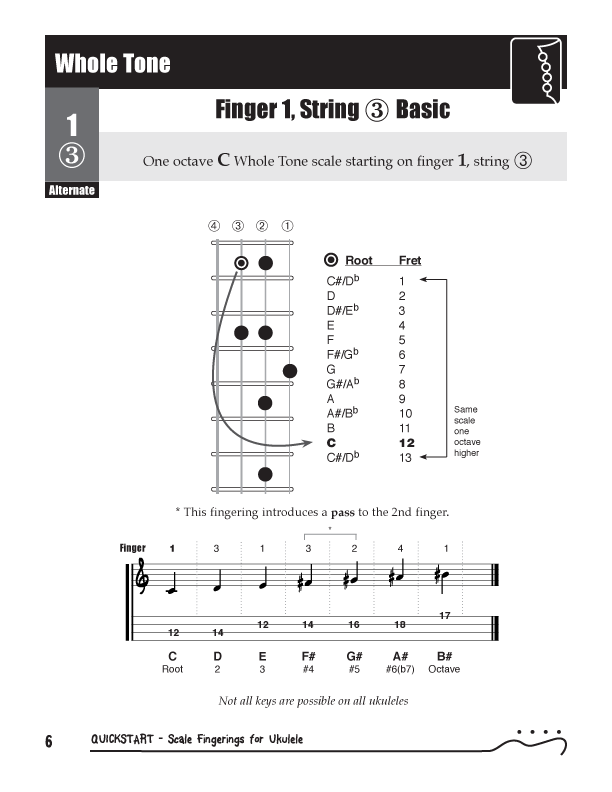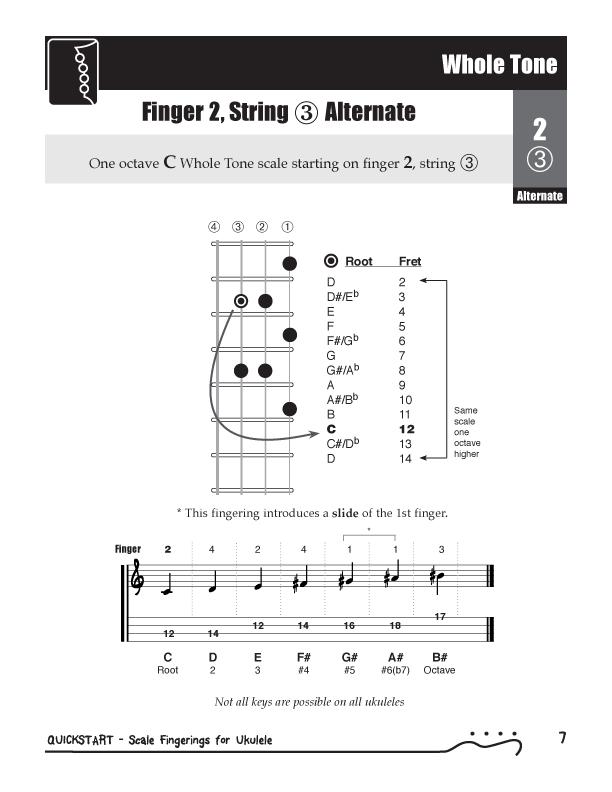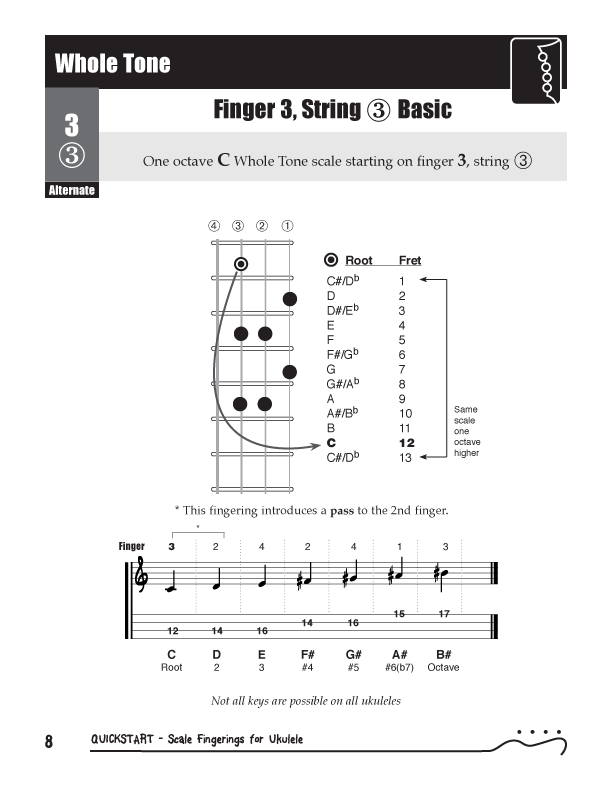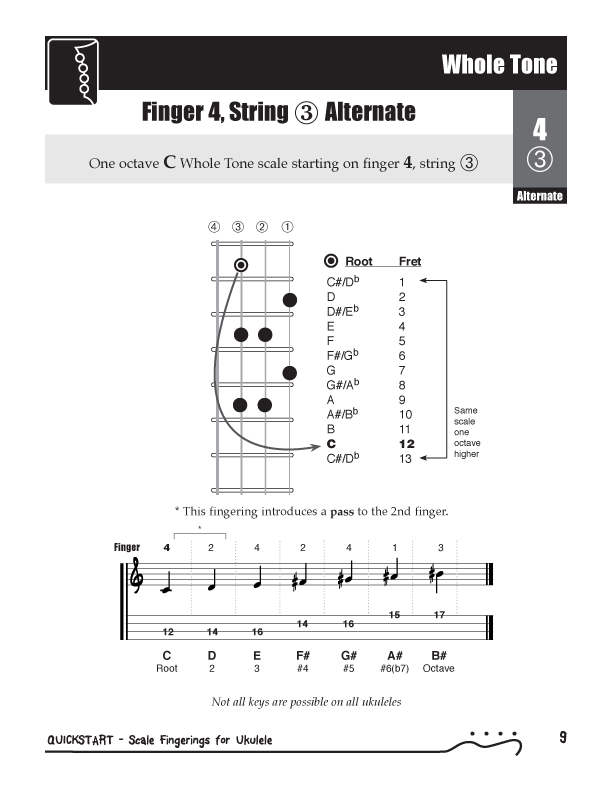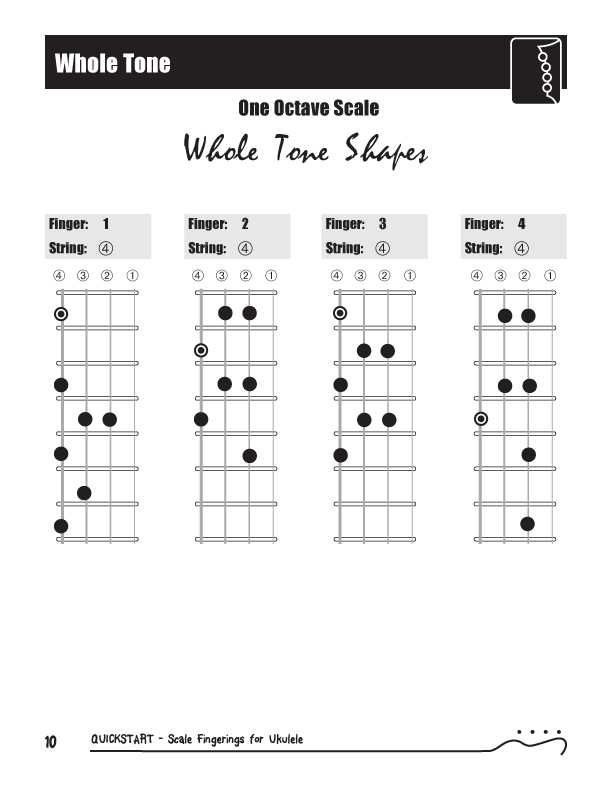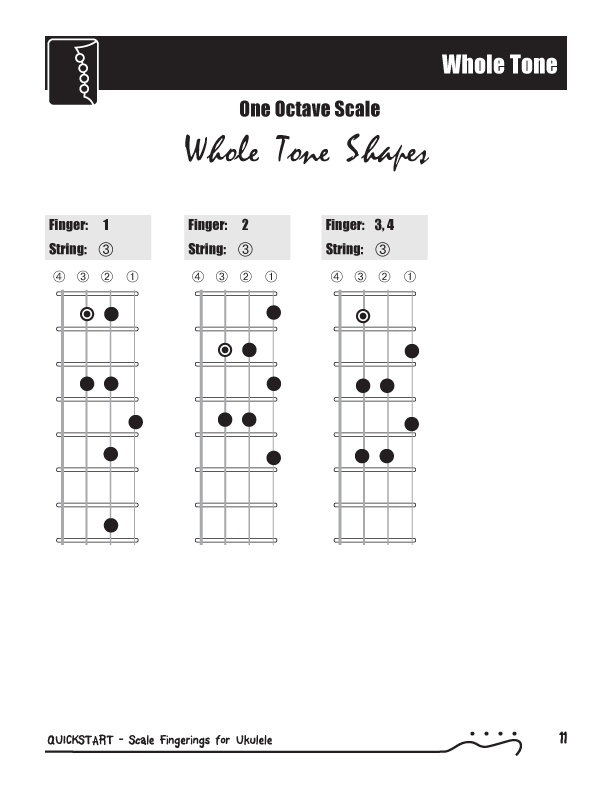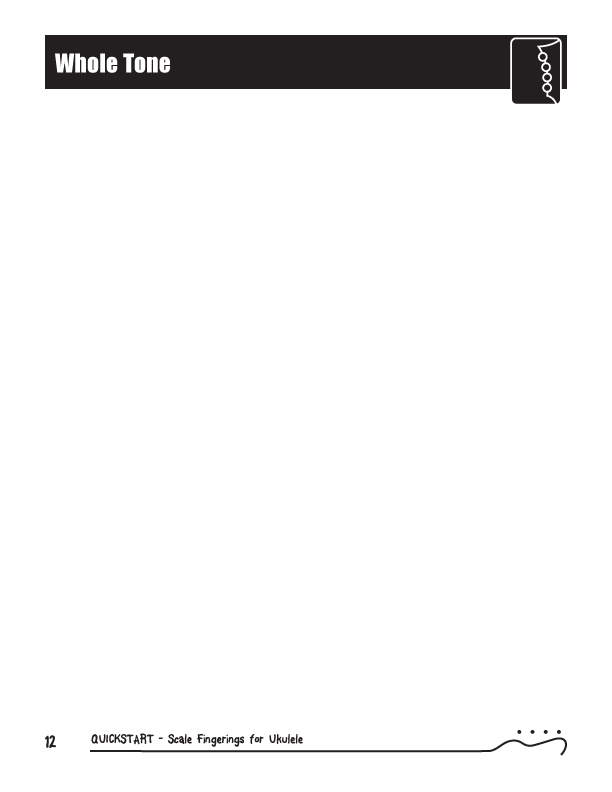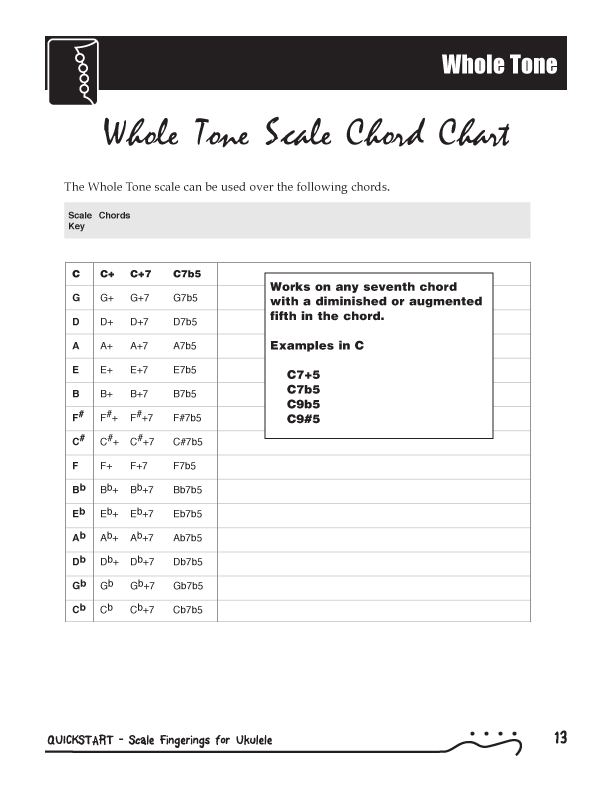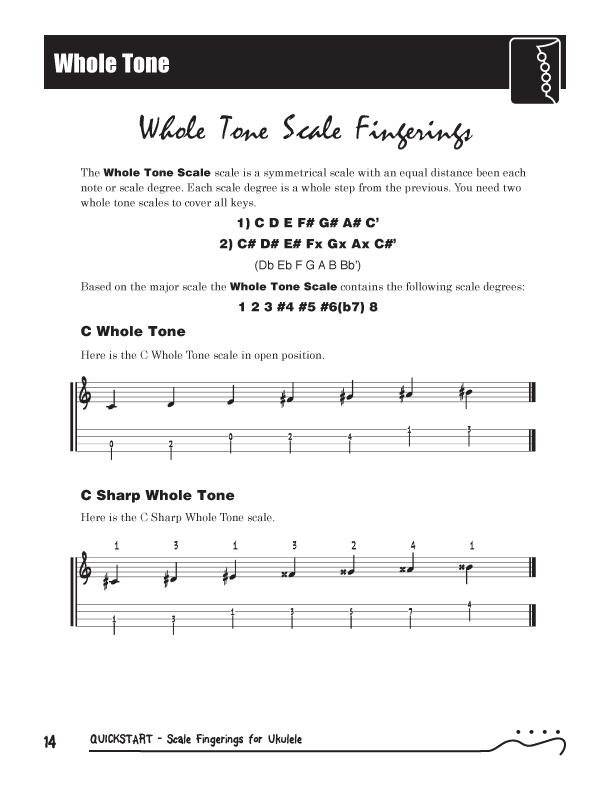 All 14 sample page(s) are viewable on-line.
If you are a registered site member and have the correct permissions you can view ALL the pages of this PDF or Samples pages at a larger size. You can resize the browser window smaller to a tablet or phone size and the pages will magically grow larger.
Or, use the Online PDF Viewer . available for premium members .
Each PDF file is a formatted, high resolution file that prints out great. You'll need Adobe Reader or a PDF viewing application to view your PDF file.
Whole Tone Scale for `Ukulele - C Tuning
The Whole Tone Scale scale is a symmetrical scale with an equal distance between each note or scale degree. Each scale degree is a whole step from the previous.
You only need two whole tone scales to cover all keys.
C D E F# G# A# C'
C# D# E# Fx Gx Ax C#' (Db Eb F G A B Bb`)
Based on the major scale the Whole Tone Scale contains the following scale degrees: 1 2 3 #4 #5 #6(b7) 8
The whole tone be used over augmented triads and 7b5 and 7#5 chords.
Additional Content
Available for Premium Site Access Plans Only
What IS a Scale?
A scale is simply a collection of pitches or notes, not really a "this is a Jazz scale", "this is a Blues" or "this is a Rock scale". It's how a scale is used that really matters not its name.
Most music starts with a scale. The melody, chords, licks and riffs all can be related back to a particular scale or scales.
The Six Essential scales ( in no particulate order ):
Blues (Minor Pentatonic)
Pentatonic (Major Pentatonic)
Dorian (Minor)
Mixolydian (Dominant)
Aeolian (Natural Minor)
Ionian (Major)
There are two scales that can be the memorized and other essential scales referenced from these two. These two scales are the Major and Natural Minor scales. The Major and Natural Minor scales are traditional scales and common scales in all forms of contemporary music.
This lesson explores the Major and Natural Minor scales and their derivations.
QuickStart Scale and Arpeggio Fingerings for Ukulele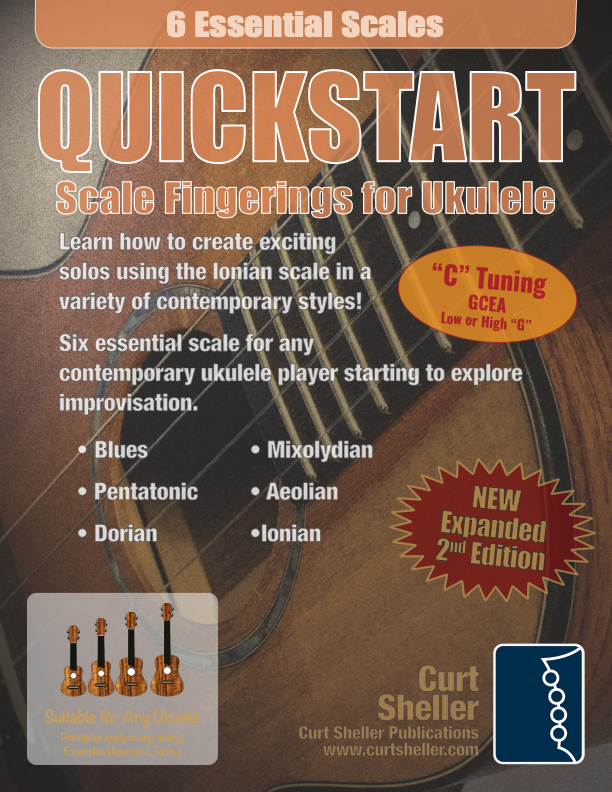 This lesson uses the same page format as the QuickStart Scale Fingering series of books.
QuickStart Scale Fingerings for Ukulele 3 volumes.
C, G, and D tuning. (QuickStart Scale Fingerings for Ukulele)
The QuickStart Scale Fingerings Vol 1 covers the Blues, Pentatonic, Dorian, Mixolydian, Aeolian and Ionian scales.
Traditional names for these scales are: Minor Pentatonic, Major Pentatonic, Minor, Dominant, Natural Minor and Major.
Download or View PDF for Complete Lesson
Download this lesson's PDF file for the latest, complete, and most up-to-date version of the lesson. As well as additional information not presented on-line.
Members and Active Students need to sign-in to download this lesson's PDF for the complete lesson.
Related Lessons
Related Lessons for Whole Tone Scale for `Ukulele - C Tuning.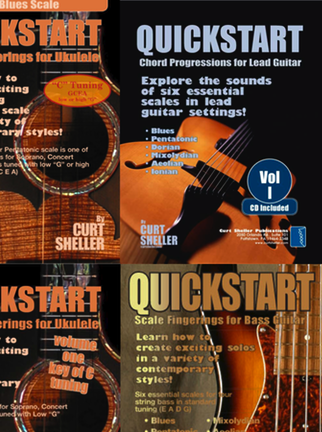 QuickStart Scale and Arpeggio Lesson Series
• Updated: 02 Jan 2005
"QuickStart Scale and Arpeggio Fingerings" are a highly organized, efficient system of scale and arpeggio fingerings. Each fingering pattern is shown with a fingerboard shape, TAB and standard music notation. Related chords are also explained for each scale. Master these fingerings and unlock your potential for solos and improvisation.
Related Books
Related Books for Whole Tone Scale for `Ukulele - C Tuning.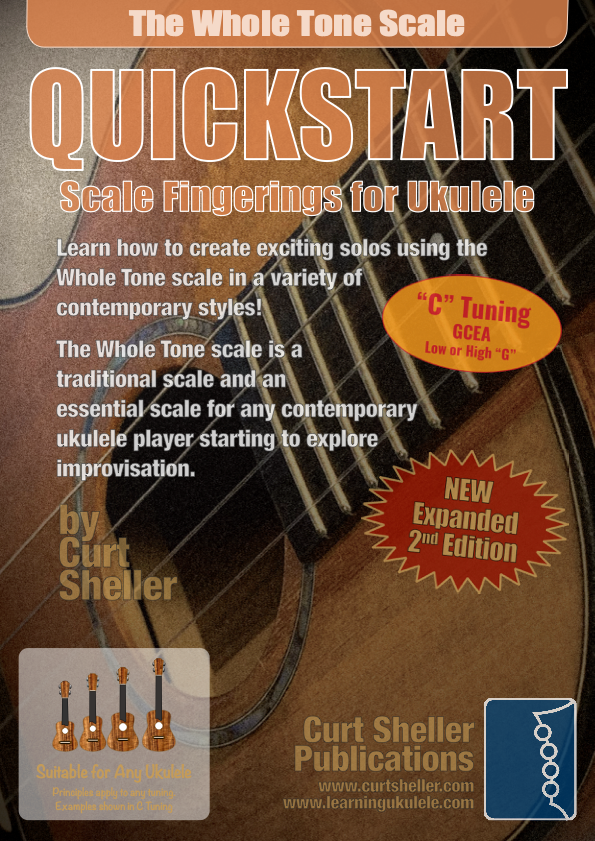 QuickStart Scale Fingerings for Ukulele, C Tuning - WholeTone Scale

Updated: Jan 24, 2017
The Whole Tone scale is a traditional scale used in a wide variety of music. This traditional scale is covered in all keys with one octave scale fingerings starting on any finger. Tunings: C with low or high G - (GCEA or gCEA). Learn to create exciting solos in a variety of contemporary styles!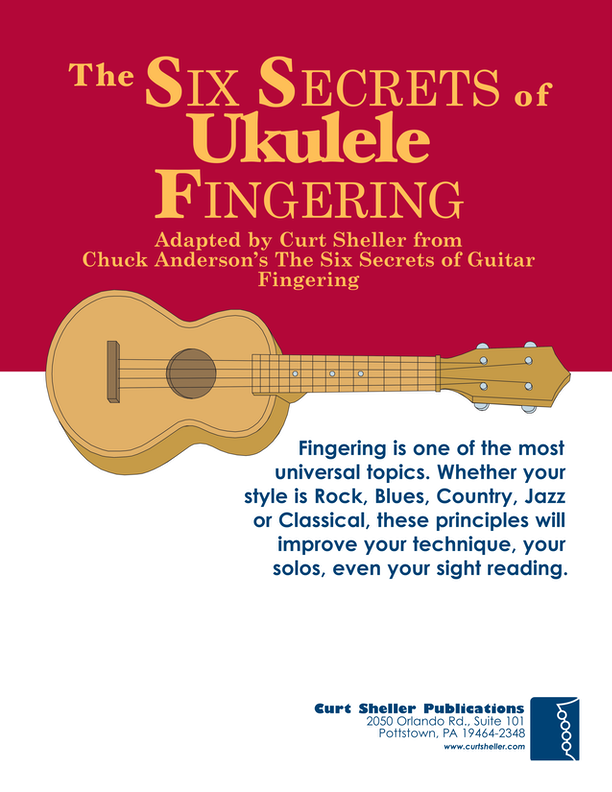 Six Secrets of Ukulele Fingering

Updated: Aug 17, 2021
Learn the six fingering principles to navigating the ukulele fingerboard. Fingering is one of the most universal topics. Whether your style is Rock, Blues, Country, Jazz or Classical, these principles will improve your technique, your solos, even your sight reading. Think of fingering as a series of pathways. When you learn to connect these pathways, there are benefits not only to technique but also to creativity.