Learn a New Ukulele Chord Each Day of 2018!!!
Today's Chord a Day, March 23rd - C13 •
Each day of 2018 there's a new chord you can learn and add to your chord vocabulary. First time here? Start with the January 1st chord.
There is also a series of lessons I ran 2013 called Chord a Week, "Open Position Chords" Series . This series explores several open position chords and their movable versions.
Learn a new strumming pattern(s) starting each week 2018 with my new video series!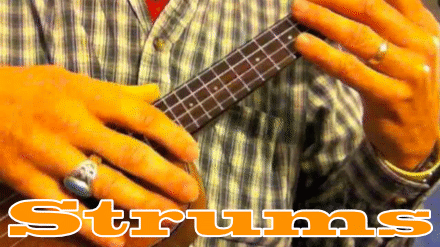 Magic Fluke Company Published: 2013-11-14 Updated: 2018-01-03
Accessories Banjo Concert Firefly Flea Fluke Manufacture Soprano Tenor Ukulele Violin
Magic Fluke Company
292 South Main Street
Sheffield, MA 01257
USA
tel: 800-459-5558
fax: 413-229-8536
Links
from the Magic Fluke Company web site
The Magic Fluke Co. was started by Dale and Phyllis Webb in 1999 in the basement of our home in New Hartford Connecticut. Dale was inspired and encouraged by Phyllis's brother Jim Beloff, an accomplished musician and guitarist who discovered the uke a few years earlier. Jim realized anyone interested in playing the uke back then had very little to choose from in the way of available music or instruments and in 1992, he incorporated as Flea Market Music and released the first of many music books and videos.
In the late nineties, Dale had the motivation to jump ship from the corporate world and decided to make an attempt at an affordable, USA-made ukulele. Armed with prototypes made with thermoformed parts from the kitchen oven, and a handful of Jim's books and CDs, Magic Fluke committed to exhibit at The National Association of Music Merchants annual trade show in LA, January of 1999. The Magic Fluke Company was born and there was no looking back as orders started coming in and we had to tool up and start producing instruments.
The concert Fluke started shipping in June of 1999 with three color options. Over the years, Magic Fluke has added dozens of new colors and designs as well as the tenor scale and various pickup options. In 2003 the smaller bodied soprano Flea was born followed by the Fluke SB and Firefly banjo. A violin was introduced in 2013. To date, we have built and shipped over 55,000 USA-made instruments.
More information available on the Magic Fluke Company's web site.
Even more information, discussion and comments on this listing.
Just browsing over both books, they look fantastic! I'm a guitarist and uke player for over 25 years and was thinking about writing a ukulele book but you've already written what I think are the best, most comprehensive and thorough books I've ever seen for the instrument. I just might end up buying every book you've written and I'll be giving my highest recommendation for your books to my friends and students. Thank you so much for taking the time to write such great books! — Peter Rhee
Aloha, Curt, All I can say is WOW! What you have accomplished is simply incredible! All the best — Glen Hirabayashi, The Aloha Boys
Folks, if you haven't stopped by Curt's site, do so right now! ..And get his books, they are fantastic. This guy knows his stuff and is able to pass it along too. — Alan Johnson Proprietor, The 4th Peg
I can highly recommend Curt's Uke books — I have four of them and they are excellent. — fatveg — Portland
Thanks for visiting and checking out the site!
Content is added and updated almost daily - so check back often.
LearningUkulele.com has one of the largest collections of lessons, songs, and TABS, luthiers, ukulele builders, ukulele festival and club information, and, ukulele links on the web. I've been on the ®Internet since the early 1990's and This site just never stops growing!!!