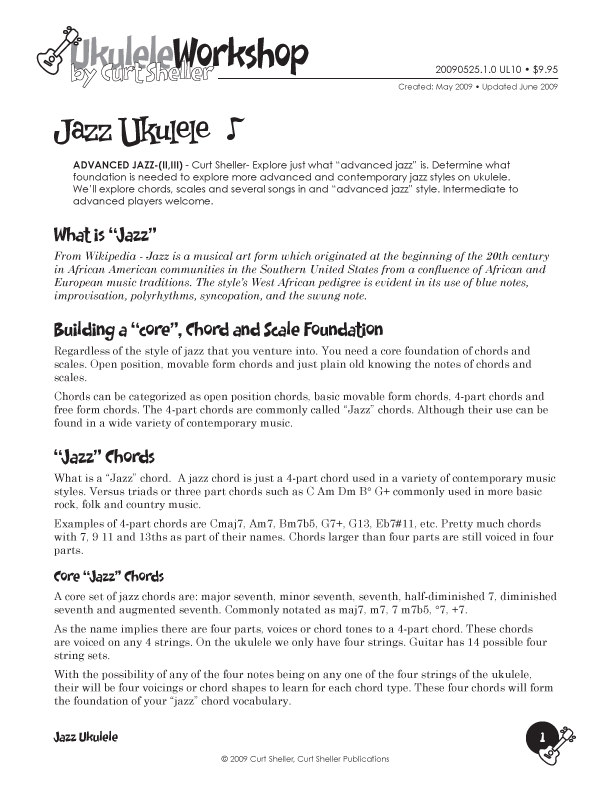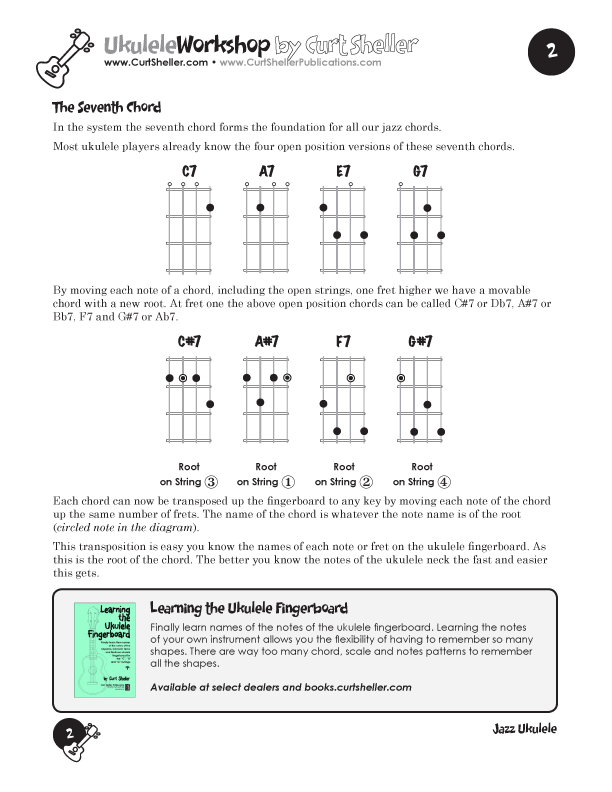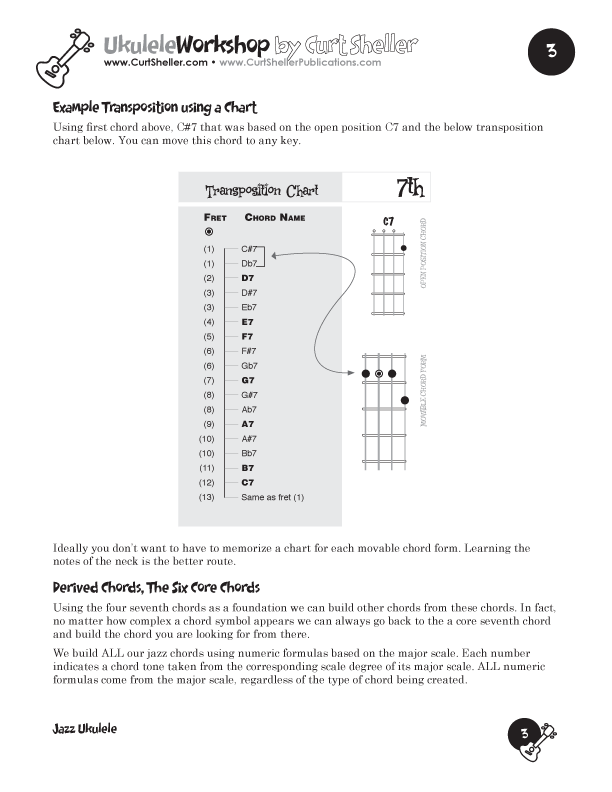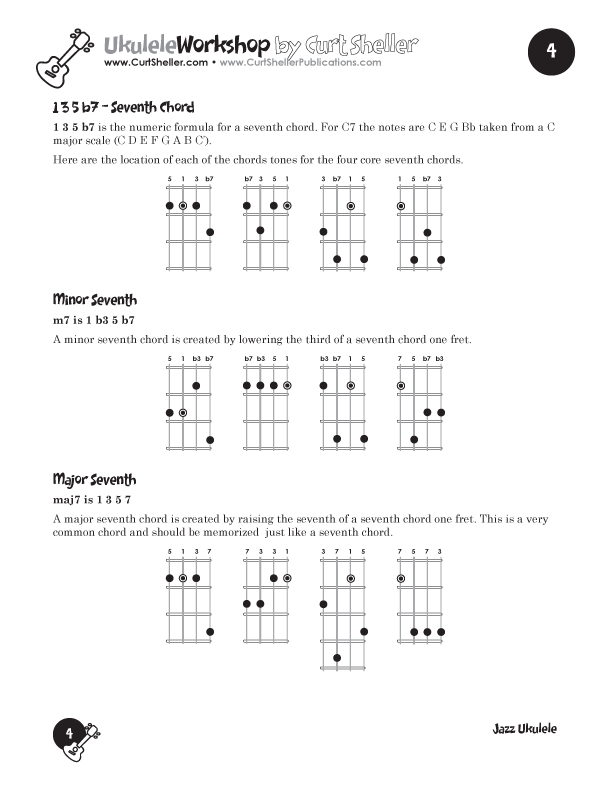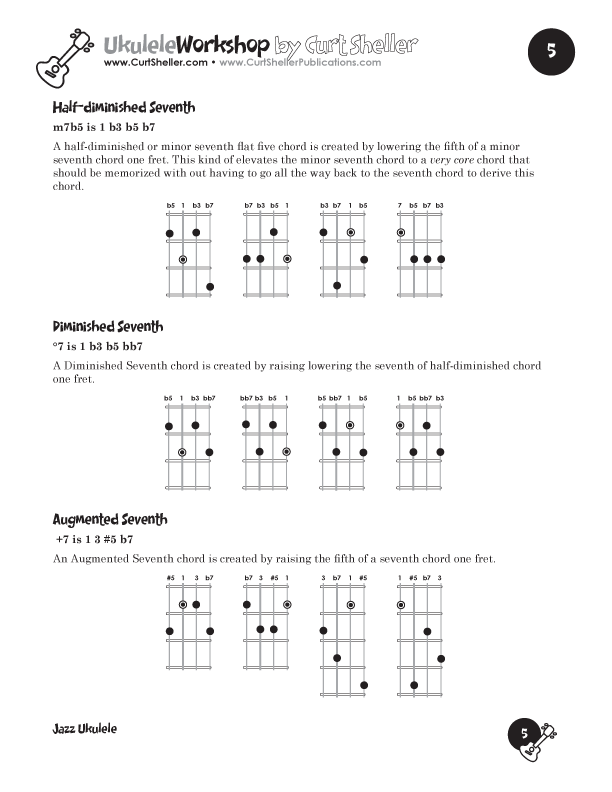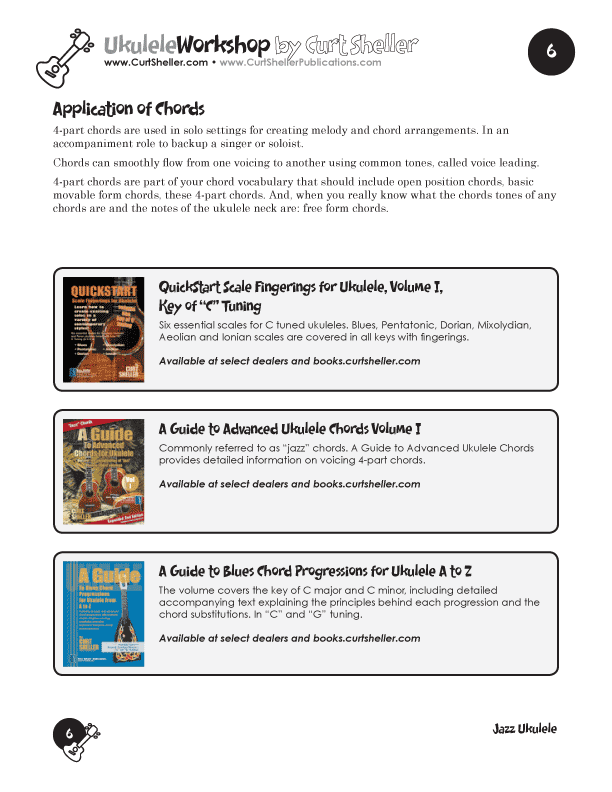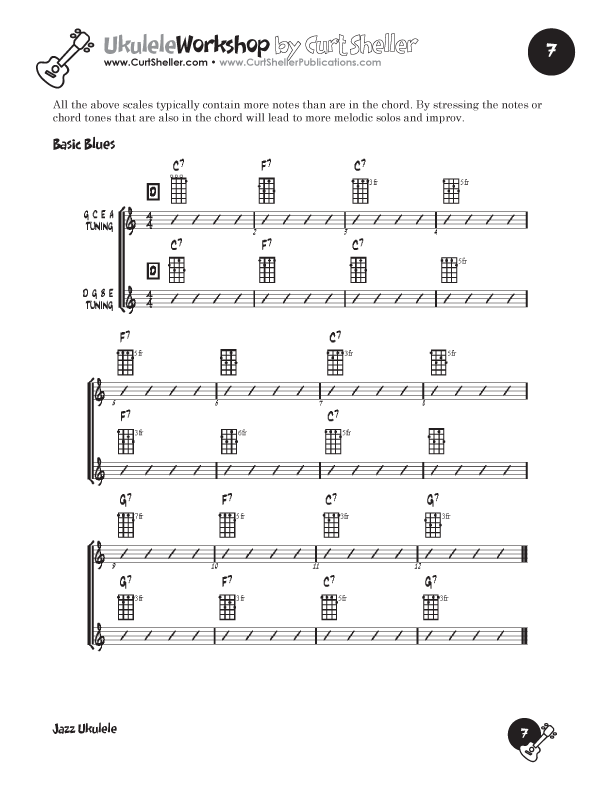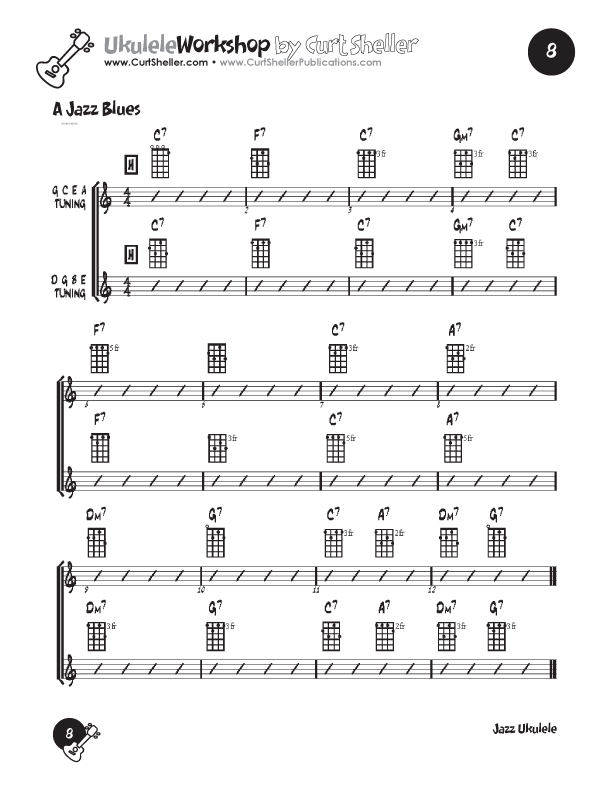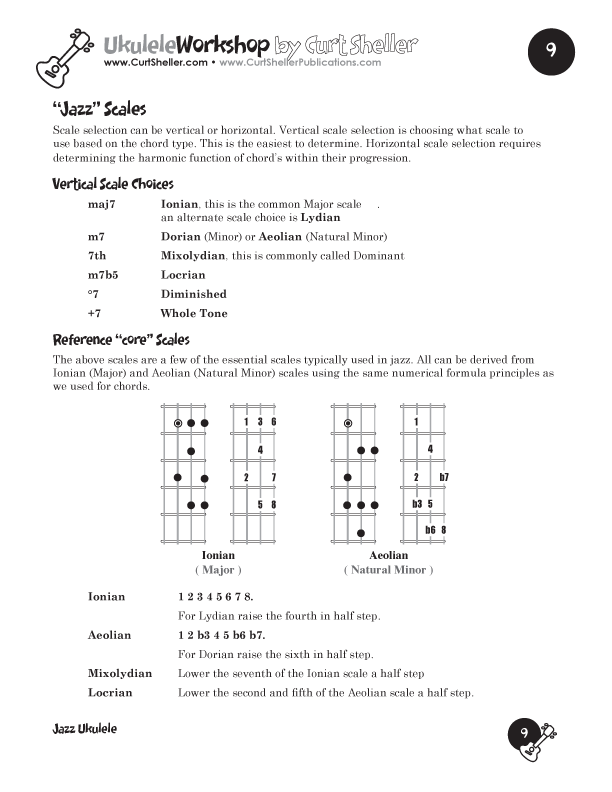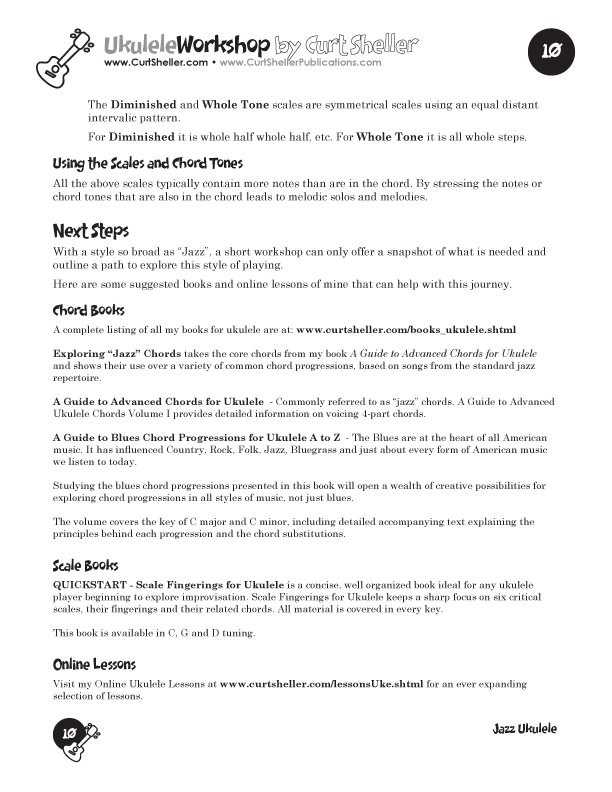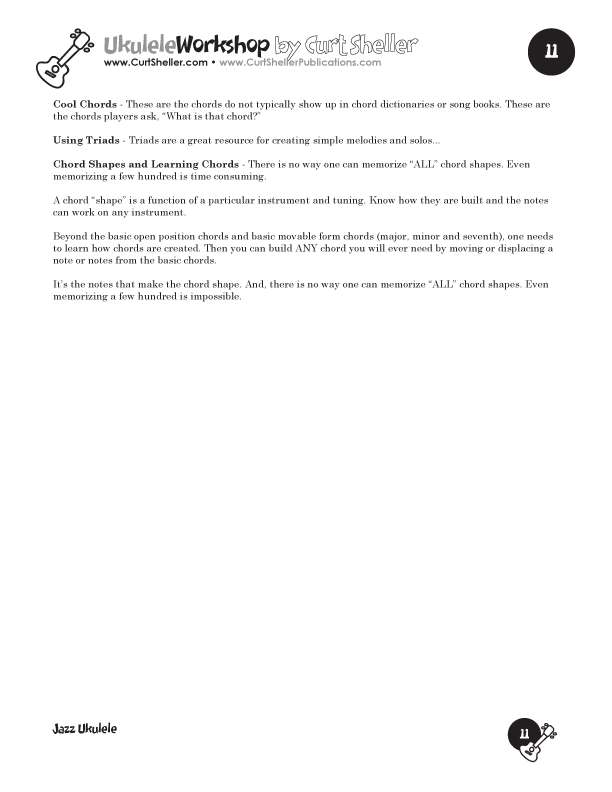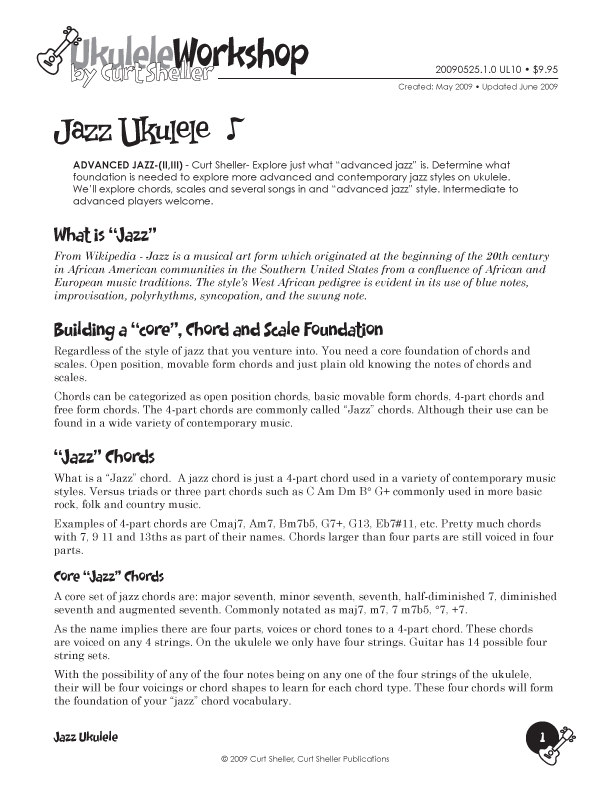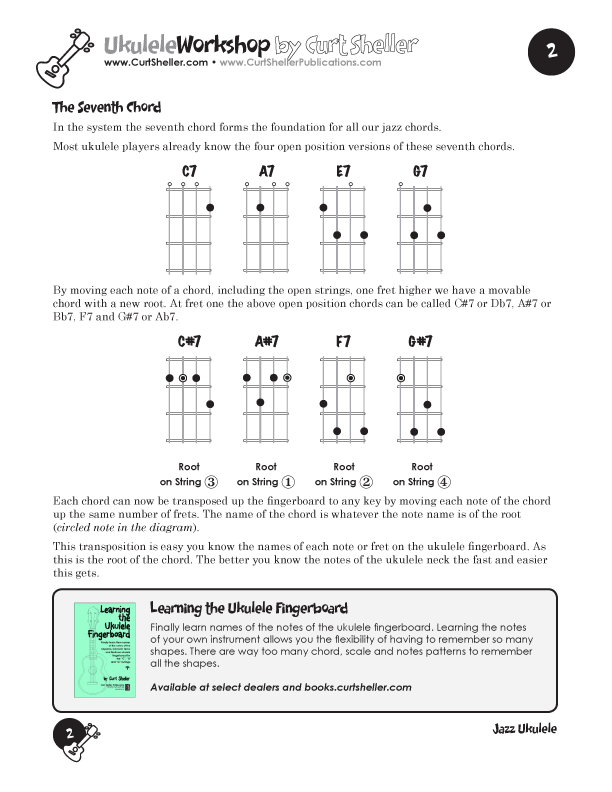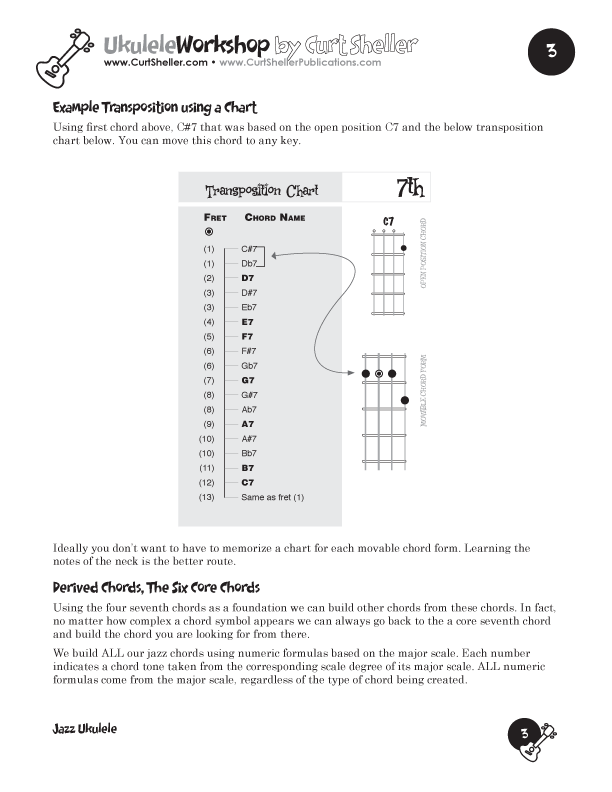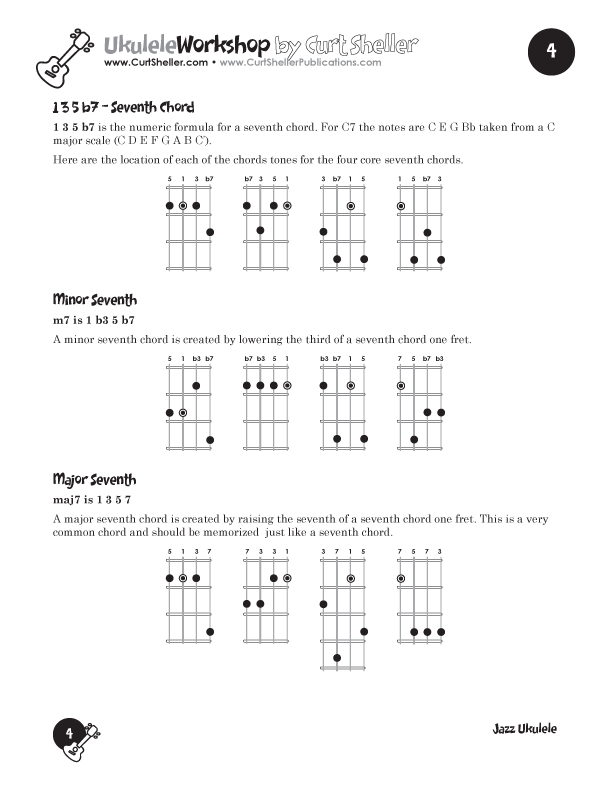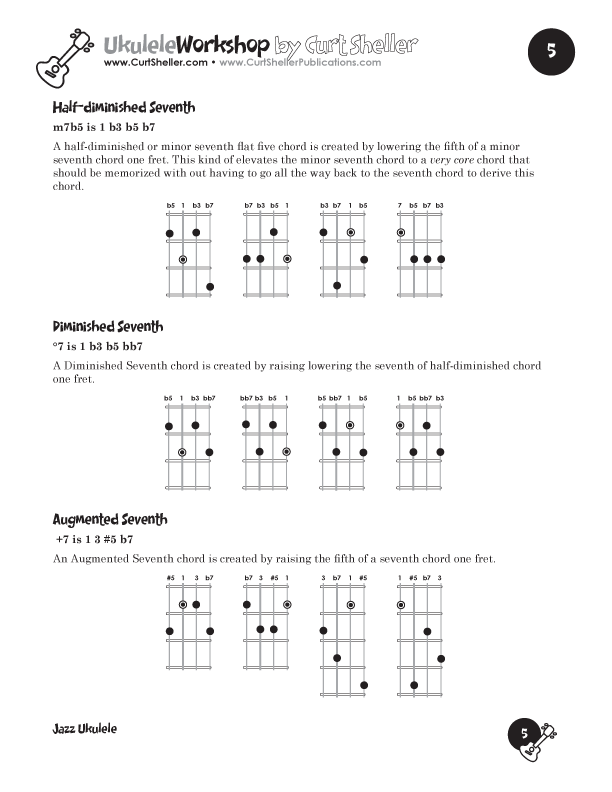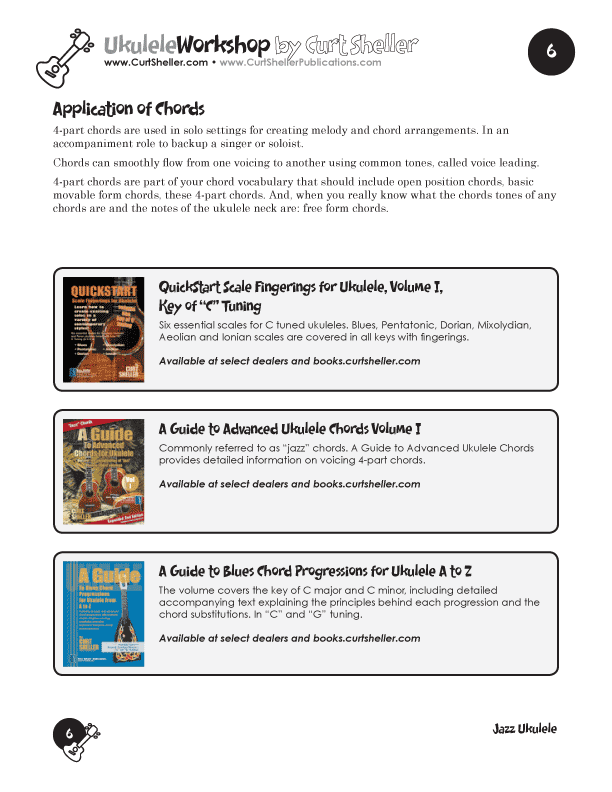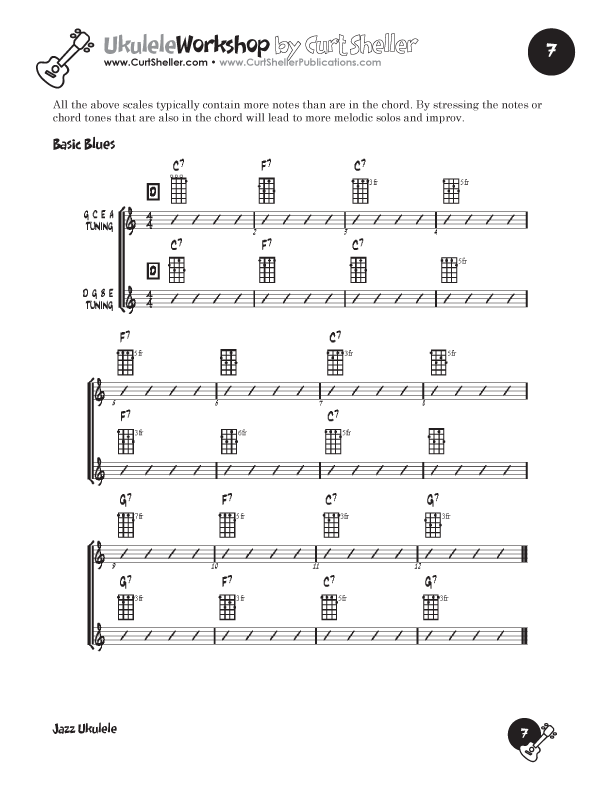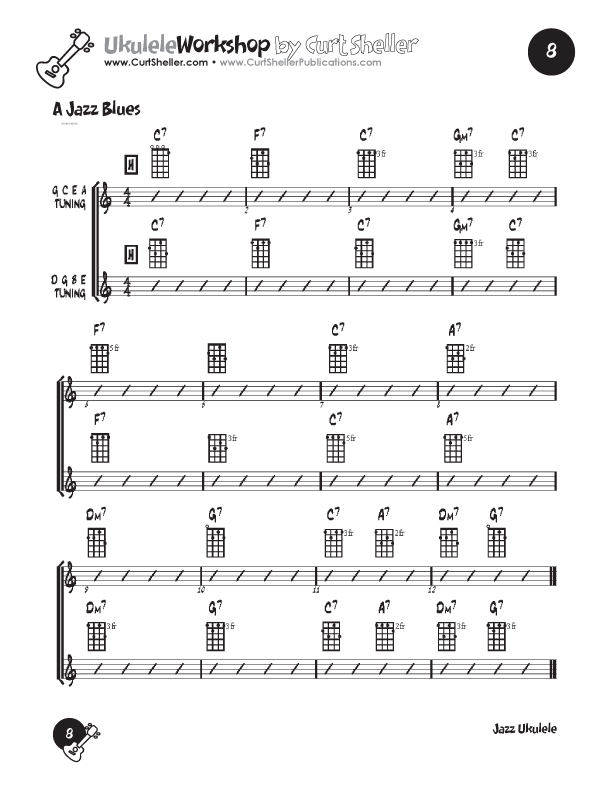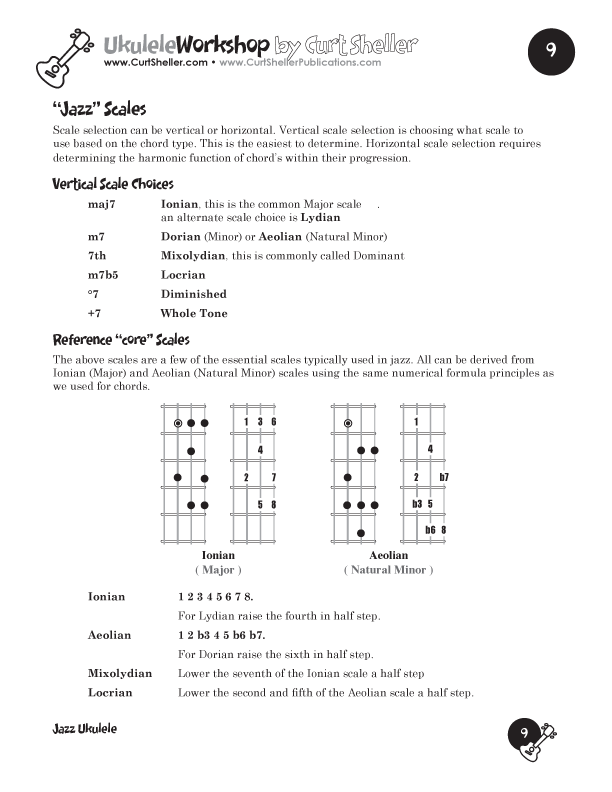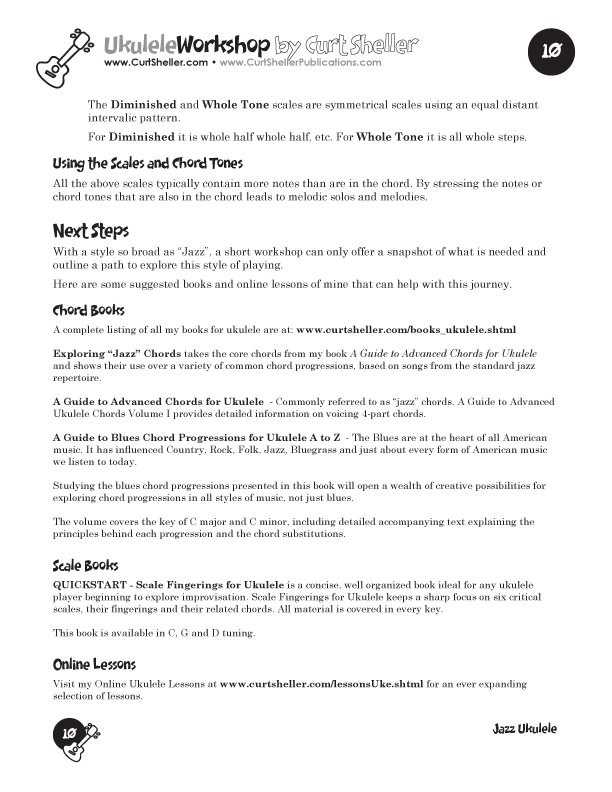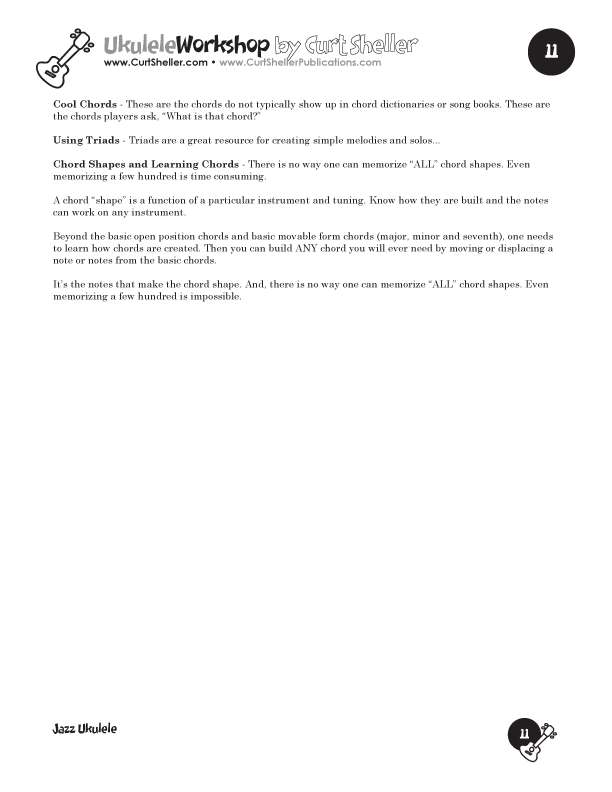 All 12 sample page(s) are viewable on-line.
To view the pages at a larger size you can resize the browser window smaller to a tablet or phone size and the pages will magically grow larger. If you are a registered member and have the correct permissions.
This Download is NOT part of your LearningUkulele.com membership level. Sign-up for a Site Access or Upgrade your current access level to download this PDF or your can purchase a copy for download.
Each PDF file is a formatted high resolution file that prints out great. You'll need Adobe Reader or a PDF viewing application to view your PDF file.
Exploring Jazz ``Ukulele
Wikipedia defines Jazz as a musical art form which originated at the beginning of the 20th century in African American communities in the Southern United States from a confluence of African and European music traditions. The style's West African pedigree is evident in its use of blue notes, improvisation, polyrhythms, syncopation, and the swung note.
At a minimum to explore jazz or contemporary music on a ukulele you need a core set of chords and scales. It's this foundation or core that you can build on.
This lesson contains links and resources for developing as a jazz ukulele player. And, a great overview of what is needed as far as chords, scales and the essential elements that are needed to explore jazz on a ukulele.
Necessary Jazz Skills
Technique
Technique is the physical control and coordination needed to play an instrument or sing. It is involves position, efficiency of motion and effort, as well as exercises to develop specific physical skills.
Theory
Theory is the body of principles behind music. It includes scales and chord building, intervals, progressions, resolution, harmony, motion, power, color, chord substitution, keys and time signatures, rhythm, melody, etc.
Ear Training
Ear Training is the development of the active and passive capacity to relate to music aurally. It includes the ability to regains melodic and harmonic intervals, chords, chord progression, rhythm, melody and harmony.
Reading
Reading is the ability to reproduce music from written notation. It includes five phases; note recognition / alternate note locations, rhythm recognition, fingering considerations, communication terminology and interpretation.
Repertoire
Repertoire includes the songs within the performance ability of the student. These songs maybe memorized or read. They may be literal reproductions or creative interpretations.
Improvisation
Improvisation is the ability to spontaneous to create melody over a predetermined chord progression. It involves scales, alternate fingerings, arpeggios, intervalic development, sequences, embellishments, superimposition, rhythm, motifs, development techniques and idiomatic considerations.
Musical Idioms
Musical Idioms is the study of music musical style it involves well developed categories as; Rock, Blues, Country, Jazz, Bluegrass, Classical, Folk, Urban and Fusion. It also includes subdivisions of specializations.
Songwriting
Songwriting is the creation of original music based on a single melodic line with a chord progression. Lyrics may or may not be included.
Arranging
Arranging involves the choice of instruments, tempo, rhythmic feel, form, intro, ending, interludes, solos, harmonies, and instrumental accompaniment of a song.
Composition
Composition is the creation of original music based on multiple simultaneous and compatible melodies. It historically involves the classical forms but frequently includes more sophisticated levels of contemporary music.
Orchestration
Orchestration involves the choice of instruments for a composition. This choice is based on the ranges and colors of the instruments which best represent the mood and creative intent of the composer.
Interpretation
Interpretation involves the ability to perform a song or composition in a unique and personal way. These skills involve a interrelated set of disciplines which include, theory, ear training, technique, dynamics, embellishments, phrasing, and rhythmic flexibility.
The Fingerboard
If there is one thing that really opens up the ukulele. It is really, and I mean really knowing the notes of the ukulele fingerboard. This needs to be second nature with no conscience thought.
This is separate from learning to read standard music notation. Which, is an essential skill to develop.
Jazz Chords
Regardless of the style of jazz that you venture into. You need a core foundation of chords and scales. Open position, movable form chords and just plain old knowing the notes of chords and scales.
Building a solid chord foundation is essential in your development as a musician and jazz musician - ANY instrument.
Jazz Scales
There are seventeen essential jazz scales.
From the major and natural minor scales you can build theses essential scales.
Download the lesson's PDF file for the latest, complete and most up-to-date version of the lesson. As well as additional information not presented on-line.
Members and Active Students need to sign-in
to download the premium lesson PDFs for the complete lesson.
Related Books
Related Books for Exploring Jazz ``Ukulele at this time.
Related Lesson Files, Resources and Assets
Related Assets for Exploring Jazz ``Ukulele at this time.
NOTE: Each higher access level includes ALL the benefits of the lower levels. Private Lessons include all the benefits of a Premium Access Plans as long as you remain a student on the schedule.
Just browsing over both books, they look fantastic! I'm a guitarist and uke player for over 25 years and was thinking about writing a ukulele book but you've already written what I think are the best, most comprehensive and thorough books I've ever seen for the instrument. I just might end up buying every book you've written and I'll be giving my highest recommendation for your books to my friends and students. Thank you so much for taking the time to write such great books! — Peter Rhee
Aloha, Curt, All I can say is WOW! What you have accomplished is simply incredible! All the best — Glen Hirabayashi, The Aloha Boys
Folks, if you haven't stopped by Curt's site, do so right now! ..And get his books, they are fantastic. This guy knows his stuff and is able to pass it along too. — Alan Johnson Proprietor, The 4th Peg
I can highly recommend Curt's Uke books — I have four of them and they are excellent. — fatveg — Portland
Thanks for visiting and checking out the site!

Original Curtie Animation from 1987 for my first web site on a Macintosh II.
33 years ago.
"Built for myself (Curt), and sharing with the `Ukulele community!"
LearningUkulele.com has one of the largest collections of lessons, songs, and TABS, luthiers, ukulele builders, ukulele festival and club information, and, ukulele links on the web. I've been on the ®Internet since the early 1990's and This site just never stops growing!!!
Content is added and updated almost daily - so check back often.