From Led Zeppelin IV.
Published: Oct 1, 2011 Updated: Feb 26, 2016 • Visitors: 8 • Page Views: 1
ukulele Subjects: repertoire • rock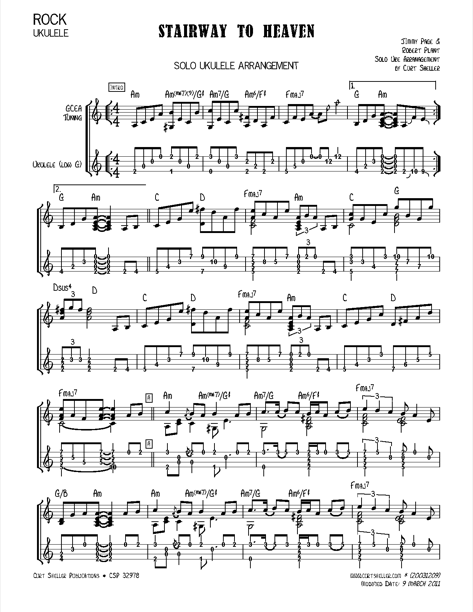 Showing 1 of 1 sample page(s).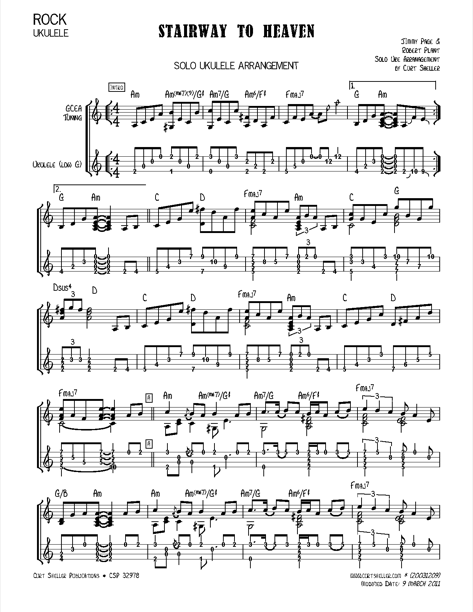 Stairway to Heaven is a song by the English rock band Led Zeppelin, released in late 1971. It was composed by guitarist Jimmy Page and vocalist Robert Plant for the band's untitled fourth studio album (usually referred to as Led Zeppelin IV). The song, running eight minutes and two seconds, is composed of several sections, which increase in tempo and volume as the song progresses. The song begins as a slow acoustic-based folk song accompanied by pan flutes (recorder per Jimmy Page), before electric instrumentation is introduced. The final section is a high-tempo hard rock section highlighted by an intricate guitar solo by Page.
The song, often considered one of the greatest rock songs of all-time, was voted #3 in 2000 by VH1 on its list of the 100 Greatest Rock Songs, and was placed at number 31 on Rolling Stone magazine's list of the 500 Greatest Songs of All Time. It was the most requested song on FM radio stations in the United States in the 1970s, despite never having been officially released as a single there. In November 2007, through download sales promoting Led Zeppelin's Mothership release, "Stairway to Heaven" hit #37 on the UK Singles Chart.
I'd post links to ukulele versions of this song - but - they all really suck. Either they are just playing the guitar part, badly without the melody. To, changing the key and just playing what they can from the original guitar part.
In exploring this song on ukulele, the melody can be covered in the original key, with a lot of Jimmy Page's guitar part. You can get a really nice version of the song and stay true to the song. No need to regurgitate the guitar part note for note.
Stairway to Heaven - Melody and Chord Ukulele Arrangement
Considered one of the great rock songs of all time. This is my take on this rock classic for ukulele. Arranged for low G, C tuning.
A Road Map Through Song
Remembering songs is all about the form and harmonic content and movement with taking in the similarities between songs. And, just like a road map they're landmarks that will trigger memories of how to get through various sections, changes or parts of a song.
This section of a song's page presents some tips on how I try and remember a particular song.
No Road Map for Stairway to Heaven check back soon.
No additional asset for Stairway to Heaven at this time.
No related books for Stairway to Heaven at this time.
No related lesson series for Stairway to Heaven at this time.
No related songs for Stairway to Heaven at this time.
Jimmy Page: How Stairway to Heaven was written - BBC News
Stairway to Heaven was one of the biggest rock songs of the 1970s - loved, imitated and sometimes parodied. Now Led Zeppelin's classic track is back on the turntable, on a re-mastered version of the band's fourth album. 43 years after its release, the song continues to hold a place in many music fans' hearts.
Guitarist Jimmy Page gives a personal account of how a rock anthem came together.
Camera: Dave O'Neill, Richard Kenny. Editing: Dave O'Neill. Producer: Amanda Bruckshaw
disqus displayed in production only!!!
---
NOTE: Each higher membership level includes ALL the benefits of the lower membership levels.

The Private Lesson Plans include all the benefits of a Premium Access Plans as long as you remain a student on on the schedule.
Just browsing over both books, they look fantastic! I'm a guitarist and uke player for over 25 years and was thinking about writing a ukulele book but you've already written what I think are the best, most comprehensive and thorough books I've ever seen for the instrument. I just might end up buying every book you've written and I'll be giving my highest recommendation for your books to my friends and students. Thank you so much for taking the time to write such great books! — Peter Rhee
Aloha, Curt, All I can say is WOW! What you have accomplished is simply incredible! All the best — Glen Hirabayashi, The Aloha Boys
Folks, if you haven't stopped by Curt's site, do so right now! ..And get his books, they are fantastic. This guy knows his stuff and is able to pass it along too. — Alan Johnson Proprietor, The 4th Peg
I can highly recommend Curt's Uke books — I have four of them and they are excellent. — fatveg — Portland
Thanks for visiting and checking out the site!

Original Curtie Animation - 1987 for my first web site
32 years ago.
LearningUkulele.com has one of the largest collections of lessons, songs, and TABS, luthiers, ukulele builders, ukulele festival and club information, and, ukulele links on the web. I've been on the ®Internet since the early 1990's and This site just never stops growing!!!
Content is added and updated almost daily - so check back often.