String Action Explained
Action, the height of the strings above the frets, measured at the 1st and 12th frets. Action at the 1st fret is primarily affected by the depth of the slots in the nut, while action at the 12th is influenced equally by the nut and the saddle.
Checking the Action at the Nut
With any fretted string instrument such as the ukulele. Grab string four, the "G" string on a C tuned ukulele - the string closest to your nose in playing position, right behind the nut and press it down the fingerboard right in front of the nut. Your looking to see if there is too much of an going angle down.
Then — press the string down at fret three. You then look for how much clearance there is between that string and fret (1). If the nut is at the ideal height there will be very little space, and I mean very little space between the string and fret (1).
To check if you need to lower the nut. First, measure the height of the fret (1), the "crown" height. The nut should be higher than fret (1) by about "0.2mm". There are two great tools called a Step Gauge for Ukulele and GrooBar Nut Slot Assist Tool available for ukulele from HOSCO Luthier Tools that you can use to get precise measurements. And a YouTube video: Step Gauge and GrooBar™ for Ukuleles from the company , Hosco that makes these tools.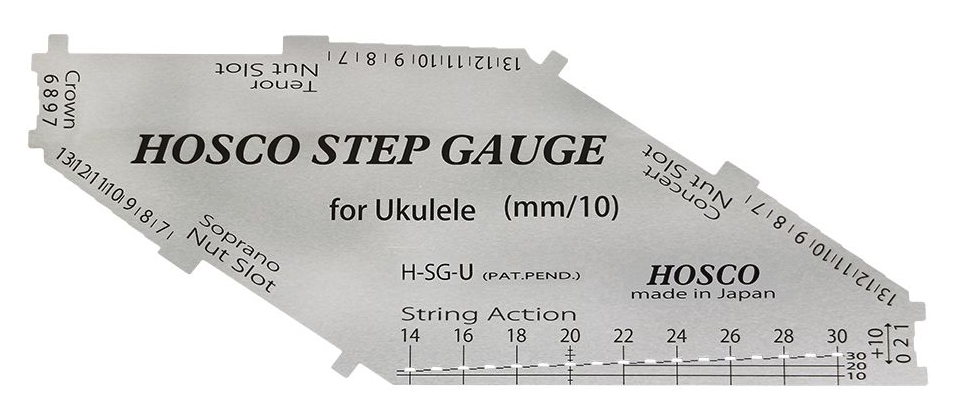 and Resources
Tools
String Action Gauge, Stewart-MacDonald - link

Measure string action (the height of the string above the fret) at any point by placing the gauge behind the string. The string height markings are at increments of .010" (ten thousandths of an inch). When the bottom of a mark aligns with the bottom of the string, that measurement is the string height at that point. The markings themselves are .005" thick, so referring to the top of a mark instead of the bottom adds .005" to the measurement. In this way the progressive string height scale measures in .005" increments.
Frank Ford is a world renowned luthier - repairman and has some of the best information available on-line.