Types of Ukulele String Material
Information collection through various manufacturers and on-line resources.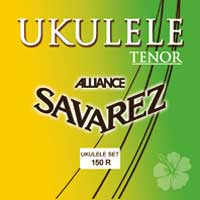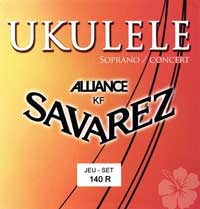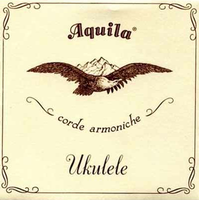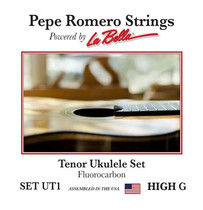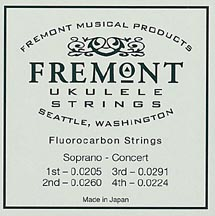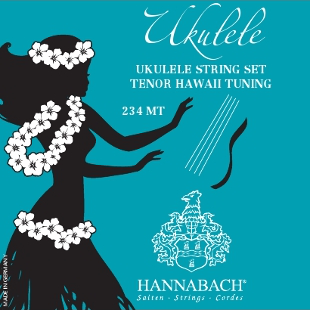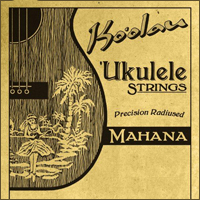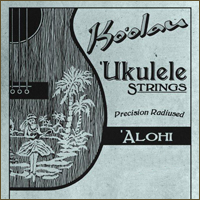 Fluorocarbon Strings
Basically fishing line. A brighter sound than nylon string. A very technical description of Fluorocarbon can be found on WidipediA:
Typical string tension and gauges ( Tenor High G, C Tuning ): .0205, .026, .0319, .0413
These are the type of stings that I typically use. See Curt's Personal Ukulele Strings Recommendations page for more ingo
Real Gut Strings
"Cat Gut" is made from the intestines of the sheep or goats. For a long time, catgut was the most common material for the strings of harps, violins, and violas, as well as other stringed musical instruments, although most musical instruments produced today use strings with cores made of other materials, generally steel or synthetic.
Nylon Strings
There are two types of Nylon strings - Extruded, and Ground ( rectified ). Extruded strings are made by pushing hot nylon through a small hole. Ground strings are first extruded and then ground down to size.
Typical string tension and gauges ( Tenor High G, C Tuning ): .0285, .0327, .041, .029
Titanium Strings
D'Addario Titanium Ukulele strings are crafted from a dense monofilament material that has an attractive, translucent purple hue and a polished, smooth feel similar to nylon. This unique material is particularly beneficial to Ukulele's due to its slightly brighter tone and increased projection, resulting in more volume, clarity and dynamics. ( ref: D'Adarrio }
Synthetic Gut Strings
Aquila has a trade name Nylgut. A synthetic material created to have the feel and sound of traditional gut strings with out the traditional problem of gut strings. Aquila supples the majority of mass produced manufactures with strings.
Typical string tension and gagues ( D'Addario NyTech Tenor High G, C Tuning ): .026, .032, .038, .028
NOTE: Each higher access level includes ALL the benefits of the lower levels. Private Lessons include all the benefits of a Premium Access Plans as long as you remain a student on the schedule.
---
Just browsing over both books, they look fantastic! I'm a guitarist and uke player for over 25 years and was thinking about writing a ukulele book but you've already written what I think are the best, most comprehensive and thorough books I've ever seen for the instrument. I just might end up buying every book you've written and I'll be giving my highest recommendation for your books to my friends and students. Thank you so much for taking the time to write such great books! — Peter Rhee
Aloha, Curt, All I can say is WOW! What you have accomplished is simply incredible! All the best — Glen Hirabayashi, The Aloha Boys
Folks, if you haven't stopped by Curt's site, do so right now! ..And get his books, they are fantastic. This guy knows his stuff and is able to pass it along too. — Alan Johnson Proprietor, The 4th Peg
I can highly recommend Curt's Uke books — I have four of them and they are excellent. — fatveg — Portland
Thanks for visiting and checking out the site!
Original Curtie Animation from 1987 for my first web site on a Macintosh II. 34 years ago. Man, does time fly.
"Built for myself (Curt), and sharing with the `Ukulele community!"
LearningUkulele.com has one of the largest collections of lessons, songs, and TABS, Luthiers, ukulele builders, ukulele festival and club information, and, ukulele links on the web. I've been on the ®Internet since the early 1990's and This site just never stops growing!!!
Content is added and updated almost daily - so check back often. I really do need to get out more ;-)